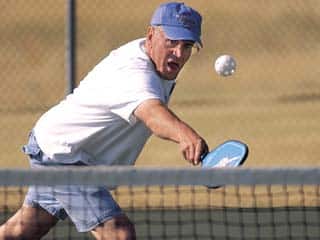 While tennis has long been a favorite pastime for active adults, pickleball is quickly gaining popularity at 55+ communities. In many new communities, pickleball courts are a common addition to the amenities offered at the central clubhouse or recreation center. In some older communities, existing tennis courts are sometimes converted for pickleball use. So, how do these communities repurpose tennis courts for pickleball courts?
Making a Pickleball Court
The easiest way to modify a tennis court is to adjust the existing net and add one set of pickleball lines. On a standard tennis court, the net is 36 inches high at the center strap and 42 inches high at the either side post. The first step to conversion would be to lower the net down to 34 inches at the center. (A pickleball court is half the width, so the net height at the side lines is 36 inches.) Once the net is the right height, pickleball lines can be added with chalk or paint, while still keeping the tennis court lines intact.
Turning one tennis court into one pickleball court is the easiest conversion, but it will leave a lot of unused space. A standard tennis court is 60 feet by 120 feet, and the minimum size of a pickleball court is 30 feet by 60 feet. Because of this size difference, one tennis court can be turned into two or even four pickleball courts.
When converting one tennis court into multiple pickleball courts, the USA Pickleball Association (USAPA) recommends leaving the tennis net as a barrier and setting up the pickleball courts on either side, using portable net stands. They should not be set at right angles to the tennis court because the original court was placed with the sun in mind.
Rotating the pickleball courts will put the sun in some players' eyes during the early morning and late afternoon. Simply drawing additional lines, and adjusting the height of the net, can easily make the court accessible for players of both games.
Active Adult Communities with Tennis and Pickleball Courts
Though most tennis players quickly get used to ignoring the extra pickleball lines, some do not like sharing space with this new sport. Likewise, some pickleball players would be happier playing on their own court, without tennis lines. The controversy can be heated with each group arguing for their own dedicated courts. Many communities find that they do have residents who are interested in both activities.
Just a few of the active adult communities which offer both tennis and pickleball courts include Village at Deaton Creek in Georgia, Ave Maria in Florida, Sun City Texas in Texas, Pebblecreek in Arizona, and Four Seasons at Hemet in California.
For communities with underused tennis courts, a conversion for pickleball use can be a great way to revitalize the space. Sharing the courts with two sets of lines can let players enjoy two different games, and it can be a great way to try out pickleball before investing in expensive new courts.