Today's retirees are more active than ever! That's why many 55+ communities offer sports, clubs, and activities that encourage an active lifestyle. And one of the most popular recreational activities found in many active adult communities is tennis.
Tennis is a great sport that helps retirees build their stamina and strength. Some of the best age-targeted and age-restricted neighborhoods offer full-service tennis facilities like pro shops, onsite instructors, multiple tennis courts, clubs, leagues, tournaments, and clinics.
Some communities even offer indoor/outdoor, Har-Tru, or red clay courts, while other communities have lighted courts for nighttime play. If you're dreaming of spending your retirement challenging your neighbors to a match, then check out these great communities for tennis lovers.
Below $100k – Low $1Ms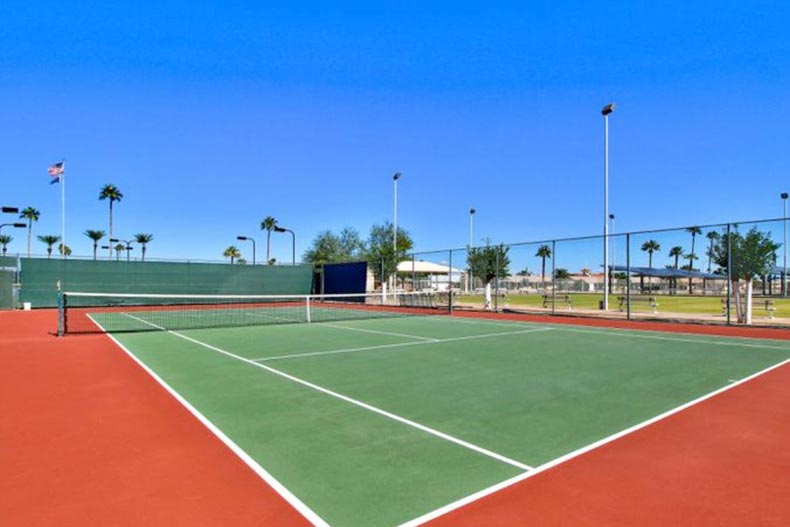 Sun City was the first 55+ community in the country. With more than 27,000 homes and countless indoor and outdoor amenities, residents are sure to find something that suits their interests. Tennis lovers will feel at home thanks to the various recreation centers spread throughout the community's neighborhoods.
Sun City has a total of 44 tennis courts. The Sun City Tennis Club is also a popular group that encourages residents to participate in their favorite sport. The club provides quality tennis facilities and equipment as well as endless programs and events such as lessons, leagues, doubles, tournaments, and socials.
High $300s – Mid $1Ms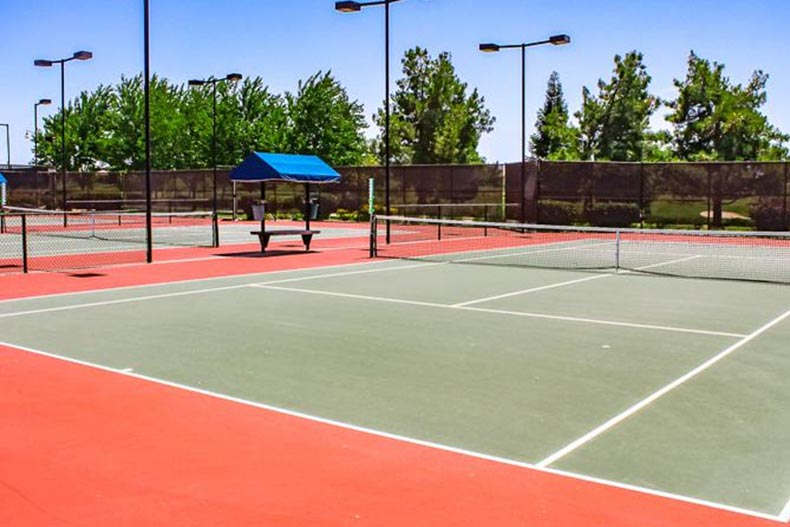 This sprawling 2,992-acre community in Northern California is a retirement hotspot for tennis aficionados. With two amenity centers offering more than 100,000 square feet of recreational and social space, residents have endless options for physical activities.
Sun City Lincoln Hills features The Sports Plaza with several outdoor amenities including 11 well-lit tennis courts. Homeowners can take advantage of the tennis pro services for both beginners and advanced players. Also, the community hosts seasonal and annual tennis tournaments.
Low $200s – High $1Ms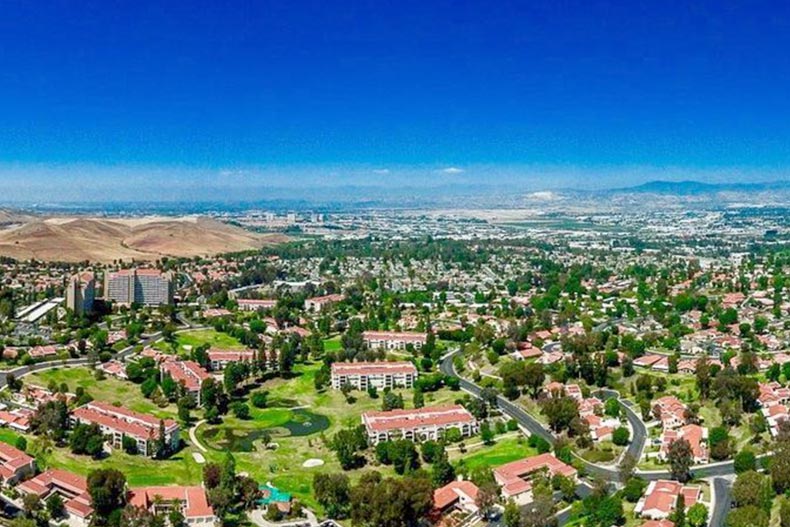 World-class amenities are never lacking in this 55+ community. Aside from the multiple clubhouses and recreational activities, Laguna Woods Village has a tennis club with about 350 members, an on-site tennis professional, a tennis activities director, and 10 tennis courts (five of which have metered lighting systems). Each tennis court is also used differently depending on the match. One court can be used as the challenge court for doubles sets while others are used for a one-set match, first-come, first-serve play, or limited playtime.
High $200s – Mid $1Ms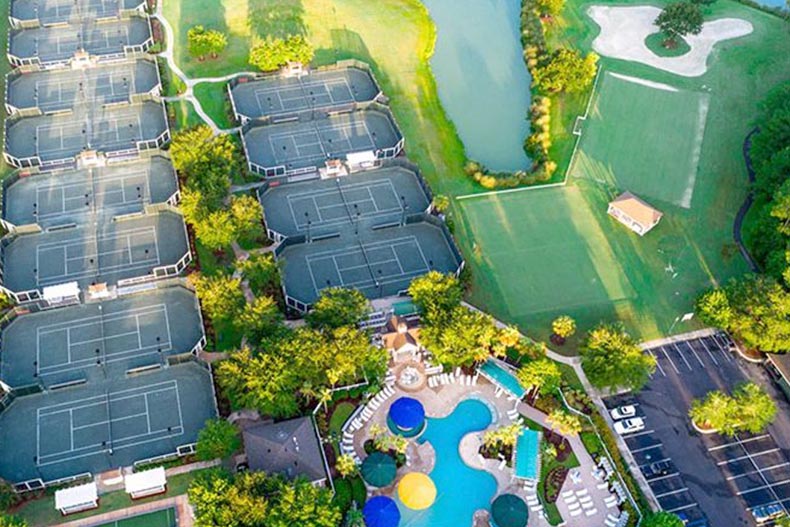 Sun City Hilton Head in Bluffton provides amenities and activities that are geared toward tennis enthusiasts. This beautiful 8,200-home community features 12 Har-Tru tennis courts, the Sun City Tennis Club, and tennis instructors. It also offers tournaments, lessons, and weekly clinics. Sun City Hilton Head also hosts tennis boot camps where participants receive professional tennis lessons and play fun tennis trivia games for prizes.
High $100s – Mid $600s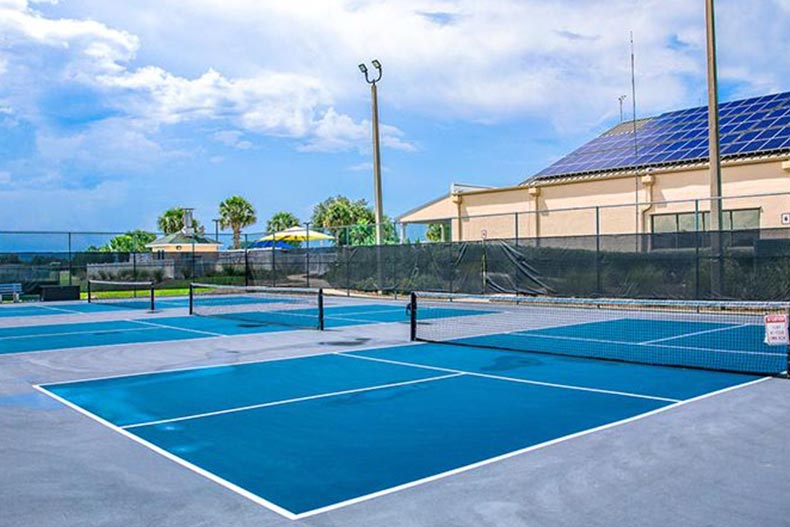 Located in the heart of Central Florida, On Top of the World is one of the largest active adult communities in the state. Tennis lovers will have plenty of options for playing their favorite sport thanks to all of the amenities and facilities sprawled across this 55+ development.
Residents have a tennis instructor, a pro shop, and six courts at the Arbor Club. The tennis courts are surfaced with Plexicushion Prestige Cushion Acrylic, and four of those courts are also lighted so residents can play at night. Also, there are an additional four tennis courts located in the Recreation Center. Retirees can join the tennis club and participate in tournaments, social events, lessons, and clinics.
Low $300s – Low $1Ms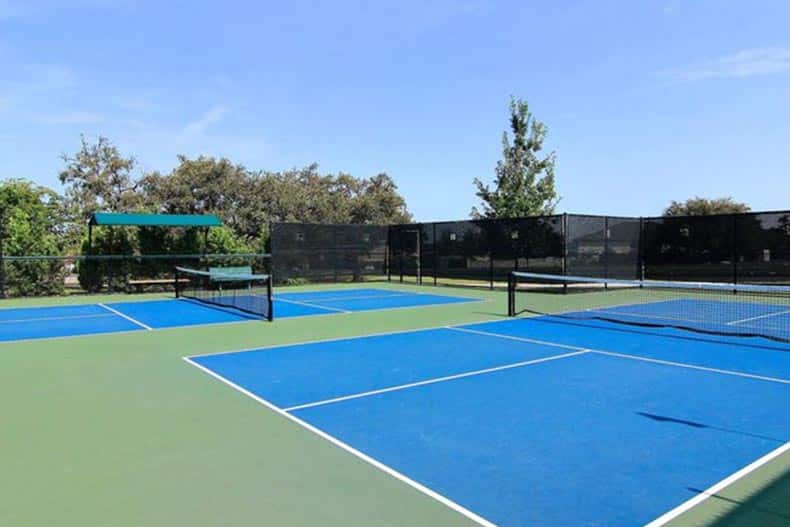 Sun City Texas features 12 tennis courts. Retirees who have a passion for tennis can visit the Village Center Amenity Complex which offers 86,000 square feet of recreational space. The Sun City Texas Tennis Association and tennis club are also available for retirees to socialize while showing off their backhand or learning some new moves from a fellow tennis player.
Low $300s – High $400s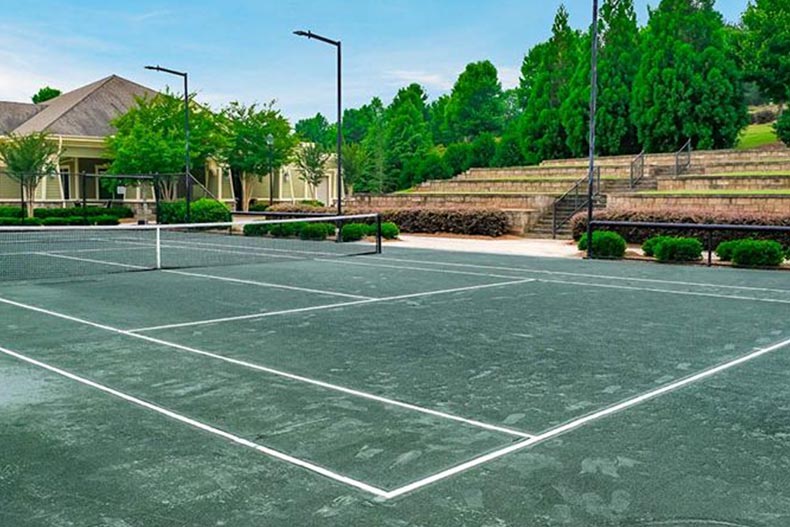 Residents of Sun City Peachtree can remain active thanks to the rich lineup of amenities at Club Peachtree. The 45,000-square-foot amenity complex offers a spacious tennis complex with five Har-Tru courts and a well-stocked pro shop. Homeowners can join the tennis club to set up singles and doubles matches or practice their swing with lessons and clinics. Whether residents play tennis competitively or just want to stay active and healthy, there are plenty of options to switch up their routine in Sun City Peachtree.