Charlotte is a good retirement destination for active adults who want to live in a lively city with a cost of living that's lower than the national average. There are also lots of local attractions, cultural amenities, and outdoor recreation options to take advantage of.
Beyond its many amenities, the city also offers residents mild winters, top-notch health care facilities, and a convenient location near some of the state's most scenic areas along the coast and the mountains. If this sounds like it might be a perfect fit for you, here's the most important information to know about Charlotte to decide if it's a good place for you to live.
Charlotte Cost of Living and Retirement Costs
Unlike most big cities, Charlotte is relatively affordable with a cost of living that's 1.1% lower than the U.S. average, according to BestPlaces.net. From grocery prices and utilities to transportation costs, Charlotte is more affordable than the average city.
Charlotte's median home price is around $301,300, which is lower than surrounding cities in both North and South Carolina. Both Charlotte and North Carolina's property taxes are lower than the national average, making it even more affordable for retirees to own a home within the Queen City. 
Residents will appreciate the fact that there are no estate taxes and retirement benefits are tax exempt. Also, the North Carolina low-income homestead exclusion was created to help seniors 65+ with an income of less than $31,500 save $25,000 or 50% of—whichever amount is greater—their property's taxable value.
Charlotte Climate/Weather
Queen City residents are lucky enough to experience all four distinct seasons. Summers are typically very hot and humid, often lasting until the end of September. Spring is full of comfortably warm days, while autumns are full of balmy days with lots of vibrant foliage, and winters are mild with the rare threat of a snow storm.
According to U.S. Climate Data, the area's average temperatures range from 49 degrees to 71 degrees with 41.63 inches of rain and 4 inches of snowfall annually.
Charlotte Outdoor Recreation
When it comes to outdoor recreation in Charlotte, the U.S. National Whitewater Center is typically the first place to come to mind for most locals. The property spans 1,300 acres and offers an endless list of outdoor activities that range from hiking trails and rock climbing to paddle boarding and whitewater rafting. The city's two lakes—Lake Wylie and Lake Norman—and The Quarry at Carrigan Farms are also great spots to spend a day outdoors on the water.
There are also plenty of options for those who prefer to walk, hike, or bike. You can always find people walking or biking the Little Sugar Creek Greenway or The Rail Trail—a 3.5-mile trail that snakes through the city past scenic pocket parks, vibrant cafes, art galleries, and charming neighborhoods. Additionally, there are several places to hike within a short drive of the city, including Crowders Mountain State Park, Lake Norman State Park, and Kings Mountain.
Charlotte Culture and Entertainment
Whether you're looking for a city full of cultural attractions, a vibrant culinary scene, or lots of entertainment options, Charlotte has it all. From its long list of theaters and museums to its professional sports teams and award-winning restaurants, Charlotte has something for everyone to enjoy.
The Queen City boasts a vibrant culinary scene with everything from upscale fine dining restaurants with decadent meals and rooftop views to hole-in-the-wall barbecue joints that have been local staples for decades. Whether you're craving authentic French or spicy Cajun dishes, the freshest seafood and sushi rolls, or traditional Southern classics, you'll be able to find it around town. 
Charlotte Healthy and Active
Charlotte has a plethora of options when it comes to healthy eating. From specialty restaurants like Living Kitchen and Fern to health food stores like Berrybrook Natural Foods where residents can easily grab healthy options and ingredients.
While there are many family practices and health care facilities spread throughout the city, there are two major hospital systems that serve Charlotte residents. Atrium Health has several specialties including, cancer treatment, cardiovascular care, organ transplants, and burn treatments. It's also well-known for its medical research and has had a number of its rehabilitation centers nationally ranked as some of America's Best Physical Rehabilitation Centers by Newsweek. 
Novant Health is the other major health care provider in the Queen City. Novant has a series of hospitals, urgent cares, clinics, and imaging centers as well as several specialty centers including, the Heart & Vascular Institute, the Cancer Center, the Women's Center, the Stroke & Neurosciences Center, and the Rehabilitation Center and Behavioral Health.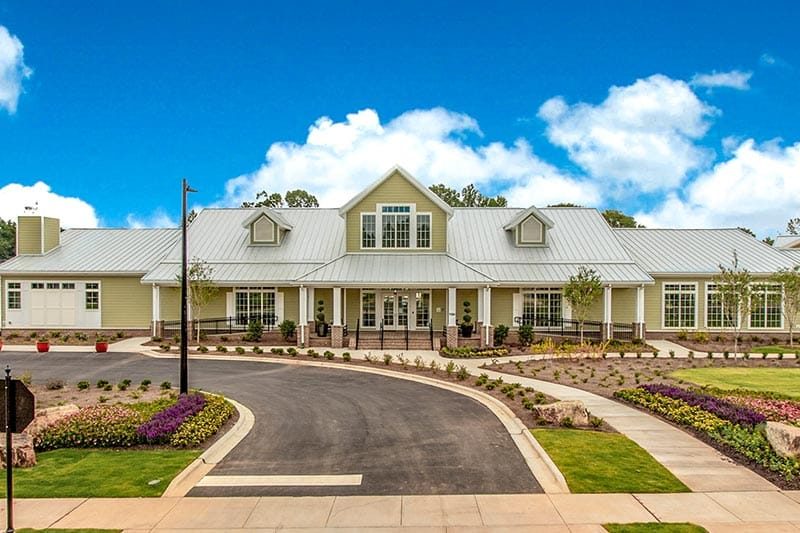 Charlotte features dozens of active adult communities that are sure to fit into every lifestyle. From lakefront living to condos perfect for downsizing, there are options for those who want to be near the buzz of the city as well as several 55+ communities that are a little further out.
Cresswind Charlotte is another active adult community located within minutes of the heart of Charlotte. The neighborhood features 850 single-family homes with both new construction and resale options. Floor plans for Cresswind Charlotte range from 1,448 to 2,547 square feet and have two to three bedrooms, two to two-and-a-half bathrooms, and two-car garages.
Cresswind Charlotte's list of amenities includes an 18,000-square-foot clubhouse, a state-of-the-art fitness center, a catering kitchen, indoor and outdoor pools, plus tennis, pickleball, and bocce courts. There's also a full-time activities director who is dedicated to organizing and planning community events where neighbors can gather and socialize throughout the year.
Prices Starting At $1,600
Conveniently located within Uptown Charlotte, Overture Cotswold is a great option for potential residents who want to rent rather than own in a 55+ community. The gated, age-restricted condominium complex features 158 units with a dozen floor plans. Available layouts are single-level and range from 649 to 1,285 square feet and offer one or two bedrooms and one or two bathrooms.
Noteworthy amenities include a great room, a coffee bistro, a billiards and game room, and a movie theater. There's also a yoga studio on-site, a fitness center, a hair and nail salon, plus a heated swimming pool outside.
Del Webb's Sun City Carolina Lakes is situated just across the state border in Fort Mill—one of Charlotte's fastest-growing suburbs. The large, age-restricted development spans 1,512 acres and features around 3,160 homes with both single-family and attached home options. There are over two dozen available floor plans that range from 1,090 and 2,597 square feet and have two to four bedrooms, two to three-and-a-half bathrooms, and two-car garages.
Sun City Carolina Lakes has a variety of desirable amenities, including two clubhouses, a sewing studio, a woodworking shop, a library, a computer lab, and an on-site restaurant. Outside, residents have access to several more amenities, including an 18-hole golf course, a pool, eight tennis courts, four bocce ball courts, two pickleball courts, walking and biking trails, plus 10 scenic lakes and a fishing pier.
The Polo Club at Mountain Island Lake is a small, gated, age-restricted community that's within a 20-minute drive of Uptown. It features a total of 98 residences with a mixture of attached and single-family residences. There are nine distinct floor plans that range from 1,137 to 1,992 square feet and offer two or three bedrooms, two bathrooms, and an attached garage. 
Amenities within The Polo Club at Mountain Island Lake include a clubhouse that features a multipurpose room, a catering kitchen, an exercise room, a lounge and a fireplace. Outdoor amenities include a pool and patio area, a community grill, scenic ponds, and walking and biking trails.
Charlotte Is a Great Place to Live
Charlotte is a great place to live for active adults who are looking for a city full of cultural amenities, endless entertainment options, affordable housing prices, and prominent health care facilities. 
Interested in retiring in Charlotte? Let us help you. Explore our 55places.com blog to learn even more about the city, surrounding areas, and the myriad of real estate options available to active adults. Or, reach out to one of our knowledgeable agents directly from the website.