If you're considering retiring in the Southeast, Greenville in South Carolina should definitely be on your list of places to consider. It's a great spot for active adults as it strikes the perfect balance of being a thriving city with lots of things to do year-round but at a relaxing pace as opposed to many cities that feel like they move a mile a minute.
This mid-sized city has quickly become one of the fastest-growing cities in the South. Greenville has a charming downtown area that's well-known for the scenic waterfall that sits at the heart of the city. The area is also affordable, offers comfortable weather, and has a wide variety of entertainment options.
Sound like somewhere you'd like to live? Here's everything you need to know if you're considering retiring in Greenville:
Greenville Cost of Living and Retirement Costs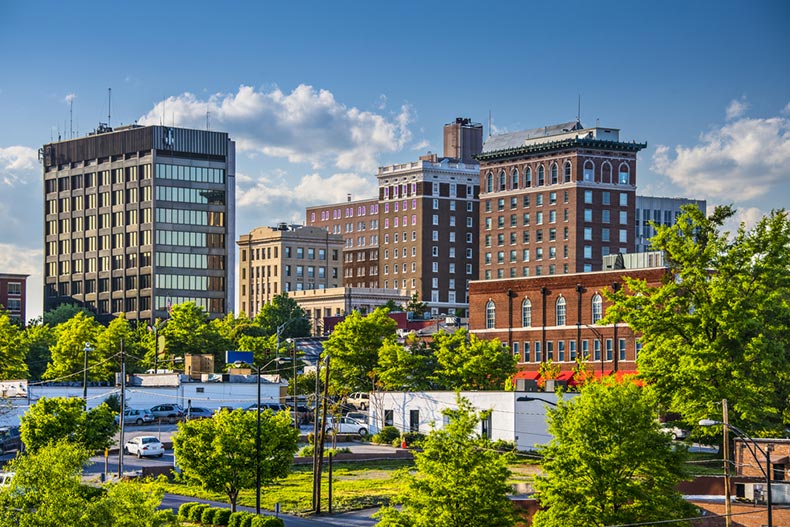 One of the biggest draws that sets Greenville apart from nearby cities like Atlanta and Charlotte is its affordability. According to Bestplace.net, Greenville's cost of living is 10.2% lower than the national average.
Home Prices
Everything, from groceries and transportation to utility costs, is lower than the national average. Even housing costs are significantly lower than the U.S. average with a median home cost of $234,600 compared to the national average of $291,700. The one place Greenville residents can expect to spend more is on health care, which is only slightly higher than the national average by 1.4%.
Taxes
Even Greenville's state and county taxes are some of the lowest in the country. Plus, Social Security benefits are tax-exempt, and there are a number tax breaks available to active adults.
Greenville Climate and Weather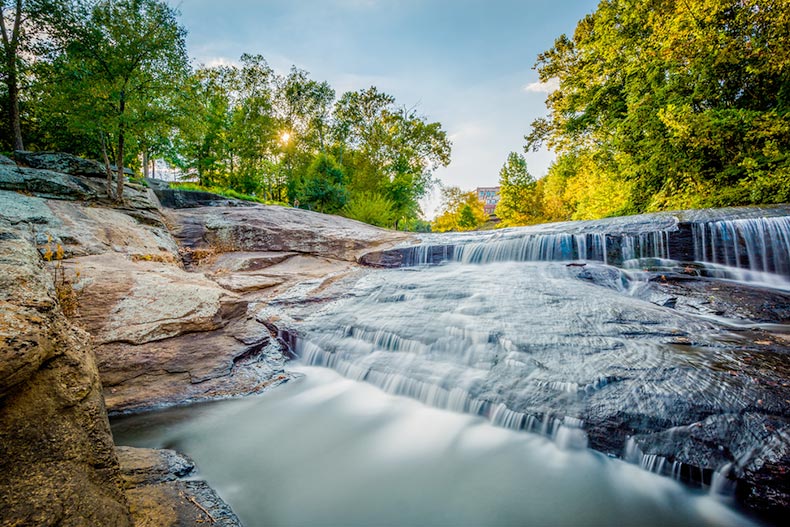 Greenville has a subtropical climate with four distinct seasons. Summers are hot and humid, while autumn and spring are balmy, and winters are short and mild with temperatures that rarely drop below freezing. Since the weather in Greenville is relatively comfortable year-round, residents are able to spend plenty of time outdoors—and there's no shortage of recreation options.
Greenville Outdoor Recreation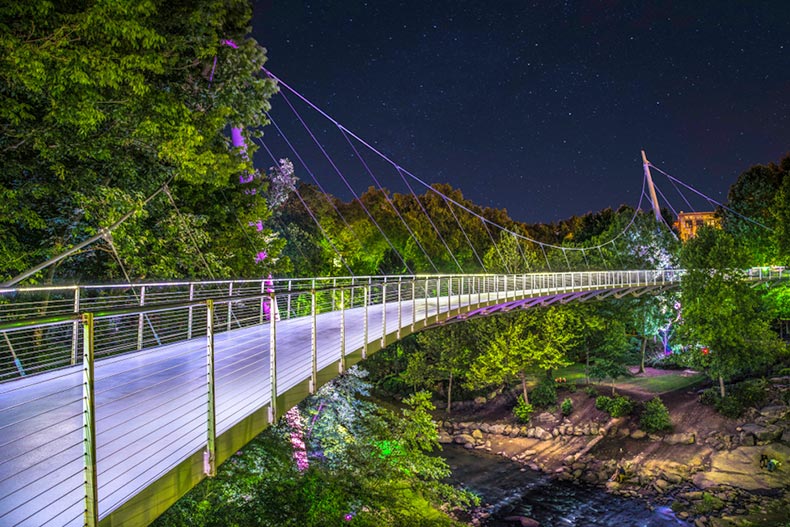 Greenville has a myriad of outdoor recreation options for retirees who want to stay active and spend more time outside. Right in the heart of the city sits Falls Park on the Reedy, an urban, 26-acre park that's full of walking trails, dozens of small gardens, the picturesque Liberty Bridge that connects Downtown Greenville to the West End, plus the park's crown jewel—a 40-foot natural waterfall. You can also find walking yoga and other workout classes happening within the park on a weekly basis.
If you're more into walking than yoga, you can book tickets for a West End Walking Tour, which begins in Falls Park and makes its way through scenic parts of town while a knowledgeable tour guide shares information about the city's history as well as future plans for its expansion.
Another popular outdoor recreation option among Greenville locals is the 22-mile Swamp Rabbit Trail, where you can hike or bike along the Reedy River. Other parks in the area that offer trails include Paris Mountain State Park, Caesars Head State Park, and Jones Gap State Park.
Greenville Culture and Entertainment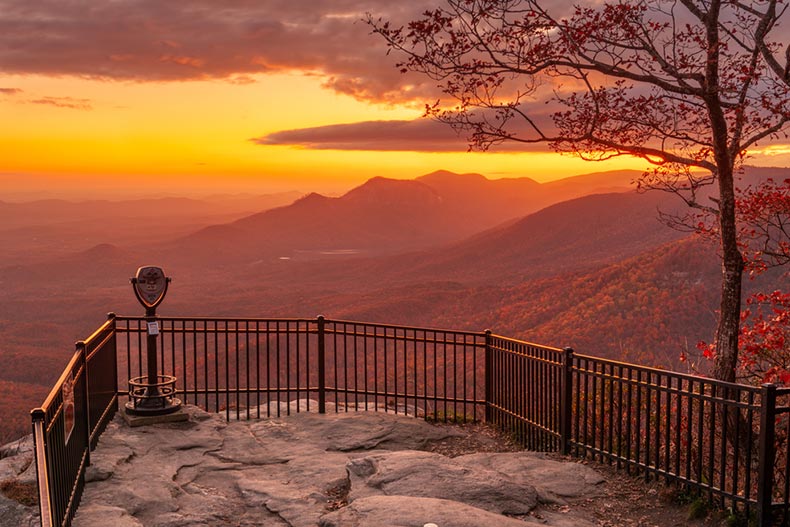 Whether you're a foodie, a history buff, or an art lover, you'll never run out of interesting things to do in Greenville. The city's list of entertainment options and cultural amenities is extensive.
Dining Scene
When it comes to the city's dining scene, residents have a seemingly endless list of restaurants to consider—some of which are run by James Beard-nominated chefs. Just within the downtown area there are over 100 restaurants serving cuisines from all over the world.
You can find everything from an authentic Afghan restaurant to traditional Latin food at Sabor Latin Street Grill to a French bakery that has a menu full of delectable pastries. There are even several curated food tours that take participants around to local favorites to try their specialties. Popular foodie tours include the Greenville BBQ Trail tour, Just Desserts Tour, and the Greenville Breakfast Tour.
Along with its impressive dining scene, the city's craft brewing scene has also taken off in recent years, and there are now almost two dozen distinct breweries to visit.
Local Attractions
While Falls Park on the Reedy and the Swamp Rabbit Trail typically take centerstage as far as local attractions go, Greenville does have a wide variety of other exciting attractions and unique experiences.
At the BMW Performance Driving School, guests can get behind the wheel and test their driving skills on a challenging off-road course. Residents can also head over to the 14-acre Greenville Zoo to see exotic animals from all over the world or cheer on the Greenville Drive Minor League baseball team at Fluor Field.
Want to see and learn about even more local attractions? Hop on the free downtown trolley and take the Attractions Route, which runs on Saturdays and Sundays.
Big-City Entertainment
The Peace Center is a hub for a vast selection of entertainment options. From legendary Broadway shows like Hamilton to symphonies and stand-up performances by famous comedians, there's always something happening at the Peace Center.
To catch live performances by some of the biggest names in the music industry check out the schedule for Bon Secours Wellness Arena. Throughout the summer months, residents can spend Thursday evenings listening to live music during the Music By the Lake Concert Series, which features performances by local bands, Jazz ensembles, and even the Carolina Youth Symphony.
While there's plenty to see and do in Greenville, the city is also conveniently located within two hours of even larger cities like Charlotte and Atlanta, giving residents easy access to even more entertainment options.
Greenville Healthy and Active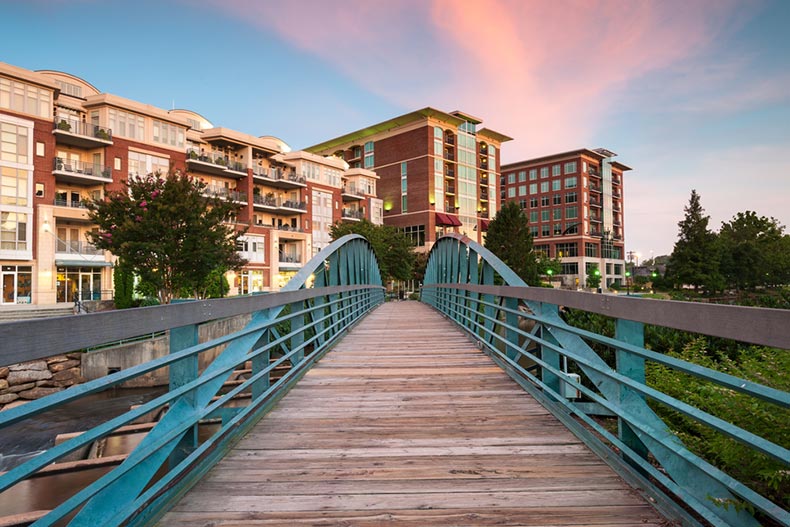 Healthy Eating
Finding healthy dining and shopping options is a breeze in Greenville with eateries like Oak Hill Cafe and Farm Fresh Fast, which is a farm-to-table restaurant dedicated to providing customers with nutrient-rich, whole foods. Not only does the restaurant offer a full menu of healthy eats, but they also offer a meal prep service that allows customers to enjoy pre-made, healthy meals all week long.
Greenville residents can shop for the freshest local produce every weekend at the Saturday Market located downtown or at the Greenville State Farmers' Market, which is open Monday to Saturday year-round.
Health Care
Greenville has a variety of healthcare facilities, but the two main providers are the Bon Secours St. Francis Health System and Prisma Health Alliance. The Bon Secours St. Francis Health System features five health care facilities where they offer many services that range from emergency rooms and to sleep centers. Bon Secours' facilities include St. Francis Downtown, St. Francis Eastside, St. Francis Millennium, the St. Francis Outpatient Center and the Upstate Surgery Center.
Prisma Health Alliance also offers residents a variety of facilities, including a regional medical center, a 55,000-square-foot community wellness center, a rehabilitation hospital, five distinct hospitals, and a Level 1 trauma center.
55+ Communities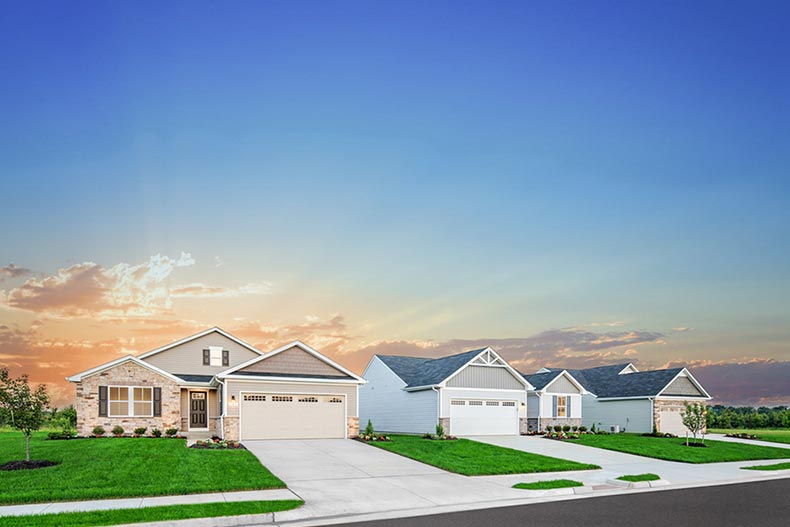 There are plenty of active adult communities in Greenville for retirees looking to settle down in the area. Whether you're looking for a small community with low-maintenance homes or a neighborhood that offers a variety of amenities, there's surely an option that's perfect for you.
In Greenville
Low $200s – Low $400s
The gated and age-restricted Swansgate community features 189 homes with a mixture of both single-family homes and condominiums. There are several available floor plans for potential buyers to consider. Condo plans range from 1,028 to 1,809 square feet, while single-family homes range from 1,300 to 2,400 square feet.
Swansgate's list of amenities include a clubhouse with an activity room, a catering kitchen, a library, a game room, and an exercise room. Outside, residents have access to even more amenities, including a pool and patio area, a gazebo, a tennis court, and walking and biking trails that wind throughout the property.
Request more information about Swansgate.
Low $200s – High $200s
Annandale Estates is another active adult community to consider in Greenville. The neighborhood features 123 single-family homes available on a resale basis with affordable options starting in the low $200s.
There are four floor plans to choose from that range from 1,150 to 1,694 square feet and offer two to three bedrooms, two bathrooms, and a two-car garage. Residents can enjoy amenities like the community gathering area and fire pit, plus plenty of natural green space and easy access to the popular Swamp Rabbit Trail.
Request more information about Annandale Estates.
In Spartanburg
Low $200s – Mid $300s
Olivia Springs is situated just a short drive outside of Greenville in Spartanburg. The community boasts 144 ranch-style, single-family homes. There are seven distinct floor plans ranging from 1,153 to 1,694 square feet with options offering two to three bedrooms, two to three bathrooms, and attached two-car garages.
Olivia Springs' amenities include an outdoor fireplace and rocking chairs that provide the perfect place to relax when the weather is nice, plus picnic tables, community grills, and plenty of greenspaces.
Request more information on Olivia Springs.
Low $200s – Mid $200s
The Ravines at Woodridge is ideal for active adults who want to retire and enjoy a low-maintenance lifestyle. The small, tight-knit, age-restricted community consists of only 68 attached homes. There are several floor plans available ranging from 1,616 to 2,381 square feet with two or three bedrooms, two or three bathrooms, and an attached two-car garage.
Perks of living at The Ravines at Woodridge include a homeowners' association (HOA) that takes care of landscaping and exterior-home care, plus a list of amenities that includes a clubhouse, a library, an exercise room, and an outdoor pool and patio area.
Request more information about The Ravines at Woodridge.
Greenville Is a Great Place to Retire
If you're looking for a scenic mid-size city that has all the perks and amenities of a much larger city, then Greenville is a great place to retire. Let 55places help you find the perfect active adult community through our extensive guides and detailed overviews of the area.
Found something you like and want to get started? We invite you to contact us at 800-928-2055 or visit 55places.com.