Location, location, location — it's often the most important word used when it comes to any type of real estate, and for good reason. Where a property is located can make a huge difference when considering a lot of important factors, including taxes, cost of living, climate, attractions, and amenities. So when it comes down to choosing where to relocate between two desirable mountain towns like Knoxville, Tennessee and Asheville, North Carolina it's important to pay close attention to specifics that set each location apart. And, although the two Appalachian towns are only about two hours apart, there are several factors that make each standout:
Knoxville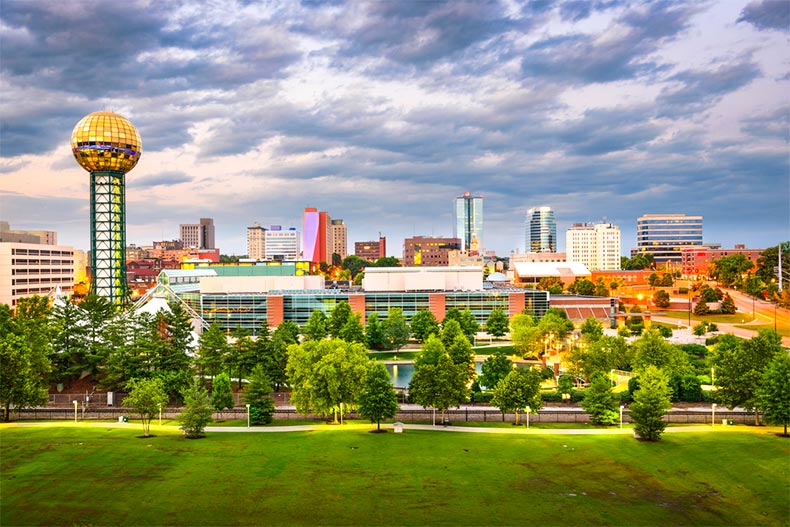 Considered somewhat of a college town — due mostly in part to the large University of Tennessee campus — Knoxville, TN boasts a number of desirable amenities and attractions, which have made the Eastern Tennessee metropolis grow to a population of over 185,000.
Affordability and Taxes
There are several financial benefits to retiring in Knoxville as the state of Tennessee does not tax retirement income or private and public pensions. Retired military pay is also exempt and there are no inheritance or estate taxes. As an added bonus according to Bestplaces.net, Knoxville's cost of living is 6.50% lower than the U.S. average.
Attractions and Amenities
Nearby attractions include Great Smoky Mountain National Park, Zoo Knoxville, Star of Knoxville Riverboat cruises, and the Sunsphere. The city is also home to several renowned theaters, historic sites, museums, galleries, and shopping destinations. Knoxville has more than a dozen hospitals and healthcare facilities within a short drive, as well as a regional airport.
Climate
Knoxville is comfortable year-round with a July high around 87 degrees and a 28 degree low in January. Summers offer visitors from the coast a relief from the stifling Southern heat that can often top 100 degrees, and while Knoxville winters do produce some snow, the yearly average is only about 5.7 inches.
Knoxville Communities
The Knoxville area is home to a few 55+ communities, but it's the active lifestyle communities here that really stand out. Some of them are even best sellers on 55places.com. Let's take a closer look.
Tellico Village – Loudon
Hosting more than 3,000 single-family and attached homes, Tellico Village is a sprawling master-planned community with resort-style amenities with water access. Homes are priced from the mid $100s to the high $1Ms, so there's an option for every budget. Whether active adults want to spend time on the lake, the golf course, the clubhouse, or the wellness center, they can do it all in Tellico Village.
Rarity Bay – Vonore
Rarity Bay is another lakeside community with modern amenities and a big range of price points. Custom homes in the community range anywhere from the low $100s – mid $3Ms and come in a variety of floor plans. Amenities include everything from a golf course to an equestrian center, as well as a marina for boating.
Asheville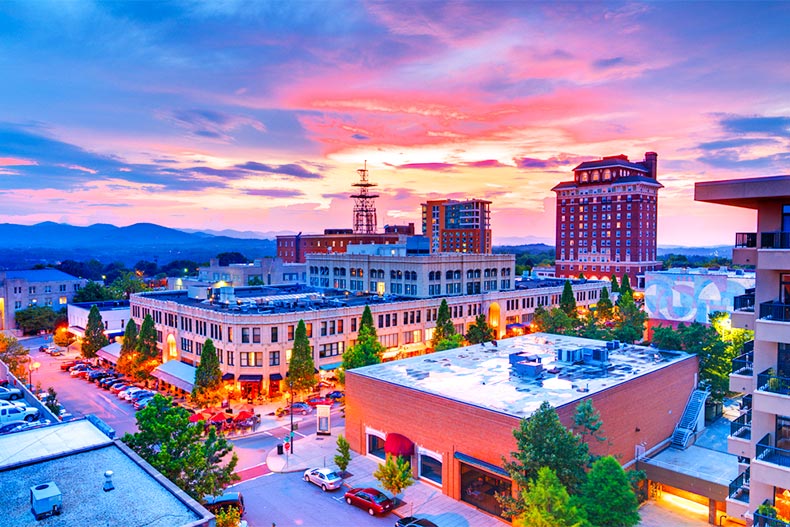 Listed as one of the 20 best places to retire by 55places.com, the small, eclectic city of Asheville is nestled in the heart of the picturesque Blue Ridge Mountains in Western North Carolina. The town has a lot to offer its residents from innumerable entertainment options to award-winning restaurants and breweries, and countless world-class art galleries. While Asheville is more densely populated than Knoxville by 4%, the city has almost 100,000 fewer residents than its Tennessee neighbor, according to Bestplaces.net
Affordability and Taxes
When it comes to finances Knoxville has a bit of an edge over Asheville. While the Western North Carolina town does have some financial benefits, like not having estate or inheritance taxes and the fact that social security benefits are completely exempt from income taxes, there are some downsides. Turns out 401(k) plans, as well as private and public pensions, are taxable at a flat rate, and the city's cost of living is 13.40 percent higher than the U.S. average.
Attractions and Amenities
Popular attractions in the area include several of the state's most popular landmarks, including the Biltmore Estate, Blue Ridge Parkway, Grandfather Mountain, and Linville Falls. Downtown Asheville is known for its impressive selection of award-winning breweries and eateries as well as its River Arts District that is packed to the brim with all types of art created by both locals and artists from around the world.
Other advantages to the area include close proximity to several major highways, a regional airport, multiple healthcare facilities, and the University of North Carolina at Asheville's Osher Lifelong Learning Institute, where active adults can opt to take college courses on just about anything.
Climate
Asheville's high elevation offers residents comfortable summers with July highs being 82 degrees. The city has cool falls and cold winters with some snow, but the mostly moderate year-round temps allow for plenty of time outside taking advantage of the area's many outdoor activities.
Asheville Communities
There are over 20 age-restricted or active lifestyle communities in the Asheville area, here are a few of our favorites.
Biltmore Lake
One of Asheville's most popular all ages communities is Biltmore Lake. The development's expansive property spans 1,300 acres and boasts a mixture of 1,000 single-family and attached homes for potential homebuyers. Notable amenities include a cozy clubhouse designed like a mountain lodge with a comfortable fireside lounge, a 62-acre lake, four miles of walking and biking trails, and several athletic courts.
Connestee Falls
Another active lifestyle community, Connestee Falls has 1,300 custom-built homes. The community features many outdoor-focussed amenities, including sports courts, 13 miles of walking trails, and an 18-hole golf course. Prices range from the low $100s to the high $1Ms.