Located in the scenic foothills of the Blue Ridge Mountains in Northwestern South Carolina—also known as the Upstate—Spartanburg is an ideal destination for active adults who want to retire in a mid-sized city with a small-town, close-knit feel. In addition to its small-town appeal, Spartanburg also offers residents a low cost of living, a relatively affordable housing market, and a desirable climate year-round. It's also within a few hours' drive of several larger cities, including Charlotte, Atlanta, Asheville, and Greenville. 
Here's what to know about living in Spartanburg: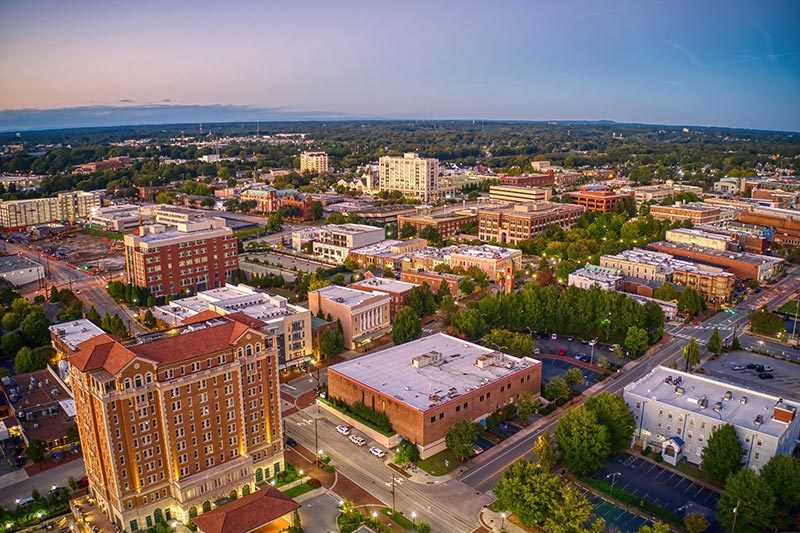 Spartanburg is more affordable than larger surrounding cities like Charlotte, Atlanta, Asheville, and Greenville. According to BestPlaces, the city's cost of living is 19.8% lower than the national average and the median home cost is $163,200. South Carolina also boasts some of the lowest property tax rates in the country, making owning a home in Spartanburg even more affordable for active adults who want to purchase real estate and retire in the area.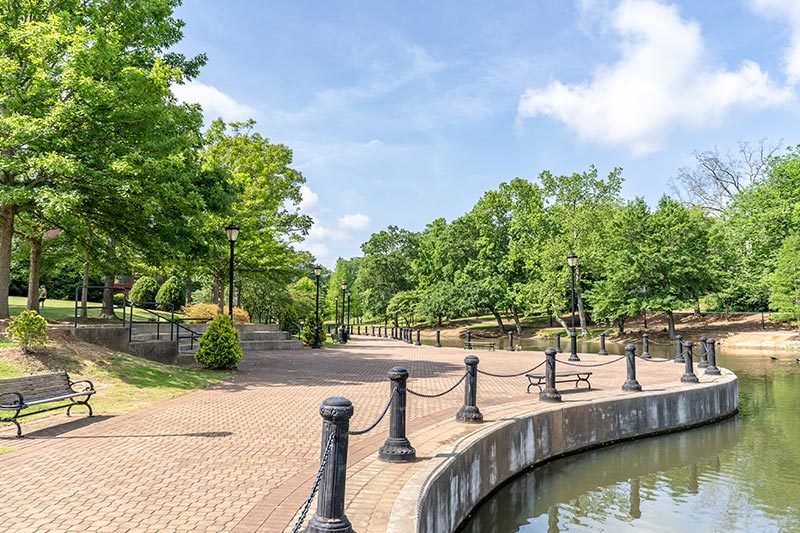 Spartanburg residents can expect to experience all four seasons with mild winters and hot, humid summers. The city's average temperatures range from a low of 48 degrees to a high of 74 degrees. January is typically the coldest month of the year, while July generally has the highest average temperatures.
According to BestClimateData, Spartanburg gets an annual average of 48.41 inches of rain and an average of 1 inch of snow each year.
Outdoor Recreation Options
With more than 70 parks in the Spartanburg area, there are plenty of outdoor recreations to choose from. Spanning 7,000 acres, Croft State Park is a go-to for residents. The park encompasses 20 miles of hiking trails, an equestrian center, and two lakes where visitors can boat, fish, or kayak.
The 13-acre Hatcher Garden Public Botanical Garden & Woodland Preserve is another place where residents can get outside and take in nature's beauty on a self-guided walk through tranquil woodlands. Lake Bowen is a great spot for residents who like to boat or fish. The 1,534-acre lake has 33 miles of scenic shoreline waiting to be explored.
Golfers have several options when it comes to courses in the area, including the Heddle Hideaway Country Club, The Creek Golf Club, the Greer Country Club, and Village Greens Golf Club. Downtown Spartanburg is also extremely walkable, making it easy for locals to take a leisurely stroll around town to explore and get in some daily cardio. During the summer and fall months residents can shop outdoors for fresh produce and local goods every Saturday morning at The Hub City Farmers' Market.
Spartanburg offers a wide variety of cuisines that range from traditional Southern cooking at The Kennedy to authentic Vietnamese at The Lemongrass Kitchen and Thai cuisine at Lime Leaf. After a delicious meal, residents can grab a scoop or two of homemade ice cream at local staple, Hub City Scoops.
Along with its culinary scene, Spartanburg has a growing craft brewing scene with several breweries to choose from, including Ciclops Cyderi & Brewery, Holliday Brewing, Plankowner Brewing, and New Groove Artisan Brewery. There are also several wine bars spread throughout the city, including Bond Street Wines, Carriage House Wines, and The Wine Gallery.
In addition to its local attractions, Spartanburg has a variety of entertainment options. Residents can catch a show at Ballet Spartanburg or Spartanburg Memorial Auditorium, listen to tunes at Music on Main—a free concert series for locals to enjoy in Downtown Spartanburg—or meander down the Spartanburg Music Trail.
There are also several popular annual festivals scheduled throughout the year that range from the Red, White, and Boom Fourth of July festival to the Spartanburg International Festival, and Retro Fest, the largest disco festival in the Southeast.
55+ Communities in Spartanburg
Olivia Springs is a new community with homes for sale in Spartanburg, SC. The neighborhood developed by trusted builder, Ryan Homes, will feature a total of 144 ranch-style single-family homes upon final completion. Potential buyers have seven distinct floor plans to choose from. Available plans range from 1,153 to 1,694 square feet and have two to three bedrooms, two to three bathrooms, and attached two-car garages. Some of the layouts also offer den areas.
Amenities within Olivia Springs include community greenspaces, an outdoor fireplace with rocking chairs, and picnic tables and grills where neighbors can gather to socialize and barbecue.
The Ravines at Woodridge is another active adult community with homes for sale in Spartanburg, SC. The small development features only 68 attached homes with floor plans that range from 1,616 to 2,381 square feet and have two to four bedrooms, two to three bathrooms, and attached two-car garages.
Amenities within the community include a clubhouse with a multipurpose room, a library, and an exercise room. Outdoor amenities include a pool and patio area.
Located 15 minutes from Downtown Spartanburg, the Elmwood Cottages community will feature a total of 115 single-family homes upon final completion. There are a number of distinct floor plans available that range from 1,153 to 1,696 square feet and have two or three bedrooms, two bathrooms, and attached two-car garages.
The neighborhood's list of amenities includes several outdoor gathering areas like a pavilion, a fire pit, and plenty of parks and natural spaces.
North Springs is a new Ryan Homes community with homes for sale in the Spartanburg area. The up-and-coming neighborhood will only feature a total of 75 single-family homes and offer four home models. Available floor plans range from 1,150 to 1,694 square feet and have two to three bedrooms, two bathrooms, a den area, and an attached two-car garage. There are also options to expand floor plans and add additional amenities like covered porches and private patio areas that are perfect for homeowners who like to host guests and entertain.
North Springs residents have access to a couple of amenities, including a community dog park and several parks and natural spaces.
Let 55places Help You Find Your Dream Home
If you're considering buying a home in Spartanburg, SC start your search at 55places.com to find out more information about the area, active adult communities, and available homes. From there, you can connect with a knowledgeable real estate expert by clicking "Request More Information" on a community's overview page.  Contact 55places.com to find your perfect community in the Greenville-Spartanburg area.