Where are the most affordable retirement communities in Florida?
They can be found along the southern Atlantic Coast, along Tampa Bay, and even in some of Central Florida's most desirable locations. When you're looking for the best housing prices in Florida, you may need to think about what type of home you want to live in, whether you're interested in amenities or location, and what kind of floor plan you're hoping to find.
Condos for seniors are typically more affordable than single-family homes. However, there are enough cheap retirement communities in Florida that most buyers can find what they're looking for without sacrificing their carefully constructed budgets.
Decide how much you're willing to spend on your new home, and then make a list of what you need and want. We'll help you narrow some of your options by providing an overview of the most affordable retirement communities in Florida. You'll find you can make an offer in one of these communities, and get a great home with a lot of amenities for a reasonable asking price.
Low $100s – Mid $400s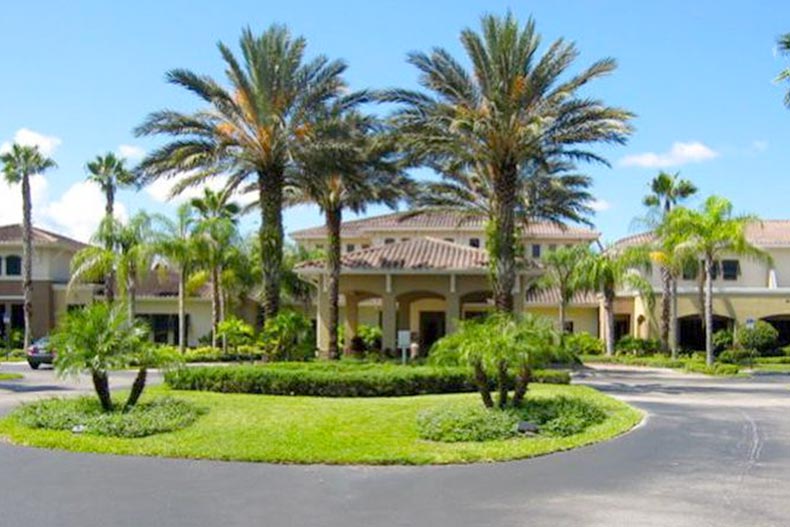 One of the most popular 55+ communities in the Tampa Bay area—and perhaps one of the most affordable—is Kings Point. Located about 30 minutes south of Tampa, the community is in Sun City Center, just off Interstate 75. The gated community offers single-family homes and attached villas in dozens of models and floor plans. They are spacious, ranging from 800 to 3,038 square feet, with two to four bedrooms, one to three bathrooms, and attached garages or covered carports. Many homes have dens as well as patios.
Kings Point residents enjoy frequent bus trips to the mall; shows and events in Tampa, St. Petersburg, and Clearwater; and restaurants in the local area. Events are hosted by clubs and include dinner dances, karaoke nights, game nights, holiday parties, and a variety of brunches, lunches, and potlucks. There are too many amenities to list, but most of them are found in either the North Clubhouse or the South Clubhouse. This is a golf-cart-friendly community, and the speed limit is a strict 15 mph.
Residents at Kings Point enjoy the swimming pools, shuffleboard courts, tennis courts, fitness centers, walking paths, libraries, floating fish dock, community centers, and dog parks. There are dance studios and painting studios as well as a woodworking shop and three greens for lawn bowling.
Sun City Center is a haven for active adults, and it's full of restaurants, shopping, and coffee shops. It's close to Apollo Beach, where there's fishing and boating and an opportunity to view manatees during the winter.
Below $100k – Mid $300s
Living on a golf course without spending a lot of money is completely possible, especially at Pennbrooke Fairways. This 55+ community includes single-family, manufactured, and attached homes. Located in Leesburg, residents can enjoy a scenic and serene city in Central Florida where there are rolling hillsides, peaceful horse farms, and plenty of opportunities to commune with nature. Hiking trails, biking trails, lakes, and the Ocala National Forest are all nearby.
Conservation areas, walking paths, and lakes can be found throughout the community at Pennbrooke Fairways. All of this is nestled around three executive golf courses, each with nine holes of play. Additional amenities include a theater, a ballroom, a catering kitchen, ceramic rooms, and craft rooms. There's an outdoor pool and spa as well as tennis, pickleball, shuffleboard, bocce ball, and basketball courts.
The community's Welcome Center includes a beauty salon, a post office, and conference rooms. The Pennbrooke Grille is available for residents and their guests to enjoy a meal, snack, or drink. There are several onsite clubs, including fitness classes, a softball team, and a fishing club.
This is one of the more affordable retirement communities in Florida, and for the money, buyers get a choice of single-family homes and attached cottages as well as villas. Sizes range from 500 to 2,000 square feet with one to three bedrooms and one or two bathrooms. It's an older community with some mobile homes that were built in the 1980s, but most of the residences for sale were constructed after 2000.
Low $100s – High $300s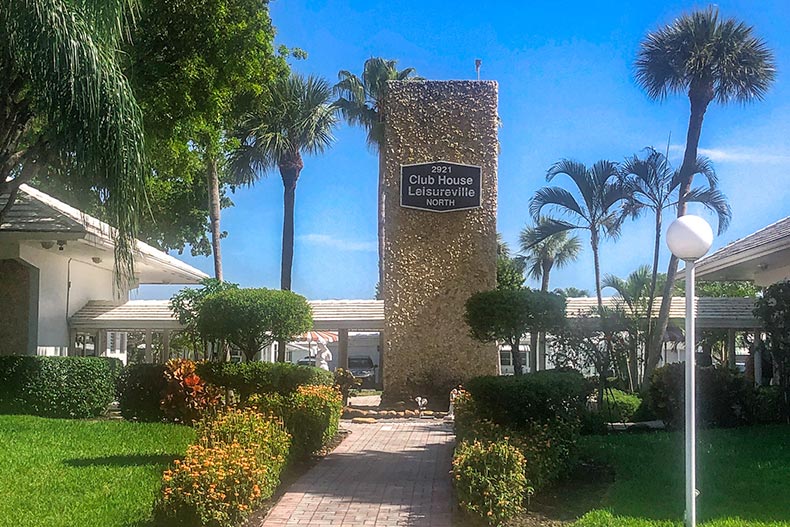 Also among the most affordable retirement communities in Florida is Leisureville. The name alone indicates that there's plenty of recreation and leisure to enjoy while living in this 55+ community. It's located in Pompano Beach, another coastal community in Broward County that thrives on its own but also offers access to Miami, Fort Lauderdale, and other southeast Florida cities.
All exterior maintenance is covered by the HOA, which also handles lawn care, provides amenities upkeep, and offers exterior house painting. Water and sewer costs are also included in the HOA fee, making this community extra affordable.
The condos offer 600 to 950 square feet. Most floor plans include one or two bedrooms and one or two bathrooms. Parking is in a designated space, and there's plenty of visitor parking too. The single-family homes are larger, include open floor plans, and have either a garage or a carport.
Amenities at Leisureville start at the two clubhouses: the North Clubhouse and the South Clubhouse. In the North Clubhouse, residents will find a fitness center, a sauna, an arts and crafts studio, a library, table tennis, and a multipurpose room. Golfers will appreciate the pro shop. There's also a nine-hole golf course, a pool and patio, and shuffleboard courts.
In the South Clubhouse, there's a multipurpose room, another outdoor pool and patio, and five bocce courts. Community transit is available for residents who want to leave or run errands without driving.
Below $100k – High $200s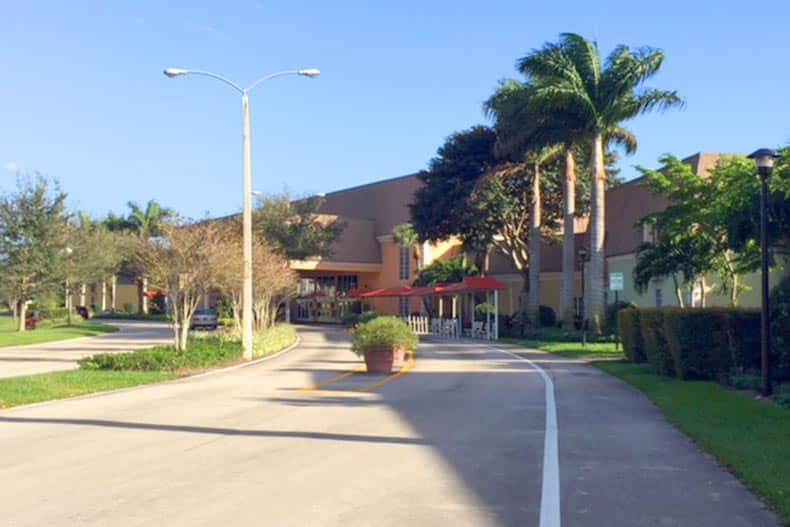 At Kings Point in Delray Beach, there are 7,200 condos, and many of these homes have views of lakes or the golf course. They're not only affordable, but they're also low-maintenance. These homes offer 762 to 1,100 square feet, one or two bedrooms, and one or two bathrooms. Parking is assigned, and the open floor plans include large, walk-in closets and screened porches. Landscaping, exterior maintenance, and gate security are included in HOA fees.
Plenty of amenities are available to keep residents busy and active. The main clubhouse is 100,000 square feet and includes multipurpose rooms, a fitness center, and an indoor pool. There's also an 18-hole golf course, shuffleboard, woodworking, and tennis. At The Flanders Clubhouse, residents enjoy billiards, a fitness room, tennis and shuffleboard courts, and an additional pool. The Monaco Clubhouse has similar amenities, and there are frequent social events, parties, and club meetings held at the various clubhouses.
Clubs and activities include folk and line dancing, yoga, short story discussions, stained glass classes, art workshops, and personal training. Delray Beach provides residents with a lot of art, culture, and opportunities for fine dining and excellent shopping.
Low $100s – Mid $400s
A large golf community in Coconut Creek, Wynmoor Village provides some of the best housing prices in Florida. There are 5,260 condos in Wynmoor Village, and many of them are listed below $200,000. Condo homes are in 133 mid-rise buildings, and the community provides easy access to larger cities like Fort Lauderdale and Miami.
Resale homes range from 500 to 1,800 square feet, with models that offer one to three bedrooms and one to four bathrooms. Some homes have updated floors and counters, open floor plans, and spacious owner's suites. Many condos have a lake view, and others have balconies or patios with views of greenspace and trees. Ample parking is available.
The 55+ community has a number of amenities available to residents, including a large clubhouse with multipurpose rooms, a billiards room, a library, two card rooms, a theater that seats 950, and multiple art studios for ceramics, stained glass, clay, stone, and painting. There's also a modern fitness center and more than 20 pools, one of which is a walking pool. Shuffleboard, pickleball, and tennis courts are also available.
The best amenity, perhaps, is the Wynmoor Golf Club. This is available to residents who want to pay a daily fee or become a member. There's an 18-hole course, a pro shop, and a cafe.
Below $100k – High $100s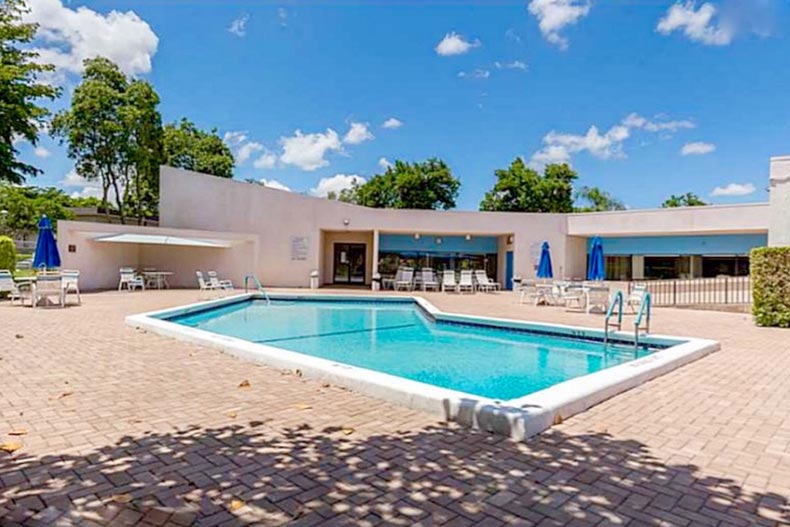 Affordable condos are available at Lime Bay, a 55+ community in Tamarac. These condo homes are in low-rise, three-story buildings with an elevator and communal laundry facilities.
It's a social community, with activities and events always on the community calendar. Active adults who enjoy picnics, bingo, card nights, game nights, and holiday parties will feel at home within Lime Bay. There are also choral groups, fitness groups, book clubs, and art classes.
Walking, biking, and running trails are abundant in this community, and most of them pass by lakes, parks, and scenic greenspaces. Additional amenities include a clubhouse, a fitness center, a sauna, a multipurpose room, and a billiards room. There are also shuffleboard and tennis courts.
A pool and spa are just off the clubhouse, and a second pool is also available on the other side of the community. Both include seating, patio space, and even a little shade. A picnic area is also available.
Condos at Lime Bay offer 700 to 1,200 square feet, and they come in one- or two-bedroom models with one or two bathrooms. Oversized bedrooms include walk-in closets, and many homes have been upgraded and updated with newer appliances, tile showers, and tankless water heaters.
Tamarac is in Broward County, and it's considered part of the Miami metropolitan area.
Low $100s – Mid $300s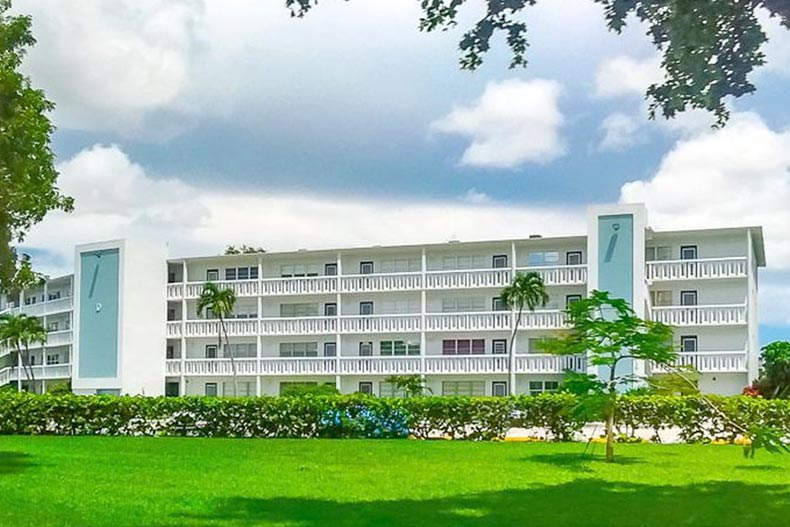 There's a lot to love about Century Village East. It's located in Deerfield Beach, which is close to Miami and other south Florida hot spots. This community provides onsite amenities and activities, including a clubhouse and pools. More than 8,500 condos are available at Century Village East, and the reasonable HOA fee covers things like landscaping, trash removal, and all exterior maintenance. Living in this community is affordable and low-maintenance.
Condos are available in different floor plans and sizes. They're in secure, low-rise buildings with two to four floors and elevators. Homebuyers can select one of eight models, ranging from 650 to 1,100 square feet, with one or two bedrooms and one or two bathrooms. Screened balconies and patios provide a bit of outdoor space, and some condos have views of the water or neighboring golf course.
In addition to a clubhouse and indoor and outdoor pools, there's also a fitness center, multipurpose rooms, a sauna, and a ballroom. Homeowners also have hobby spaces where they can participate in photography, ceramics, music, and billiards. Outside, amenities include a putting course, a volleyball court, shuffleboard courts, and tennis courts. For residents who don't love to drive, there's community transit available.
Clubs and activities are popular in this social community. There are day trips, fitness groups, community parties, game nights, potlucks, and seasonal events.
Below $100k – Low $200s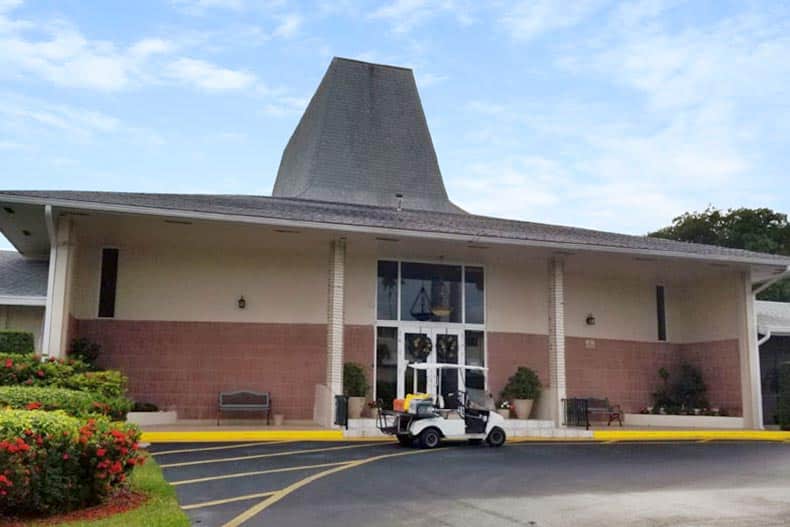 Anyone looking for affordable retirement communities in Florida will want to add Lake Clarke Gardens to their list of potential new homes. This 55+ community in Lake Worth offers modern condos in low- to mid-rise buildings. Low-maintenance condo homes have 744 to 1,080 square feet with one or two bedrooms and one or two bathrooms. Many homes have been upgraded with storm shutters, stainless steel appliances, and hardwood floors. Owner's suites include walk-in closets, and condos have balconies and patios as well as plenty of storage.
Lake Clarke Gardens offers a well-appointed clubhouse, where there's also a fitness center, a sauna, a library, a billiards room, and a community auditorium. Two swimming pools are available, both with patios and seating. Shuffleboard courts welcome residents for recreational and competitive play.
There are walking trails throughout the well-landscaped community as well, and the active homeowners association (HOA) ensures that living at Lake Clarke Gardens is as low-maintenance as possible.
Lake Worth isn't far from West Palm Beach, and it's an easy day trip from Miami. The ideal location along Florida's southeast Atlantic coast makes it an easy jumping-off spot for anyone who wants to explore the state.
Mid $100s – Low $300s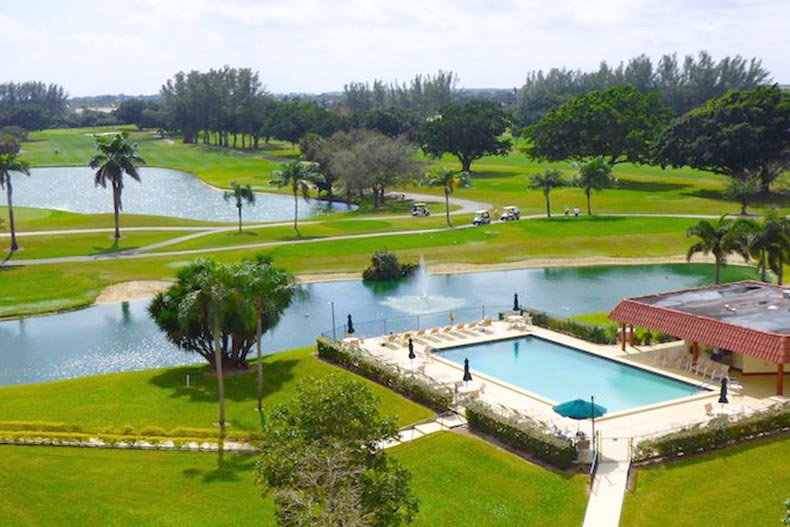 Active adults looking for cheap retirement communities in Florida that feel like a country club will want to take a look at Hollybrook Golf and Tennis Club. There are two 18-hole golf courses (one a championship course and one a par 3) in this 55+ community as well as tennis, shuffleboard, pickleball, and bocce courts. It's located in Pembroke Pines, which is about half an hour north of Miami, close to the water, and full of recreation and entertainment.
Private amenities in this community include a clubhouse, a fitness center, multipurpose rooms, a library, and a space for billiards and cards. There's a catering kitchen, which is often used for events and parties, and a playhouse with a stage that often hosts live performances and movie showings. There's also an onsite restaurant as well as seven pools and patios with separate pool houses.
One- and two-bedroom condos range from 800 to 1,573 square feet. Most homes have one or two bathrooms, and some homes have dens, gourmet kitchens, and large owner's suites. Screened patios and balconies are available, and many condos have been recently updated.
Below $100k – Low $300s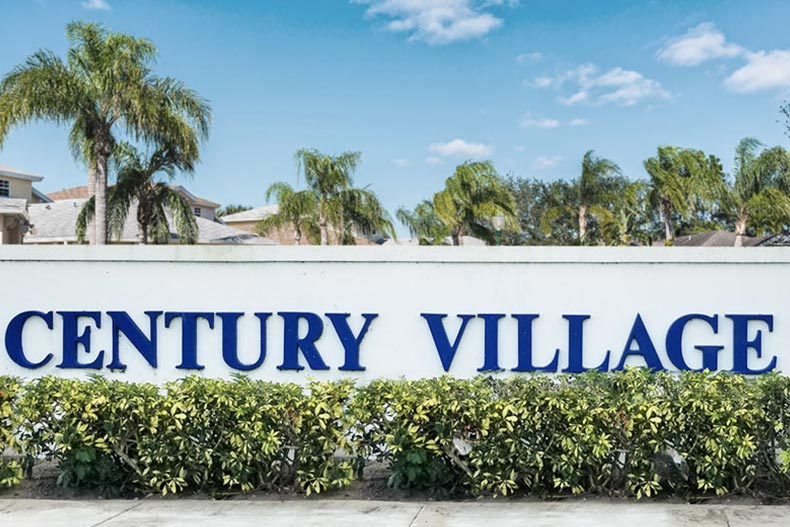 Affordable condos are available at Century Village at West Palm Beach. A lot of buyers on a budget think they can't afford to live in a community like West Palm Beach. As this community proves, it's absolutely possible. Condo homes can be found for less than $200,000.
Century Village at West Palm Beach is a large community, with 6,500 condo homes in low-rise buildings that have secure entrances and elevators. Most buildings offer between two and four floors. About 10 floor plans are available, with between 600 and 1,500 square feet. Condos have one or two bedrooms, one or two bathrooms, and plenty of parking for residents and guests. Most models include an open floor plan, spacious owner's suites, and balconies with golf course or water views.
Residents stay active physically and socially. The clubhouse offers 92,000 square feet of activity space. There's a fitness center, an indoor resistance pool, and several multipurpose rooms for games, cards, and club meetings. The performance theater seats 1,221 people and often features plays, comedy shows, and musical performances.
With fantastic weather year-round, residents enjoy the two main outdoor pools and an additional six satellite pools, all with patios for seating and sunbathing. There are four tennis courts and 39 shuffleboard courts.
West Palm Beach offers access to the ocean as well as a lot of culture, dining, and entertainment. Clematis Street downtown is home to great restaurants and plenty of nightlife. CityPlace is also a popular spot to have a drink or stroll through an art gallery.
It's possible to find affordable retirement communities in Florida, if you know where to look. Contact 55places.com to find your perfect community in Florida.