Centrally located and full of fun things to do, Orlando has traditionally drawn more than 75 million visitors annually. It's also becoming a permanent home to a growing number of active adults.
What's so special about living in Orlando? People retire here because of the warm weather, abundance of entertainment and recreational opportunities, and relatively low cost of living compared to other east coast cities.
If you're thinking about moving to Orlando, here are a few things to know.
Retiring in Orlando: Pros and Cons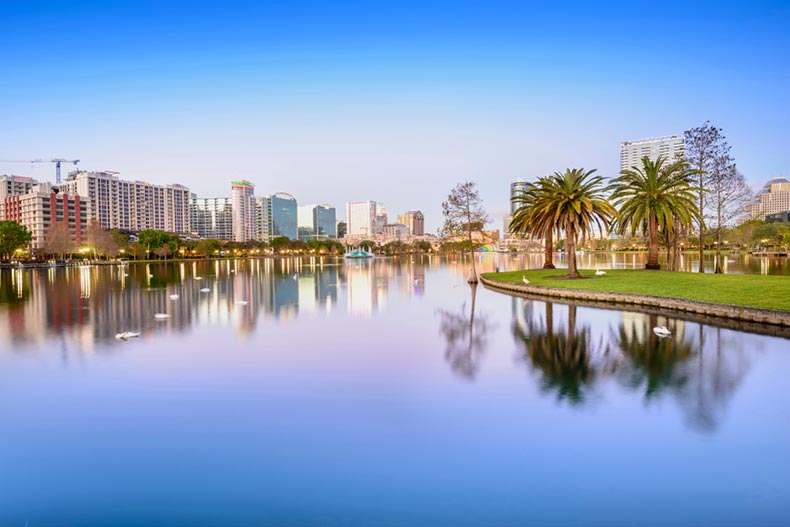 PROS
Shorts in January: Warm weather means year-round golf, hiking, boating, and outdoor recreation.
It won't break the bank: Orlando provides a reasonable cost of living, especially when it comes to housing, utilities, food, and general necessities. Plus, there's no state income tax in Florida.
You'll always have visitors: Friends and family will make plans to see you thanks to your location. Grandkids will want to visit the theme parks.
It's easy to see the rest of Florida: From Orlando, you can be in Miami in less than a day. Tampa is about an hour and a half away, and the beaches in Jacksonville and Daytona are also close. Orlando has two international airports and sits right off Interstate 4 and the Florida Turnpike.
CONS
It's hotter than hot. Not shoveling snow is a huge perk, but in the middle of August when you've sweat through your fifth outfit of the day, you may rethink the joys of Florida weather.
Orlando is a pretty big city. With city life comes traffic, crowds, and of course, the ongoing arrival of tourists. Plenty of quieter spots exist right outside of the city if you can't imagine yourself in the thick of it.
Tropical weather is possible. You wouldn't think Orlando would have to worry about hurricanes since it's inland, but at least two recent tropical storms have covered almost the whole state. Weather can get intense, and you'll need to prepare yourself and your home for that.
Orlando Climate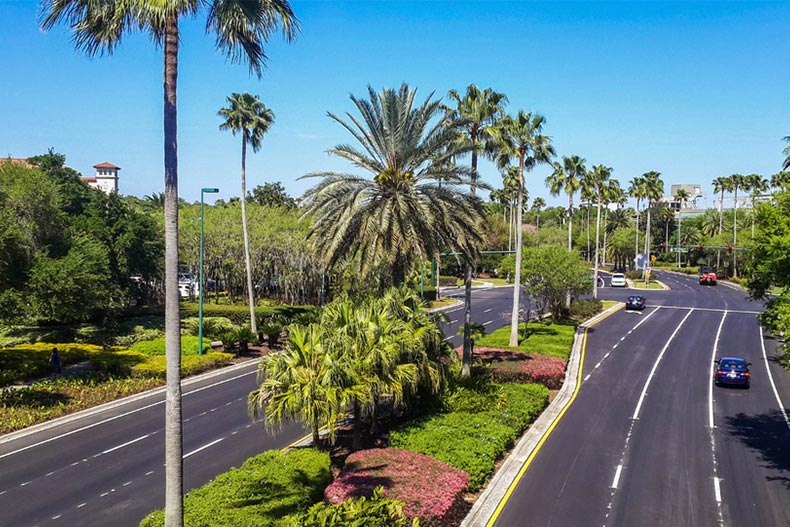 You know what to expect living in Orlando: sunshine. That's mostly true. Orlando enjoys an average of 236 sunny days a year. Some things to prepare for, however, are those mid-afternoon thunderstorms that show up reliably on most days during the summer months. There's a lot of humidity during the summer as well. This can lead to some aggressive air conditioning indoors. Always have a sweater or an extra layer available, even if you can't imagine using it.
November through March, most average temperatures during the day are in the 70s. Lows at night are often in the 50s or 60s. Temperatures rise in April and May, usually into the 80s. Things get hot by June and stay hot into October. Most days will see at least 90-degree temps and even at night, it doesn't get any cooler than 70 to 75.
Trips to lakes, pools, and beaches are common from April to October. Golf courses are open all year long, and some of the best months for hiking, biking, and wildlife watching are in the winter. Trails are less hot in January and February, and there's no humidity. You'll find that most farmers markets and outdoor festivals also occur during the winter months to prevent attendees from getting too hot.
Orlando Taxes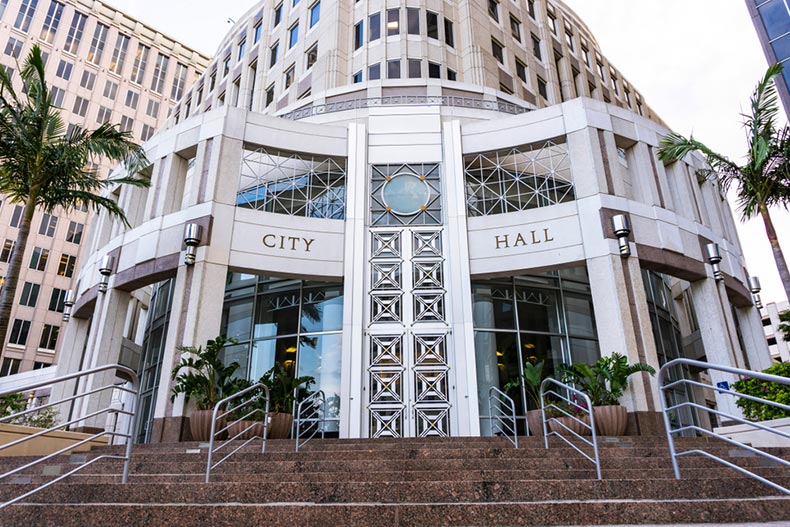 Florida doesn't have a state income tax, so moving to Orlando will relieve you of any obligation to pay state taxes on Social Security benefits, pensions, IRAs, 401(k)s, and other retirement income. There isn't a state inheritance tax or estate tax either. Orlando is a pretty tax-friendly paradise for active adults.
The sales tax in Orlando is 6.5 percent. That includes the 6 percent state sales tax and the 0.5 percent Orange County sales tax. There's no specific city sales tax in Orlando nor are there special rates for the city.
Orlando Property Taxes
Property tax breaks are available to Orlando residents 65 years of age or older. There are income limits and other requirements that must be met, which the Florida Department of Revenue is constantly updating.
The Orange County Property Appraiser's Office will assess all property taxes by multiplying the owner's property value less exemptions by the millage rate and inclusive of any homestead, veteran, or widow exemptions.
Orlando Retirement Income Taxes
Moving to Orlando doesn't exempt you from all your income taxes. You'll still have to pay those federal taxes every year. However, you won't have to file a state income tax return, and there won't be any local income taxes to pay.
Orlando Tax Exemptions for Seniors
There are some exemptions for seniors when it comes to local and state taxes, but only if residency of 25 years can be proved and only if income requirements are met.
The Homestead Exemption will be your best tool for saving money on property taxes. In the state of Florida, that's a $25,000 deduction from the first $50,000 of your property's assessed value. The requirements are fairly simple: You must use that property as your permanent residence and you must have owned the property on January 1 of the tax year. This exemption applies to all taxes, including school district taxes.
Orlando Health Care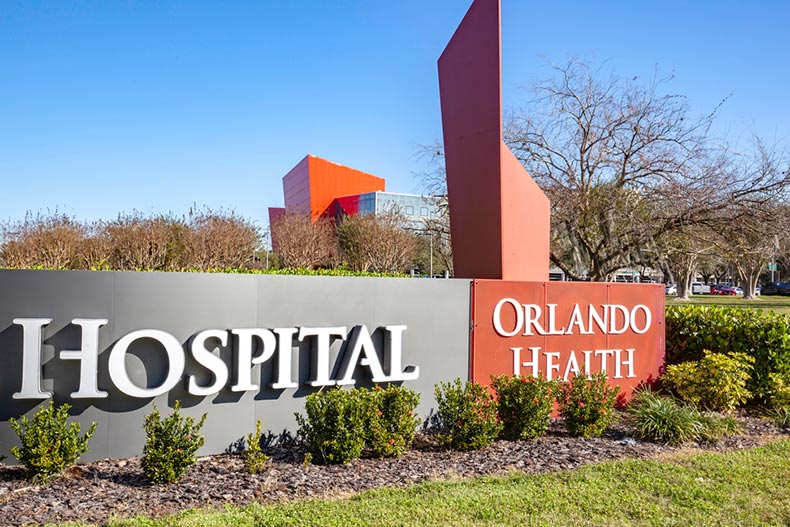 Orlando has an impressive network of hospitals and health care facilities. Orlando Health is the most well-known and respected collection of providers, hospitals, labs, image centers, and specialty services.
Specializations include emergency rooms and urgent care centers, digestive health, vascular health, primary care, and wound care. There's also a cancer institute with nine locations around the Orlando area.
AdventHealth Orlando has also been routinely named as a top hospital in Florida. It has 1,195 beds, and in addition to a cancer center and a cardiovascular institute, they also specialize in diabetes care, women's healthcare, and transplants. They also focus on senior care, providing personalized and preventative services.
Where to Live in Orlando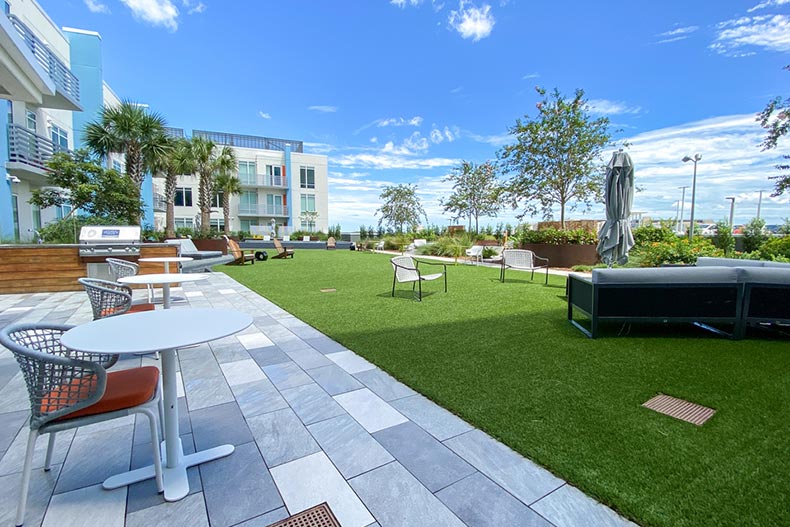 Orlando covers over 119 miles of Central Florida. Living downtown is always an option, and there are also some great suburban neighborhoods right outside the city.
Local communities within half an hour of Orlando include Winter Park, Winter Garden, St. Cloud, Kissimmee, and Celebration. Walt Disney World and all its associated theme parks are on the western edge of the region, and east of the city are spots like Avalon Park and Cypress Springs.
Unless you like being in a walkable part of town with a lot of energy and a lot of people, consider avoiding Downtown Orlando and the theme park areas. Most active adults choose quieter suburban areas that still provide easy access to all the shopping, dining, and entertainment available inside the city.
City of Orlando
It's easy to live inside the Orlando city limits without being confined to a downtown high-rise. Pocket neighborhoods and master-planned communities, including Lake Nona, are especially popular among active adults.
By living inside of Orlando, you can enjoy being minutes from great restaurants and attractions such as CityArts, which is part of downtown Orlando's art district. There's a Museum of Illusions and music and theater venues such as The Beacham and Camping World Stadium.
A few notable active lifestyle communities are located in Orlando, close enough to everything residents want to do but not stuck in a high-traffic area. VillageWalk at Lake Nona, for example, is a community of 1,300 single-family homes and attached villas with a Town Center and amenities that include a clubhouse, a fitness center, a pool, and golf courses.
There's also Gatherings of Lake Nona, a 55+ community known for its spacious and low-maintenance condos. The Enclave at VillageWalk is also in Orlando, notable for its intimate feel with only 144 single-family homes available.
St. Cloud
About half an hour from Orlando is St. Cloud, an emerging suburban area that feels local and extremely community-oriented. Part of Osceola County, it's found on the southern shores of East Lake Tohopekaliga.
People in St. Cloud enjoy outdoor activities such as fishing, boating, and attending the local rodeo. You'll also find some great shops, good restaurants, and a lot of festivals, art shows, and farmers markets.
St. Cloud is home to great bass fishing. The St. Cloud Twin theater is a throwback to what going to the movies used to be like, and paddling and kayaking are popular pastimes at Rock Springs and Shingle Creek.
Several 55+ communities can be found in St. Cloud, including Del Webb Sunbridge, which includes a 27,000 square-foot clubhouse and a long list of resort-style amenities. New construction homes are available in this gated community.
Twin Lakes is another great option. This gated 55+ community offers single-family homes and attached villas in a number of floor plans and models. There's a pier and several scenic walking trails throughout the community.
Check out Serenity Reserve as well. A fitness center, a pool, pickleball courts, and an herb garden are available to homeowners in this 55+ community. Only 85 single-family homes are in this serene, intimate community where neighbors enjoy movie nights and themed dinners.
Kissimmee
The city of Kissimmee is often mentioned with Orlando, and that's not only because of geographic proximity. They're also a lot alike, with theme parks, shops, hotels, and large restaurants that can accommodate a crowd.
There's more to Kissimmee than vacationers, however. There's a lot of nature, some unique shops and art galleries, and a pace that's turned down a notch or two from the frenzy of Orlando.
The Kissimmee Lakefront Park includes playgrounds, walking paths, and a fishing pier. There's golf and the Museum of Military History. Old Town is a fun place to visit, where there's an arcade, old-fashioned ice cream shops, and lots of restaurants as well as an old car show every Saturday night.
Active adults looking for real estate in Kissimmee will want to focus on a few of the area's most popular 55+ communities. Solivita is a sprawling gated community with nearly 6,000 attached and single-family homes. There are several neighborhood amenity centers, fitness centers, and sports parks as well as Stonegate Golf Club for residents who like to play.
Four Seasons at Orlando is a new construction community of single-family homes with a lot of amenities, including pools and pickleball. An Activities Director keeps homeowners social by planning events and activities.
Tohoqua Reserve is a reasonably priced 55+ community with single-family homes and attached villas. New construction homes are available in spacious floor plans with modern designs and there are plenty of communal amenities.
Ready to Make the Move? 55places Can Help.
To discover more exciting 55+ communities in Orlando, we invite you to contact us at 800-928-2055 or visit 55places.com. Our experienced team of real estate experts will guide you through the top options in your area and help you make a seamless transition from your current home to a 55+ community. We look forward to helping you make your next move the best one yet!