Living in Stockton, California offers an affordable alternative to pricier nearby areas such as the San Francisco Bay area and Sacramento. Only about an hour east of San Francisco, the Stockton/Manteca area boasts a growing population of active adults looking to get more bang for their buck.
If you're interested in moving to Stockton, read on to discover everything you need to know about the area.
Retiring in Stockton: Pros and Cons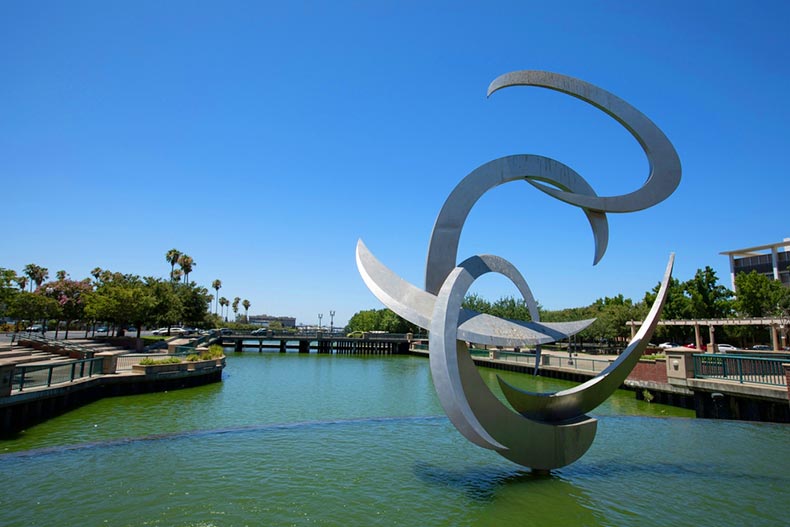 PROS
Cheaper home prices: Homes in Stockton are generally a whopping 135% less expensive than in San Francisco and 1.5% cheaper than homes in Sacramento.
Easy access to the rest of California: Just an hour east of San Francisco, Stockton is an easy drive from plenty of attractions, including Napa Valley, Santa Cruz, and Half Moon Bay. It's only a 2.5-hour drive from beautiful Lake Tahoe and only a two-hour drive from Yosemite National Park. Stockton offers an ideal centralized location near all of the wonderful attractions of Northern California.
Warm weather: The Stockton area boasts warm, dry weather that the California Central Valley is known for. With average days of an idyllic 75 degrees, Stockton's temperate climate is ideal for year-round outdoor recreation and dining al fresco. Because the weather is so favorable to crops too, residents of this area enjoy a wide variety of fresh produce year-round.
Popular attractions: With a population of over 300,000 and growing, Stockton offers all the attractions and conveniences of a big city, such as theaters, museums, fine dining restaurants, large shopping plazas, hospitals, and higher education facilities. There are also plenty of natural areas in and around Stockton to enjoy walking, golfing, hiking, and cycling.
CONS
Poverty: The poverty rate in Stockton is currently at 22.4%, while the state average is 15.1%. However, the good news is that this rate is declining.
Growing population: Because of its lower cost of living and other favorable qualities, Stockton is seeing a steady growth rate of 0.34% annually, and its population has increased by 8.29% since 2010. With a larger population comes more congestion, pollution, traffic, and competition for resources such as affordable homes.
Car dependency: Stockton is large and spread out, and thus, is a very car-dependent area. Public transportation leaves much to be desired, so residents will need a car to get around reliably and safely. According to WalkScore, Stockton has a walk score of 44, a transit score of 25, and a bike score of 52. The city does have many bike trails, however, so it may be possible to bike to your destination.
Stockton Climate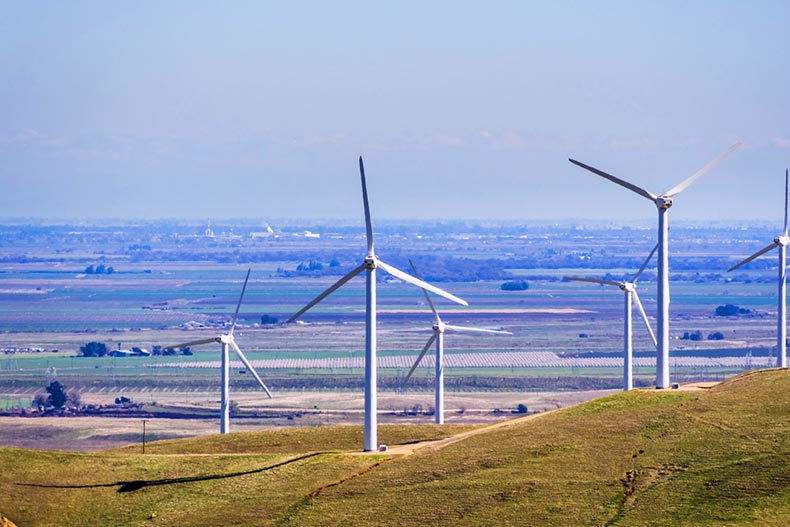 Stockton's climate is warm and dry, with sunny summer days and mild winters that see some rain but no snow. July is the city's hottest month, with an average high temperature of 93°, while December has the coldest temperatures, with an average of 37.4° at night.
Humidity in Stockton is typically low and comfortable, and the annual rainfall in Stockton is 17 inches. The city experiences 59.7 rainy days annually, which is about the same as the state average.
October, May, and April are the most pleasant months, with high temperatures in the range of 70-85°. During these months and others, residents enjoy the variety of outdoor activities available in the area, including boating on the delta, horseback riding, cycling the many paved bike paths in the area, and enjoying U-Pick farms during the fruit-picking season.
Stockton Taxes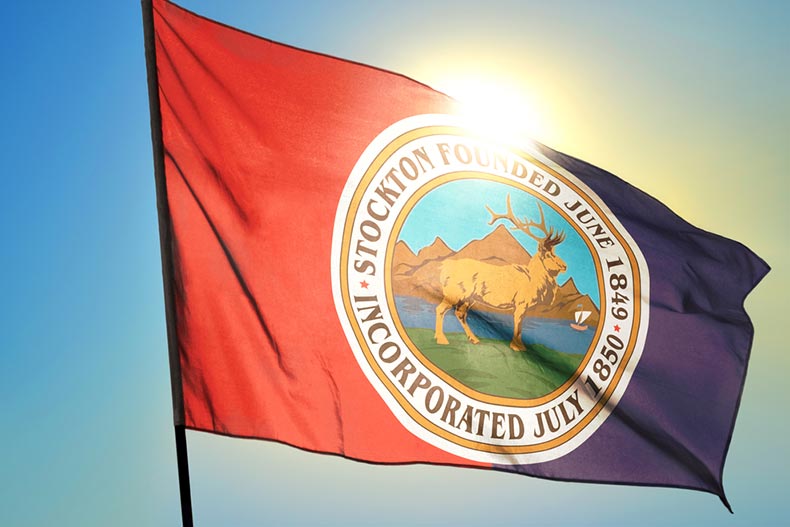 Californians are used to paying higher-than-average taxes, and taxes in Stockton are no exception. According to the state's income tax brackets, high earners can pay as high as 13.3% of their income, but the average is 9.3%. Sales tax in Stockton is also on the high side at about 9%.
Stockton Property Taxes
San Joaquin County has one of the highest property tax rates in California, at roughly 1.122%.
Stockton Retirement Income Taxes
Retirement income, including withdrawals from 401(k) or IRA accounts, is taxed in California. But it's not all bad news when it comes to Stockton taxes.
Unlike some states, Social Security is not taxable in the Golden State. A fairly new Proposition has also passed in California, enabling active adults to keep their property taxes "grandfathered in."
Stockton Tax Exemptions for Seniors
Proposition 19, also known as "The Home Protection Act for Seniors, Severely Disabled, Families, and Victims of Wildfire or Natural Disasters Act" was passed in California on November 3rd, 2020.
Prop 19 can benefit active adults ages 55 and up who are looking to purchase a home but are afraid of a higher property tax rate. Prop 19 allows homeowners aged 55+ to transfer their property tax assessments from their sold home to a newly purchased home anywhere in California, regardless of value. This is great news for retirees looking to move to the Stockton area from in-state.
Stockton Health Care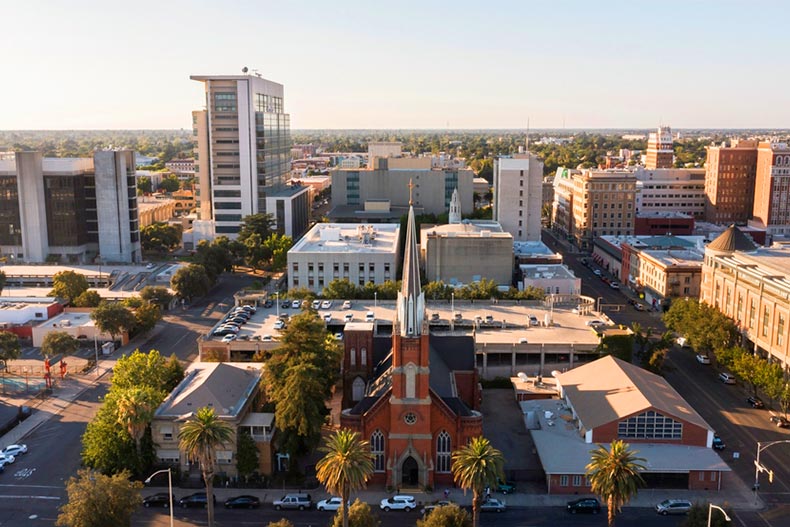 Residents of Stockton and the surrounding area have plenty of choices when it comes to health care, long-term facilities, and hospitals.
St Joseph's Medical Center is a long-standing medical care hospital located in Stockton, and it's just one of three major hospitals in the city, along with Dameron Hospital and San Joaquin General Hospital.
Where to Live in Stockton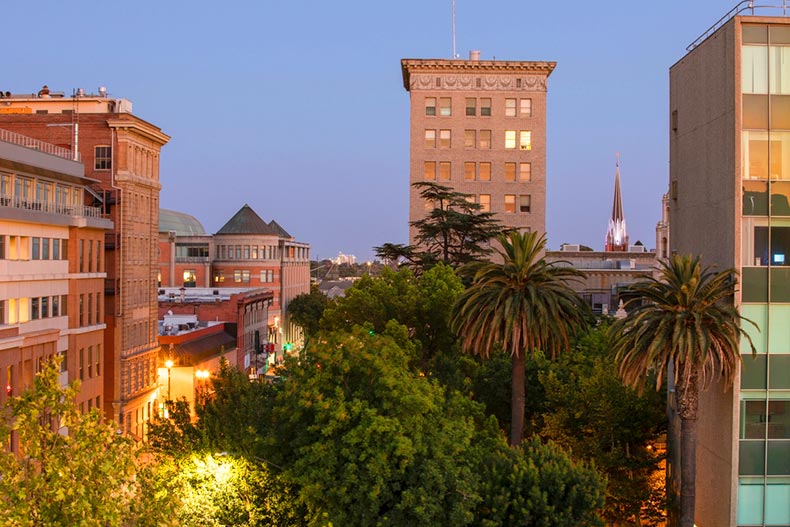 Lincoln Village
Regarded as one of the nicest and safest neighborhoods in Stockton, Lincoln Village is located in the northeastern area of the city. With a population of around 5,000, this suburban area is chock full of quaint coffee shops, neighborhood restaurants, and well-kept parks.
Most residents here own their own homes and are typically families and young professionals, with some retirees as well. The schools in Lincoln Village are well-rated, which helps homes retain their value
Manteca
Just twenty minutes from Stockton, Manteca offers a smaller, suburban feel, with many families and active adults. Manteca has a population of about 80,000, so it's still substantial enough to provide all the amenities and necessities of an urban area, plus small-town attractions like farmer's markets and seniors groups. There are also a few 55+ communities in the area: Woodbridge and The Collective.
Woodbridge is a sprawling 55+ community comprised of 1,425 single-family homes. Current homes for sale start in the low $500s. With modern homes and a rich lineup of amenities, Woodbridge offers residents a well-rounded, active lifestyle.
The Collective is another 55+ community in Manteca, with a more modest 478 single-family homes. This newer development broke ground in 2018 and is ongoing. Although The Collective does not have age restrictions, it's popular among active adults searching for a modern community with resort-style amenities.
Ripon
South of Stockton, Ripon is a small, agricultural community of roughly 15,000. Ripon is an oasis for active adults looking for true small-town charm, where neighbors care and look out for one another. Popular activities in the area include river rafting, fishing, and camping by the nearby Stanislaus River.
Chesapeake Landing is a charming 55+ community in Ripon with 99 attached and single-family homes. Current homes for sale start in the high $400s. Some amenities featured at Chesapeake Landing include an exercise room, a multipurpose room, a game room, and billiards. Outdoors, an outdoor pool, a spa, and a patio help residents enjoy the many warm, sunny days.
Lathrop
A short nine miles south of Stockton lies Lathrop, another quaint farming community of around 23,000. Lathrop offers active adults affordable housing and small-town charm.
There are many farms and orchards in the area, so fresh produce and fruit is plentiful year-round. There are also plenty of attractions to visit in Lathrop, including Dell'Osso Family Farms, California Cavern State Historic Landmark, Micke Grove Zoo, Haggin Museum, and the Lathrop Community Center. Outdoor lovers appreciate the many greenspaces in the area, including Dos Reis Park, Manuel Valverde Park, and Mossdale Crossing Regional Park. Golfers enjoy access to multiple courses, including Stockton Golf & Country Club, Manteca Park Golf Course, and Spring Creek Golf and Country Club.
Opening in late 2022, 55+ community Del Webb at River Islands is a highly anticipated new community consisting of 900 new single-family homes, built by renowned active adult homebuilder Del Webb. These homes will be single-family floorplans with open living spaces and modern upgrades. The community will also feature resort-like amenities, including a pool and pickleball courts.
Ready to Make the Move? 55places Can Help.
To discover more exciting 55+ communities in Stockton, we invite you to contact us at 800-928-2055 or visit 55places.com. Our experienced team of real estate experts will guide you through the top options in your area and help you make a seamless transition from your current home to a 55+ community. We look forward to helping you make your next move the best one yet!