Active adults who enjoy spending time outdoors, exploring new places, and being physically active often love bicycling. Whether for transportation, recreation, or exercise, bicycling makes it possible to cover more ground in a shorter amount of time so retirees can do more and see more. And with plenty of electric and electric-assisted models available, bikes have become even more accessible.
Bicycling also provides active adults with effective aerobic exercise. According to the Cleveland Clinic, biking can help strengthen muscles, build endurance, and improve coordination and balance. And as a low-impact exercise, most people find cycling an approachable and engaging way to incorporate movement into their day.
Some retirement destinations and bike-friendly communities make it easy to enjoy bicycling. The best cities for biking provide ample opportunities for cyclists to safely enjoy their hobby. There are even special events, clubs, bars, stores, and destinations for active bicyclists.
We rounded up the seven most bike-friendly cities in the U.S. to help active adults explore more options for their retirement.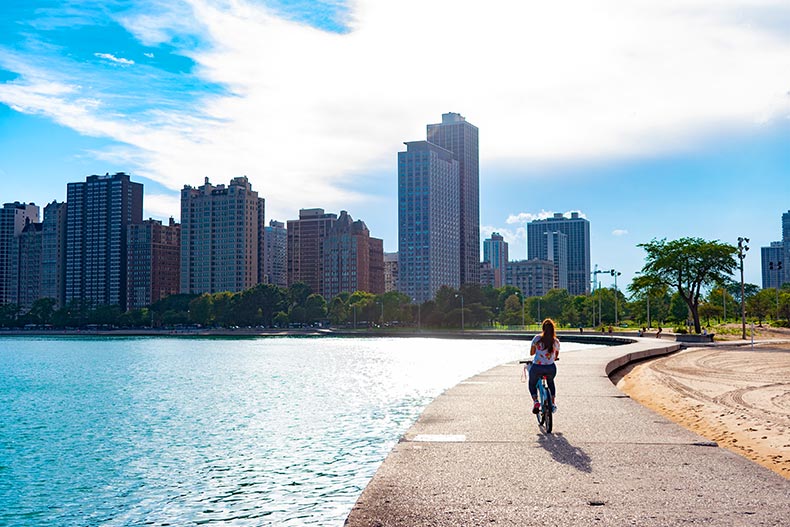 One of the most bike-friendly cities in the U.S. for cycling seniors is Chicago, Illinois. The Windy City includes hundreds of miles of bike lanes on its bustling streets, along with an easy, flat terrain that was once a prairie before the city sprung up. In addition to streets with convenient bike lanes, cyclists can make use of the 18.5-mile Lakefront Trail, a scenic route that offers stunning views of the Chicago Skyline and Lake Michigan.
Senior cyclists can also find a sense of community in Chicago thanks to the numerous independent bike stores and their patrons. There are also biking clubs for pretty much every individual neighborhood in the city, including city-wide groups like the Chicago Cycling Club. 
If you don't own a bike but still want to explore, the bike-sharing company Divvy allows you to borrow a bike at one of the several hundred stations for as long as you like. It's also worth noting that the CTA (Chicago Transit Authority) allows bikes on the 'L' train and buses, allowing cyclists to bring their rides anywhere they go.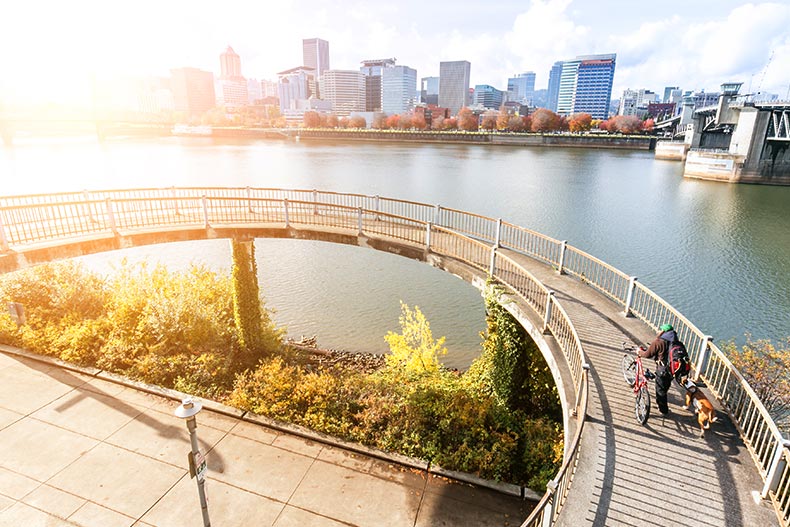 Portland, known as the City of Roses, offers a scenic Pacific Northwest location surrounded by national forests, mountain ranges, and parks. According to Travel Portland, the Oregon city features more than 350 miles of bike paths, lanes, and "bike boulevard" streets for residents and tourists to enjoy. These bike paths traverse the city and its most popular neighborhoods, connecting cyclists to eclectic shops, restaurants, and attractions.
Every summer, Portland hosts Pedalpalooza Bike Festival, a fun event that consists of more than 100 group bike rides throughout the city. Many of these rides have themes or costumes that make them even more fun, such as Galactic Disco. One of the more popular events, the Slowest Ride of the Year, is a scenic waterfront ride led by a unicycle. These group rides, which several biking clubs continue throughout the year, make Portland a very bike-friendly city.
Portland residents can even adventure in the surrounding area with their bikes. Residents can take a day trip to the Banks-Vernonia State Trail, a paved 21-mile pathway that used to serve as a railroad. More experienced bikers can traverse the Columbia River Gorge, which offers car-free paved paths and mountain biking for all skill levels.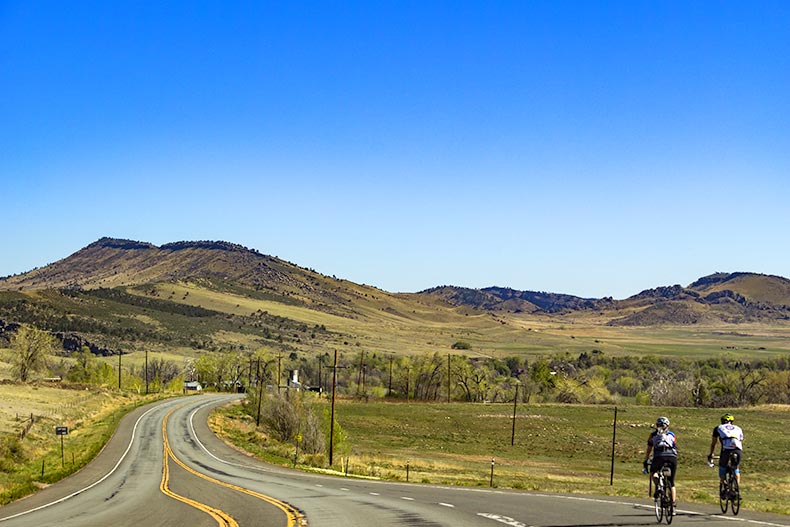 Boulder, Colorado is a city that not only promotes biking but also actively works to improve its biking infrastructure and safety for seamless rides around the city. More than 300 bikeways make up the city's biking network, including bike lanes on many vehicle roads and miles upon miles of multiuse pathways. This network of routes allows cycling seniors to reach nearly everywhere they want to go. Also, every public bus in the city includes a bike rack, so active adults can take their rides anywhere they want to go.
One of Boulder's efforts to maintain its status as one of the most bike-friendly cities in the U.S. includes the Low-Stress Walk and Bike Network Plan. This project is aimed to broaden the range of people, including seniors, who feel comfortable biking around the city by creating a network of bike routes that avoid vehicular traffic and connect continuously around the city. 
Other installments that promote safe and carefree biking are the myriad of bike racks that surround popular biking routes as well as a few free bike lockers downtown provided by the Regional Transportation District of Boulder. Senior cyclists can also find multiple biking clubs to meet like-minded riders, including the Boulder Cycling Club.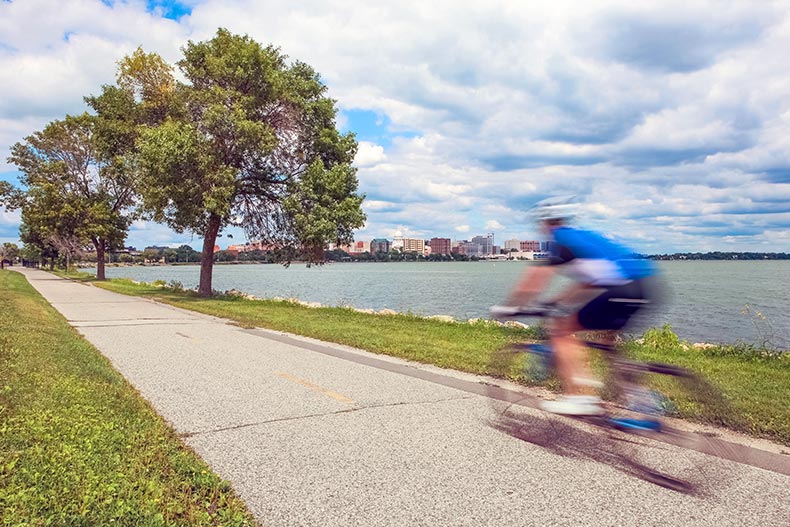 With reportedly more bicycles than cars, the city of Madison, Wisconsin calls itself the unofficial bike capital of the Midwest. The U.S. Census Bureau reports that this mid-sized capital city hosts a population around 269,196, and bikes are one of the best ways for residents to explore all that the area has to offer.
In Madison, cyclists can traverse more than 75 miles of designated bike paths, including popular trails along the scenic shores of Lake Monona and Lake Mendota. The surrounding area includes more than 200 miles of trails that bikers use throughout all four seasons. Mountain bikers can find plenty of trails nearby, such as Cam-Rock and Badger Prairie.
Every year, Madison hosts a Ride the Drive event, which closes down major city streets to cars, allowing cyclists to roam free. Additional events include Bike to Work Week and Wednesday night rides. There are also races and challenges for those who have a competitive spirit. The city even has a Bike Barometer that displays a running count of bicyclists for the day and year.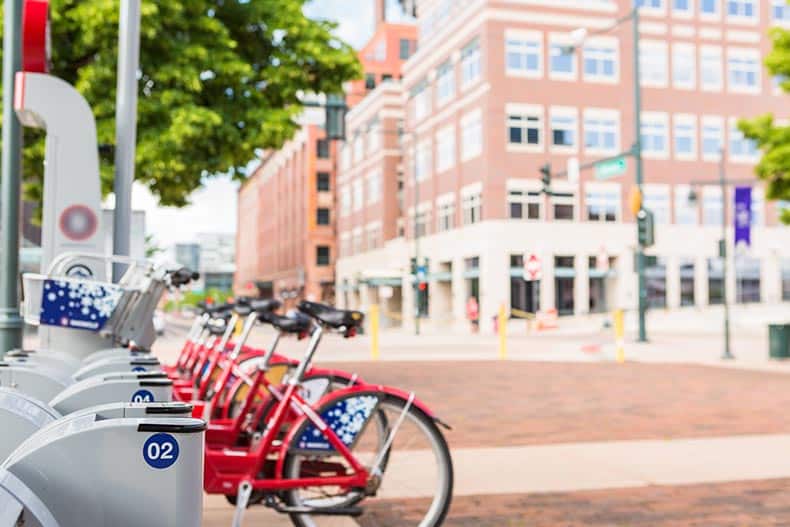 The network of bike trails in Denver offers senior cyclists convenient ways to get around the city and travel outside of the downtown area to some of the most scenic natural areas in the country. Downtown, riders can get around on routes like the South Platte River River Trail that follows the river through the city, or they can ride through state parks like the Cherry Creek Trail that winds southeast to Cherry Creek State Park. Red Rocks Park and Amphitheatre, an iconic performance destination, can also be reached on two wheels via the Bear Creek Bike Trail. 
Looking to encourage more people to use bikes, the City of Denver has planned a project called The Denver Moves Plan that will add 270 miles of bikeways to the city. These new-and-improved paths will join the 196 miles of bike lanes and trails that already span the city.
Additionally, a passionate non-profit organization called Bike Denver has several exciting initiatives. The Bike Denver Initiative will add eight new bikeways to the Mile High City and make cycling overall safer. Another project from Bike Denver is the Navigator Program which will connect cyclists new to the city to more experienced Denver riders who will show them ways to get around.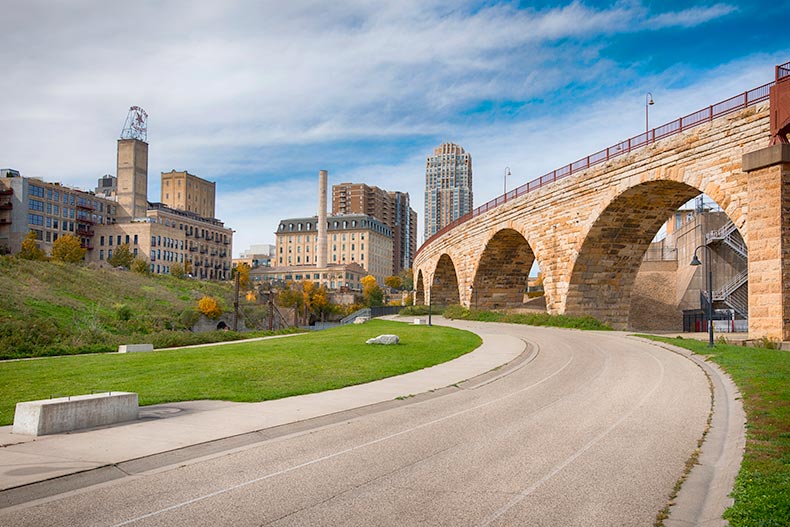 Minneapolis, Minnesota is another Midwest city ideal for cyclists to call home. The city is both bike-friendly and pedestrian-friendly because residents can always find things to do within walking distance. Bike paths, walking trails, sidewalks, and streets connect active adults to plenty of bars, restaurants, and shops. The abundance of trails and paths makes it possible for seniors to enjoy urban living surrounded by everyday conveniences.
The city has 16 miles of on-street protected bikeways, 98 miles of bike lanes, and 101 miles of off-street bike lanes and trails, providing plenty of options for cycling seniors. The Midtown Greenway, a 5.5-mile path in the heart of the city, provides a convenient place to bike without cars. The Chain of Lakes provides 15 miles of lakefront trails with scenic views of the area's glassy lakes.
Our Streets Minneapolis, a nonprofit organization founded in 2009, even works to create more opportunities for cyclists and make the city easier to navigate. One of their initiatives focuses on helping older adults and people with mobility challenges access safe transportation.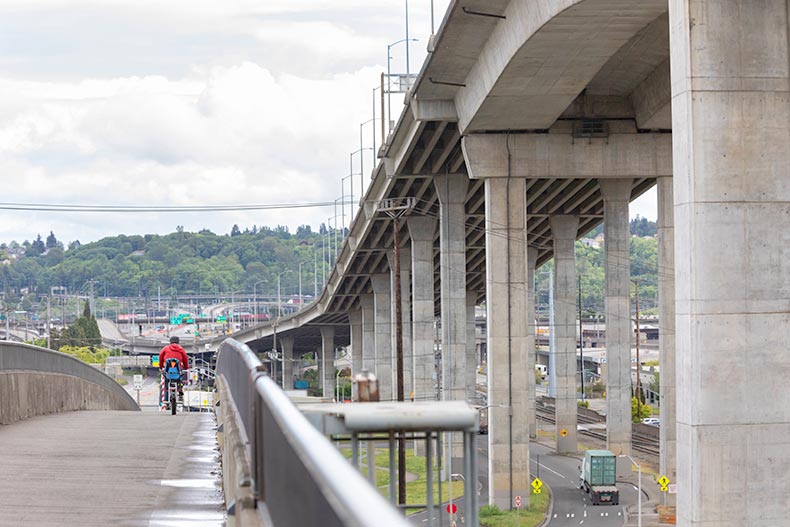 When it comes to biking for seniors, active adults can find plenty of accessible and scenic routes throughout Seattle, Washington. The city announced its goal to end traffic deaths and injuries by 2030 by building more protected bike lanes and neighborhood greenways. With such an eye toward safety, Seattle may continue to become an even better place to bike.
The Pacific Northwest generally harbors respect for bicyclists and mountain bikers, a sentiment reflected in all of the paths, lanes, and trails around Seattle. The popular Burke-Gilman Trail offers a smooth 18 miles in the center of Portland and part of the route offers scenic views of Puget Sound. Residents visiting the famed Pike Place Market can ride the nearby Elliott Bay Trail, a 3.4-mile waterfront pathway with views of the Olympic Mountains.
In Seattle, it's even common to see cyclists and their bikes on ferries. For a fun day trip, travel to Bainbridge Island to enjoy its mountain and biking trails, including a 35-mile loop around the entire island. Cyclists looking for like-minded individuals can join groups such as Cyclists of Greater Seattle (CoGS) or Cascade Bicycle Club.