From Jacksonville all the way to Miami, the Atlantic Coast of Florida boasts about 400 miles of shoreline dotted with vacation destinations that attract active adults year after year. Among the many coastal towns to choose from, two of the most well-known cities for Florida retirement are Palm Beach and West Palm Beach.
Located in Southeast Florida, Palm Beach and West Palm Beach both provide opportunities for an ideal Florida retirement. Although these cities neighbor each other and share similar climates, they have vastly different populations and costs of living, and residents also experience different access to outdoor recreation, cultural attractions, and lifestyles.
So, where should you retire in Florida? Compare Palm Beach vs. West Palm Beach to see which city is right for you.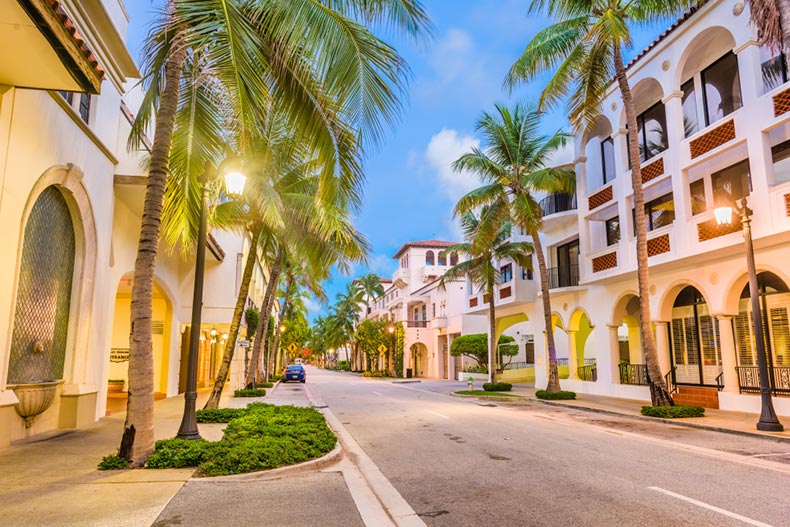 The cities of West Palm Beach and Palm Beach neighbor each other on the South Atlantic Coast of Florida. An Intracoastal Waterway separates the two areas, with Palm Beach to the east directly along the coast and, as the name suggests, West Palm Beach to the west of Palm Beach and the Intracoastal Waterway. Located within Palm Beach County, nearby coastal cities to the south include Boca Raton, Fort Lauderdale, and Miami.
The two cities primarily differ based on their geographical locations. West Palm Beach, though very close to beach access, is more inland with lush wetland parks and lake access. Palm Beach, on the other hand, is a barrier island with the intracoastal Lake Worth Lagoon on one side and the Atlantic Ocean on the other, offering direct access to scenic ocean beaches. 
The area and population of West Palm Beach are much larger than that of its neighbor, with a landmass of 53.8 square miles and a population of around 120,000 people. The small town of Palm Beach includes just 3.8 square miles with a significantly smaller population of around 9,400.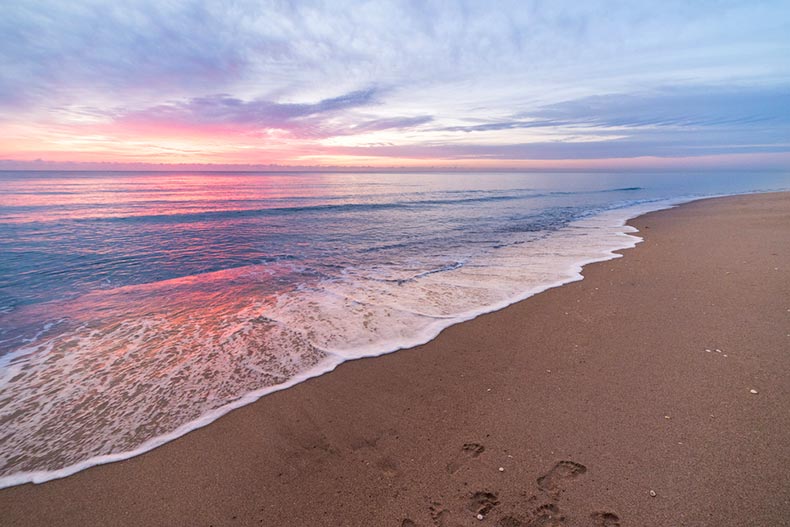 Since West Palm Beach and Palm Beach directly border each other, the cities share identical climates with mild winters and humid summers. Warmer temperatures in the colder months allow for the year-round outdoor recreation opportunities that draw many retirees to the Sunshine State. 
According to WeatherSpark, the warmest months in both cities span June to September with daily average temperatures above 86 degrees. The days in the colder season from December to March often reach an average low temperature of around 60 degrees.
Residents of both cities can find plenty of ways to enjoy the outdoors. Active adults in Palm Beach can easily spend sunny days at one of the city's scenic beaches, where the waters of the South Atlantic Coast average temperatures in the 80s most of the year. The beaches offer swimming, boating, fishing, snorkeling, and sunbathing throughout the year. Residents can also play a few rounds of golf at one of the area's exclusive golf courses, including Palm Beach Country Club.
West Palm Beach offers its residents mainland parks, such as Grassy Waters Preserve, where they can hike, paddle, and enjoy the natural landscape and wildlife. Residents can also swim, fish, and boat in Lake Worth Lagoon, which separates the city from Palm Beach. The Atlantic Beaches in neighboring Palm Beach are easily accessible by car or bicycle.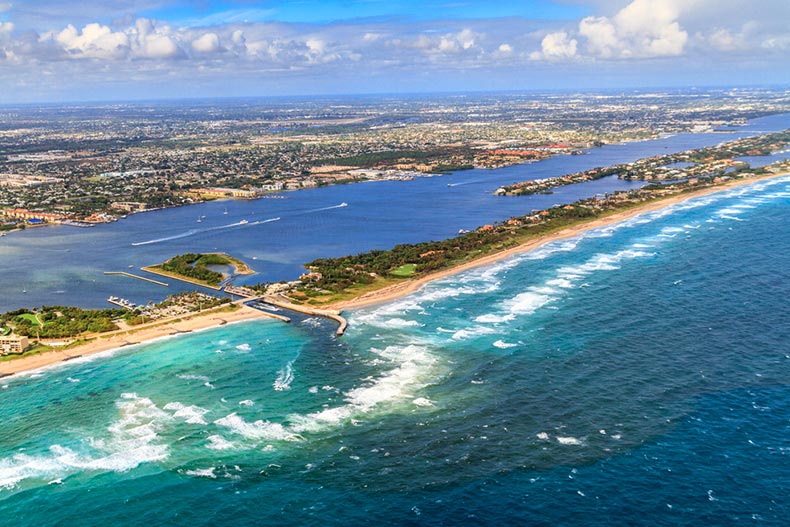 The cost of living in Palm Beach is often far greater than the cost of living in West Palm Beach due to the area's exclusivity, luxury homes, and oceanfront location. BestPlaces ranks cities across the country on a cost-of-living scale, and in comparison to the national average cost of living at 100, Palm Beach ranks 231.9. The cost of living in Palm Beach more than doubles the median across the country, due largely in part to the city's high housing costs. The median home price in Palm Beach soars to $1.36 million.
West Palm Beach is far more affordable than Palm Beach, but it still ranks above national averages with an overall cost-of-living score of 108.1. Residents of West Palm Beach spend slightly more on groceries, transportation, and housing costs than other Floridians, with median home costs around $297,400.
Although the cost of living can be high in both cities, Florida is known for its affordability and friendliness when it comes to taxes. The sales tax for Palm Beach County is 7%, derived from the 6% Florida rate and the 1% county rate. The Sunshine State is also a prime choice for retirees because it doesn't tax personal income or any sort of retirement income, including IRAs, 401(k)s, and pensions.
Another notable tax exemption is the Florida Homestead Exemption. Despite having to pay property taxes, the tax break allows for $25,000 of the first $50,000 of your home's assessed value to be exempted, given certain criteria is met, including permanent residence. This, along with other affordable taxes, makes Florida a top choice for retirees around the country.
Culture and Entertainment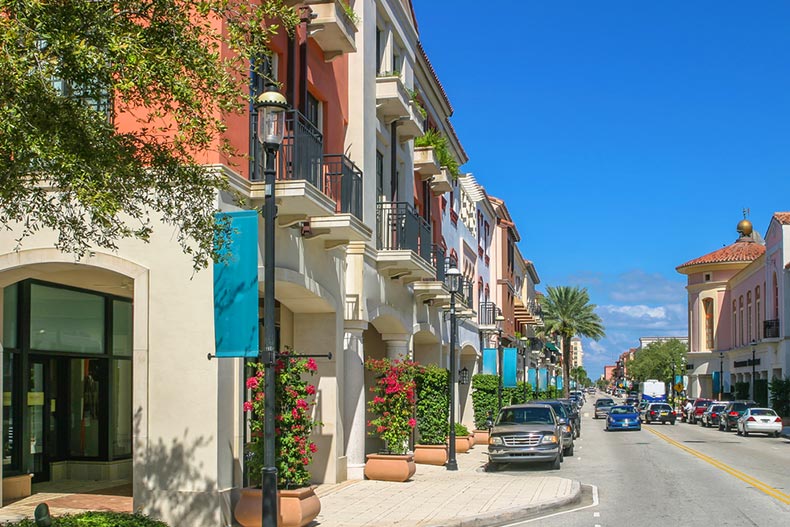 What To Do in Palm Beach
Palm Beach is known first and foremost for its pristine beaches that stretch the entire length of the city. Residents can easily spend entire days soaking in the Florida sun, swimming, fishing, shelling, and walking along the ocean. The best part of Florida retirement for most active adults is that the beaches, golf courses, and other outdoor recreation can be enjoyed year-round.
Those looking for an afternoon out on the town can visit Worth Avenue, an upscale shopping district full of boutiques and restaurants. Palm Beach is also home to The Society of Four Arts, which houses an art gallery, auditorium, library, and botanical garden all in one location. 
The barrier island contains many affluent estates, some of which can be toured. The Henry Morrison Flagler Museum is one such mansion, offering visitors the opportunity to explore a Gilded Age estate with rotating special exhibits. Although the area surrounding Palm Beach is full of other things to do, residents can find plenty of entertainment without leaving the island. 
What To Do in West Palm Beach
West Palm Beach is entirely on the mainland and includes access to both natural and urban amenities within its borders. For shopping and eateries, residents can visit historic Clematis Street, which is filled with entertainment options for any day of the week, as well as CityPlace, a shopping plaza that also features a cultural arts theater.
The Kravis Center for the Performing Arts attracts all kinds of performances on a regular basis. Norton Museum of Art is another option for entertainment, featuring international art and a sculpture garden. 
Those looking to spend the day outside can visit Grassy Waters Preserve, which includes 23 square miles of preserved wetlands filled with miles upon miles of trails. Lake Mangonia is also located near Downtown West Palm Beach, offering boating, fishing, and swimming. West Palm Beach doesn't border any beaches directly, but residents can easily reach the coast when they're not enjoying everything else the city has to offer.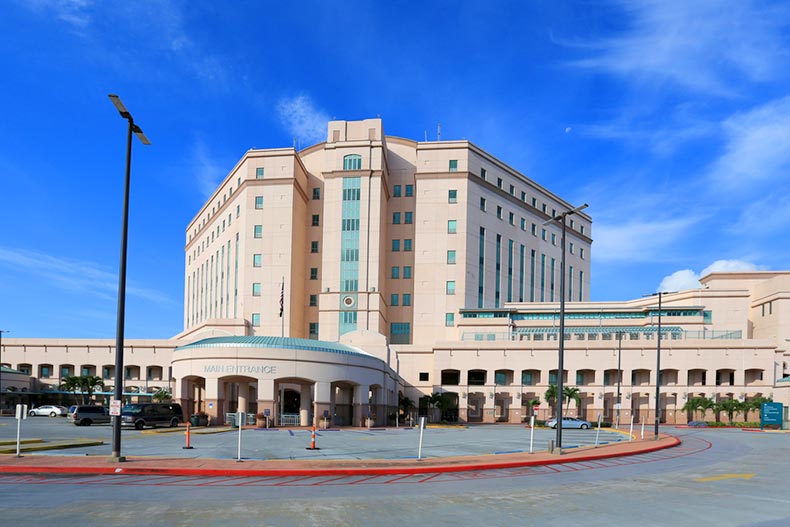 The proximity of the two cities means that residents can reach the same medical centers throughout the surrounding area for the medical assistance they need. In West Palm Beach, active adults can receive care at institutions like Good Samaritan Medical Center, St. Mary's Medical Center, and HCA Florida JFK North Hospital. HCA Florida JFK North Hospital provides services in a number of fields, including cardiology and oncology, and specialists use top-of-the-line technology to care for patients.
Although the small area of Palm Beach doesn't leave much room for large medical centers, a private hospital called Sollis Health provides care for both severe and minor ailments. As a concierge medical service, however, active adults must purchase a membership to receive care. Patients can receive both everyday and emergency care, and they can see specialists without waiting weeks for their appointment. For better health care access, residents should head to West Palm Beach and the surrounding area.
55+ Communities in Palm Beach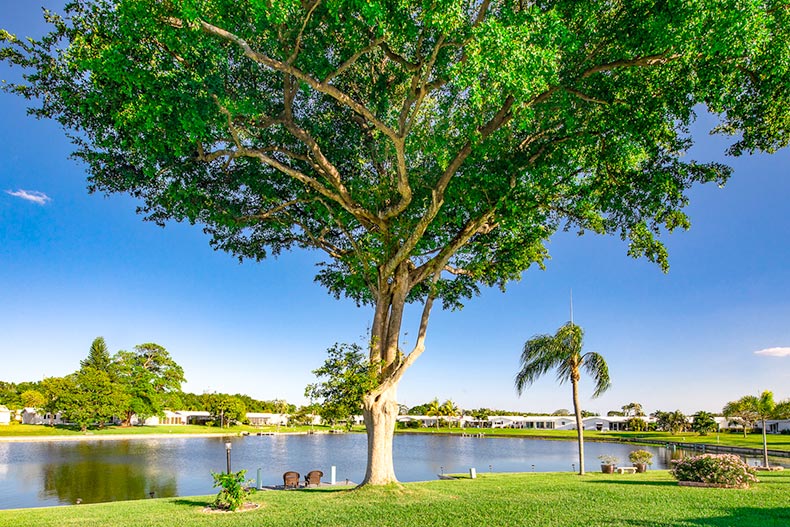 Sugar Sands is a 55+ community in Riviera Beach, located on the next barrier island north of Palm Beach about 20 minutes from the city. The age-restricted community consists of 344 condominium homes and an abundance of amenities, including a clubhouse, an outdoor pool and spa, athletic courts, walking trails, and more than 80 boat docks for residents to use.
Residents also live an active social life with a calendar full of events and gatherings, including shrimp boils, athletic clubs, interest groups, and game nights. The beach is also only about a quarter mile from residents' doorways, making days in the sand a breeze.
Just 20 minutes south of Palm Beach, active adults can find Boynton Leisureville, a large 55+ community filled with 892 single-family homes. With several floor plans to choose from that range from 884 to 2,250 square feet, active adults can find options to meet any lifestyle and budget, whether they want to downsize or upgrade.
Movie nights, hobby and craft gatherings, and friendly sport clubs are just a few of the activities residents participate in at this Palm Beach County community. Boynton Leisureville also offers amenities that include a clubhouse, an exercise room, an outdoor pool and patio, and a grilling area.
55+ Communities in West Palm Beach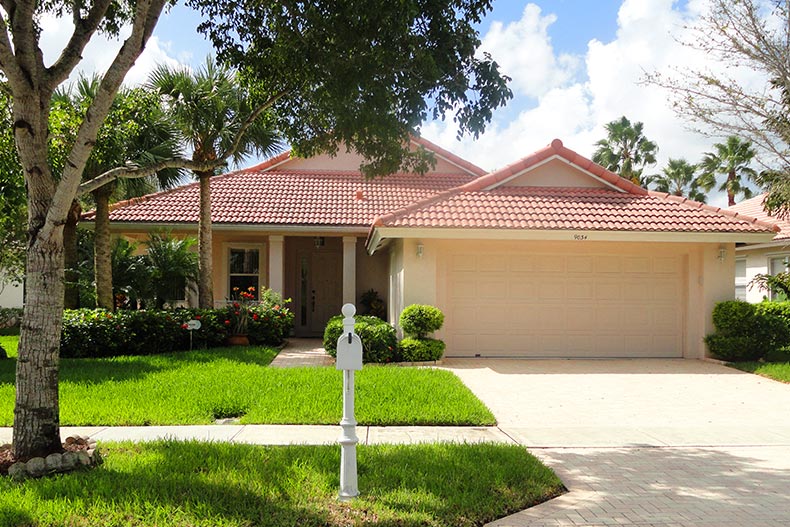 Century Village at West Palm Beach is one of the premier 55+ communities in West Palm Beach, offering a range of affordable homes and an abundance of amenities. The amenities include a 92,000-square-foot clubhouse chock-full of spaces for activities and gatherings, like a fitness center, a hobby and game room, and a performance theater. Outside, residents enjoy two outdoor pools, dozens of athletic courts, and community transit.
The 6,500 condominium homes that make up Century Village at West Palm Beach span several unique floor plans. The low-maintenance homes in this age-restricted community are ideal for active adults looking to downsize and enjoy a bustling life outside of their homes.
Located south of the Grassy Waters Preserve, the gated 55+ Baywinds community encompasses 1,082 single-family and attached homes. Residents enjoy a low-maintenance lifestyle and have a choice of floor plans to best suit their home needs.
Baywinds has just as many indoor amenities as they do outdoor amenities, from a 7,000-square-foot clubhouse to three pools, stocked fishing ponds, and six Har-Tru tennis courts. The clubs and lifestyle activities span from aerobics to zumba with plenty of activities in between, such as book club, classes, square dancing, and holiday parties.
Cypress Lakes West Palm Beach is a spacious 55+ community with 900 single-family and attached homes. Ideal for those who want a low-maintenance lifestyle, the ranch-style attached homes and townhomes provide thoughtfully crafted layouts in floor plans that meet a range of budgets.
The community was created with the active adult lifestyle in mind, offering amenities such as a clubhouse, a fitness center, a sauna, an outdoor pool, and athletic courts. Golf lovers will appreciate the 18-hole course included within Cypress Lakes West Palm Beach, and those not as enthusiastic about the sport may find enjoyment in the community's mini-golf course.