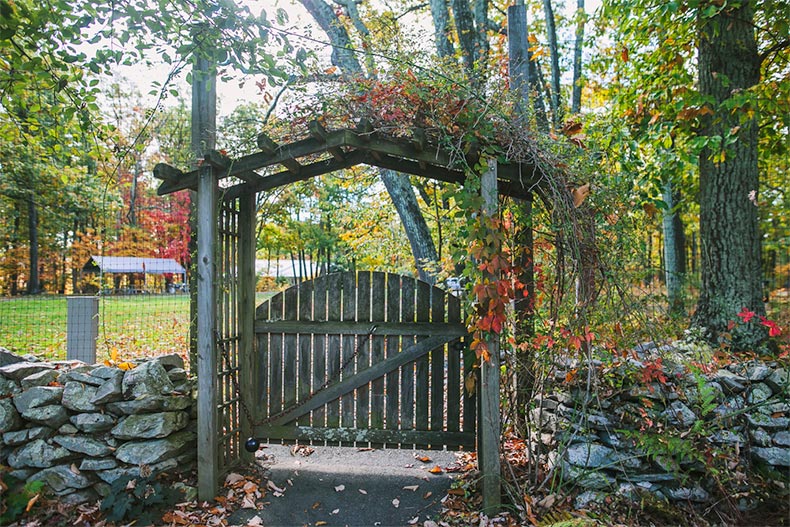 If the very idea of moving into an active adult community has you worried that you may not be able to afford it, don't worry. There are many communities in the U.S. that offer attractive homes at budget-friendly prices. Take Pennsylvania, for example. Out of its 183 active adult neighborhoods, there are plenty of options with homes for sale priced at $175k and under. While they aren't right on the outskirts of the larger cities like Philadelphia and Pittsburgh, living close to a major metropolitan area may not be your cup of tea.
Pennsylvania also has a lower cost of living than its neighboring states of New Jersey and New York. Also, compared to the national average, it's only one percent higher. The income tax rate is a flat 3.07 percent, and the sales tax is 6 percent (groceries, most clothing, prescription drugs, and residential heating fuels are exempt). Retirees also benefit from the state's tax laws because retirement income like social security, 401(k)s, pensions, and IRAs as not taxed.
Now that you have the facts, you may want to consider retiring in Pennsylvania. Here are four of our favorite 55+ communities with affordably priced homes in the $175 range.
Low $100s - High $100s
A suburb of Lebanon, Myerstown is a friendly borough with a population of around 3,000. Arbor Gate was built from 1997 through 2005, and it offers 378 resale single-family homes. It's a land-lease community, meaning that home purchase prices are lower, but homeowners pay monthly land-lease fees.
There are 10 floor plans ranging from 1,234 to 2,058 square feet with two or three bedrooms, two bathrooms, and attached one- or two-car garages. Some have features like decks, fireplaces, and patios, and the monthly homeowner's association (HOA) fee covers trash removal, sewer, and common area maintenance.
Arbor Gate's Lakeview Center is a hub for activity, with craft and game rooms, a ballroom, a catering kitchen, a coffee shop, a beauty salon, and an exercise room. It's often the site for social activities like potluck dinners, aerobics class, and 50's & 60's dances. There's also a large fishing lake on the grounds, and nearby outdoor attractions include Lebanon Valley Golf Course and Middle Creek Wildlife Management Area.
Learn more information about Arbor Gate here.
Mid $100s - Mid $200s
Carlisle is about 30 minutes west of Harrisburg in Cumberland County. It's a mid-sized borough close to the Appalachian Trail and home to Dickinson College (with continuing education classes). Creek View is about 20 minutes from the center of town, and the community offers 305 new and resale single-family homes.
There are 18 well-designed ranch floor plans ranging from 1,202 to 1,750 square feet with two to three bedrooms, two bathrooms, and attached one- or two-car garages. Options include dens, porches, and comfortable morning rooms. The association fee provides for water, sewer, and trash removal. Property amenities include a fishing pond, a barbecue area, an RV parking area, a walking trail, and a private clubhouse. Popular group activities include Wii competitions, horseshoes, potluck dinners, and card games.
Learn more information about Creek View here.
Mid $100s - High $100s
Closer to the Reading area in Berks County, Douglass Village will have 302 new and resale manufactured homes when work is completed. These energy-efficient, ranch-style homes are offered in eight floor plans with two or three bedrooms, two bathrooms, deluxe master suites, gourmet kitchens, and attached one- or two-car garages. Douglass Village's HOA fee covers trash and snow removal, lawn care, and common area maintenance.
The modern clubhouse has a catering kitchen, a gathering room, a dining area, an exercise room, and a game room inside as well as a heated swimming pool, a patio area, and walking trails outside. Douglass Village also gets bonus points for having a Walmart Supercenter, a post office, and restaurants just outside of its entrance. Nearby attractions include Blackwood Golf Course and Coventry Mall. Also, Pottstown is only a few miles away, and it's full of shops, services, and restaurants.
Learn more information about Douglass Village here.
Below $100k - High $100s
Located about 36 miles north of Philadelphia, Creekwood Village is an intimate 55+ community with 80 resale single-family ranch homes built between 1999 and 2003. The floor plans range from about 1,000 to 1,800 square feet and feature low-maintenance exteriors, one- or two-car garages, and private outdoor space. Options may include tray ceilings, gas fireplaces, and other desirable upgrades like backyard storage sheds. The HOA fee covers trash removal and common area maintenance.
Creekwood Village's friendly clubhouse offers an outdoor pool, a multi-purpose room, and a catering kitchen. Friends and neighbors gather here to enjoy coffee and donuts, games, and water aerobics.
Schwenksville is in Montgomery County, with a population of around 1,400 and a small-town feel that fits right in with low-key lifestyles. Outdoorsy types head to the Perkiomen Trail or Meadow Park, and the borough sponsors year-round events like Civil War re-enactments, outdoor concerts, and community days. The closest supermarket is less than two miles away, and there are many other services and shops in the area.