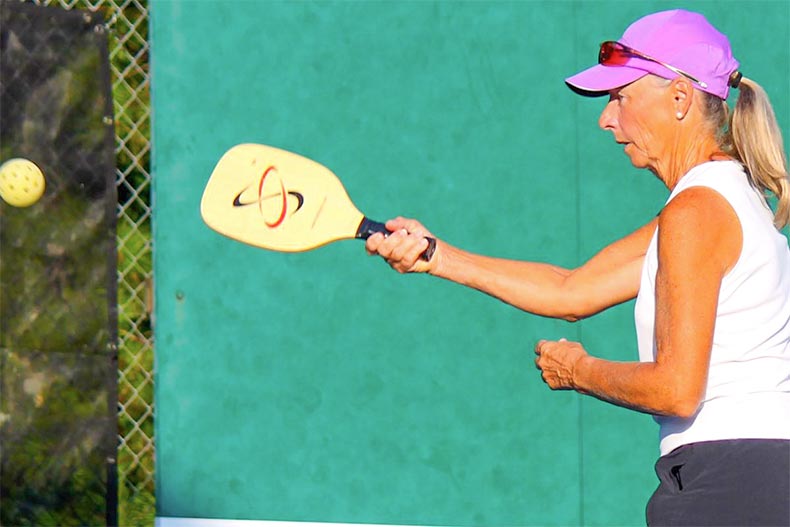 Despite its humorous name, the sport of pickleball has seen serious growth over the last decade. The sport continues to gain popularity in the United States, particularly among active adults. As of 2017, statistics from the USA Pickleball Association state that there are upwards of 2,815 million players in the US, with 75 percent of core participants aged 55 or older. If you've been hoping to get out on the pickleball court, here's everything you need to know before you pick up your paddle.
What Is Pickleball?
Pickleball is a hybrid paddle sport that contains elements of tennis, ping-pong, and badminton. It's played on a lined court in singles or doubles using paddles and a plastic ball. Pickleball has become as popular abroad as it has in the US, and in 2010, the International Federation of Pickleball was formed to regulate and expand the sport.
History of Pickleball
The sport has an origin story that might tickle audiences. It was created in 1965 by Washington State House Representative Joel Pritchard and his friends, Bill Bell and Barney McCallum. In an attempt to keep their families entertained one lazy Saturday afternoon, Pritchard and Bell set up an improvised game of badminton using ping-pong paddles and a perforated ball. The following weekend, McCallum was introduced to the game, and the three men collaborated to solidify the emerging rules, drawing heavily from those of badminton.
As for why the hodgepodge game is called "pickleball," Pritchard's wife is credited with the name and said that it came from the idea of a "pickle boat," where members of the crew are chosen from the leftovers of other boats.
Pickleball Rules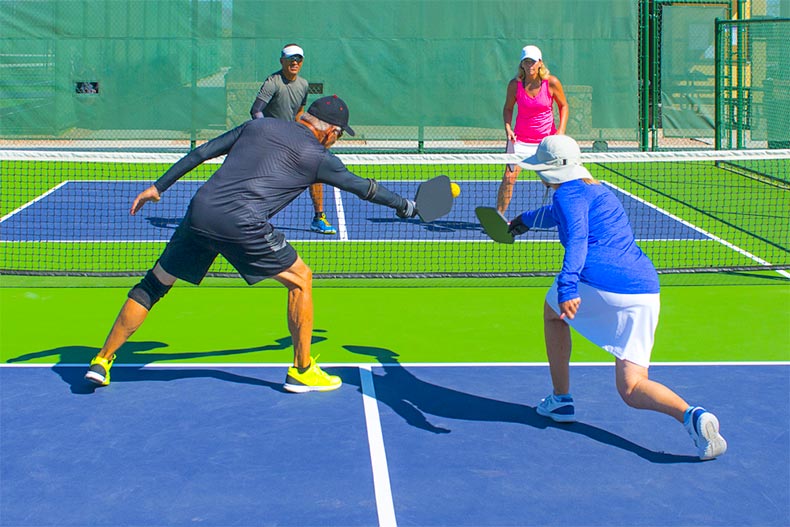 One of the reasons for the continued popularity of pickleball is that it's easy for beginners to learn but challenging enough to engage more experienced players. To play pickleball, participants just need paddles–usually made of wood or a composite material–and a plastic, perforated ball. Pickleball can be played in either a singles or doubles format.
To start the game, a player must use an underhand serve to volley the ball diagonally across the court from the right side. When the ball is served, each team is subject to a two-bounce rule where the ball must bounce once before returning it.
Only one serve attempt is allowed, and notably, points can only be scored by the serving team. When a point is scored, the server switches sides and continues moving from left to right until they commit a fault. If playing doubles, their partner takes up the service until they commit a fault, at which point the service is lost to the opposing team. To win a game, a player or team must score 11 points and win by 2.
Differences Between Pickleball and Tennis
Visually, pickleball resembles tennis, but the sport has enough nuances that make it stand out from other racquet sports. True pickleball courts are smaller than tennis courts, measuring 20 by 44 feet for both singles and doubles games. The center net is slightly lower than a tennis net at 36 inches, with the middle dipping to 34 inches. Unlike tennis, the game is played with solid paddles and a plastic, perforated ball resembling a Wiffle ball. Pickleball games are punctuated by a satisfying click of the lightweight ball bouncing off the court.
One of the biggest differences between the two sports is that players can only score on their serve. Since the receiving team can't score, games are won by scoring 11 points rather than by winning two out of three sets, as in tennis.
The speed of pickleball also differs from that of tennis, which is a strong reason for its following of active adults. The rules of the game require the ball to bounce once before each first hit. Additionally, the seven-foot no-volley zones–where players cannot hit the ball–on either side of the net mean that players aren't required to quickly move across the entire length of the court. Compared to the high-impact demands of tennis, the steady pace of pickleball means that chronic injuries are far less common while still allowing participants to develop their reflexes and stamina.
Pickleball Paddles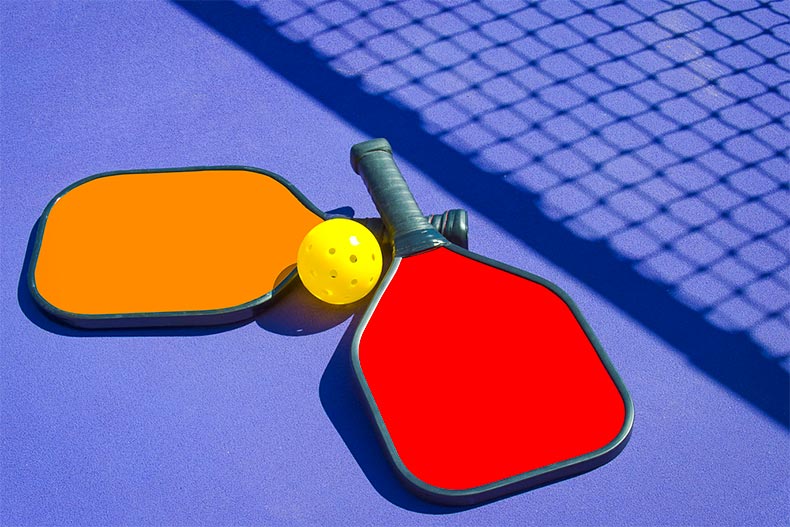 When choosing a pickleball paddle, consider weight, grip, and shape.
While players don't need top-of-the-line pickleball equipment to enjoy the game, it's certainly more exciting to have a paddle that fits personal needs and styles of play. Paddles typically run from $10 to $150 in price and can be customized to suit preferences in color, material, brand, and more. Most pickleball players need only focus on three main factors to find their perfect paddle: weight, grip, and shape.
Without a doubt, weight is the top priority when deciding on a paddle. Paddles generally range from six to 14 ounces in weight depending on whether they're made of wood, graphite, or a composite material. For beginners, a mid-range weight of 7.3 to 8.4 ounces is usually a safe bet. Heavier paddles can dramatically increase the power of your shots, but they can also put extra strain on wrists and elbows, so buyers should carefully consider how much weight is appropriate for long-term play.
After finding a paddle with a comfortable weight, the grip should be the next component to consider. Standard paddle grips range from four to four-and-a-half inches and can be further adjusted with overgrips. It's generally suggested that players use a grip size congruent with their hand size, but elbow and wrist strain should be taken into account as well. While a smaller grip allows for an increased range of wrist action, it can prematurely tax the area. Larger grips take the pressure off of wrists and allow for greater stroke stability, but they can also lead to elbow strain if they're much too large. Ideally, buyers should feel a paddle's grip in-person before purchasing.
Once a comfortable weight and grip are determined, players can decide on a suitable paddle shape. Those with their eyes on regulated games and tournaments should be mindful of official pickleball regulations for approved paddles, which dictate that the length multiplied by the widest width should not exceed 24 inches total. To comfortably conform to this standard, the most common pickleball paddle shape is the widebody measuring 8 inches wide by 15 ¾ inches long. Players who prefer a longer "blade" style paddle should consider elongated pickleball paddles, many of which are still within regulation guidelines with rough measurements of 6.5 inches wide by 17 inches long.
Top brands include ProLite, Gamma, and Onix.
Pickleball Tournaments
Like any other sport with a dedicated following, pickleball has a standardized rating system to categorize players into distinct skill levels from 1.0 to 5.0. Players who rank at a level of 4.0 or higher may wish to participate in one of the many regional and national organized competitions. The USA Pickleball Association hosts an annual regional tournament in upwards of 10 areas for individuals and teams from every corner of the country to prove their paddle skills.
Away from home, players who are 50 and older can meet like-minded devotees on the court at the National Senior Games Association's annual pickleball tournament. For enthusiasts who enjoy the beach as much as they do competition, Latitude Margaritaville and builder Minto sponsor the US Open Pickleball Championships in Naples, Florida, each year.
Active Adults and Pickleball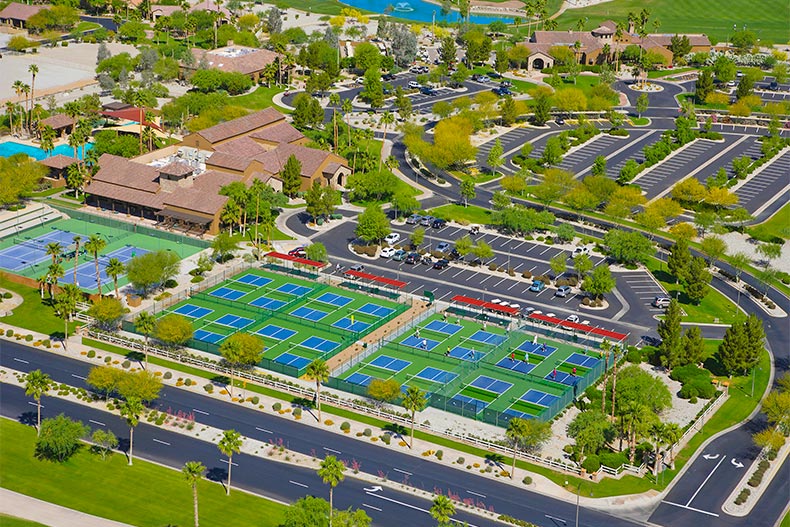 The pickleball facilities in Robson Ranch Arizona rival those of a professional setup.
While pickleball wasn't created with a specific age group in mind, the sport is well-suited to active adults who want to be mindful of their bodies while still having a ball and getting an effective workout. Pickleball is played with an underhand serve, so active adults' shoulders are spared the physical strain that tennis players often experience.
Even when the game is at a leisurely pace, adults of all skill levels benefit from the low-impact cardiovascular exercise and muscle toning. Arguably, the biggest gain comes from the inherently social aspect of the sport: it requires two or four players, meaning that participants enjoy a little healthy competition with friends and peers.
With the increasing popularity of the sport, it's no surprise that plenty of 55+ communities have both indoor and outdoor pickleball courts for residents to take advantage of, no matter the season.
To learn about even more 55+ communities with a vibrant pickleball culture, check out our list of best communities for pickleball enthusiasts.