Steelers vs. Eagles. Pierogies vs. cheesesteaks. When it comes to the two biggest cities in Pennsylvania, the comparisons can go on forever. Both are historic and cultural centers, but aside from that, the two are very different.
The most obvious difference is size. According to U.S. Census data, Pittsburgh has a population of about 300,000, while Philly has a population of about 1.6 million. A higher population translates into more of everything, which can be good or bad depending on your perspective. Let's delve deeper into the specifics.
The Basics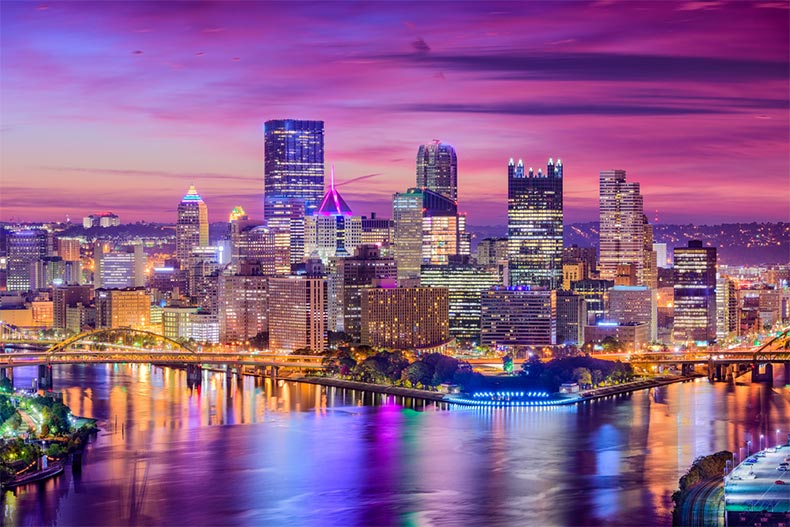 Pittsburgh is the major metropolitan area in Western Pennsylvania, and it's two hours from Cleveland and Lake Erie. It's home to several large rivers, including the Ohio, Allegheny, Mississippi, and Monongahela. Dating back to the Civil War, the city's history is rooted in steel production and coal mining. This "Steel City" fell on hard times as the years passed, but reinvented itself several times.
Pittsburgh's 2017 Age-Friendly Greater Pittsburgh Action Plan won accolades for its modern technology and transportation plans, and its suburbs have been hailed as a very livable area. It's also widely recognized for its universities, hospitals, small manufacturing, intriguing older neighborhoods, and extensive parks and recreation system. At last count, 55places listed 32 active lifestyle communities in Western Pennsylvania.
Philadelphia is steeped in Revolutionary War history, and it's located in the Delaware Valley region of the state. Its metro area includes parts of New Jersey and Delaware, and the PA suburbs of Bucks, Berks, Chester, Delaware, Montgomery, and Philadelphia.
As the sixth-largest metropolitan area in the country, this region has world-class institutions, services, and recreation. Its main bodies of water are the Delaware and Schuylkill Rivers, and there are unique small towns near the city. There are 123 active lifestyle communities in Philadelphia and its suburbs, plus many more that are commutable from NJ and DE.
Getting Around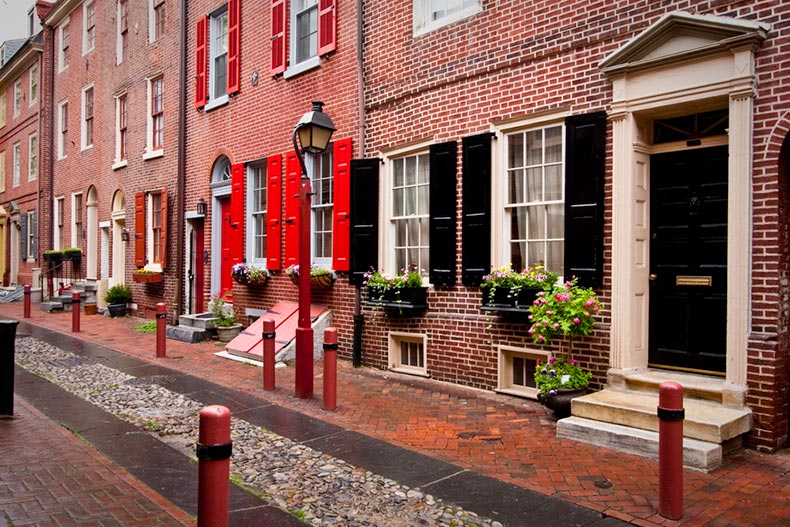 Pittsburgh's main airport is Pittsburgh International, and the Port Authority of Allegheny County provides public transit for the greater Pittsburgh area. They provide light rail, bus, and paratransit services. There's also an Amtrak stop downtown, and more people drive into work in Pittsburgh than in Philly.
The main airport in Philadelphia is Philadelphia International, but travelers can also drive to the Wilmington or Newark airports. There's an Amtrak station here as well, part of the vast transportation network that serves the area. In addition to local rail lines, there are buses and trolleys that come in from New Jersey and other areas.
Outdoor and Indoor Attractions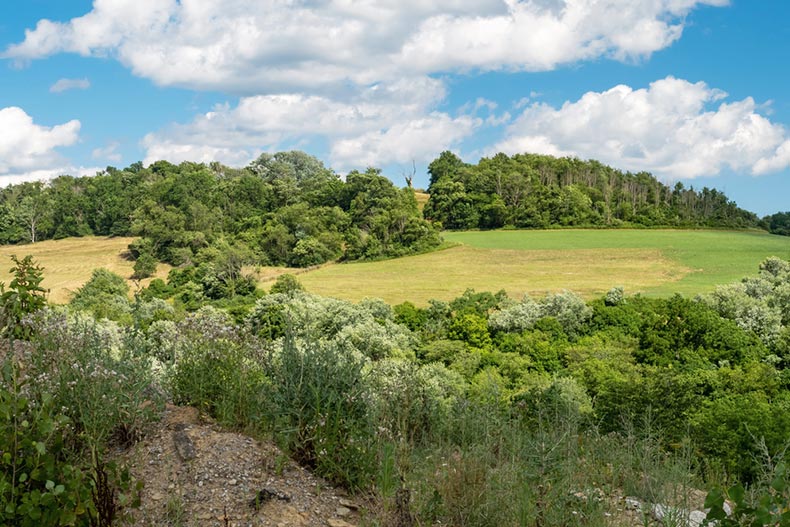 These two cities have an abundance of shopping, modern conveniences, restaurants, cultural and historical landmarks, and year-round recreation.
Two of Pittsburgh's best-known landmarks are the Carnegie Museum of Art and the Phipps Conservatory and Botanical Gardens. Visitors also enjoy exploring the Pittsburgh Zoo & Aquarium, Frick Park, and Three Rivers Park. The local sports teams are big here, and fans flock to see the Steelers, Penguins, and Pirates play.
Sports are also huge in Philadelphia, and Eagles, Phillies, and Flyers fans are very loyal. You can also find some of the country's best museums here, like the Franklin Museum and the Philadelphia Museum of Art. History buffs head out to see Independence National Historical Park and the National Constitution Center. There are also more than 300 parks and recreation centers, 166 miles of trails, and 60 community gardens to enjoy.
Health Care and Education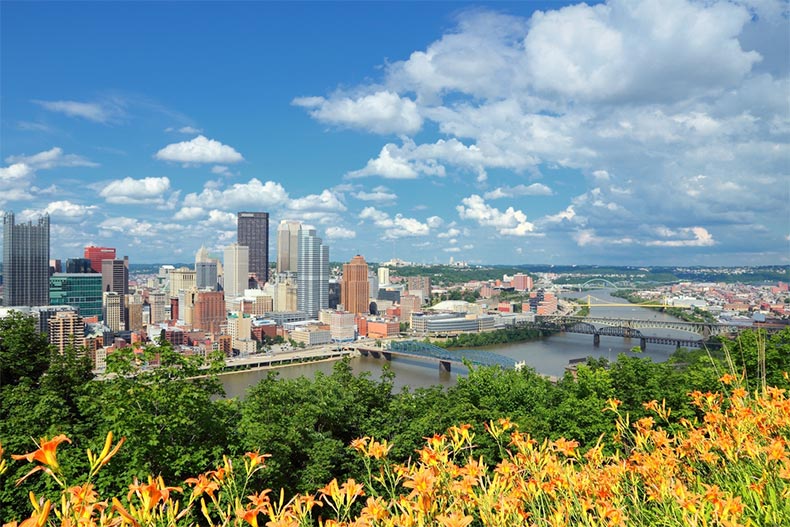 Pittsburgh's world-class health systems include providers like UPMC Presbyterian Shadyside and St. Clair. Steel City is also home to top universities like Duquesne University.
Philadelphia's top-ranking medical providers include the University of Pennsylvania Health Network and Jefferson Health. A sampling of the fine educational institutions here includes the University of Pennsylvania and Drexel University.
Cost of Living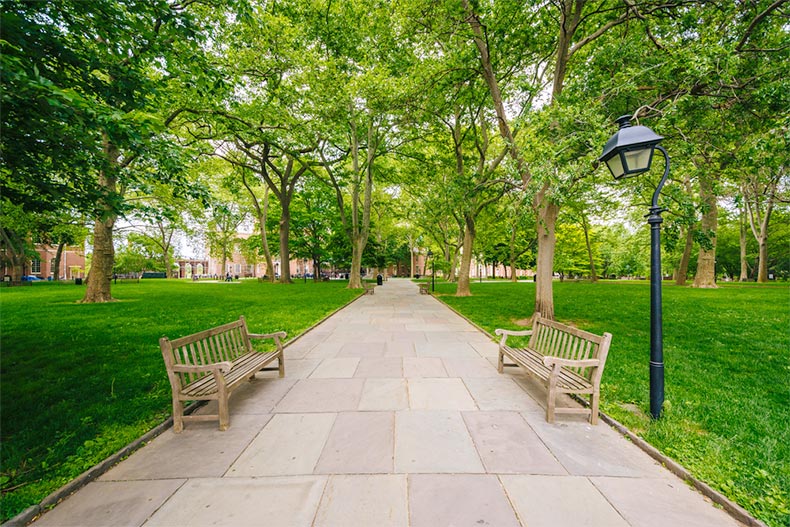 Pennsylvania is considered a retirement-friendly state because of its taxes. Residents don't have to pay taxes on retirement incomes, including IRAs, social security, 401(k)s, and pensions. Income tax is a flat 3.07 percent, and the state sales tax is 6 percent (grocery store-bought food, most clothing, pharmaceutical drugs, and heating oils are exempt).
It's no surprise that Pittsburgh's overall cost of living is lower than Philadelphia's, but the difference may not be as much as you think. According to Sperling's Best Places, Pittsburgh's cost of living is 13.5 percent lower than the national average, and Philadelphia is 1.2 percent higher than the national average. While the median price for a home in Pittsburgh is $143,400, it's $153,400 in Philadelphia. And as in all metropolitan areas, the farther you go away from the big city, the lower things tend to cost.
Pittsburgh Communities
Mid $400s – High $500s
In this community, there are 241 new attached and single-family homes plus a clubhouse with a fitness center, a sports bar, activity rooms, and an outdoor pool. Located about 18 miles outside of Pittsburgh, Traditions of America at Sewickley Ridge boasts an ideal location and attractive floor plans.
Request more information about Traditions of America at Sewickley Ridge.
Philadelphia Communities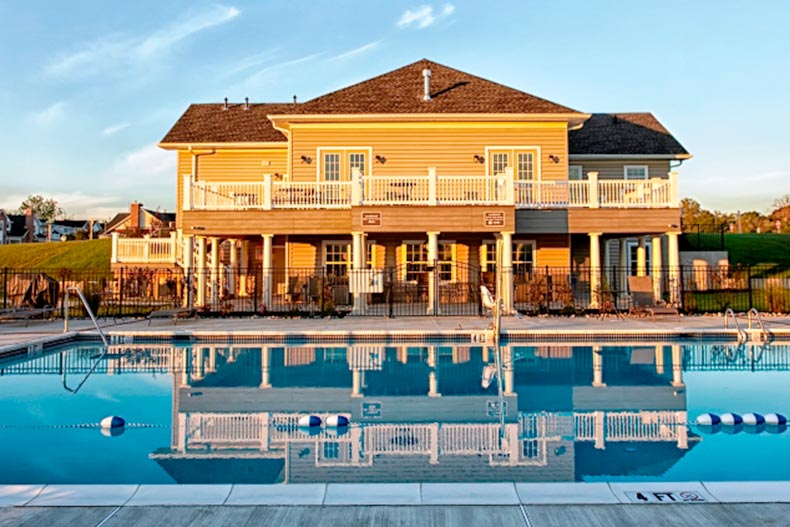 Mid $300s – Mid $400s
With 398 new and resale attached and single-family homes, this active lifestyle community has a number of home styles for interested buyers to consider. Located about 19 miles outside of Center City Philadelphia, this property provides residents with natural scenery and a modern clubhouse.
Request more information about The Arbours at Eagle Pointe.
High $100ks – Low $300s
This 55+ community is 26 miles from Philadelphia, providing residents with both easy access to the city and natural beauty close to home. Centennial Station has 410 resale condos, an activity center, and a business center with a hair salon, a restaurant, a dentist, and a bank.