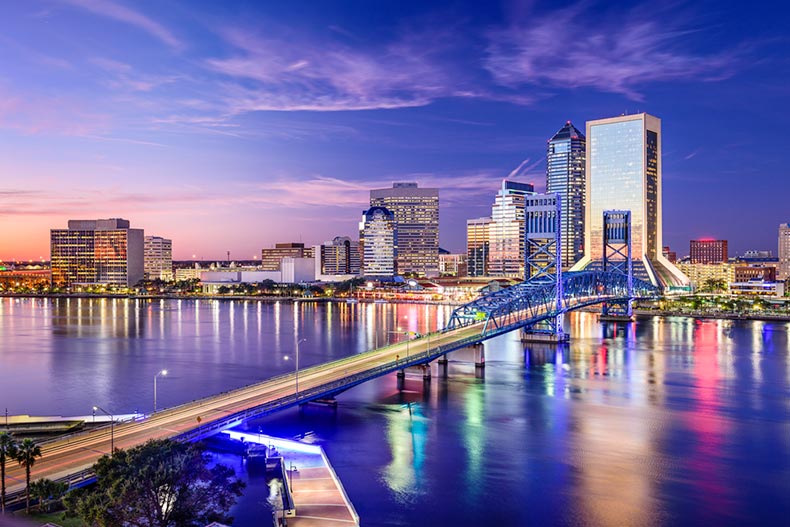 With an affordable cost of living, year-round mild weather, and miles upon miles of sandy beaches, Florida is a popular place among retirees. The tougher question may be exactly where to move to in the Sunshine State, as each region offers its own lifestyles, outdoor recreation, and cultural attractions. A good place to start narrowing the search is between the two popular retirement destinations of Tampa and Jacksonville.
Despite having much in common, the two cities don't share the same coast. Tampa is located near Southwest Florida along the Gulf of Mexico, while Jacksonville is located in Northeast Florida along the Atlantic Coast.
Jacksonville is a much larger metropolitan area than Tampa, but both cities offer proximity to entertainment, shopping, and things to do. The choice between Tampa and Jacksonville may come down to personal preference, but there are several characteristics to consider to determine which city best aligns with your ideal vision of retirement.
Read on to discover what makes Tampa and Jacksonville unique for Florida retirement.
Geography and Population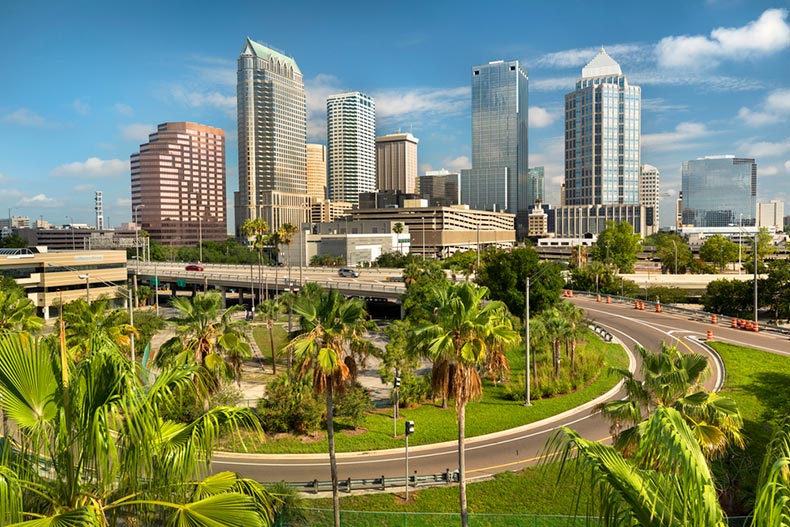 As two coastal cities located in the Sunshine State, Tampa and Jacksonville offer close access to beaches, rivers, and bays. Located approximately 200 miles apart, Jacksonville is nestled in the Northeast corner of the state near the Georgia border, while Tampa sits on the Southwestern coast of the Florida peninsula.
Tampa's location above the aptly named Tampa Bay provides proximity to the balmy waters of the Gulf of Mexico. The St. Johns River runs through the middle of Jacksonville and connects to the Atlantic Ocean.
In terms of size, Jacksonville has a population more than twice as large as Tampa and covers the largest landmass of any city in the United States. According to World Population Review, Jacksonville is the largest and most populous city in Florida, with approximately 938,717 residents across a land area of 747.5 square miles. In comparison, the smaller city of Tampa includes a population of 407,104 and a land area of 114 square miles.
Both cities include several other metropolitan areas and beach-side towns nearby. Jacksonvillians can reach locales like St. Augustine, Fernandina Beach, Middleburg, and Yulee with ease. Those in Tampa can easily visit other larger cities like Clearwater, St. Petersburg, Lakeland, and Sarasota.
Climate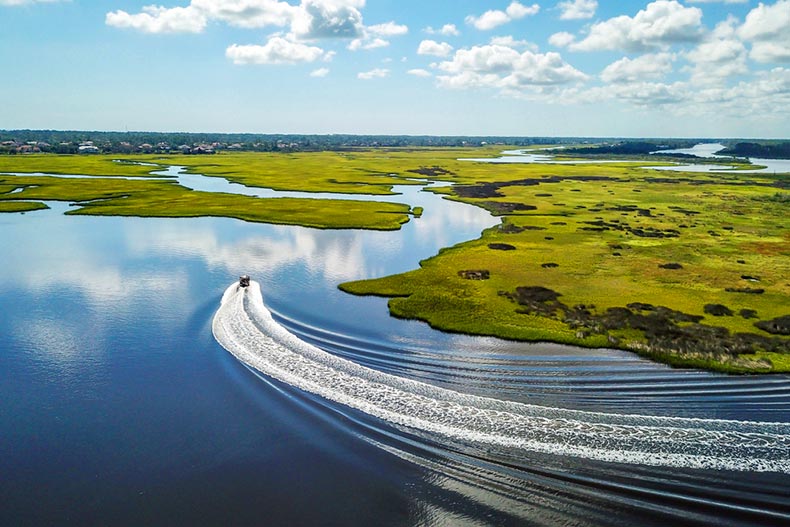 Residents of Tampa and Jacksonville enjoy subtropical climates with warm, pleasant weather and year-round sunshine. The cities provide flat, coastal landscapes with lush, tropical foliage. Whatever your choice of outdoor recreation, these cities guarantee that you can enjoy them even in the winter.
Data from WeatherSpark indicates that the cities have similar highs and lows in the warmer and cooler months. In the warmer months, the average daily high temperature rises above 85 degrees in Jacksonville and 86 degrees in Tampa. The coldest single month for both cities is January, with an average low of 46 degrees in Jacksonville and 52 degrees in Tampa.
While snow is a thing of the past for those migrating to Florida from northern states, the humidity can feel pretty intense during the summers. Tampa tends to experience slightly more oppressive and consistent humidity than Jacksonville. However, since Jacksonville is slightly more north than Tampa, the city may experience more distinct seasons.
Both retirement destinations offer plenty of opportunities to explore and play outdoors no matter what time of year it is. Most Tampa residents can reach the Gulf of Mexico within 30 minutes where they snorkel, swim, and sunbathe on scenic beaches. Those in Jacksonville also have access to numerous beaches along the Atlantic Coast, and they can also fish, kayak, or swim in St. Johns River. Both cities also have many non-water-related outdoor spaces like Lower Hillsborough Wilderness Preserve beside Tampa and Jennings State Forest just outside of Jacksonville.
Cost of Living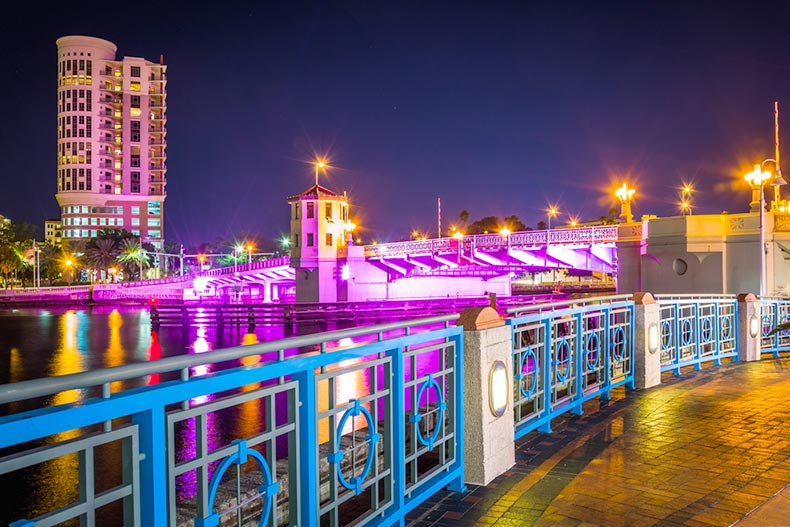 The tax-friendly state of Florida means that retirees enjoy affordable costs of living with expenses that fall below national averages. Residents of Tampa and Jacksonville can take advantage of costs of living that can meet the budget of the vast majority of retirees.
Retirees have flocked to Florida as a tried-and-true retirement destination for its beneficial taxes. The state of Florida doesn't tax personal income or other types of retirement income, including pensions, IRAs, or 401ks. The state does not collect estate or inheritance taxes. These exemptions can be very helpful for active adults and retirees.
Tampa and Jacksonville share the same sales tax, 7.5%, which includes the 6% rate from the state and 1.5% added in each respective city. Homeowners in both cities must pay property taxes, but the Florida Homestead Exemption allows for $25,000 to be exempted from the first $50,000 of your home's assessed value (given that permanent residence is established among other criteria). All in all, the Sunshine State's tax climate saves residents money when compared to other states.
In terms of overall cost of living, Jacksonville is slightly more affordable, according to data from BestPlaces. Both cities were scored on a scale of 100, with 100 being the national average. Tampa came out to be about right on par with the national average with a score of 100.1, while Jacksonville scored lower with a score of 93.5. This slight difference is due in part to the lower cost of housing in Jacksonville, with the average home cost in the city being around $231,800 compared to Tampa's average home cost of around $306,900.
Other factors that influence cost of living, including utilities, groceries, and healthcare, are all within a 9% range of national averages for both cities. However, it's worth noting that Tampa has utility expenses below the national average while Jacksonville's are slightly above that median. In the end, it's up to homeowners to determine which city's costs best align with their individual retirement budgets and goals so they can enjoy financial freedom.
Culture and Entertainment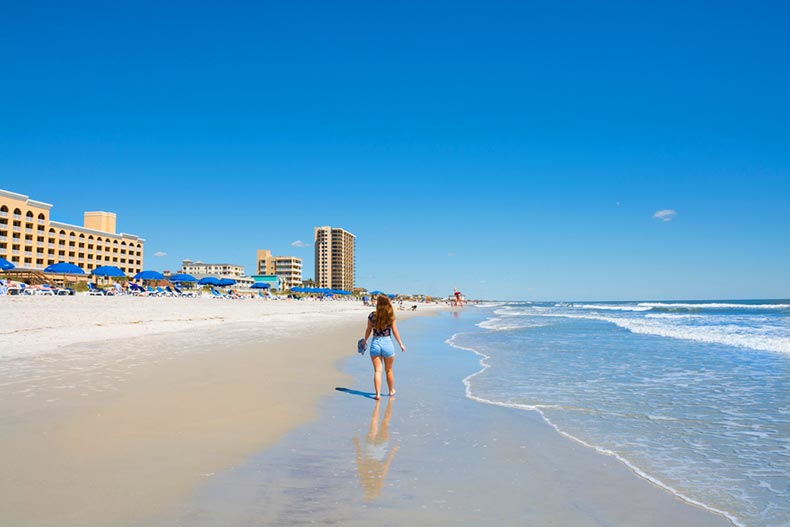 Jacksonville has 22 miles of Atlantic beaches.
What To Do in Tampa
Tampa, nicknamed The Big Guava, attracts many tourists and new residents every year thanks to its long list of attractions and outdoor amenities. Active adults can spend a day at the beach, shopping downtown, or enjoying a festival or event, and there's no shortage of things to do across the Tampa Bay area.
Some major attractions in Tampa include Busch Gardens, a sprawling African-themed amusement park, and The Florida Aquarium, which boasts more than 20,000 aquatic animals and plants. Also located in the city are institutions like the Museum of Science and Industry, ZooTampa at Lowry Park, and all of the things to do in nearby St. Petersburg, like the Sunken Gardens.
Downtown Tampa is walkable and filled with hundreds of shops, restaurants, and bars. A fun fact is that the city is home to the longest continuous sidewalk in the United States, Bayshore Boulevard, which stretches 4.5 miles along Tampa Bay. Entire days can be spent shopping at shopping centers like Centro Ybor and Hyde Park Village.
What attracts many to Tampa is, of course, its pristine beaches with warm oceanic waters. There are beaches along Tampa Bay, like Ben T. Davis Beach and Cypress Point Park, but beaches along the Gulf of Mexico are just 24 miles away from downtown Tampa, such as Clearwater Beach and Sand Key Beach.
What To Do in Jacksonville
Jacksonville has many nicknames, like River City, Jax, First Coast, Bold New City of the South, and the Gateway to Florida. It's a place of culture, entertainment, and expansive natural spaces.
Although Jacksonville has the largest landmass of any city in the nation, a large percentage of this area is dedicated to natural areas for outdoor recreation and beauty. According to Visit Jacksonville, the city has the largest urban park system in the nation, which spans 80,000 acres. Time not spent in the many parks or the St. Johns River can be enjoyed on the city's 22 miles of Atlantic beaches, including Atlantic Beach, Neptune Beach, and Jacksonville Beach.
Jacksonville is a city brimming with culture and history, which is showcased in over a dozen museums as well as several historic neighborhoods, such as Avondale, Riverside, and San Marco. Visitors and residents can also find plenty of seafood and southern comfort food restaurants as well as a vibrant nightlife to keep the party going after the sun goes down. Life can be as relaxing or as exciting as you want it to be from day to day in River City.
Health Care and Education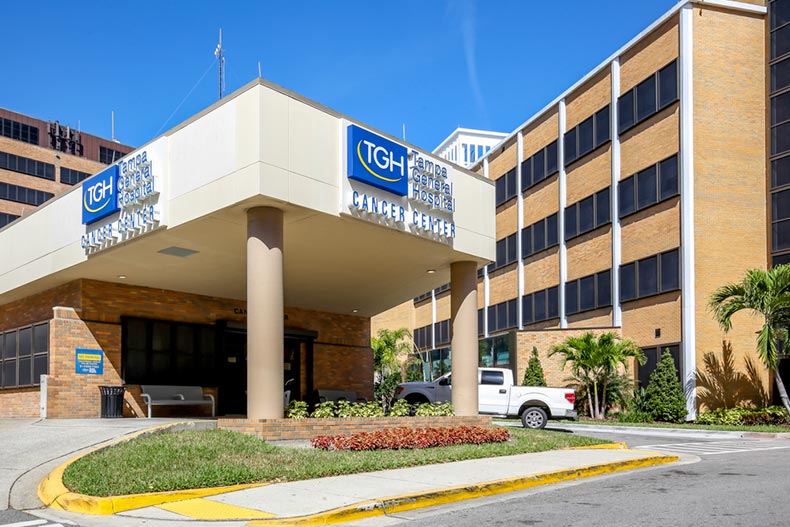 Tampa and Jacksonville are both home to nationally ranked hospitals and medical institutions where residents can receive an extensive variety of top-notch services.
In Tampa, health care centers such as HCA Florida South Tampa Hospital, AdventHealth Tampa, and St. Joseph's Hospital are all well-respected options for care. According to U.S. News and World Report, Tampa General Hospital is the top-ranked hospital in Tampa and is also ranked nationally for five adult specialties, including orthopedics, diabetes, and endocrinology.
The Jacksonville Mayo Clinic is voted best in the city by U.S News and World Report. This medical institution has a top-ranking cancer research and treatment facility as well as nationally ranking scores in six other specialties. Additional hospitals and medical centers in Jacksonville include Baptist Medical Center, HCA Florida Memorial Hospital, and University of Florida Health.
Several major universities are also located in the cities. The University of Northern Florida and Jacksonville University are in Jacksonville, and the University of South Florida and the University of Tampa are in Tampa.
55+ Communities in Tampa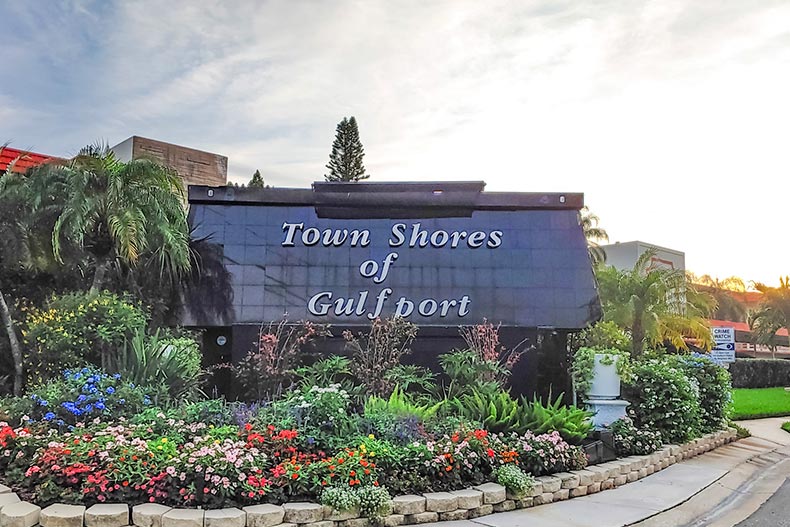 Below $100k - High $500s
With 9,500 single-family and attached homes, Sun City Center is the largest 55+ community in the Tampa Bay area. The world-class amenities feature three amenity campuses, and interested homebuyers can find a range of floor plans available for a variety of budgets, needs, and preferences.
Active adults who want to find affordable homes in an age-restricted community within 30 minutes of Downtown Tampa and the Gulf Coast can find an abundance of options at Sun City Center.
Request more information about Sun City Center.
High $300s - Mid $1Ms
The convenient location of MiraBay just 20 miles south of Tampa directly on Tampa Bay provides easy access to the city, the sea, and scenic natural areas, such as the 1,300-acre Wolf Branch Creek Nature Preserve.
The gated active lifestyle community consists of 1,700 single-family homes. The 10,000-square-foot MiraBay Club provides an abundance of amenities, such as a state-of-the-art fitness center, the Galley Cafe, and the MiraBay Spa.
Request more information about MiraBay.
Low $200s - Low $700s
At Town Shores of Gulfport, active adults can find 1,327 condominium homes that provide a maintenance-free lifestyle. The community's location just 30 minutes outside of Tampa in the nearby city of St. Petersburg puts residents adjacent to the Boca Ciega Bay Aquatic Preserve and within five miles of the Gulf Coast.
Residents have access to amenities such as a clubhouse and a fitness center as well as a full social calendar of activities and clubs.
Request more information about Town Shores of Gulfport.
Below $100k - High $300s
On Top of the World Clearwater, located west of Tampa, consists of 4,959 low-maintenance condominium homes with amenities that feature two clubhouses and two community golf courses.
Dozens of clubs and interest groups are available to residents looking to find like-minded neighbors and new friends. With a maintenance-free and age-restricted lifestyle, retirees enjoy an abundance of free time to visit family, travel, and pursue their hobbies.
Request more information about On Top of the World Clearwater.
55+ Communities in Jacksonville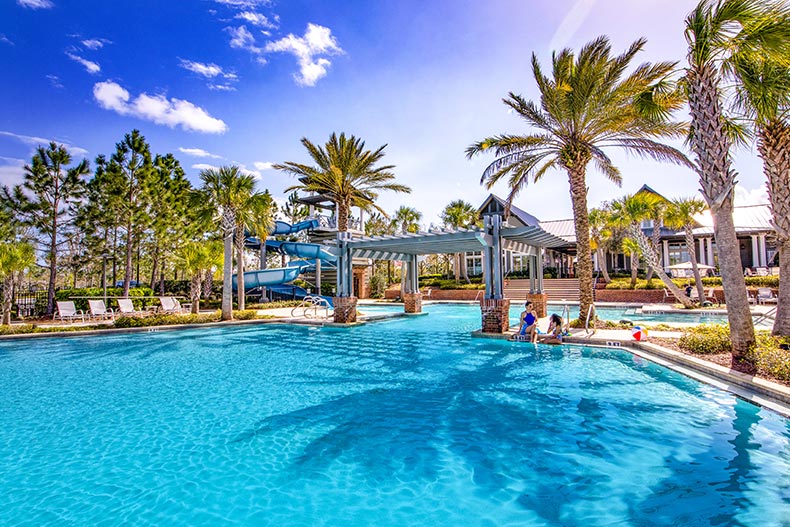 High $200s - Low $400s
A 22,000-square-foot clubhouse, a spacious state-of-the-art fitness center, and an outdoor resort-style pool pavilion are just a few of the amenities that await at Sweetwater.
The age-restricted community includes 950 single-family, attached, and condominium homes, ensuring that homebuyers can find the right floor plan to meet their preferences. The desirable location in west Jacksonville provides easy access to the city, interstates, and plenty of entertainment.
Request more information about Sweetwater.
Mid $400s - Low $700s
From renowned active adult community builder Del Webb comes Del Webb Ponte Vedra, located in the master-planned community of Nocatee just 35 minutes southeast of Downtown Jacksonville. The location puts residents within a 15-minute drive of the Atlantic Coast and the scenic North Beach Guana River Preserve.
The 1,988 single-family, attached, and condominium homes come with all the bells and whistles of Del Webb floor plans. The world-class amenities feature a 37,8000-square-foot clubhouse, Sawgrass Cafe, multiple fitness and creative studios, and a six-mile walking trail that winds through Nocatee nature preserves.
Request more information about Del Webb Ponte Vedra.
Mid $300s - Low $600s
WaterSong at RiverTown is a new age-restricted community currently under development by builder Mattamy Homes within the master-planned RiverTown community. The gated 55+ community will consist of 800 new-construction single-family and attached homes upon completion.
In addition to community-exclusive amenities like a clubhouse and two pools, residents will also have access to wide-ranging amenities throughout RiverTown. WaterSong at RiverTown is located right on the St. Johns River, offering plenty of opportunities for fishing, swimming, and kayaking in the river.
Request more information about WaterSong at RiverTown.
Low $300s - Low $500s
Casual and pro golfers alike can find something to like about Cascades at World Golf Village, a gated 55+ community with 450 single-family homes. The community is home to notable golf institutions like the PGA Academy, World Golf Hall of Fame, and actor Bill Murray's restaurant Caddyshack, but it also has many other amenities, such as a 22,000-square-foot clubhouse, a state-of-the-art fitness center, and a full-time lifestyle director.
Residents can reach both downtown Jacksonville and the Atlantic Coast in about 30 minutes, ensuring that entertainment and conveniences are never too far away.
Request more information about Cascades at World Golf Village.