10 minute read
Tampa and Orlando are about 85 miles apart. Both cities are in Central Florida, and both have experienced serious growth over the last few years. They're desirable locations, especially for active adults looking for a retirement destination that includes sunshine, art, recreation, and access to water. The cost of living remains fairly reasonable in both cities, especially compared to others in South Florida and along the East Coast.
If you're thinking about Tampa vs. Orlando for your retirement, here's how the two cities compare.
Geography and Population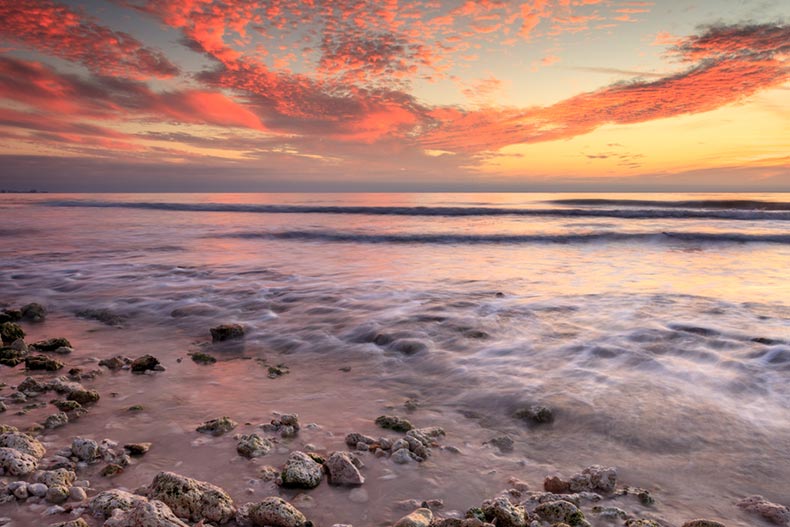 Tampa is on Florida's Gulf of Mexico coast. The city itself is where Tampa Bay and the Hillsborough River meet. There's a modern downtown scene in Tampa as well as historic neighborhoods like Ybor and Seminole Heights.
Suburbs have grown around the downtown area, and there are still some rural pockets in the Tampa Bay area, where strawberries are grown. Three bridges link Tampa to St. Petersburg and Clearwater, cities that are over the bay and on the gulf.
In Orlando, residents find themselves at least an hour from the nearest beach, but there are deep freshwater lakes throughout the region, providing an ideal place for fishing and boating. Like Tampa, there's a growing downtown cityscape in Orlando and several unique neighborhoods and suburbs.
Known for its theme parks, Orlando has become much more than a hub for Disney vacationers. The population has grown due to new industries, increased housing, and expanded infrastructure.
The population in Tampa, according to the 2020 Census, is 384,959. In Orlando, the 2020 Census reports a population of 307,573.
Climate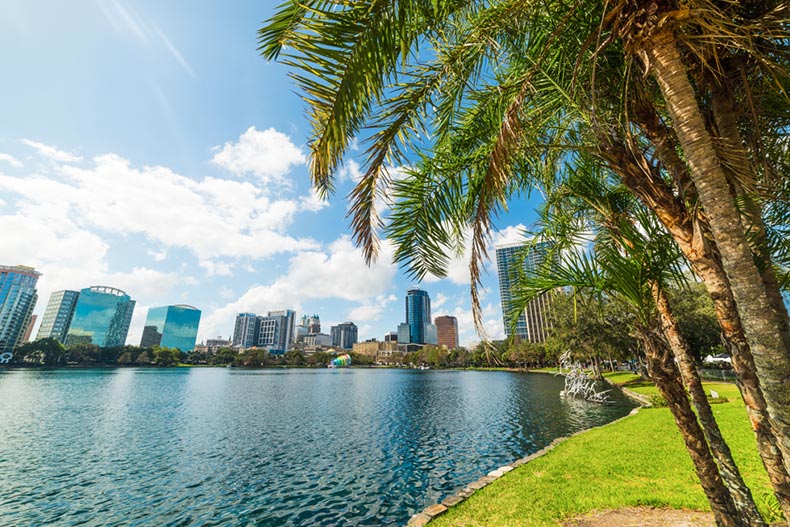 Tampa and Orlando both get pretty hot and humid during their long summers. All that heat is worth the sweat, though, when winter rolls around and barely a light sweater is needed.
The average temperatures in Tampa during July and August are 91 degrees for a high and 75 degrees for a low. In January and February, expect an average of 72 for a high and 52 for a low. In Orlando, the numbers are similar. The difference is that Orlando often feels hotter without the breeze that comes off the water.
Rain in both cities is frequent during the spring and summer months. It can be heavy, and thunderstorms are frequently something by which residents can set their watches. At around 4:00 on any given summer afternoon, the clouds will go gray and the lightning will begin flashing across the sky, but they rarely last long.
Hurricanes are more of a threat in Tampa than Orlando. The Gulf of Mexico has been active in recent years with tropical activity showing up reliably during every hurricane season, which runs from June 1 to November 30. Orlando doesn't get threatened with a direct hit, but the wind and rain that accompanies these storms can cause flooding and damage to property.
All of the sunshine and warmth means year-round golf, boating, fishing, and hiking in both Tampa and Orlando. You won't enjoy many winter sports, but you can eat outdoors and grow your own produce no matter what time of year it is.
Cost of Living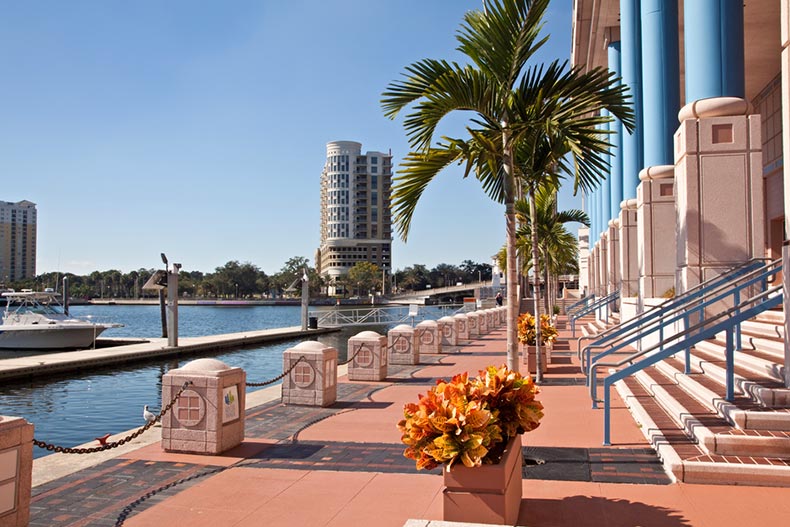 The cost of living in Orlando is about four or five percent higher than the cost of living in Tampa. Housing costs have traditionally been higher in Orlando as well, but the recent market shifts have changed things a bit. The average home price in Orlando is around $350,000, while the average home price in Tampa is $388,000.
Taxes are around the same in each city. Florida has no state income tax, which means residents in both Orlando and Tampa get to keep more of their retirement income, whether it's social security, a pension, or investment earnings. Property taxes are slightly higher in Tampa. On a $250,000 home, residents pay around $50 more per year than they do in Orlando.
For utilities, gas, and other basic needs, there are only slight differences in each city. Orlando's prices are a bit higher, and that's likely due to the higher demand that comes from the large number of tourists flocking to Orlando annually.
Culture and Entertainment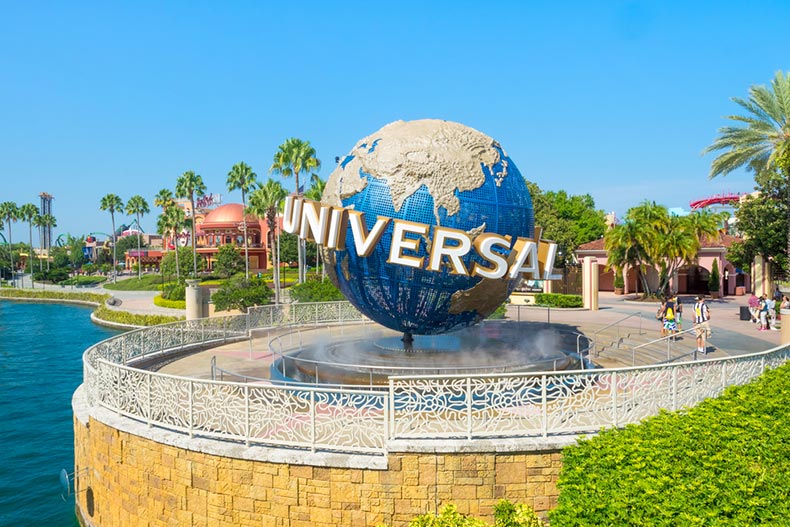 What To Do in Tampa
Some of Tampa's most well-known landmarks are amusement parks like Busch Gardens and ZooTampa at Lowry Park. There's also the Florida Aquarium and Ybor, a neighborhood established by Cuban and Spanish immigrants and known for its outstanding food, late-night entertainment, and outdoor parades and festivals.
Plenty of art can be found, starting at The Tampa Museum of Art, where there are permanent collections, ongoing exhibits, and a long list of classes and workshops that members of the community can take. Plays and musicals are well-attended at The Straz Center for the Performing Arts, and The Florida Museum of Photographic Arts is a gallery with permanent and rotating photography exhibits.
Tampa's most popular shopping areas include Hyde Park Village, where there are locally owned boutiques, restaurants, and large retailers like Pottery Barn and Anthropologie. The Shops at Wiregrass make up an outdoor shopping mall with dining and recreation, and the most impressive mall in Tampa is International Plaza, where there are luxury brands and swanky shops as well as the outdoor Bay Street, where food and bars can be found.
Professional sports are huge in Tampa. The Tampa Bay Buccaneers play football at Raymond James Stadium, and The Tampa Bay Lightning play their hockey games downtown at Amalie Arena. In their respective off-seasons, both venues host concerts and special events.
Outdoor recreation in Tampa is abundant. Boats, kayaks, paddleboards, and jet skis can be found cruising across the bay. The Hillsborough River State Park is a lush and woodsy place for hiking, fishing, camping, and wildlife watching. South of the city, in Apollo Beach, manatees can be found enjoying warm waters at the Manatee Viewing Center.
What To Do in Orlando
Think of Orlando, and you're likely going to think of Walt Disney. Disney World, Universal Studios, Epcot Center, Animal Kingdom, Islands of Adventure…the list goes on. But there's more to Orlando than amusement parks.
International Drive has restaurants, nightlife, and features like an aquarium, a giant ferris wheel, and shopping. The Jack Kerouac House is in Orlando and currently commemorates where the author lived when On The Road was published and while he wrote The Dharma Burns. It was listed on the National Historic Register of Historic Places in 2013.
The Orlando Museum of Art offers free admission on random days throughout each month. The Mennello Museum of American Art has a permanent collection of paintings and sculptures and is found in the well-preserved Howard Phillips House. There's also the Orlando Science Center, a hands-on museum focused on learning.
Outlet shopping is huge in Orlando. The Orlando Outlet Marketplace is an outdoor outlet mall on International Drive with nearly 200 popular brands. Other shopping hotspots include The Mall at Millenia and The Florida Mall.
Orlando is all about entertainment. For live music, residents gather at The Social, The Abbey, or The Plaza Live. Theaters include Dr. Phillips Center for the Performing Arts downtown as well as the Bob Carr Theater, which opened in 1927.
Spending time outdoors is easy in Orlando. Swimming in a natural spring at Wekiva Island is refreshing in the summer and not too cold in the winter because the water stays at 72 degrees. The Orlando Urban Trail is three miles of bike paths, jogging paths, and walking trails. Twenty-five golf courses can be found within the city of Orlando and an additional 35 courses are within half an hour.
Health Care and Education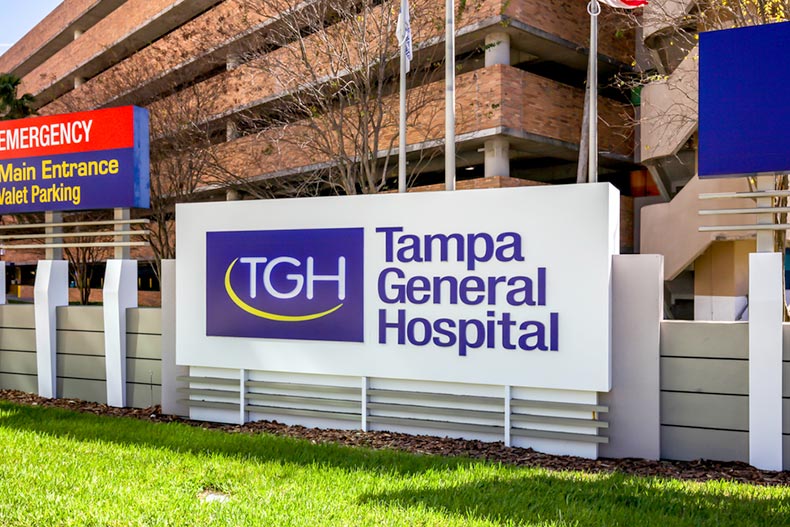 Health care in both Tampa and Orlando is easy to access and hospitals are nationally recognized. In Tampa, people from all over the world come to Moffitt Cancer Center for cancer treatment and access to innovative clinical trials. The well-funded institution is widely respected for its research and advocacy. The University of South Florida has hospitals and medical centers that cover every specialty, from geriatrics to memory care to diabetes, dermatology, and pain management.
In Orlando, AdventHealth (formerly Florida Hospital) has locations throughout the city to meet the medical needs of residents. They were awarded the best hospital in the greater Orlando area, and they have specialty centers treating cancer, cardiovascular issues, neuroscience needs, and digestive problems. There's also a Transplant Institute and an Orthopedic Institute.
Both cities have colleges and universities. In Tampa, the University of South Florida has a main campus in north Tampa and classrooms throughout the area. There's also The University of Tampa, located downtown, and continuing education available at Hillsborough Community College. Orlando is home to the University of Central Florida, which has more than 13 colleges covering over 200 degree programs.
55+ Communities in Tampa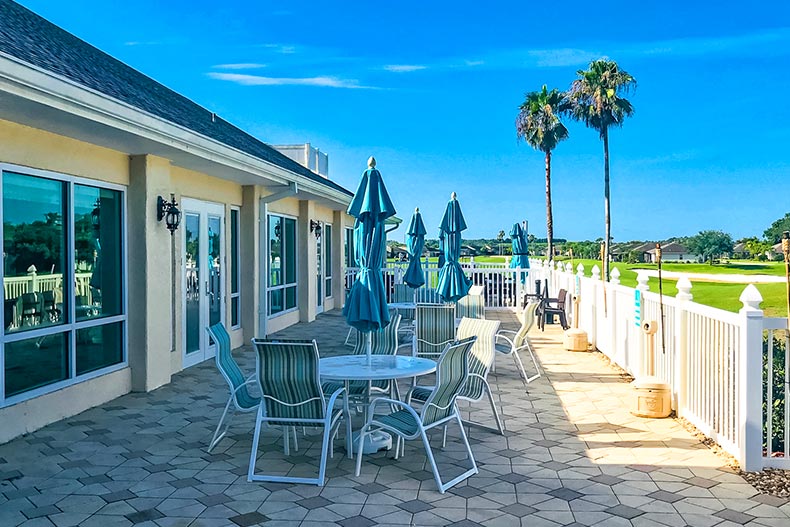 Low $400s – Low $700s
Spacious single-family homes are available in the active lifestyle community of Esplanade of Tampa. With resort-style amenities and an active social calendar, it's an ideal place for those looking to stay busy and connected to the community.
There's a clubhouse with a fitness center, a pool, pickleball courts, and tennis courts. Home models range from 1,856 to 2,929 square feet with two to three bedrooms and two to three-and-a-half bathrooms.
Low $400s – Low $600s
For high-style, low-maintenance condominium living in Tampa, Howell Park Condominiums is the place to be. Located on the super-desirable Bayshore Boulevard, this gated 55+ community has waterfront views and instant access to Downtown Tampa. Condo homes are available in two high-rise towers, with one- and two-bedroom floor plans ranging from 2,060 to 2,867 square feet.
Low $200s – Low $500s
For 55+ living on a golf course, Tampa Bay Golf and Country Club is located just north of the city in San Antonio, which is home to St. Leo's University. In addition to 27 holes of championship golf, this community has a huge clubhouse with a library and a ballroom. There's also a pool, a fitness center, tennis courts, and shuffleboard in this golf cart-friendly community.
55+ Communities in Orlando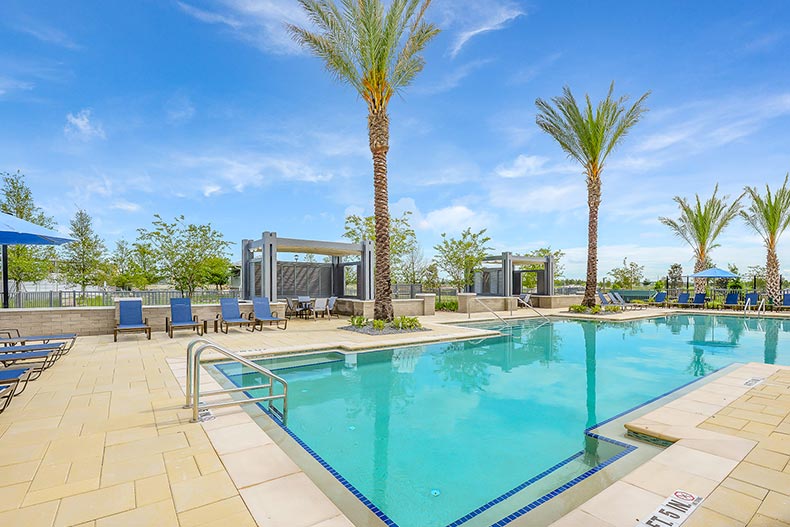 Mid $300s – Mid $400s
Gatherings of Lake Nona is a 55+ community of new and resale condo homes with 1,368 to 1,805 square feet and two or three bedrooms. Living in one of Orlando's most desirable master-planned communities, residents enjoy a clubhouse with a catering kitchen, a fitness center, and multipurpose rooms. There's also a pool, a fire pit, and pickleball courts.
Mid $300s – Low $700s
Another Orlando community at Lake Nona is VillageWalk at Lake Nona. Here, buyers will find attached villas and single-family homes in attractive models built around a system of scenic lakes and canals. Amenities include a Town Center with a restaurant, a salon, and shops.
Low $700s – Mid $1Ms
Enclave at VillageWalk is an intimate, gated community of spacious single-family homes. With between 3,188 and 5,118 square feet, models have three to five bedrooms, three-and-a-half to five bathrooms, attached three-car garages, and flex space to be used as a den or office. Some homes include formal foyers with spiral staircases.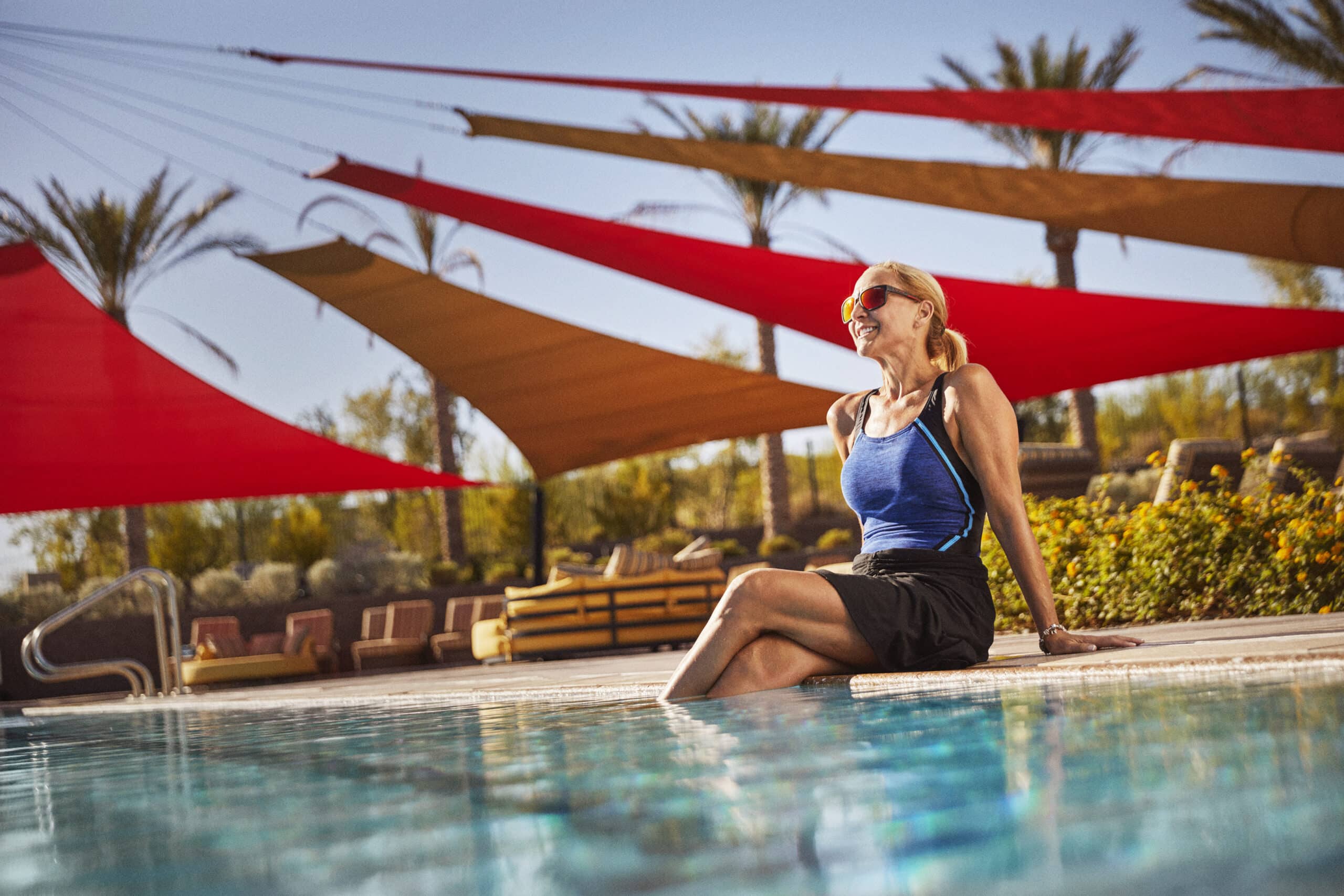 Discover what's next.
To learn more information or connect with a real estate expert, contact us today.