Moving can be a stressful undertaking, especially when embarking on a new journey with 55+ community living. The prospect of being a part of a mature living community is exciting as well as a bit daunting.
We're here to answer all of your questions about joining a mature living community, so you can feel empowered in your decision. This is the next great adventure of your life, and we're firm believers in leaving the stress out.
Check out these top 10 FAQs about living in 55+ communities.
1.) Are 55+ communities the same as assisted living?
Not necessarily. Many older adults are looking to downsize by moving to a curated community. This doesn't mean relinquishing their independence. In fact, many communities are designed for active lifestyles with on-site recreation such as tennis, swimming, hiking, and golf.
However, if you do require extra assistance in daily tasks, there's a neighborhood for you! Many offer services such as on-site medical support or transport to the nearest medical facility. Mature living communities range from independent living (with grounds and maintenance covered) to a range of assistance options designed to help you enjoy the best years of your life.
2.) How safe are 55+ communities?
Mature living communities are very safe! Many are gated and monitored closely. The crime rate is extremely low such that many residents feel comfortable leaving their doors unlocked. Picture a mature living neighborhood as a well-maintained resort for everyday living.
3.) Can my grandchildren live with me?
There are many family-friendly communities available, but it's always best to review the neighborhood's rules and regulations regarding age exceptions, noise ordinances, and any other restrictions that may be in place.
Most communities operate by the 80/20 rule. Put simply, "the 80/20 rule affects 55+ community age-restriction rules. The law says that 80% of the homes in 55+ communities must be occupied by at least one adult, 55 years old or older. It's up to the community whether they allow residents younger than 55, once the 80/20 requirement is met."
Consider touring the premises with your grandchildren well in advance to ensure compliance and comfort.
4.) I'm ready to move, but my spouse isn't over 55 yet. Is this a problem?
Every community sets its own regulations and minimum age requirements. However, a good rule of thumb is that one spouse must be over 55. If your significant other hasn't quite hit that milestone, no need to pause your move-in plans. You can still enjoy the benefit of mature residential areas as long as one party meets the age minimum.
5.) I have a pet. Are 55+ communities pet friendly?
The answer is a tail-wagging yes! Many mature living communities are pet friendly. In fact, it's not uncommon to find planned communities centered around pet owners.
Equine communities are a great example, catering not only to horse lovers but offering amenities such as nature trails for dog walking and beautiful patios for bird watching with your cat. You'll find a wonderful neighborhood of pet lovers drawn to these peaceful communities alongside their furry friends.
6.) I bet these communities are expensive! How do they compare to homeownership and renting?
You might be surprised to learn that 55+ communities are often cheaper than homeownership and renting. As a homeowner, you're responsible for all care and property maintenance. The added benefit of property management, reduced cost of living, reduced property taxes, and having time back in your day to pursue the things you love is an amazing value.
Similarly, renting does not offer the same amenities as a curated community. With rising rent prices, it's not surprising that many are turning to 55+ communities instead.
7.) The neighborhood sounds great! What about outside the gates?
55+ communities are established in some of the most beautiful areas across the country. From California to Florida to Colorado and Arizona, there's a community for everyone just waiting to be discovered.
8.) Can a disabled resident under 55 reside in these communities?
55+ communities may seem to be exclusive clubs that only those who have paid their dues as homeowners and renters are allowed to join. However, it's important to note that regulations offer a guide rather than an absolute.
Many 55+ communities are designed for seniors as well as younger residents facing mobility challenges and other disabilities. These amazing, supportive, and helpful communities are here for disabled tenants as well as older residents.
Similar to other luxury communities, 55+ communities typically have a homeowners association (HOA) that makes key decisions, assists residents as needed, and keeps the community growing in a positive direction. HOAs in 55+ communities might manage the number of guests allowed within the residence, set noise ordinances, and manage the rules and regulations of the community to ensure your serene piece of paradise stays that way.
10.) What are some of the amenities of a mature living community?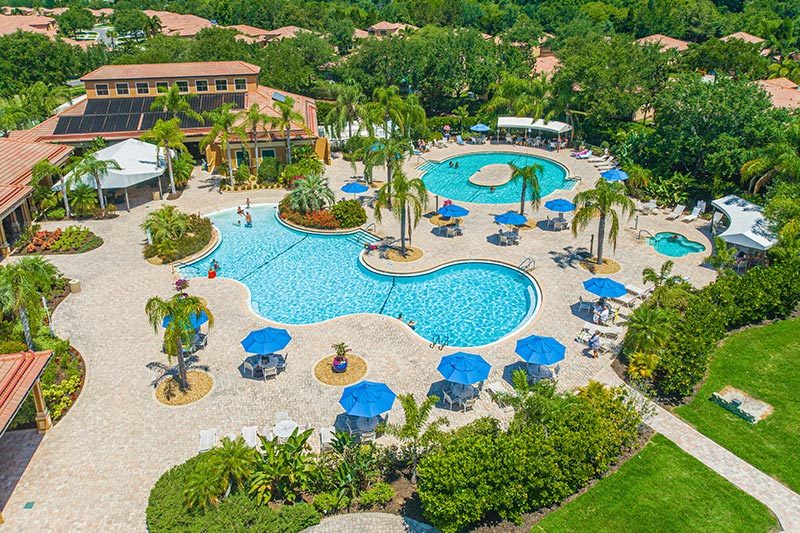 The benefits of living in a managed community are ever-growing. A few key highlights and favorite amenities include:
Professionally maintained lawns and gardens

Continuing education resources

Readily available maintenance

Active living support

Friendly, knowledgeable property managers who are available to help and support the residents

Lowered crime and reduced break-ins

An amazing neighborhood filled with like-minded people

Peace, quiet, and serenity away from the hustle and bustle

On-site dining

Social mixers and activities

Trails, tennis courts, pools, rec rooms, equine experiences, and more!
Find your idyllic community as we explore more 55+ communities alongside the rules and regulations, stunning amenities, and benefits of downsizing. We hope we've answered most of your pending 55+ community questions and taken some of the stress out of the big move. The journey is the best part of any new chapter, and we're looking forward to seeing where your next steps take you.
If you're still unsure if a mature living community is right for you, we're here to help! Contact our team today to learn more.