Knowing the 55+ community age-restriction rules is important in light of modern family dynamics. Many grandparents are caregivers for their grandchildren, either part-time or full-time. In fact, one study found that more than 2.9 million children are being raised by their grandparents. Another report added that this figure is only expected to increase. In fact, numbers have risen steadily over the past 40 years and doubled since 1970.
The most common concern, however, is finding a community that caters to the needs of those over 55 while also allowing grandparents to care for the needs of their grandkids if needed. Are you thinking of moving to a 55+ community and wondering if restrictions will prevent your grandkids from living with you? If so, here's what you need to know.
Common 55+ Community Age-Restriction Rules You Should Know
Not every 55+ community will allow grandparents to have children living with them. In fact, some 55+ communities even have age-restrictions on visitations from grandchildren. This is because many residents look for a community that isn't lined with children playing in the streets all the time. They want an environment centered around their peers.
These age-restricted 55+ communities—although welcoming to visiting children with amenities and events as long as rules are being followed—are not suitable for grandparents taking care of grandchildren. However, some 55+ communities can accept residents in this predicament. It's important to ask around when determining which community is the right fit for you. 
Here are some common policies to consider while looking.
The 80/20 rule affects 55+ community age-restriction rules. The law says that 80% of the homes in 55+ communities must be occupied by at least one adult 55 years old or older. It's up to the community whether they allow residents younger than 55, once the 80/20 requirement is met. That said, just because the law will allow those communities to accept younger residents and qualified residents with children to live in their units doesn't mean that every community will comply. The community ultimately decides what they want to do with the other 20%.
The Housing for Older Persons Act (HOPA) of 1995
What does the Fair Housing Act have to do with 55+ community age-restriction rules? This law was put into place to protect homebuyers and renters from discrimination on religion, color, sex, race, disability, national origin, and familial status. This makes it sound like you should be safe to move into a 55+ community with children. However, the U.S. Department of Housing and Urban Development says otherwise:
55+ communities are specifically designed for assisting adults 55 and older. However, they fall under the exemption of the Fair Housing Act. This allows them to decide whether or not they will accept residents with children.
Even in 55 and over communities that allow children to reside in your home, you must consider the rules and regulations in place. These will vary and be set by the community. So you'll need to read through the rules about grandchildren before buying or renting to ensure you and your grandkids can adhere to them without any trouble. These policies can include, but certainly are not limited to, the following:
Noise ordinances restrict noise levels children can reach in certain parts of the community and at certain times of the day. This is often enforced to allow those 55 and older to maintain a peaceful and comfortable living arrangement.

Restrictions on where your grandchildren are allowed to go and what they can participate in. A 55+ community is designed for those 55 and older. Therefore, the activities and amenities are often catered to those 55+ specifically. Think about what would happen if children interfere—or worse, intentionally disrupt—classes, events, activities, etc.



The Ultimate Challenge of Moving to a 55+ Community With Grandkids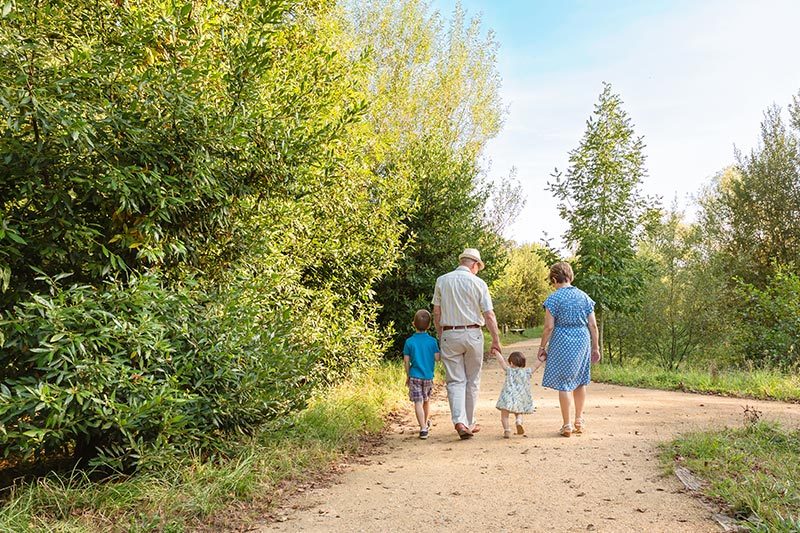 Reaching out to communities you're considering is vital to successfully settling into a 55+ community. Not all communities will be able to meet your specific needs. Therefore, you'll want to be sure that it's the right one before you commit and buy your new home. What does all this mean for an adult 55 and older with a grandchild or grandchildren in the household? It means finding a community with the right amenities and resources for those kids as well. 
Finding the accommodations you need might not be easy. However, finding accommodations for children (in communities that accept children in your household) will be the ultimate challenge. 
55+ communities are more focused on adults without children. As a result, there's often less focus on features that might be important to young families. For example, proximity to good schools, family entertainment, children's safety, access to playgrounds, etc. are not usually a priority. You'll still want to consider these amenities and resources when choosing your community. Weigh the pros and cons of what's available for you and your grandkids. Careful research will ensure you make the best decision for both.
It's less common for all of these resources to be available. However, it doesn't mean it's entirely impossible to find something that works for you. It'll be a challenge finding a 55+ community that accepts residents with minors and meets your needs, but it's possible.
Find The Right 55+ Community For You With 55places
A simple Google search is no longer enough when it comes to finding 55+ communities. You must go further to assess which one fits your household needs. Ensure you're connected with the best options for you and your grandkids. Visit 55places to explore all your options locally or across the nation. You wouldn't believe the range of possibilities available at the click of a button!