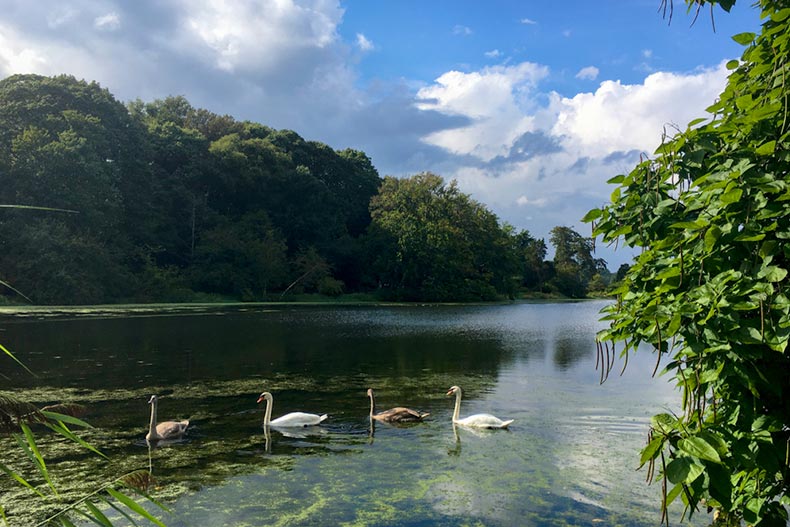 If you've made the decision to downsize and switch over to a low-maintenance lifestyle, congratulations! Not having to worry about the upkeep of a big house translates into less stress and more time to really enjoy your well-deserved retirement. One of the easiest ways to scale back is to find a condo in an active adult community; you won't need to mow the lawn, shovel snow, or worry about exterior maintenance.
Other benefits to condo living can include access to a private clubhouse with amenities like a swimming pool, exercise facilities, and gathering rooms. You'll also have new friends and neighbors to socialize with, whether in your building, in the clubhouse, or at any of the community events and social clubs.
One of the best locations for a happy retirement in the northeast is West Long Island, and at last count, it had 15 active adult condo communities with homes for sale. Many New Yorkers have second homes here since the area is only about 45 miles from Manhattan and offers spectacular scenery, charming small towns, historical and cultural attractions, and all the modern conveniences one needs. Living here is akin to being on a year-round vacation, so take a look at the ones we've chosen below and see if this lifestyle is for you.
High $400s - Mid $1Ms
The Greens at Half Hollow is an established 55+ golf course community with 1,200 resale condo and attached homes. This property is almost equidistant from Long Island's northern and southern shores, and it's just outside of lovely West Hills County Park.
Aside from having an 18-hole golf course and a driving range within its gates, The Greens also has an exclusive clubhouse with a fitness center, indoor and outdoor pools, a restaurant, a bar, and tennis courts. The two condo models are sized at 1,100 or 1,140 square feet with open floor plans, two bedrooms, one-and-a-half or two bathrooms, and walk-in closets.
Learn more information about The Greens at Half Hollow here.
Low $400s - Mid $500s
Also located towards the center of LI, The Seasons at East Meadow is minutes away from Hoftstra University and Nassau University Medical Center. This gated 55+ neighborhood was completed in 2012, and it has 404 resale condo homes. There are three floor plans ranging from 1,030 to 1,300 square feet with two bedrooms, two bathrooms, basements or lofts, outdoor patios, and assigned parking spots in the front of each building.
Resort-like amenities include a 17,000-square-foot clubhouse with its own cinema room, fitness center, dance studio, activity rooms, and outdoor pool area. There's also a dog park outside, and a long list of clubs and activities to keep your social calendar full year-round.
Learn more information about The Seasons at East Meadow here.
Low $400s - Mid $400s
Convenient to the Long Island Expressway yet surrounded by natural space, The Coves at Melville is a peaceful, established condo community restricted to ages 62 and up. It's about 20 miles north of Jones Beach State Park with 175 resale condos and a welcoming clubhouse behind its gates.
The condo units are sized at around 1,170 square feet with two bedrooms, two bathrooms, and options that may include hardwood floors, granite countertops, and stainless steel appliances. The Coves' private clubhouse has an outdoor pool and patio area, an indoor fitness center, a library, and game rooms.
Learn more information about The Coves at Melville here.
Low $300s - High $300s
The Villas at Narragansett is another mid-sized, reasonably priced 55+ condo community with its own clubhouse for resident use. Built from 2004 to 2005, it has 138 resale condos, and it's close to Bergen Point Golf Course and Great South Bay Shopping Center.
The two condo floor plans are sized at 1,173 or 1,500 square feet with two bedrooms and bathrooms, open floor plans, stainless steel appliances, wood floors, and plenty of parking throughout the community. The friendly clubhouse has a multi-purpose room, a catering kitchen, a library, a bocce ball court, and an outdoor pool.
Learn more information about The Villas at Narragansett here.
High $200s - Mid $300s
The smallest and most affordable retirement community in this group is The Bel Aire at East Meadow, which is across the way from Eisenhower Park (it has two golf courses, fitness trails, and more). This intimate 55+ neighborhood has 95 resale condos, all housed in one four-story brick building with elevator access.
The units range from 908 to 1,153 square feet with one or two bedrooms and two bathrooms. Features like roomy master suites, in-unit laundry areas, storage space, and granite kitchen countertops make these homes comfortable and elegant. The building's amenities include computer and media rooms, an exercise facility, a multi-purpose room, and a heated outdoor pool. Residents also enjoy the benefits of having an amenity center, a concierge service, and a valet.
Learn more information about The Bel Aire at East Meadow here.