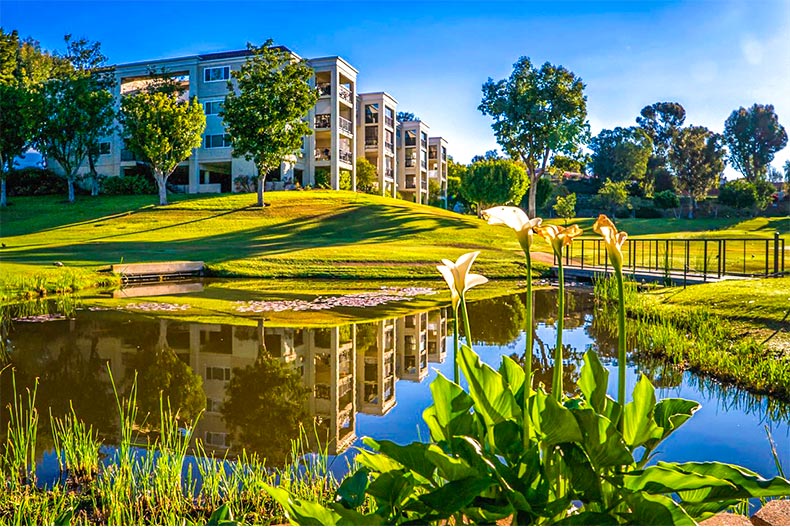 Among the reasons so many active adults choose to live in 55+ communities is the security and peace of mind provided by controlled access to the property.
This control is a common feature of developments that cater to the active adult lifestyle. But the method of control varies -- from least secure and most economical, to most secure and least economical.
Automatic Gates
Communities with automatic security gates are the most common type of gated communities.
Automatic gates typically have a gate arm which raises and lowers or large metal gates that swing open. They are generally opened by a remote control that is programmed to work with the gate, or by entering a code with buttons on an electronic keypad. They are cost effective and easy to operate but have some obvious security drawbacks.
Guard Gated
Guard gated communities are more secure than automatic gated communities, but they are also more expensive. They typically have a gatehouse with an attendant. In some communities, the attendant is a hired professional. In others, residents take turns staffing the gate.
Typically, they have two lanes entering the community, one for residents and one for non-residents.
Guard Gated with Patrols
A community that is guard gated with supporting mobile patrols is the most secure, but it is also the most expensive. Additional services provided by the patrols are:
Monitoring road and driving conditions, traffic flow, and motorist behavior.

Offering help to residents in need of assistance.

Enforcing community rules on safety, property use and resident relations.

Patrolling for persons or situations that appear unusual or out of place.

Checking on property for residents who will be away for extended periods of time.
Benefits of Controlled Access
At all these communities, controlled access provides a number of benefits.
A sense of security: Communities that are guard gated and patrolled monitor all traffic in and out. Only verified residents have freedom of access, and residents are able to control who may visit them, creating a sense of security.

A feeling of privacy: Since traffic from outside is limited, gated communities provide a greater feeling of privacy for residents. Unwanted solicitors, vendors and other non-residents cannot freely enter.

A sense of community: Along with social activities, group recreation, and community festivities - guarded gates and security patrols contribute to a sense of community among residents.

A better resale price: Controlled access, along with professional maintenance and premium amenities, add to the value of individual homes. If you decide to sell one day, you're more likely to get a better price.
In one of America's prime destinations for active adults, Orange County, California, five of the largest and most popular 55+ communities offer both guarded gates and security patrols:
Laguna Woods Village - Laguna Woods
Laguna Woods Village is the area's biggest and most popular active adult community and in many ways has been the prototype for the active adult lifestyle in America.
Recreational opportunities abound in Laguna Woods Village. Avid golfers enjoy a respected, championship level 27-hole course and a separate nine-hole, par-3 circuit. More recreation is found at two fully-equipped fitness centers and gyms, five pools, hot pools, tennis courts, bocce and lawn bowling courts, horse stables and dozens of other year round venues.
Residents also enjoy making new friends at dinners, dances, civic events and some 250 unique activity groups at seven different clubhouses. Bus service, guarded gates and maintenance-free living are all part of the appeal of Laguna Woods Village.
Casta del Sol - Mission Viejo, CA
Casta del Sol is a bucolic neighborhood of homes on tree-lined streets that wind up and down a cluster of hills in central Mission Viejo. Many of the single-family homes overlook Lake Mission Viejo or enjoy views of the Casta del Sol Golf Course, both of which adjoin the community.
There are two recreation centers, each with pools and hot pools, a fitness center, tennis courts, chipping green, nature walks, competition-level shuffleboard facility, meeting halls, five-table billiards room and a popular 18-hole golf course just outside the guarded gates.
There are more than 30 different clubs, organizations and activity groups at Casta del Sol, among them a travel club, political club, bridge club, square dancing, choir and more. Group tours and outings are often scheduled.
Leisure World Seal Beach
Just two miles from the ocean, Leisure World Seal Beach enjoys a nearly ideal year round climate as the afternoon sea breezes cool the sunny coast.
Community residences consist of more than 6,600 condos and co-ops in 10 different floor plans ranging from 550 to 1,540 square feet.
Amenities in the community include a well-equipped fitness center, a 9-hole, three-par golf course, tennis courts, bocce courts and a large swimming pool and spa. There are six clubhouses with lounges, meeting rooms and a dozen kitchens. A health care center, shuttle bus service, and guarded gates add to the amenities.
Palmia - Mission Viejo, CA
Palmia has the look of a Mediterranean resort, with graceful palm trees framing 900 pastel homes.
This planned development in the foothills at the northern end of Mission Viejo is comprised of detached homes and attached condos in 30 different floor plans all built on 211 acres of the former Rancho Mission Viejo.
For recreation, a 12,000 square-foot clubhouse called Club Palmia houses club rooms, card rooms, a library, a billiards room, and a complete exercise facility. A pool, spa, tennis courts and an 18-hole putting course and tennis courts are adjacent. Security patrols cruise the grounds and guards monitor gates.
Huntington Landmark - Huntington Beach
Huntington Landmark can rightfully call itself a beach community. It's less than two miles from the shore break at Huntington Beach, also known as "Surf City USA," and host to the International Surfing Museum. Also nearby -- the coastal bike trail, the Huntington Beach Pier and downtown shopping district.
Built in 1983, Huntington Landmark has over 1,200 condo homes. It offers resort-style living with a clubhouse, gym, pools, spas, putting green, and outdoor recreation.
The community is also filled with trees, landscaping, large grassy areas, and sidewalks throughout for exercise walks and strolls with pets. Access gates are guarded.