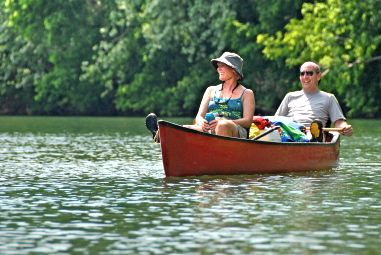 Boating, fishing, swimming and other water sports are popular pastimes for many active adults. These activities are frequently found in coastal areas. However, water-loving retirees can also enjoy living inland when they choose a community which offers access to a navigable lake.
The types of lakes found in active adult communities can vary greatly. When communities list scenic lakes among their amenities, they are generally referring to very small lakes, or large ponds, which are mainly decorative. Scenic lakes and ponds may be stocked for fishing, but they are not designed for motorized boats or other water activities.
There are active adult communities which include (or are located beside) larger, navigable lakes. Within these communities, access to the lake can vary. Some communities have their own marinas, boat slips or boat launches. They may also have fishing piers, lakeside picnic areas and other special amenities.
If you are interested in finding a great lakeside active adult community, here are just a few to consider:
1. Cresswind at Lake Lanier — Gainesville, Georgia
Cresswind at Lake Lanier was built by The Kolter Group alongside the shores of Georgia's beautiful Lake Lanier. This 37,000-acre recreational lake offers a wide variety of water activities. Within the community, residents will enjoy access to Cresswind Landing, an on-site boathouse with boat slips and day dock options. Kayak rentals are also available.
2. Del Webb at Lake Oconee — Greensboro, Georgia
Located 75 miles east of Atlanta, Del Webb at Lake Oconee sits on the shores of one of the largest lakes in Georgia. Lake Oconee is a 19,000-acre lake which is an ideal setting for many water sports and activities. For easy lake access, the community has its own marina with 38 boat slips and a boat launch. Residents will also enjoy a beautiful lakeside pavilion with a grill and ample seating.
3. Shenandoah — Lake Frederick, Virginia
Not far from the Blue Ridge and Allegheny Mountains, Shenandoah offers tranquil living beside the calm beauty of Lake Frederick. This lovely 120-acre lake allows canoeing, kayaking and electrically powered boats. There are boat docks available throughout the community, and the lake is also stocked for fishing.
4. Frisco Lakes — Frisco, Texas
Set on the shores of Lake Lewisville, Frisco Lakes offers beautiful waterfront homes and close proximity to water recreations. Lake Lewisville's 29,500 acres of navigable water provide ample opportunities for fishing, boating and other water sports. Just one mile from the community, residents can arrange for boat rentals or boat storage at Hidden Cove Marina.
5. Royal Harbor — Tavares, Florida
Royal Harbor may be located in central Florida, but it still offers waterfront property and water-based activities on Lake Harris. Some properties within the community have private lake or dock access. A marina with several boat slips is located just across the highway from the community. Lake Harris is a well-known fishing lake which has more recently become a popular spot for water-skiing and jet-skiing.
6. Water Valley — Windsor, Colorado
Situated between Fort Collins and Greeley, Water Valley is an open-age community with amenities which are sure to appeal to active adults. Water lovers will especially enjoy easy access to the community's lakes with boat launches and fishing piers. The lakes are not all that large, but they do allow canoes, kayaks and other non-motorized boats.