Del Webb's Sun City Hilton Head is the largest active adult community in South Carolina, and it continues to rack up impressive awards (including spots on the Most Popular and 55 Best 55+ Communities lists) year after year. Just recently, the neighborhood landed the No. 1 spot on "The 50 Best-Selling Communities of 2021."
Here's why residents love Sun City Hilton Head so much.
1. Lots of Homebuying Options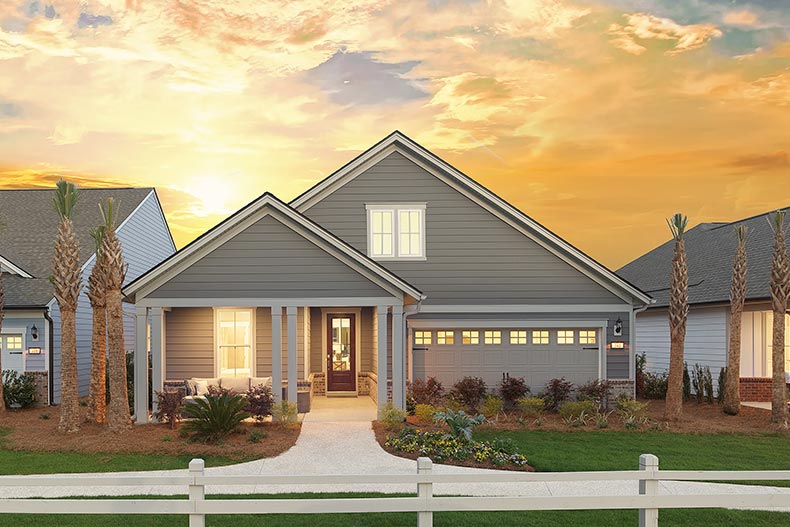 With both resale and new construction attached and single-family homes on the market, the housing options are endless at Sun City Hilton Head. There are dozens upon dozens of floor plans available, giving buyers plenty of choices when it comes to customizing the look, feel, and size of their homes.
Layouts range from 1,039 to 3,728 square feet, and homes within the community vary from small, one-bedroom cottages to large, five-bedroom single-family homes. Additionally, buyers will find a wide range of prices that vary between the mid $200s and mid $1Ms.
2. A Long List of Luxe Amenities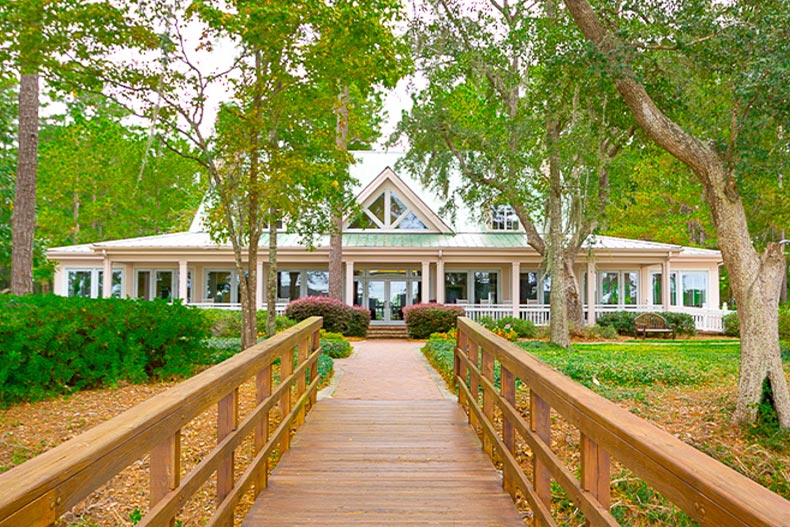 It would be hard not to fall in love with Sun City Hilton Head after seeing its rather extensive list of luxury amenities. With on-site restaurants and retail stores, a 540-seat performing arts theater, three fitness centers, and a 20-acre fishing lake, the community truly offers residents the best of the best.
Other noteworthy amenities that make the community a fan-favorite include a 45-acre town center that replicates a small town square, three golf courses that offer a total of 54 holes, and an 18,000-square-foot social hall. There are also a number of resort-style pools and patios spread throughout the community for residents to lounge around when the weather is nice. (In South Carolina, that's most of the time.)
3. Active Social Life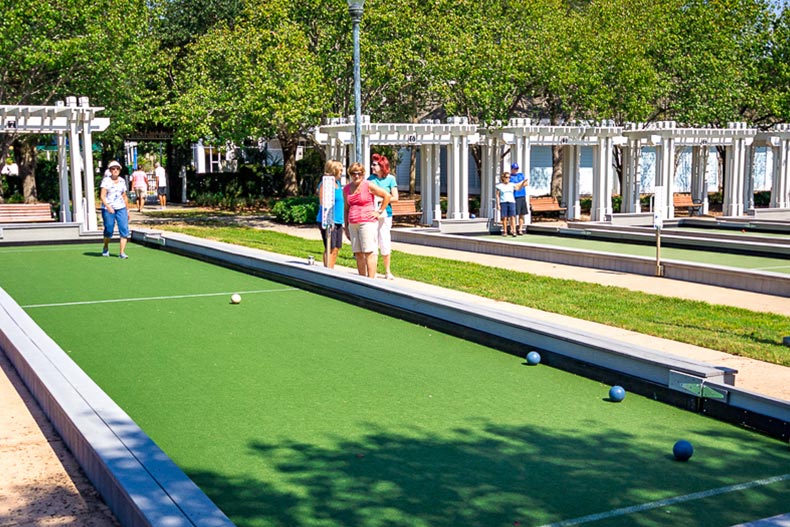 Being bored while living in Sun City would be an almost impossible task with so many different ways to stay active and busy. The community's activities calendar is consistently jampacked with everything from holiday parties and day-trips to dances and cruises.
The list of community classes available to homeowners is as impressive as the activities calendar with options ranging from cooking and water aerobics to painting and woodworking. There are also plenty of opportunities for residents to socialize with neighbors and friends through organized clubs. Sun City Hilton Head has more than 100 clubs that will appeal to almost any interest or hobby, from motorcycles and culinary arts to crafting, cards, and birding.
Along with the clubs, there are plenty of organized sports teams, where residents can challenge each other to a little friendly competition while playing games like tennis, pickleball, softball, or bocce ball.
4. Low Cost of Living and Low Taxes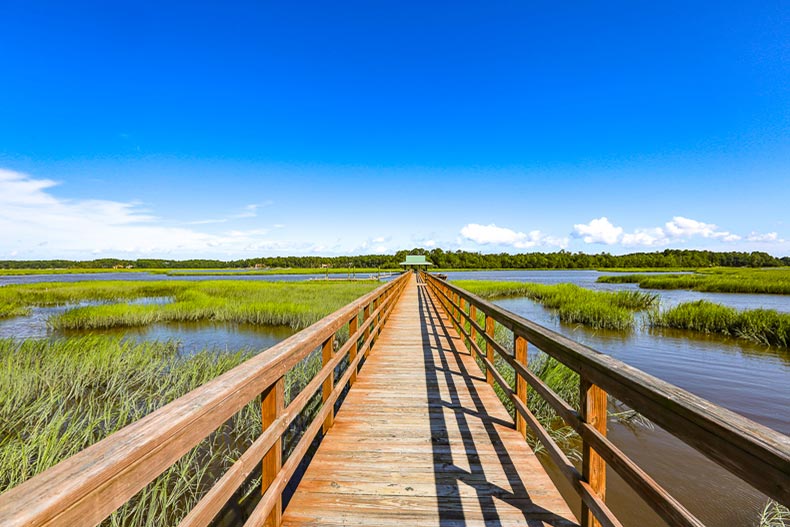 Sun City Hilton Head's low cost of living and low tax rates are two other reasons residents love this 55+ community. South Carolina not only has fairly low tax rates compared to most states, but it also has several tax benefits designed specifically to help retirees.
According to SmartAsset, property taxes in the Palmetto State are almost half the national average at 0.55%—making them some of the lowest in the country. Beaufort County's local property taxes are also well below the national average at 0.510%, making it relatively affordable to purchase a home in Bluffton.
Some active adults can also qualify for a homestead exemption, which can also help lower local property taxes. Other advantages include no inheritance or estate taxes, and South Carolina doesn't tax Social Security benefits.
5. Easy Accessibility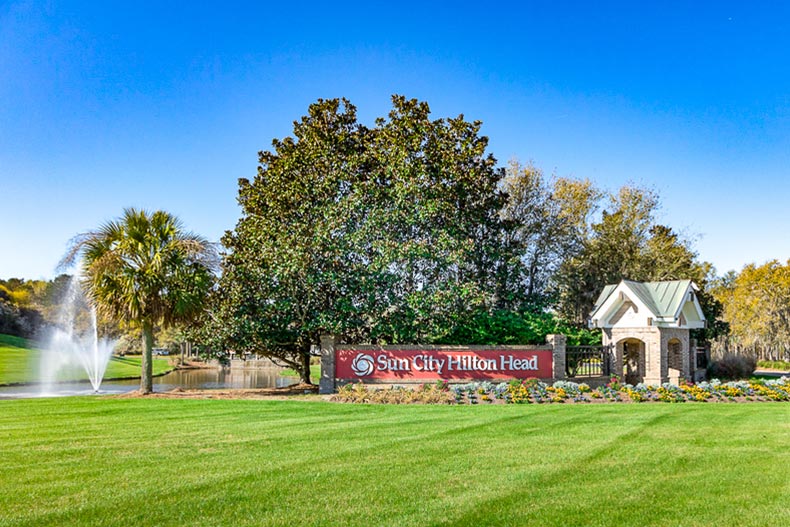 Within the community, active adults have access to a number of restaurants as well as retail shopping, making it easy for residents to grab a bite to eat or peruse a shop or two without ever having to leave the development.
Sun City Hilton Head is also close to many daily conveniences like grocery stores, pharmacies, banks, a post office, and medical facilities. In fact, a number of shopping centers are so close to the community, residents can just hop on their golf carts and ride over. There's also a wide variety of delicious restaurants close by, including Nonna Rosa, Las Palmas, Backwater Bill's Grill, and The Pearl Kitchen and Bar.
Besides its accessibility to shopping, dining, and daily conveniences, Sun City Hilton Head also puts its residents within miles of countless championship golf courses as well as the scenic Carolina coastline and beaches.
6. Lock-and-Leave Lifestyle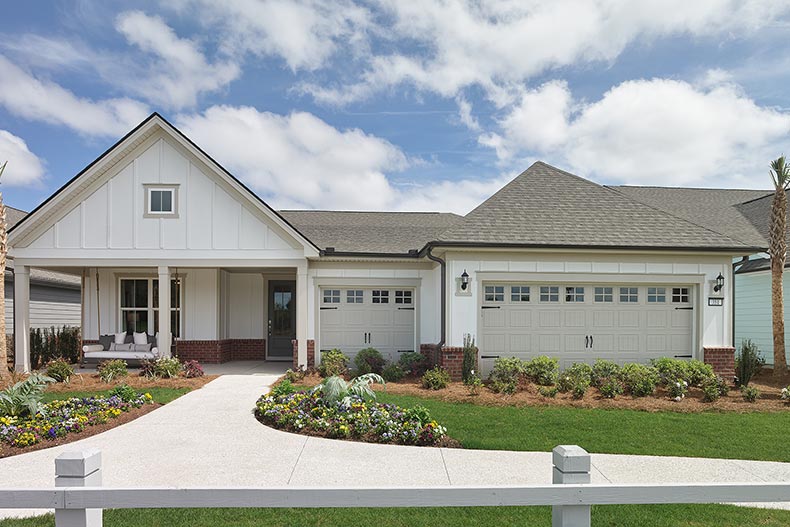 Those who love to travel will especially love the community's lock-and-leave lifestyle. With 24/7 security services and lawn maintenance, Sun City's low-maintenance homes and homeowners' association (HOA) help take some of the worry out of leaving home. Travelers who like to road trip are also in luck, there's RV parking and storage available within the development.