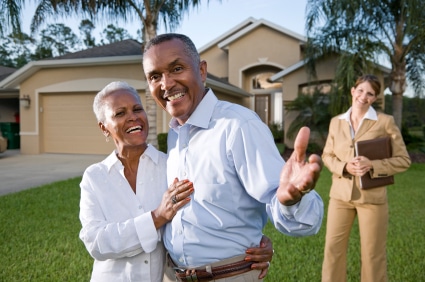 Whether you are buying a new construction or resale home, a REALTOR will protect your interests and help you make the best possible investment. But how do you go about choosing a REALTOR? And should you look for special skills when you plan to buy a home in an active adult community?
Real estate agents must be licensed to legally represent you, however not all real estate agents have the same training or experience. Only real estate agents who are members of the National Association of Realtors can be referred to as a REALTOR. Don't be afraid to ask questions when meeting with a REALTOR. And, if you aren't happy with the responses, it's okay to shop around for a new real estate agent. Here are some questions to ask when choosing a REALTOR:
1. How many homes have you sold in this specific community? When relocating to an active adult community, you are investing in the development as much as you are in the home itself. A REALTOR who has experience with the specific community may be able to provide more insight into the development and its history.
2. Are you a full-time agent? Some real estate agents only sell homes part-time. If they have plenty of experience, and are willing to work flexible hours to accommodate your schedule, this may not be a problem. However, you may feel more comfortable with a REALTOR who is a full-time agent.
3. What are some of the rules in the community that I should be aware of? Active adult communities will have rules for both the upkeep of the homes and conduct when in community buildings. In age-restricted communities, there are likely to also be rules about the ages of people who live in your home and the length of time under-aged visitors can stay. Your REALTOR should be aware of these rules or willing to find the information for you.
4. Do you know the different models and floor plans that might suit my needs? During your initial meeting, plan to bring a list of the features you want in your new home. Your REALTOR should be knowledgeable about the available models of homes which could be a good fit, even if that means suggesting homes in other nearby communities.
5. Will you show me listings of other agents? While real estate agents have their own listings, they should be happy to show you the listings of other agents. In fact, it's usually in your best interest to use a REALTOR who only represents your side of the sale. The listing agent has already made a commitment to represent the seller, and you want a REALTOR who will be focused on your interests.
6. What is the average sale-to-list price ratio in the community, and what is your ratio when helping buyers? In real estate, the sale-to-list price ratio compares recently sold homes' list prices to their actual sales prices. Your agent's track record may be a good sign of skill. For example, if homes in a community typically sell for 95 percent of their list price, and your REALTOR commonly helps buyers negotiate deals at 90 percent of the list price, that can be a positive sign. However, there are many factors which affect the sale-to-list ratio, so it isn't the only reason to choose an agent.
7. What specific skills do you offer that sets you apart from other agents? Real estate agents can have a wide range of training beyond their basic salesperson license. They may be a member of the National Association of Realtors or have earned local sales awards or distinctions. REALTORs can also complete training which would make them more qualified to help you buy into an active adult community, such as becoming a certified Seniors Real Estate Specialist (SRES).