Los Angeles, known for sun, surf, and celebrities, attracts people from all walks of life and from every age group—many of them retirees. This sprawling city has a lot going for it, and it's an excellent choice for retirement.
Demand in L.A. has always been high, and home prices reflect that demand, with homes selling for considerably more than in other areas of the country. However, the idyllic weather, abundant amenities, and outdoor lifestyle that L.A. offers retirees can significantly outweigh the cost of living.
If you're considering retirement in Los Angeles, here's a detailed overview of what active adults can expect when living in the "City of Angels."
L.A. Cost of Living and Retirement Costs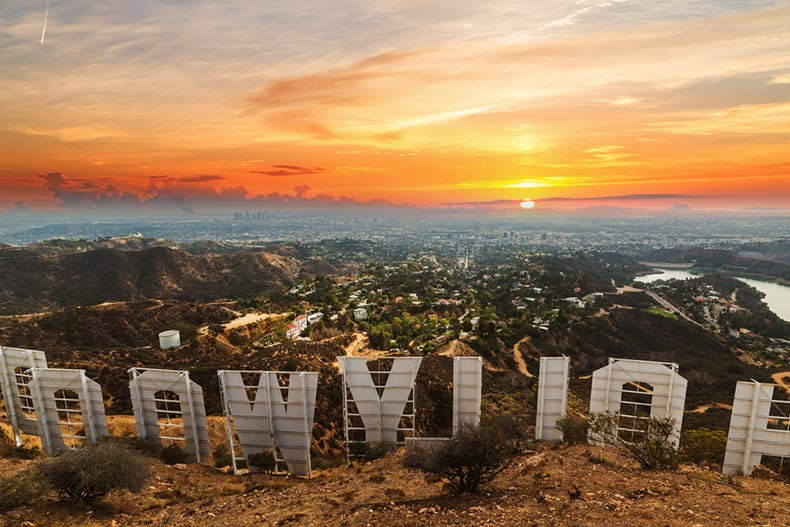 Home Prices
Housing prices in Los Angeles are some of the highest in the state of California, as well as the country, thanks to high demand exceeding supply. The housing shortage and seller's market conditions combined with L.A.'s idyllic living and career opportunities create a perfect storm of conditions that all help to keep the city's housing market red hot.
As of March 2022, the median listing home price in L.A. was $985k, rising steadily 6.5% year-over-year. Those who can afford the area can rest easy knowing their home value will most likely keep increasing for years to come.
Grocery and Utility Costs
Higher home prices typically go hand-in-hand with a higher cost of living, and Los Angeles is no exception. With many gourmet markets and high-end farmers markets in the area, food costs can get expensive. However, shopping at discount grocers and directly from local farmers can help to reduce grocery bills dramatically.
Utility bills like energy from running the air conditioner (L.A. can get hot!) and water bills can also get on the higher side in L.A., but reducing water and installing solar panels or running fans instead of the AC can also help to lower those utility bills significantly.
Transportation Costs
L.A. is notorious for its traffic, but like the rest of the country, gas in Los Angeles isn't cheap. Save money and headaches from gridlock and take advantage of the city's multiple public transportation options.
The most cost-effective option is the city-wide subway and light-rail system, which is only a few dollars to ride. There are also buses and shuttles running through every corner of the city, and Uber, taxis, or Lyft are also convenient options as well.
Taxes
At 10.25%, the L.A. sales tax rate is high in comparison to other areas of the state, but the city boasts lower-than-average property tax rates at 0.77%. Also, income tax rates are at 9.3%.
Retirement income can be taxed in Los Angeles. Social Security is not taxable in California, but all other forms of retirement income is taxable at a rate of 9.3% in Los Angeles.
Proposition 19 can benefit active adults ages 55 and up who are looking to purchase a home in Los Angeles but are afraid of a higher property tax rate. Prop 19 allows homeowners aged 55+ up to transfer their property tax assessments from their sold home to a newly purchased home anywhere in California, regardless of value. This is great news for in-state retirees looking to move to L.A.
L.A. Climate and Weather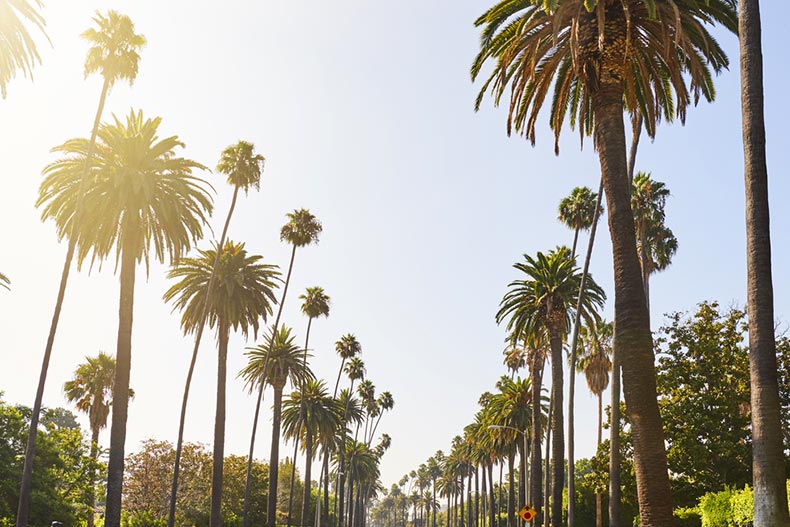 With year-round sunny days and a warm, Mediterranean climate, Los Angeles weather is as near-perfect as weather can get. Only in sunny L.A. can you enjoy swimming in the surf year-round or dining outdoors in the dead of winter. Although L.A. does see four seasons, the residents don't have any drastic weather to contend with.
L.A. summers are warm, clear, and arid, with highs of 85 degrees and lows of 62 degrees. Winters are cool, wet, and fairly mild, with many days of partly cloudy skies but quite a few clear and sunny days too. Winter highs can get around 69 degrees and can even fall into the low 70s, while lows fall around 49 degrees.
It very rarely snows in Los Angeles—so rarely, in fact, that snow makes an appearance perhaps once every few decades. Although much more common than snow, rainy days are also a rare occurrence in L.A., with only about 14 inches of yearly rain on average. Spring and fall weather in Los Angeles is considered by many as idyllic, with average highs hovering in the low 70s.
The most common weather condition in L.A. is, by far, sun, with 284 sunny days per year. Los Angeles residents take full advantage of the warm, sunny weather, with beach days in the dead of winter and the enjoyment of outdoor activities like golf, walks on the beach, and al fresco lunches all year round.
L.A. Culture and Entertainment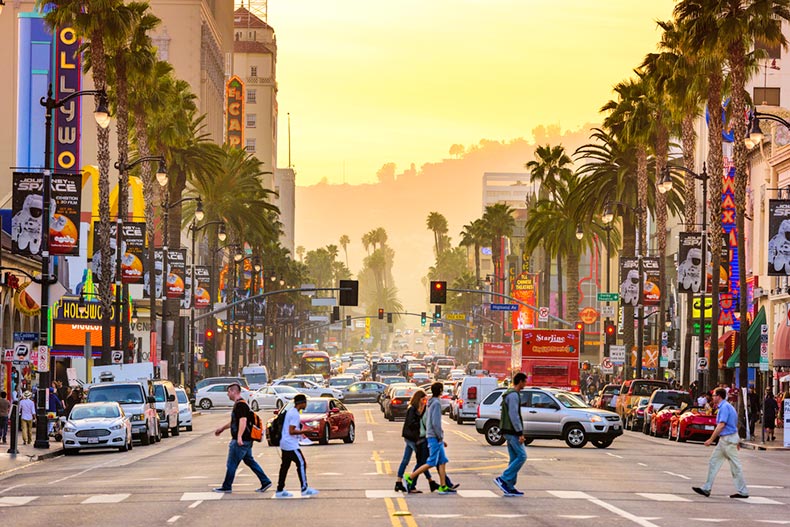 As the second-largest city in America, Los Angeles is a cultural melting pot of diversity, rich with museums, art, theatres, clubs, tours, and more. If entertainment, culture, and diverse cuisine is important to you, L.A. may be the perfect fit.
Dining Scene
From celebrity-filled Michelin-starred restaurants to unforgettable, authentic street tacos, L.A.'s food scene is just as diverse as its people. L.A. boasts distinct neighborhoods overflowing with authentic and affordable cuisine, like savory Galbi ribs from Koreatown, just-made dim sum from Chinatown, incredible Southern food in South L.A., and mouthwatering tacos on just about any corner of the city.
If celebrity spotting thrills you, hot spots like Nobu, Fig & Olive, Deliliah, and Dan Tana's are known to be frequented by the rich and famous. L.A. also leans heavily on fresh, healthy fare, with trendy green juice and salad eateries catering to the large population of health-conscious people living in the city.
Local Attractions
Living in L.A. offers residents a wealth of entertainment opportunities, and hosting visitors will be just as fun and exciting for you as it is for them. Visit iconic tourist destinations like the Hollywood Walk of Fame and Mann's Chinese Theater, take a tour of Warner Bros Studio, drive the famous Mulholland Drive and Sunset Strip, and shop till you drop at Rodeo Drive. When the grandkids visit, a trip to Disneyland, the Santa Monica Pier, or Universal Studios would be a thrill they won't soon forget.
For more cerebral entertainment, an afternoon at the Peterson Automotive Museum, the California Science Center, the Natural History Museum, the Los Angeles County Museum of Art, or the Getty Museum is a great way to spend a few hours. In the evening, gaze at stars from the incredible Griffith Observatory—the best lookout point in the city.
L.A. Healthy and Active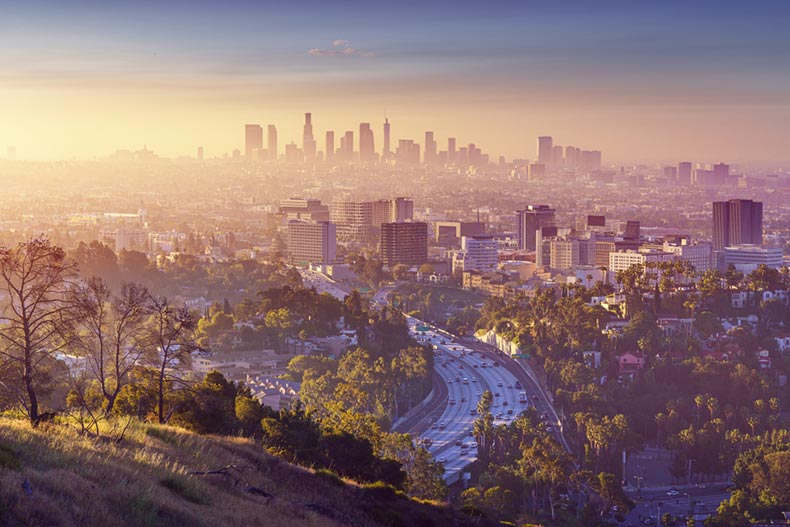 Healthy Eating
As an early adopter of the farm-to-table, organic-everything, healthy eating movement, finding fresh, seasonal, and healthy food in L.A. is not an issue. Vegetarians, vegans, and keto-diet fans won't need to look hard to accommodate their diets because they're in good company in Los Angeles.
There are numerous weekly farmers markets taking place on any given day in the city, showcasing the bountiful, fresh produce produced in the area. Restaurants such as True Food Kitchen, M Cafe, Crossroads Kitchen, Destroyer, Sumac, and many others offer healthy, seasonal cuisine that's heavy on vegetables, and sustainably raised proteins. For those that enjoy cooking at home, a health food grocer is never far, including Whole Foods, Good Life Organics, Jayde's Market, Rainbow Acres Natural Foods, and Grassroots Natural Market & Kitchen, among many others.
Health Care
Finding quality health care in Los Angeles is an easy task, thanks to the staggering number of hospitals and healthcare centers located in the city. With a population of four million, Los Angeles boasts 253 hospitals to choose from and is home to what is considered two of the nation's best—UCLA Medical Center and Cedars-Sinai Medical Center.
Both UCLA Medical Center and Cedars-Sinai have been nationally recognized for their cancer treatment. Don't be surprised if you run into a celebrity during your stay at Cedars-Sinai Medical Center, which is the celebrity hospital of choice, having treated famous patients such as Frank Sinatra, Lucille Ball, and Elizabeth Taylor.
For people who meet certain income guidelines, L.A. Care Health Plan is a public program that provides health care regardless of age, disability, or immigrant status. This may be a great option for retirees who struggle to afford health care. L.A. Care is free for those who qualify, with no copays or monthly premiums.
55+ Communities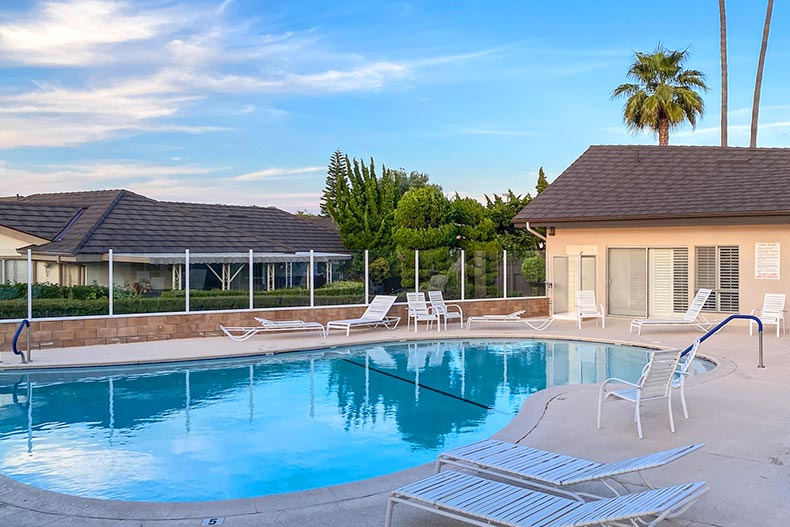 The City of Los Angeles, as well as its surrounding suburbs, offer a number of beautiful 55+ communities boasting spacious, low-maintenance homes and stellar, resort-like amenities. Whether you're looking for an affordable condo-style home, a beachside bungalow, or a single-family home with a yard, there's a community to fit your needs in L.A.
In Los Angeles
High $300s – Mid $500s
Located in the vibrant and thriving Little Tokyo district of Los Angeles, Teramachi Homes is an affordable 55+ mid-rise condo community within walking distance of plenty of shops, restaurants, and grocery stores.
With homes from the high $300s to the mid $500s, this popular community consists of 127 condos. Featuring 970 to 2,050 square feet with one to two bedrooms, these condos are spacious and contemporary, with screened-in balconies, granite countertops, cozy fireplaces, and a convenient parking garage. Standout amenities include an indoor/outdoor pool, a catering kitchen, and a fitness center.
Request more information about Teramachi Homes.
Outside Los Angeles
 Mid $400s – Mid $600s
Situated just a few miles from the beach and Downtown Los Angeles, New Horizons South Bay is a sprawling, 600-home active adult community in the popular beach town of Torrance. With affordable condo homes priced between the mid $400s and the mid $600s, this friendly community is perfect for active adults seeking a coastal lifestyle on a budget.
The resort-like amenities here include a 10,000-square-foot clubhouse; two outdoor pools; a nine-hole golf course; croquet, tennis, and shuffleboard courts; and a ballroom and catering kitchen.
Request more information about New Horizons South Bay.
 High $400s – Mid $600s
Situated just two miles from the beach, Breakwater Village is an intimate 55+ community located in Redondo Beach, California. Comprised of just 191 condo-style homes, Breakwater Village is the type of community where residents look out for one another.
This gated community offers homes priced from the high $400s through the mid $600s, ranging from 782 to 1,336 square feet. Conveniently located near shopping centers, restaurants, freeway access, and only ten miles from Los Angeles International Airport, this quiet community offers the best of both worlds—serene beach living with access to everything L.A. has to offer.
Request more information about Breakwater Village.
55places Can Help Find Your Perfect Home
If you're looking for endless sunshine, healthy living, and cultural diversity, Los Angeles is an excellent place to retire. When you need some help finding the perfect 55+ community to suit your needs, we invite you to contact us at 800-928-2055 or visit 55places.com. We can help with your home buying search in Los Angeles and surrounding areas.