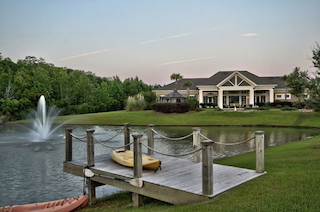 As part of South Carolina's picturesque lowcountry, the Town of Bluffton offers a quiet retreat for active adult retirees. Yet the town's prime location, across the bridge from Hilton Head Island, along with its recent growth, also means there are plenty of attractions and entertainments throughout the area.
Bluffton, South Carolina, is set along the May River, between Hilton Head Island and Interstate 95. The town is small, with the population in 2010 estimated at 12,530, yet it is also the state's fastest growing municipality. Bluffton's fabulous location and scenic charm makes it a popular retreat for visiting active adults, while its varied active adult communities entice many visitors into relocating permanently.
Like the surrounding area, Bluffton has a warm climate with hot, humid summers and mild winters. During the peak of summer, daytime averages are in the low 90s, but temperatures can climb over 100 degrees. Winter months are mild, with days often in the low to mid-60s and nights in the low 40s. Some colder periods do occur at times, but snow flurries are rare. Most rainfall comes during the summer and hurricanes can be an annual threat.
While Bluffton has often been a stopover for travelers headed to Hilton Head Island, many tourists are now spending their vacations in Bluffton. The town has several hotels, including the acclaimed Inn at Palmetto Bluff, as well as a variety of restaurants and retail centers, such as the popular Tanger Outlets.
Just across the bridge, Hilton Head Island offers many additional attractions and activities. Water lovers can relax on a sunny beach or enjoy many activities, such as boating, fishing, kayaking and parasailing. Charter boats are available for deep-sea fishing as well. The Hilton Head area is also well-known for its challenging golf courses and luxury resorts.
Seasonal festivals and special events keep life in Bluffton interesting throughout the year. Visitors and locals alike can enjoy many annual events, such as the Hilton Head Island Wine and Food Festival, the Farmers Market of Bluffton, the Hilton Head Art Festival, the Taste of Bluffton and the Rib Burnoff and Barbecue Fest.
Active adults who choose to retire in Bluffton can choose from a variety of desirable developments. Sun City Hilton Head is a sprawling 8,200-home golf community which features an exciting line-up of classes, clubs and resort-style amenities. Bluffton is also home to mid-sized, age-restricted or age-targeted communities, as well as smaller neighborhoods like Baynard Park or Alston Park at New Riverside.
Whether planning a South Carolina vacation or looking for a southern retirement retreat, the town of Bluffton offers scenic beauty and a wide range of exciting area attractions.