Is Fort Myers, Florida a good place to live? Many of the full-time and seasonal residents in the region would enthusiastically say yes. The city is on Florida's Gulf of Mexico coast in Lee County, and the population has been growing steadily over the last 10 years.
People are moving to Fort Myers and retiring in the area because of great health care, year-round golf, and a relatively low cost of living. The weather is generally warm, and there are impressive opportunities for dining, entertainment, and recreation.
When you decide you're ready to make the move, there are a few things you can do to prepare for your new home. Here's everything you need to know.
Retiring in Fort Myers: Pros and Cons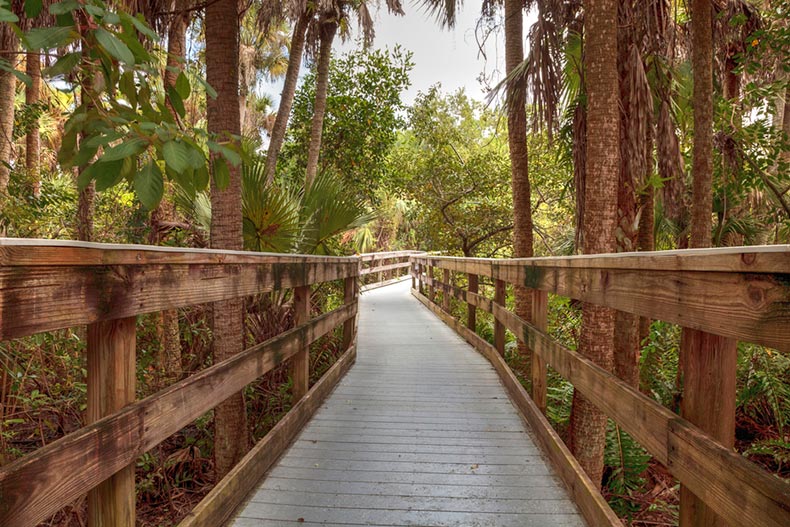 PROS
Beaches are nearby: There are 590 miles of shoreline in Fort Myers. Some of the most popular beaches include Lovers Key State Park, Crescent Beach, and Lani Kai Beach Resort. There are also around 100 barrier islands to explore if you feel like taking a kayak or a canoe out into the Gulf.
Warm weather: No need to pack the snow scraper or the heavy wool sweaters when moving to Fort Myers. There's a lot of sun and a lot of shade too. All of your favorite outdoor activities become year-round activities in Fort Myers, including golf, hiking, camping, fishing, boating, and tennis.
Ideal Florida location: Another great thing about Fort Myers is its location. It's not as big as Miami, Tampa, and Orlando, but it doesn't take more than two or three hours to get to those larger cities if the mood hits. Southwest Florida International Airport is in Fort Myers, making travel easy.
Cost of living considerations: Retirement often requires some serious budgeting, and moving to Fort Myers will help you stretch your dollars a bit further than a lot of other cities. Florida has a great tax system for retirees, which includes no state income tax. Housing costs are an average of 15 percent lower in Fort Myers than the national average.
CONS
Weather: Wait, that's supposed to be a benefit. It is, mostly. But the heat isn't everyone's friend, especially in August when the humidity is still intense after the sun has gone down. There's also the general threat of hurricanes and tropical weather. Red tide and toxic algae will occasionally show up, killing fish and seabirds and keeping most people out of the water when the levels are too high.
Snowbird season: From late October to the end of March, expect the population of Fort Myers to swell. They're called snowbirds—people who come from northern states and even Canada for the winter. This usually isn't a problem, but locals sometimes get fussy about the larger crowds and extra traffic during snowbird season.
Growing pains: Until recently, Fort Myers was more or less a beach town. The city has scrambled to accommodate the rising population, but there are still signs of growing pains here and there. Public transportation, for example, does not exist, so a car is essential. Also, heavy rains have brought some major flooding to local and low-lying areas, and ongoing development has made containing that problem a challenge.
Fort Myers Climate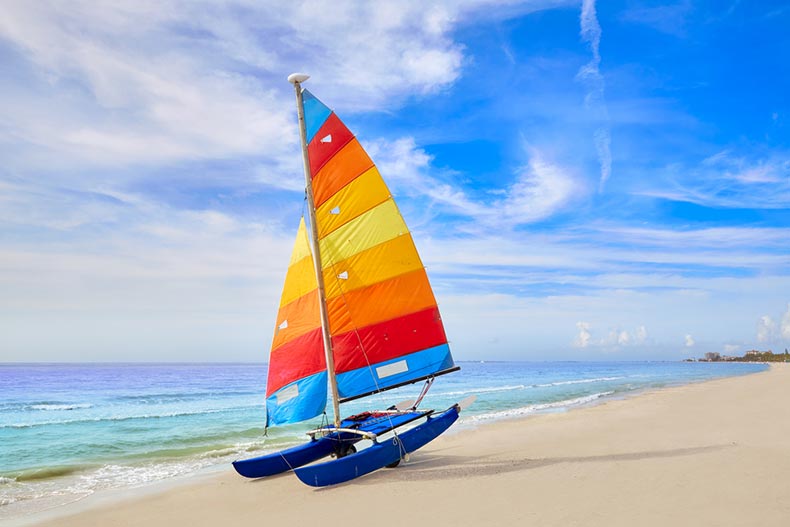 Seasons aren't so much a thing in Fort Myers. It's generally sunny and pretty warm. However, the summers get hot. From June to September, expect it to hit 90 degrees most days. In the winter months, however, average temps are in the pleasant high 70s.
The rainy season, if there is one, would be considered summer, when thunderstorms are likely to roll through the area almost every afternoon. Hurricane season runs from June 1 to November 30. Fort Myers is rarely in the path of large hurricanes, but tropical storms and high surf can be expected anytime a soaker moves through the Gulf of Mexico.
This climate facilitates a lot of golf, tennis, shuffleboard, and pickleball. Hiking trails are found all around the region, including state parks and nature preserves. The weather is also a draw for sports. The Grapefruit League is a collection of baseball teams that hold spring training games in and around Fort Myers.
Fort Myers Taxes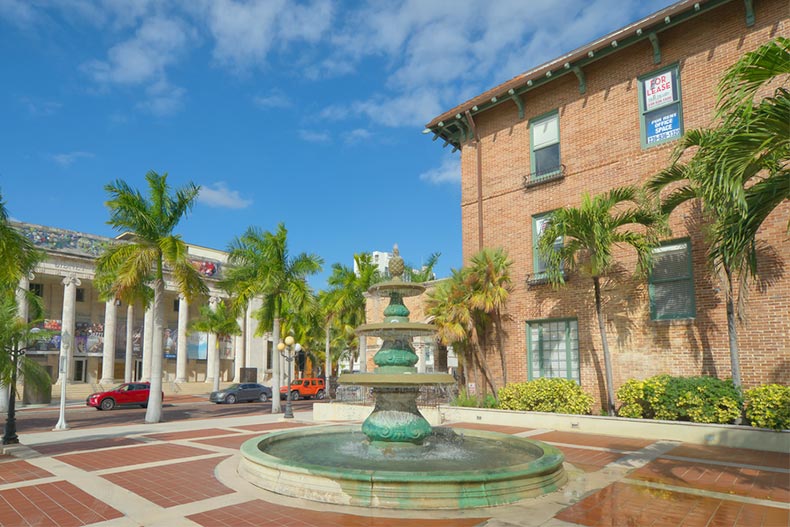 With no state income tax, Fort Myers residents enjoy a lower tax exposure than retirees in other states. Locally, Lee County property taxes must be paid annually, and there is a discount when that tax bill is paid early. The city has recently reduced its property tax rate in response to rising property values that were causing higher-than-normal tax bills for homeowners. So, residents aren't necessarily paying less in property taxes, but they are enjoying more appreciation without the higher tax liability.
Fort Myers Property Taxes
Property taxes in Fort Myers are levied annually by the Lee County Tax Collector. They're paid in full unless an installment plan has been authorized, and the earlier those tax bills are paid, the more a homeowner can save.
Most Fort Myers property tax bills are received on November 1 every year. If the tax is paid in the month of November, there's a four percent discount. A three percent discount applies when the property taxes are paid in December, and then a two percent and one percent discount respectively in January and February. On April 1, property taxes are considered delinquent if not paid.
Fort Myers Retirement Income Taxes
The good news is this: no state income tax in Florida. Fort Myers residents won't have to pay anything other than federal taxes on Social Security retirement benefits, income from pensions, or income paid out by retirement plans like an IRA or a 401(k). This makes Florida one of the most tax-friendly states. There's also no inheritance state tax nor is there an estate tax.
Fort Myers Tax Exemptions for Seniors
There's a Homestead Exemption for seniors who own property and have a household income of $50,000 or less. There are also exemptions for widowers, veterans, and seniors with disabilities. Eligibility depends on age, income, and in some cases, marital status.
Fort Myers Health Care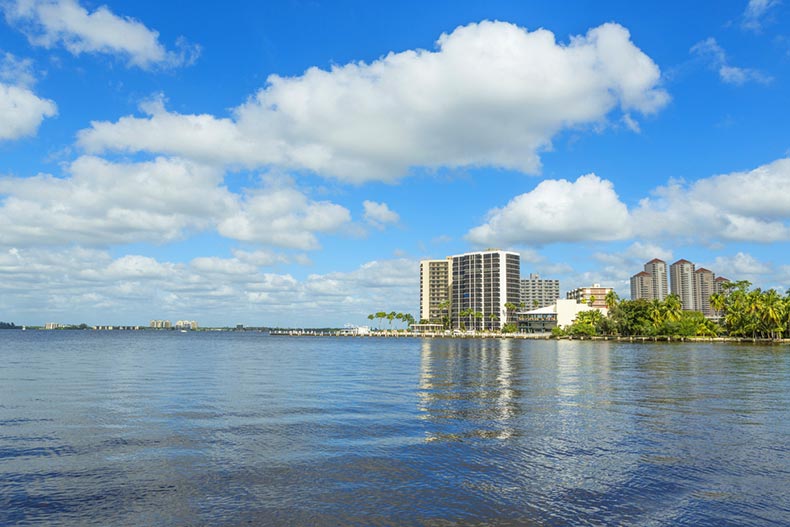 In Fort Myers, local hospitals and community medical centers are easy to find. The most popular health care centers are Lee Memorial Hospital and Gulf Coast Hospital. They're part of the Lee Memorial Health System. Specialties include heart health and emergency medicine, and the cancer center provides in-patient and out-patient treatment. All telehealth appointments are free of charge.
Family Health Centers of Southwest Florida aims to make high-quality health services easily accessible. They offer in-person and telehealth treatment, and over 70 providers throughout Fort Myers are part of this medical network.
Where to Live in Fort Myers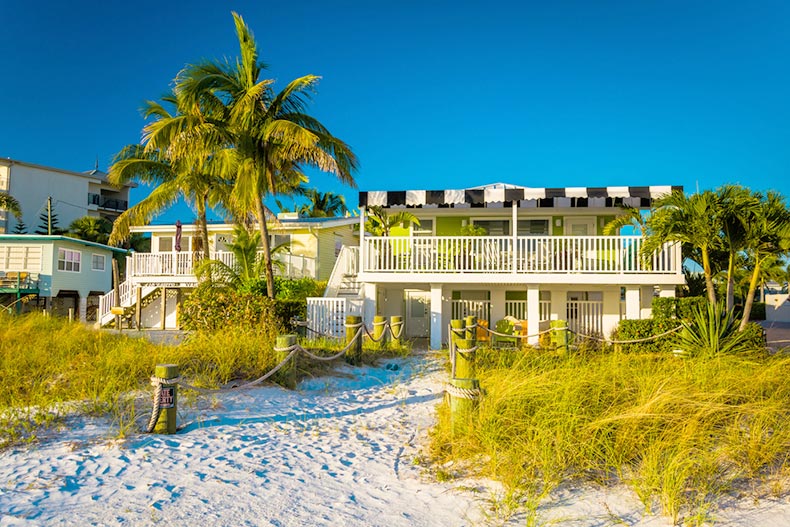 When deciding where to live in Fort Myers, consider how close you want to be to the beach, whether it's important to be in a gated community, and what kind of amenities you want to have at your fingertips. Some of the most popular areas include North Fort Myers, which is a bit quieter than the commercial center of Fort Myers, and Cape Coral, which is known for canals, manatees, and nature.
Fort Myers
Greater Fort Myers has a number of master-planned communities, 55+ neighborhoods, and easy access to things like restaurants, shops, and the Fort Myers River District. This is the most populous place to live. Residents have easy access to the beaches and Interstate 75.
The Edison and Ford Winter Estate is nearby as well as the Burroughs Home & Gardens. JetBlue Park is where the Red Sox play spring training games, and Hammond Stadium is home to the Minnesota Twins.
More than 30 active adult communities can be found in the area. Pelican Preserve is a popular neighborhood, with its golf club, juice bar, and resort-style amenities. At Seven Lakes, golf is free for residents at the executive 18-hole course. There's also a putting green and a large clubhouse. Gulf Harbour Yacht & Country Club is a waterfront community on the Caloosahatchee River. Homeowners have access to the marina and boat slips, which lead out to the Intracoastal Waterway and the Gulf of Mexico.
North Fort Myers
North Fort Myers is right off the Tamiami Trail. This is a smaller, quieter enclave of the Fort Myers area. There's a blend of commercial and residential activity.
Local attractions include Manatee Park, where kayaks can be rented and manatees can be spotted, as well as the Shell Factory, a fun place to shop for shell-themed items.
Three active lifestyle communities stand out in North Fort Myers. Del Webb Oak Creek is a 55+ community that's currently under construction, with plans for 821 new construction single-family homes. Magnolia Landing is a gated community with spacious single-story homes and amenities such as a championship golf course, a state-of-the-art fitness center, and an on-site restaurant. The El Rio Condominiums have affordably priced condo homes in mid-rise buildings. There's a pool, a patio, and tennis courts.
Cape Coral
Cape Coral is just south of Fort Myers, and it's especially rich in nature and history. More than 400 miles of canals can be found in the area. Nature lovers, hikers, and birdwatchers enjoy tracking seabirds, manatees, and alligators. Visitors and locals flock to Sirenia Vista Park, Matlacha Pass Aquatic Preserve, and Four Mile Cove Ecological Preserve.
New and resale homes for sale in Cape Coral are available at Cape Royal, an active lifestyle community with 27 holes of golf. There are also 24 lakes and acres of nature preserves in this neighborhood of single-family homes. For condo living, River Towers is a great option. The 55+ community has a view of the Caloosahatchee River, and there's a boat dock and fishing pier. With only 108 condo homes, the building manages to feel intimate and neighborly.
Ready to Make the Move? 55places Can Help
To discover more exciting 55+ communities in Fort Myers, we invite you to contact us at 800-928-2055 or visit 55places.com. Our experienced team of real estate experts will guide you through the top options in your area and help you make a seamless transition from your current home to a 55+ community. We look forward to helping you make your next move the best one yet!