Nevada is one of the nation's fastest-growing states, with its population growing 15% from 2010 to 2020, according to U.S. Census data. More than 3.1 million residents call the Silver State home—with about 2.8 million residing in Las Vegas. People come to Las Vegas for all kinds of reasons, from the endless entertainment options to the pleasant year-round climate.
If you're thinking about moving to Las Vegas, read on. This post outlines everything you should know, including a spotlight on some active lifestyle communities in and around Las Vegas.
Retiring in Las Vegas Pros and Cons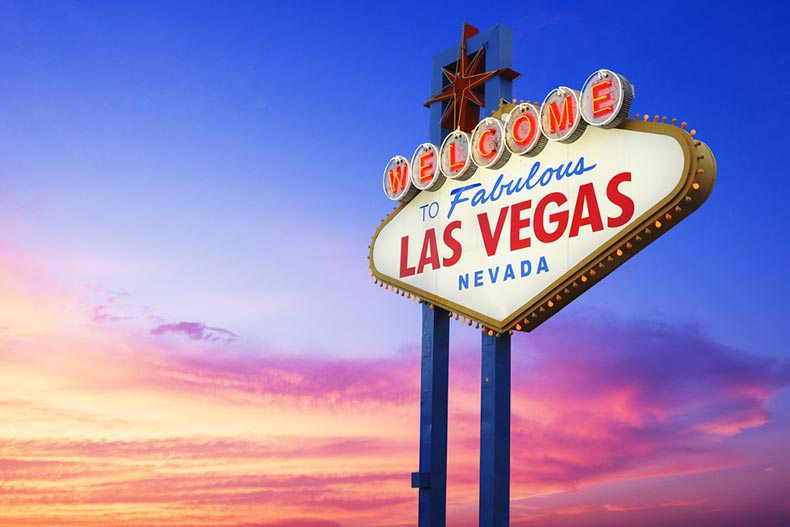 PROS
No income tax: Nevada is one of nine states that doesn't have an income tax. This means your retirement dollars stretch farther. You'll pay no taxes on pensions, Social Security benefits, or other sources of retirement income.
A pleasant climate: If you want to say goodbye to snow for good, Las Vegas is the place to go. The city averages zero inches of snow per year, while the U.S. average is 28 inches. Las Vegas features a semi-arid climate with dry heat, so you won't have to worry about humidity either.
An exciting entertainment scene: Moving to Las Vegas gives you access to virtually unlimited things to do. The world-famous Las Vegas Strip is home to about 30 casinos, and there are hundreds more located off the Strip and around the state. Many of the city's casinos, museums, and buffets offer senior discounts, allowing you to have more fun while spending less money.
CONS
Lackluster public transportation: If you're moving to Las Vegas from a city with robust train lines, buses, and more, prepare for a different situation in Las Vegas. While the city offers public transportation, there aren't many routes. This means you'll have to drive yourself or rely on a rideshare service like Uber or Lyft.
Easy access to gambling: The city's multiple casinos and gambling halls can be a major draw but not if gambling is one of your vices. With around-the-clock access to gambling, alcohol, and adult entertainment, Las Vegas' moniker as "Sin City" makes sense.
An influx of tourists: Living in Las Vegas means you'll always have out-of-towners in your community, which can make things hectic and crowded. More than 42 million people visit Vegas annually, whether for work or play.
Las Vegas Climate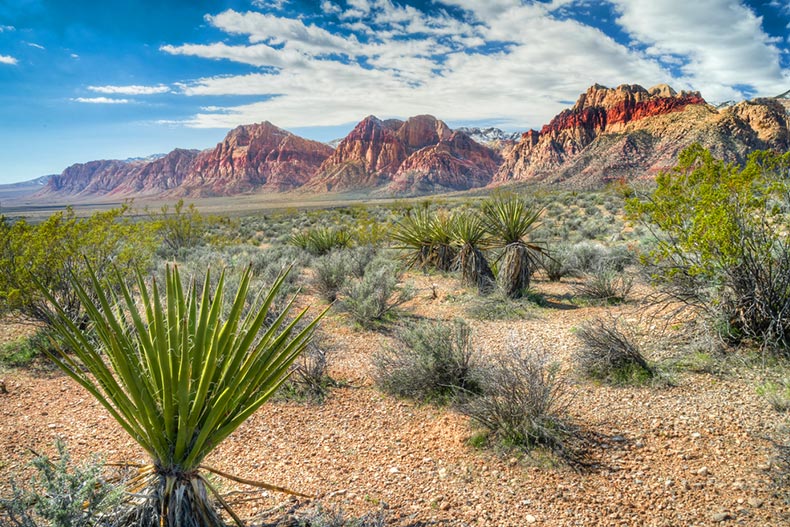 Considering its location in the Mojave Desert, Las Vegas gets hot. The daily high temperature in the summer can soar well above 100 degrees. However, unlike coastal retirement destinations, Las Vegas experiences a dry heat, which is better for overall comfort. This is because humid heat doesn't allow the body to cool down. You also won't step out of your home and feel like you're in a swamp.
Winters in Las Vegas can get cold, but daily highs usually end up being mild. Las Vegas experiences an average temperature in February of a low of 42 degrees and a high of 64 degrees. The city also offers plenty of sunshine-soaked days—more than 300 of them, in fact.
Las Vegas' abundant sunshine and overall pleasant climate means you can enjoy your favorite outdoor activities all year long, whether you want to get out and golf or go hiking. When it comes to golf, you can choose from more than 50 golf courses all within a 40-minute drive of the Las Vegas Strip. And if you want to lace up your hiking boots for a day on the trail, you can explore numerous hiking trails of all skill levels. One of the most popular is the Historic Railroad Trail, which offers scenic views of Lake Mead. It's also dog-friendly, so bring your canine companion.
Las Vegas Taxes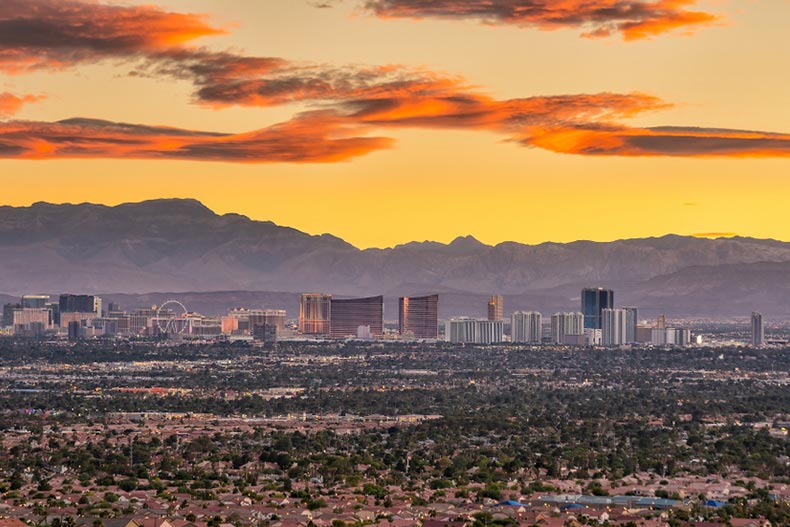 Nevada is considered a tax-friendly state, which bodes well for retirees who live on fixed incomes and need to make the most of their dollars. Like most states, Nevada exempts prescription drugs from sales tax. The state also charges a reasonable 6-8% sales tax, which is lower than neighboring California.
Las Vegas Property Taxes
Nevada offers some of the country's lowest property taxes. Las Vegas, specifically, has a 0.65% property tax. Homeowners in the state are protected from property-tax rate hikes thanks to Nevada's property-tax abatement law. This law limits annual property-tax bill increases to a maximum of 3% across the state.
When you're figuring out property taxes, keep in mind the assessed value of a property, which is equal to 35% of the property's taxable value. For example, if your home's taxable value is $100,000, the assessed value is $35,000 and tax rates apply to this amount.
Las Vegas Retirement Income Taxes
Nevada doesn't have a state income tax. If you move to Las Vegas, your retirement income remains untaxed at the state level, including income from Social Security and retirement accounts. You also pay no tax on pensions, 401(k)s, or IRAs.
Las Vegas Tax Exemptions for Seniors
Las Vegas doesn't offer any general property tax exemptions for seniors, but the state offers many programs that may help you save money. For example, the Nevada Wartime Veterans Property Tax Exemption is an annual tax exemption open to any veteran with wartime service. Veterans can apply the exemption to their vehicle or property taxes. For 2021-22, the deduction amounts to $2,920.
Las Vegas Health Care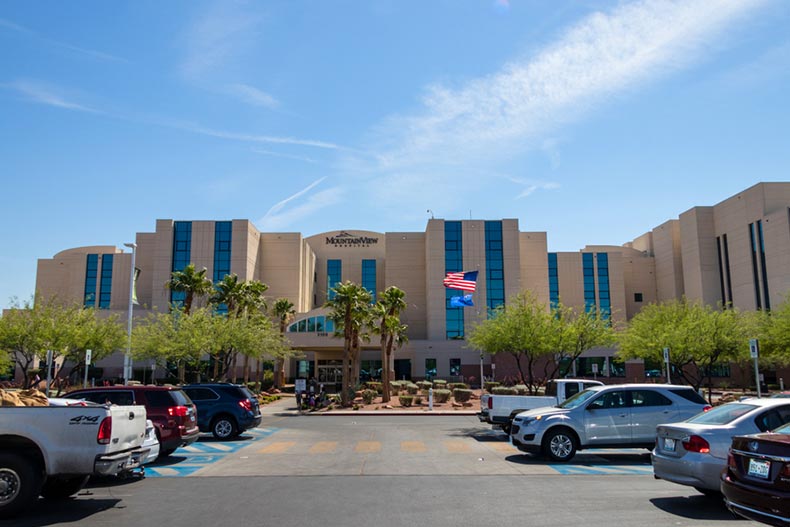 Living in Las Vegas gives you access to numerous health care providers. The Las Vegas area is home to 53 hospitals, including Centennial Hills Hospital Medical Center. This general medical and surgical facility ranks highly for its cardiac ICU, according to U.S. News & World Report.
Las Vegas' MountainView Hospital is a full-service hospital and ER that provides a full array of medical services, including heart care, neurology treatment, and diabetes education. MountainView is also a teaching hospital and an in-network provider for both Medicare and Medicaid services. The average emergency room wait time at this hospital is about 5-10 minutes, giving you peace of mind that you can be seen quickly should the need arise.
Another popular health care option is Elite Medical Center, which is located right off the Las Vegas Strip. Consistently ranked one of the highest-rated hospitals in Las Vegas, Elite Medical Center specializes in treating adult emergencies. However, this hospital doesn't accept Medicare, Medicaid, or Tricare.
Where to Live in Las Vegas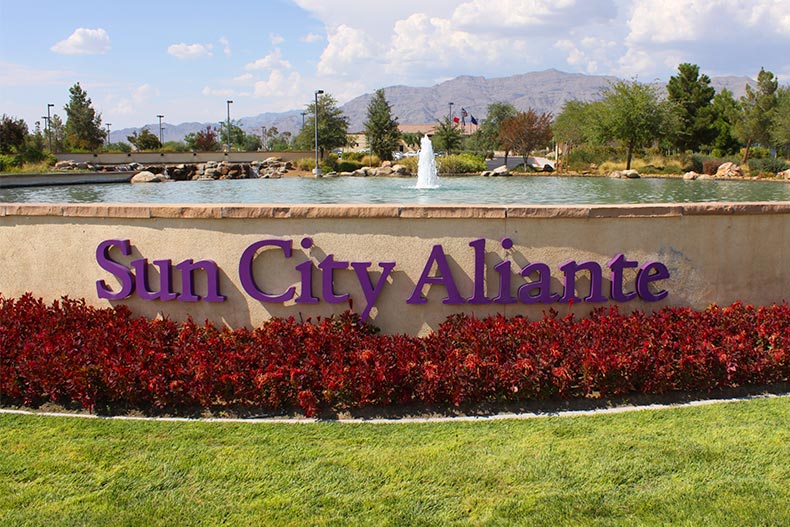 There's the Las Vegas that people think of, with the glittering marquees and jingling slot machines—and then there's North Las Vegas. Part of the Vegas metro, the area was renamed North Las Vegas in 1932 and incorporated as an independent city in 1946.
North Las Vegas
North Las Vegas had more new home sales in 2020 than any other market in Southern Nevada, according to the Las Vegas Review-Journal. While you can easily enjoy the restaurants, shows, and nightlife on the Las Vegas Strip, you can also take advantage of exciting things to do closer to home. North Las Vegas is home to top attractions like the Aliante Nature Discovery Park, a unique park that features a waterfall, duck pond, and trail with benches.
Living in North Las Vegas puts you within minutes of The Strip and McCarran International Airport, but you won't have to deal with all the noise and crowds of living closer to downtown. North Las Vegas also typically costs less than living in the heart of Las Vegas, so you can make the most of your retirement dollars.
Low $300s – High $400s
If you're looking for Las Vegas homes for sale and you want to live in a community with top-notch amenities, check out Sun City Aliante. This active adult community is part of the Aliante master-planned community and features amenities like an indoor lap pool and spa, a state-of-the-art fitness center, craft studios, and 24 miles of lighted biking and walking trails. The community is also home to the Aliante Golf Club, a par-72, 6,900-yard course that offers an exciting experience for golfers of all skill levels.
Sun City Aliante offers seven single-family floor plans that range from 1,155 to 2,105 square feet. Many homes feature views of the golf course and include desirable features like covered patios and open kitchens.
Request more information about Sun City Aliante.
Mid $300s – High $500s
Ardiente is another North Las Vegas active adult community to check out. This gated community features an amenity-packed clubhouse and six uniquely landscaped parks, including a dog park and rose garden. If you enjoy morning walks, you can stroll through the community's extensive network of pedestrian paths.
This 55+ community contains 788 single-family homes available in eight floor plans. Residences range from 1,235 to 2,352 square feet. One floor plan includes a second-story loft or bedroom, bringing the square feet to 2,832. Homeowners are just 20 minutes away from all the excitement and energy of the Las Vegas Strip.
Request more information about Ardiente.
Ready to Make the Move? 55places Can Help.
To discover more exciting 55+ communities in Las Vegas, we invite you to contact us at 800-928-2055 or visit 55places.com. Our experienced team of real estate experts will guide you through the top options in your area and help you make a seamless transition from your current home to a 55+ community. We look forward to helping you make your next move the best one yet!