If you have never considered Philadelphia as a place to retire, U.S. News & World Report included this historic city in their list of the best places to retire in the entire country. The City of Brotherly Love offers big-city amenities on a more manageable scale than the largest metropolitan areas in this country, and it's near some of the best attractions in the Mid-Atlantic region.
Before you can realistically answer the "should I move to Philadelphia?" question, it makes sense to consider the major pros and cons, seasonal weather, taxes, and other important factors. You can then compare this information to other locales, and make an informed decision before you start scouting out the active adult communities in the area.
Retiring in Philadelphia: Pros and Cons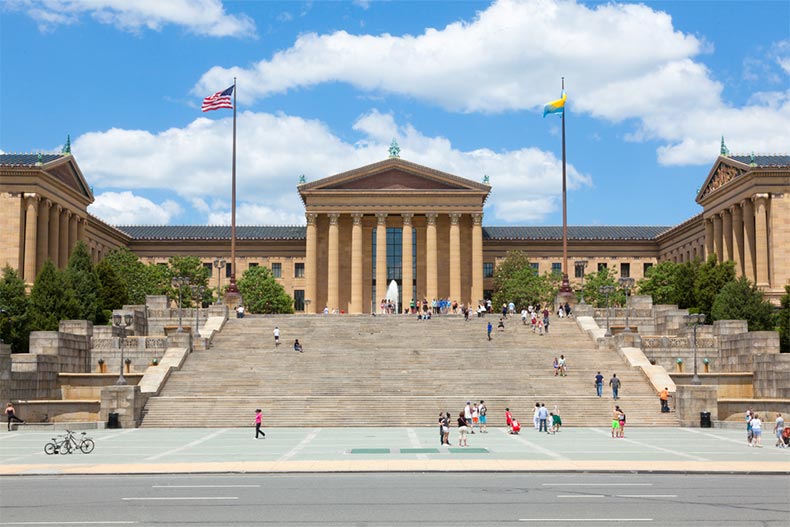 PROS
CONS
A little crowded: Philadelphia's population is currently at around 1.6 million, and large cities like this come with crowded streets, one-way streets, and plenty of traffic. Parking can be tough, but residents and travelers make use of parking garages, public transportation, and rideshare services.
Cold winters and hot summers: Philly winters can be quite cold, and you can expect snow and ice in the winter. January is generally the coldest month of the year here. The streets empty out on summer weekends when residents travel to the Pocono Mountains, NJ beaches, and other cooler vacation spots.
Specific liquor laws: There are some strange liquor laws in the city and the state of Pennsylvania. Many restaurants are BYO for this reason. You can only buy wine and liquor in state-owned Wine and Spirits stores, and beer is sold in delis and distributors in the city.
Philadelphia Climate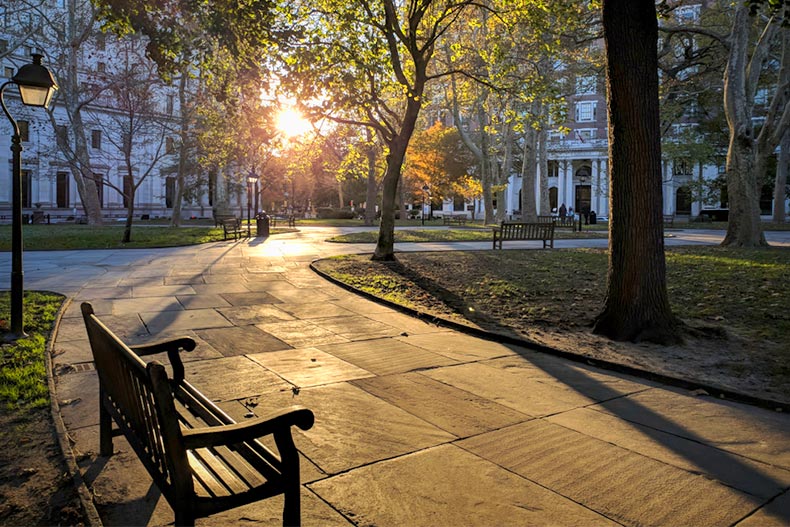 Throughout any given year, the temperatures in Philadelphia vary from about 26°F to 87°F. The winters get pretty cold, and there can be a handful of heavy snowfalls.
The best time for warm-weather activities is early June through late September. An average summer temperature in Center City might be around 85°F, and the spring and summer months can be quite lovely. Some of the best outdoor activities in the area can be found at the Schuylkill River Trail, the Delaware River Waterfront, and Wissahickon Valley Park.
Philadelphia Taxes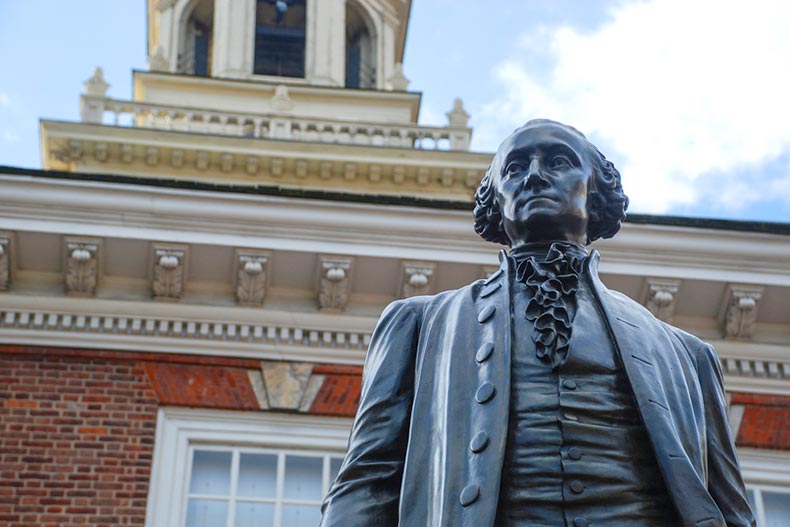 While Pennsylvania is known to be tax-friendly for retirees, Philadelphia has a high city wage tax for people who work there. But this isn't a concern for retirees and people who are employed elsewhere.
The combined minimum 2022 sales tax rate for Philadelphia is 8% for 2022, which includes city, county, and state sales tax rates. The state income tax is currently 3.07%, and local real estate and federal retirement income taxes can also affect your cost of living in PA.
Philadelphia Property Taxes
Pennsylvania's property tax rates vary by county and overall exceed the national average. The median property tax rate in the state is 1.58%, and the national average is 1.08%. Philadelphia is in Delaware County, and homeowners pay an average of $3,877 in property taxes each year.
Philadelphia Retirement Income Taxes
Pennsylvania is known as a tax-friendly retirement state—that 3.07 flat tax rate is the lowest in the entire country. As for retirement income taxes, no one can escape having to pay what is owed to the federal government, but state Social Security income is not taxed. Public and private pension income and withdrawals from retirement accounts are also not taxed.
Pennsylvania Tax Exemptions for Seniors
Pennsylvania's property tax/rent rebate program benefits eligible state residents 65 and up, people with disabilities ages 18 and older, and widows/widowers ages 50 and up, but income caps apply ($35,000 a year for homeowners).
Another rebate is offered for federal Civil Service Retirement benefit recipients; they can exclude 50 percent of their yearly Social Security benefits. Veterans who receive state vet3ran's payments can exclude all of those.
Philadelphia Health Care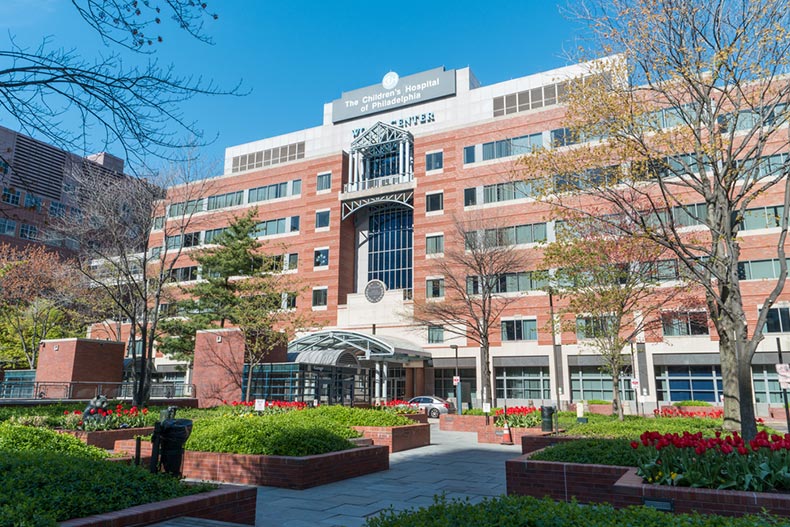 The state of Pennsylvania's largest health systems include Thomas Jefferson University/Jefferson Health and Penn Medicine (University of Pennsylvania Health System). In addition to the medical centers mentioned above, the region has many other top performers. Some of these include Fox Chase Cancer Center and Mainline Health Lankenau Medical Center.
You can also drive to New Jersey for the award-winning MD Anderson Cancer Center in Camden.
Where to Live in Philadelphia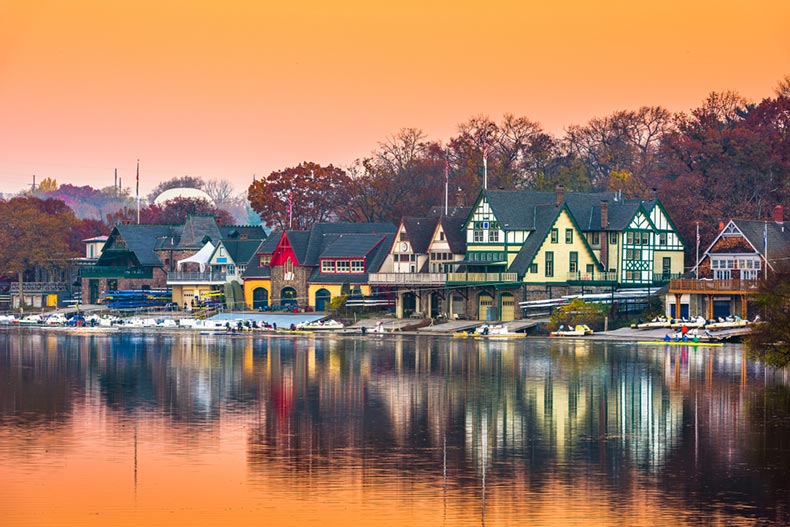 If you want to live right in the heart of the city, you won't find any large 55+ properties with hundreds of single-family homes. Instead, you can choose from modern condo communities, and you might not even need a car to get around if it is close to public transportation (it probably is). The great majority of larger active communities fan out around the city.
Bucks County
Located 25 miles north of Philly, Bucks County offers old-fashioned charm. It has towns that retirees love to explore, and it's prized for its scenic natural beauty. Some of the best places to live in Bucks County are Warrington, New Hope, and Bensalem.
Bucks County has a slower pace of life. It's away from the busy city, but you have all the modern conveniences that you need. The indoor and outdoor activities will keep you busy year-round, and if you want to get into the city, it's a piece of cake.
One of Buck's County's most historic attractions is Washington's Crossing, a gorgeous park where George crossed the Delaware; there are trails, restaurants, wineries, and other attractions here. Other activities include the Bucks County Playhouse, New Hope, Peddlers Village, and Bowman's Hill Wildflower Preserve.
Meridian of Valley Square in Warrington is perfect for downsizing, with 200 resale condo units. There are a dozen floor plans ranging from 1,651 to 1,793 square feet.
The Villas at Chancellor's Glen in Bensalem has 200 resale attached homes average 1,600 feet, with basements and second -loor options. On-site amenities include a clubhouse and an indoor pool.
Traditions at Washington Crossing is a luxurious 55+ community with 147 single-family homes and 152 carriage-style homes. Residents enjoy the state-of-the-art clubhouse and participate in a wide range of lifestyle groups.
Montgomery County
Montgomery County is about 30 minutes northwest of Philadelphia, and its southwest border butts up to the Schuylkill River. Some of its largest cities are King of Prussia, Lansdale, and Willow Grove, and two of its biggest landmarks are Valley Forge National Park and the King of Prussia Mall.
This is suburban living at its best, and residents enjoy the peace and quiet. Living here means that you will have access to exciting outdoor adventures, world-class shopping, and historic attractions.
Some of Montgomery County's other appealing landmarks include the Valley Forge Casino Resort and the Montgomery County Wine Trail. There are also many pet-friendly trails and parks to enjoy, and plenty of places to go swimming, paddleboarding, and kayaking. The Philadelphia Folk Festival also takes place here every August in Upper Salford Township.
Located in Ambler, Regency at Waterside offers 496 new attached and single-family homes on a gated property about 30 minutes from Philly. Home sizes range from 1,726 to 2,202 square feet.
The Reserve at Gwynedd has 400 resale condo, attached, and single-family homes. Residents here enjoy an 8,000-square-foot community center, a sports pavilion, an indoor pool/spa, and an outdoor pool.
Chester County
This region is about 30 minutes to the west of Philadelphia, and it's steeped in Revolutionary War history. It's a hilly area and has quite a few waterways including the Brandywine River, plus a large number of state parks.
Chester County's noteworthy towns include Avondale, Devon, Downingtown, Kennett Square, Phoenixville, and Pottstown. Two of its biggest landmarks are Longwood Gardens and the quaint town of West Chester, where you'll also find West Chester University (WCU) and a very cool downtown worth checking out.
Chester County is a beautiful area with many performing arts centers, great restaurants, and shops. Like other Philly suburbs, you can find lovely newer and older homes, but you'll have to deal with traffic when you drive near WCU.
The southern part of this county is called the Brandywine Valley—it's home to Nemours Mansion & Gardens, Brandywine Battlefield Park, Winterthur, and other historic landmarks. Kennett Square and Phoenixville are two small towns with plenty of fun things to do, and if you want to get some exercise, you can visit Black Rock Sanctuary and their other outdoor parks.
If you're considering moving to Philadelphia, Brittany Hill is a great option in Chester County. This small 55+ community has 120 resale single-family homes priced from the mid $300s to the mid $400s.
Coatesville's Meadows at Coatesville also offers new construction homes and will have 91 single-family homes and a clubhouse when work is complete. It's on a beautiful property that features scenic lakes and ponds.
Ready to Make the Move? 55places Can Help.
To discover more exciting 55+ communities in Philadelphia, we invite you to contact us at 800-928-2055 or visit 55places.com. Our experienced team of real estate experts will guide you through the top options in your area and help you make a seamless transition from your current home to a 55+ community. We look forward to helping you make your next move the best one yet!