Sacramento is one of the hottest real estate markets in the country, and for good reason. In the Sacramento area of Northeast California, home prices are still relatively affordable compared to the uber-expensive Bay Area and Coastal Southern regions.
The area is beautiful, with rolling hills, mature trees, and lakes nearby. The weather is pleasant, school districts are good, and Sacramento offers plenty of notable restaurants, museums, and shopping districts. Living in Sacramento offers all of the perks of living in California, without the sky-high home prices.
If you're an active adult considering moving to Sacramento, here's what it's like living in this growing region of the Golden State.
Retiring in Sacramento: Pros and Cons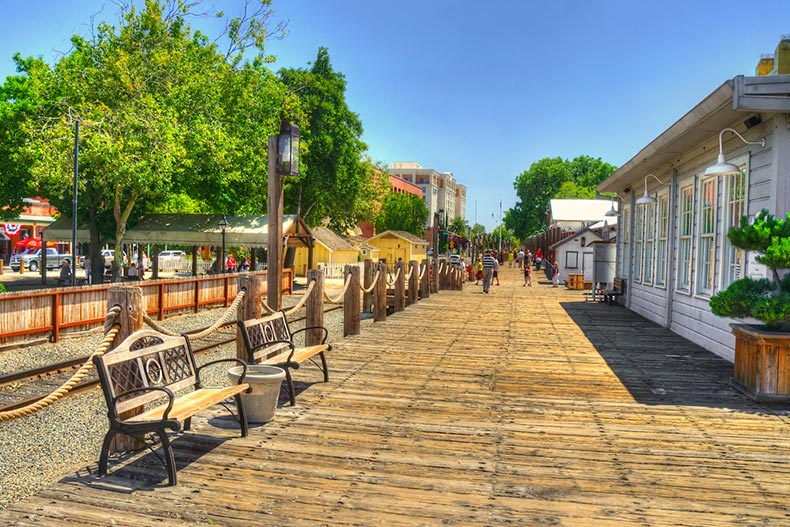 PROS
Affordability: Sacramento boasts more bang for your buck in comparison to many other urban areas in California. The average sales price for a single-family home in Sacramento is $494,000 (compared to $745,000 in the whole state). Home prices in Sacramento have gone up 20% in the past year alone, which is in line with the rest of California.
Amenities: Thanks in part to a thriving population of college students and working professionals, Sacramento offers an impressive variety of quality restaurants, shopping, museums, and cultural and historic points of interest. Sacramento also boasts many special events, including the Sacramento Jazz Jubilee, Pacific Rim Street Festival, Gold Rush Days, Waterfront Festival, and Fireworks Spectacular.
Outdoor living: With mild winters and sunny days, Sacramento offers perfect weather to take advantage of the many outdoor activities available in the area, from hiking, biking, and golfing to fishing and kayaking on nearby Folsom Lake. Also, nearby Lake Tahoe offers world-class skiing in the winter and a breathtaking lake for boating, swimming, and kayaking in the summer.
CONS
Growing population: With a current population of over a half million and growing, Sacramento is a large metro area that's only gaining in popularity. Homebuyers looking for cheaper alternatives to Bay Area housing are flocking to Sacramento and nearby suburbs in droves, causing home prices to soar and traffic and congestion to increase.
Location: While boasting beautiful scenery and weather, Sacramento is more isolated from points of interest in California than other urban cities. While the Bay Area and SoCal beaches may be farther away, beautiful Lake Tahoe is just under a two-hour drive from the city, and the renowned Napa Valley wine region is just over an hour from Sacramento.
Sacramento Climate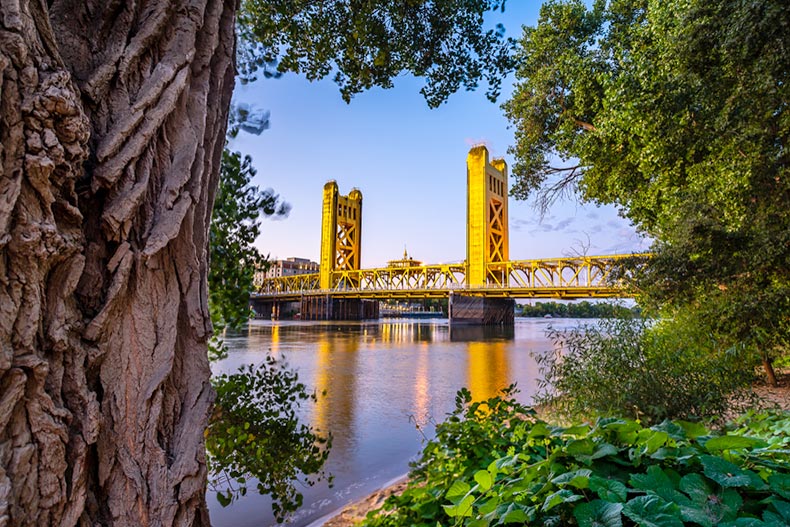 Sacramento residents enjoy a Mediterranean climate with an average yearly temperature of approximately 61 degrees. The winters are mild and damp, and the summers are hot and dry. It doesn't typically snow in Sacramento, but winters do see plenty of rain, with 20 inches on average. The average winter low in January is 39 degrees, and in the summer, the average high is around 93 degrees.
Because summers is Sacramento can get hot, spring and fall are the best time of year to go hiking, golfing, biking, and boating, although it's certainly possible to enjoy these activities year-round.
Because the weather is so pleasant in Sacramento, exercising and playing outdoors is a popular pastime in the area. The American River Parkway is a popular 32-mile paved trail running parallel with the beautiful American River. Here, cyclists, joggers, and hikers can be found enjoying the outdoors in Sacramento without worrying about vehicle traffic or unruly dirt paths. The Folsom Lake is another outdoor enthusiast hot spot, attracting boaters, hikers, kayakers, fishermen, and nature lovers all year long.
Sacramento Taxes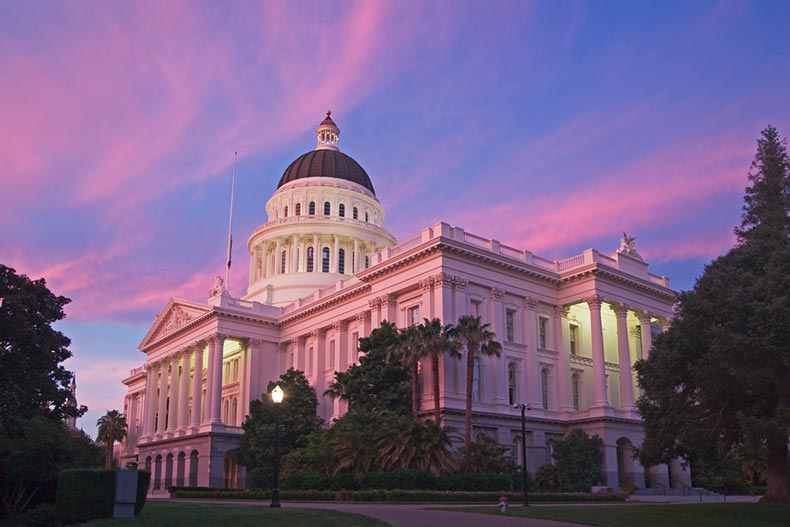 Taxes in Sacramento are largely similar to tax policies throughout the state of California, with a few differences. While sales tax in CA is currently at 6%, the sales tax in Sacramento is 8.75%. This rate reflects a total of state, county, and city sales tax rates.
Sacramento Retirement Income Taxes
Retirement Income, including withdrawals from 401(k) or IRA accounts, are taxed in California, but the good news is Social Security is not taxable in the Golden State.
Sacramento Property Taxes
Although Sacramento (and California, in general) falls in 16th place for lowest property tax rates in the county at 0.77%, property values are generally higher than other states, thus, homeowners still end up paying a substantial amount in property taxes. Property Taxes in Sacramento are approximately 1.25% of the assessed property value, paid in two installments every year. For new homeowners, the price of your home will be your assessed value.
Sacramento Tax Exemptions for Seniors
Proposition 19, also known as "The Home Protection Act for Seniors, Severely Disabled, Families, and Victims of Wildfire or Natural Disasters Act" was passed in California on November 3rd, 2020. Prop 19 can benefit active adults ages 55 and up who are looking to purchase a home but are afraid of a higher property tax rate.
Prop 19 allows homeowners aged 55+ up to transfer their property tax assessments from their sold home to a newly purchased home anywhere in California, regardless of value. This is great news for retirees looking to move to Sacramento from in-state.
Sacramento Health Care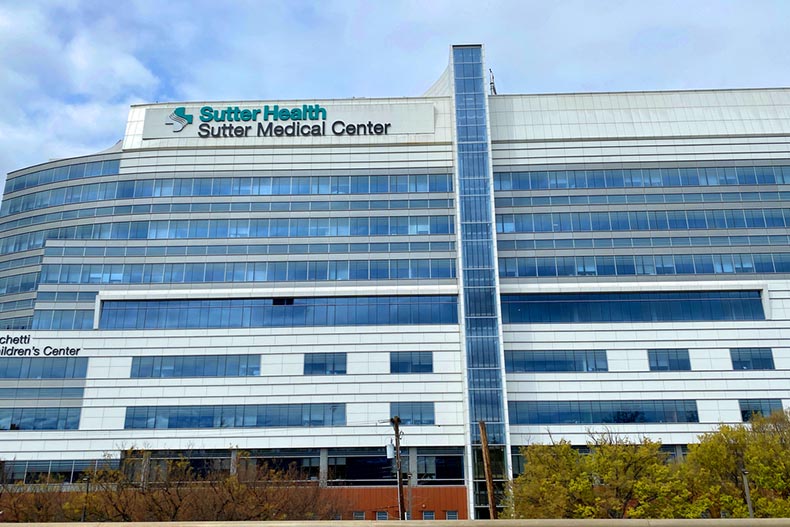 Sacramento boasts excellent health care facilities, including hospitals, medical centers, and nursing homes. UC Davis Medical Center has been voted among the top ten hospitals in California for over ten years, and it's ranked in the top 50 for adult specialty services, including cardiology, cancer, geriatrics, and gynecology.
Other excellent hospitals in the area include Mercy San Juan, Sutter, and Mercy General.
Where to Live in Sacramento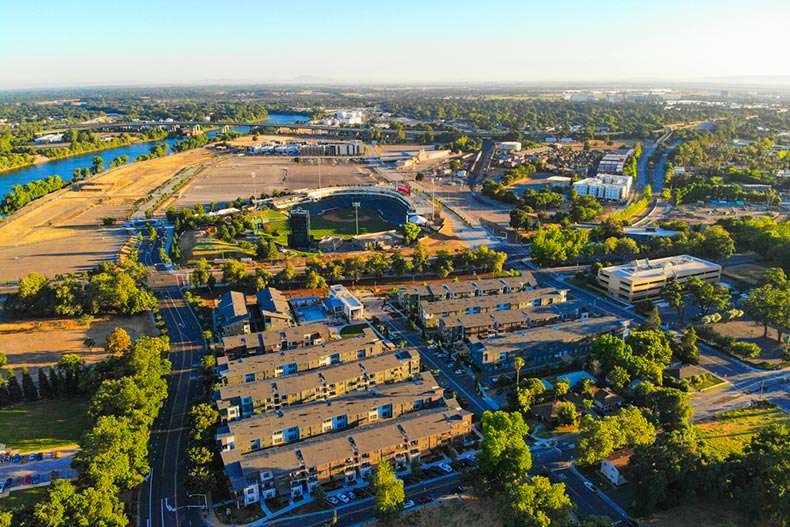 Natomas
The Natomas region is located in the Northwest corner of Sacramento, far enough away to provide peace and tranquility while still being near downtown and all the amenities the city has to offer.
This suburban area is located just off Interstate 5 and is only minutes from downtown Sacramento. This region is popular with active adults because it's one of the safest areas is Sacramento, it offers a suburban feel, and it boasts several beautiful 55+ communities.
Four Seasons at Westshore is a 55+ community centered around a 26-acre lake with fountains, a nature preserve, and 31 acres of greenspace. Outdoor lovers thrive in this 600-home community. The community boasts affordable single-family homes, with current homes for sale starting in the mid $600s.
Heritage Park is another wonderful age-restricted community located in the North Natomas area of Sacramento (five miles north of Downtown Sacramento). This popular community is comprised of 965 attached and single-family homes, with prices ranging from the low $400s to the mid $700s.
Heritage Park offers residents resort-like amenities, including a spacious clubhouse, indoor and outdoor pools, and relaxing community spaces.
Elk Grove
Elk Grove is actually a suburb of Sacramento and not technically located in the city, but it's only 15 miles away. Elk Grove is a thriving and upscale town with plenty to offer retirees.
The area is beautiful and safe, and the homes are mostly newer build, with lots of space and modern touches. There are also several very nice 55+ communities in Elk Grove.
Glenbrooke is a 631-home community offering single-family homes, with current homes for sale starting in the mid $600s. The community is part of the larger master-planned community Madiera, which is not age-restricted.
Residents of Glenbrook enjoy not only the amenities in their community but also the vast array present at Madiera, giving them even more options for exercise, leisure, and social activities. Madeira offers parks, natural spaces, and a bike-walk trail system, as well as proximity to a charming array of shops and restaurants.
Heritage Lakeside offers spacious, modern homes in a quaint 55+ community of just 269 homes. Residents here enjoy lake access, with boating and fishing right at their fingertips. There's also a 6,350-square-foot clubhouse, a card room, a ceramics studio, a ballroom, an outdoor pool, and a whirlpool spa, among other fabulous amenities.
Southeast Sacramento
Destinations at Vineyard Point is a gated active adult community located in Southeast Sacramento, comprised of 177 single-family homes. With current homes for sale starting in the mid $400s, California Dreamin' is an affordable reality.
Homebuyers here can expect homes ranging from 996 to 1,314 square feet, with two or three bedrooms, two bathrooms, and an attached one- or two-car garage. Residents of this friendly community get to know each other while attending wine tastings, listening to jazz concerts by the pool, and enjoying the many festive parties held throughout the year.
Heritage Vineyard Creek is another charming 55+ community located in Southeast Sacramento, consisting of 171 single-family homes with current homes for sale starting in the mid $600s. Residents here enjoy planned parties and activities throughout the year, as well as a wide variety of resort-like amenities such as an indoor fitness center, a multipurpose room, and a catering kitchen.
Outdoors, a sparkling pool and heated whirlpool spa are popular hangouts among neighbors. Pickleball, bocce, and tennis courts encourage friendly competition, and residents with green thumbs enjoy the community garden.
Ready to Make the Move? 55places Can Help.
To discover more exciting 55+ communities in Sacramento, we invite you to contact us at 800-928-2055 or visit 55places.com. Our experienced team of real estate experts will guide you through the top options in your area and help you make a seamless transition from your current home to a 55+ community. We look forward to helping you make your next move the best one yet!