Considering a move to South Carolina? Here's everything you need to know about the state from taxes and climate to places to live and popular active adult communities to consider.
Retiring in South Carolina Pros and Cons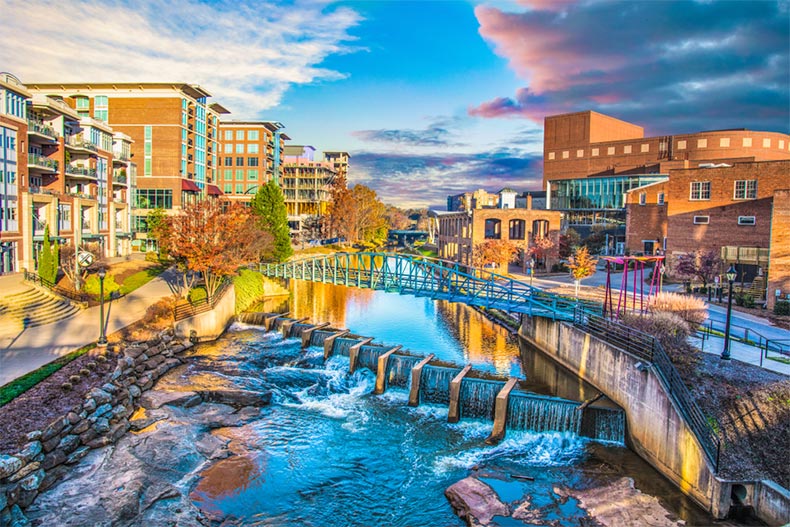 Pros
Quality healthcare. There are several prominent health care systems throughout the state that have been nationally ranked for different specialties, including cardiac surgery; rheumatology; ear, nose, and throat; and cancer.
Low taxes. South Carolina has relatively low property taxes compared to the rest of the country. Also, there are several tax exemptions as well as tax deductions available for seniors.
Plenty of outdoor recreation. From world-class golf courses and historic sites to a myriad of water sports along the coast and mountains in the Upstate, South Carolina has no shortage of things to do to stay outdoors and active.
Mild winters. Mild winters make it possible for residents to stay active outdoors throughout the coldest months of the year.
Cons
The heat and humidity. While winters are mild, summers are intensely hot and humid with high temperatures starting as early as May and averages in the 90s during July and August.
Hurricane season. Because of South Carolina's location along the eastern seaboard, the state is typically impacted by at least one hurricane a year. Coastal towns are often hit the hardest with major flooding, including the popular areas of Myrtle Beach and Charleston.
High housing prices. Though the state has some of the lowest property taxes in the country, the most popular areas of the state—especially along the coast—often have high price tags on homes.
South Carolina Climate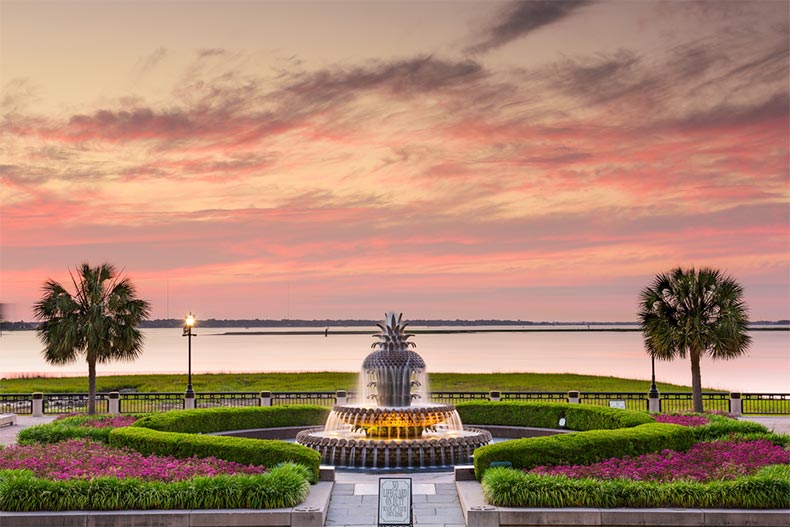 Residents can expect to find a humid subtropical climate in South Carolina with mild winters and hot and humid summers. According to US Climate Data, the average high is 75 degrees, and the annual low is 52 degrees. The warmest months of the year—July and August—see averages between 91 and 93 degrees. Colder months see averages between 58 and 60 degrees.
Hurricane season can often cause problems for coastal towns during September with high winds, flooding, and possible hail damage.
South Carolina Taxes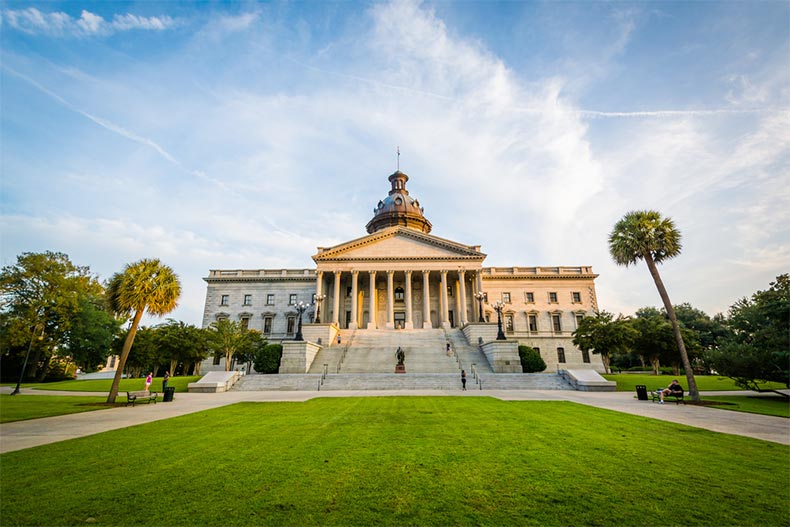 There are a number of positive benefits that come with living in South Carolina when it comes to finances. The state doesn't tax Social Security benefits, and it boasts some of the lowest property taxes in the country. There's also a substantial retirement income deduction in regards to state income taxes. Additionally, there are no inheritance or estate taxes, and there are other perks for qualifying seniors.
South Carolina Property Taxes
According to SmartAsset, "The average effective property tax rate in South Carolina is just 0.55 percent, with a median annual property tax payment of $980." That's a much better rate than the national average. Currently, households in the U.S. spend an average of $2,471 on property taxes each year, according to WalletHub.
South Carolina Retirement Income Taxes
Social Security benefits are exempt from taxation in South Carolina, and the state income tax offers some very good deductions on retirement income for residents.
South Carolina Tax Exemptions for Seniors
Senior homeowners may qualify for a homestead exemption that allows the "first $50,000 of a property's fair market value to be exempt from local property taxes," according to Kiplinger. There are also no inheritance or estate taxes, which often affect widows and widowers.
South Carolina Health Care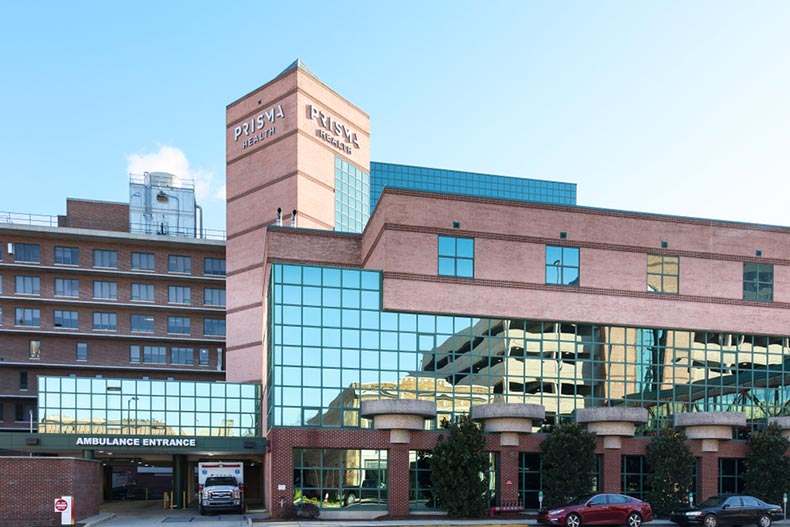 South Carolina has a range of health care facilities that vary from large hospital systems and general practitioners to rehabilitation centers and clinics. Some of the most well-known health care facilities in the state include The Grand Strand Regional Medical Center as well as the Medical University of South Carolina (MUSC), which is renowned and nationally ranked for three adult specialties: rheumatology; ear, nose, and throat; and cancer.
Where to Live in South Carolina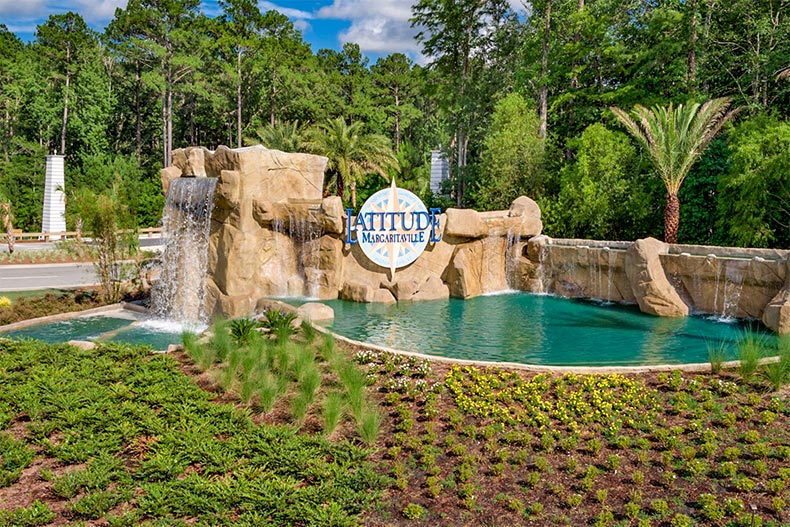 Take your pick from a charming coastal city drenched in history, a bustling state capital, or a small town in the Upstate—South Carolina has it all when it comes to where to live.
The Coast
If the tranquil miles of coastline and Southern hospitality aren't enough to convince you to consider moving to the South Carolina coast, maybe the area's rich history, renowned culinary scene, or world-class golfing might do the trick.
Myrtle Beach is home to 60 miles of shoreline, virtually endless entertainment options, countless championship golf courses, and popular shopping destinations. There are also three hospital systems in the area—Grand Strand Regional Medical Center, Georgetown Hospital System, and Loris Healthcare System. Communities to consider in the area include Del Webb at Grande Dunes Myrtle Beach, Berkshire Forest, and Myrtle Beach Golf & Yacht Club.
Historic downtown Charleston is another popular retirement destination for active adults looking to settle down near the ocean. The charming city is full of things to do and interesting sites to see from Revolutionary and Civil War forts to some of the most beautiful architecture in the South. Along with plenty of shopping, dining, and entertainment options, the city is also home to MUSC, giving residents easy access to top-notch health care. A few 55+ communities in the area include Cresswind Charleston, Del Webb at Cane Bay, and Del Webb Charleston at Nexton.
Similar to both Myrtle Beach and Charleston, Hilton Head, offers residents everything from resort-style communities and celebrated golf courses to pristine shorelines. Some of the largest active adult communities in the state are located in Hilton Head, and they have very impressive amenities, including the 8,000-home Sun City Hilton Head, Latitude Margaritaville Hilton Head, and Alston Park at New Riverside.
Northwest and Central South Carolina
The northwestern part of the state known as the Upstate area sits along the I-85 corridor between the major cities of Charlotte, NC and Atlanta, GA, giving residents easy access to everything in each city, while allowing enough space for residents to enjoy a slower pace of life in smaller towns and suburbs. Active adult communities in the Upstate include Annadale Estates, Edgewater The Cottages, and Four Seasons at Gold Hill.
The state capital of Columbia is teeming with cultural amenities from museums to an expansive zoo. It's also home to charming tree-lined streets that are dotted with local boutiques, antique shops, and eateries. And, because of its central location, Columbia residents have easy access to the coast and Upstate. Popular communities in Central South Carolina include Hulon Green, Lexington Villas, Peach Grove Villas, and Savannah Lakes Village.