Retirees who want to live on top of the world can do just that. On Top of the World communities are some of the most popular 55+ communities in the country. The only real decision to make is this: Ocala, Florida or Clearwater, Florida? There are two On Top of the World 55+ communities in Florida, and they're both wildly popular for their own reasons. Keep reading to find our which of these thoughtfully-designed communities is right for you.
On Top of the World in Ocala
On Top of the World in Ocala has 10,000 single-family and attached homes. These homes are available in resale, move-in ready models, and as new construction properties. The community is gated and located in one of the most picturesque parts of Central Florida. Ocala is home to horse farms, forests, and natural springs.
Homes for Sale
Fifteen models are available for buyers interested in attached villas. Floor plans have two bedrooms, two bathrooms, and an attached one or two-car garage. Some homes have dens and outdoor space. The single-family homes can be found in eight different collections, all with unique layouts and various upgrades. The variety of options makes it easy to find homes for sale that suit your needs. Homes at On Top of the World in Ocala are priced from mid $100s to low $500s.
Amenities & Lifestyle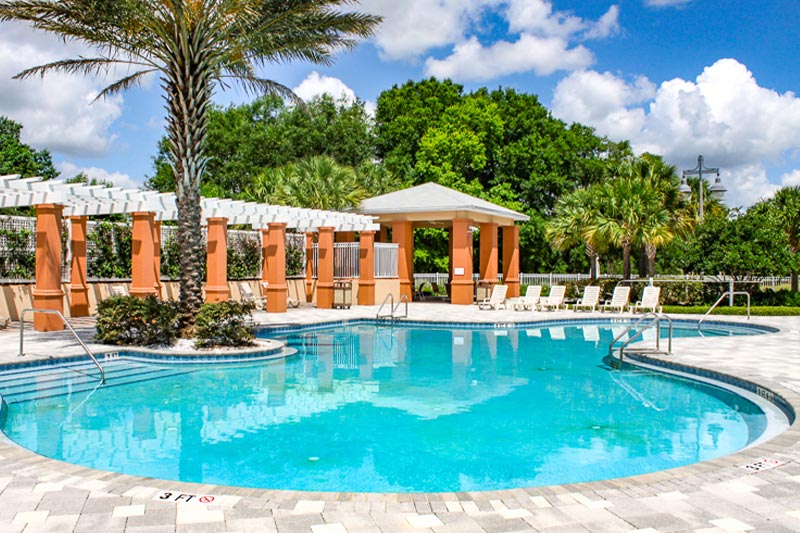 Amenities are especially impressive in On Top of the World in Ocala. There are three golf courses and a number of clubhouses scattered throughout the neighborhoods. You don't have to go far to find a pool, meeting rooms, fitness centers, or walking trails. There's also a woodworking shop, steam rooms, and an outdoor fire pit. You can use the shuffleboard courts, tennis courts, and play pickleball or racquetball. At Circle Square Commons, there's a coffee shop, deli, and ice cream parlor. Master the Possibilities Education Center hosts classes, speakers, and events. There's a cultural center, design studio, and everything homeowners would expect to find in a town square.
Two restaurants are also available. Residents and their guests are welcomed into The Pub, and The Club at Candler Hills is close to the golf course and open to the public. Residents enjoy staying social in this community. Nearly 200 clubs are available, including ceramics classes, line dancing, and a snowbird club for seasonal residents. Happy hours, farmers markets, and game nights are also frequently held.
Just off Interstate 75, residents have an easy time traveling to other parts of Florida. Tampa is about an hour and a half away, and so is Orlando. To the north, Gainesville and the University of Florida are 30 minutes away. There's great hiking, camping, snorkeling, fishing, and swimming to be found in Ocala National Forest, and the area is surrounded by small towns rich in Florida history. Antique shops are minutes away in Micanopy, and it's not unusual to see wild horses and even buffalo roaming the trails at Paynes Prairie.
Request more information on On Top of the World in Ocala here.
On Top of the World in Clearwater