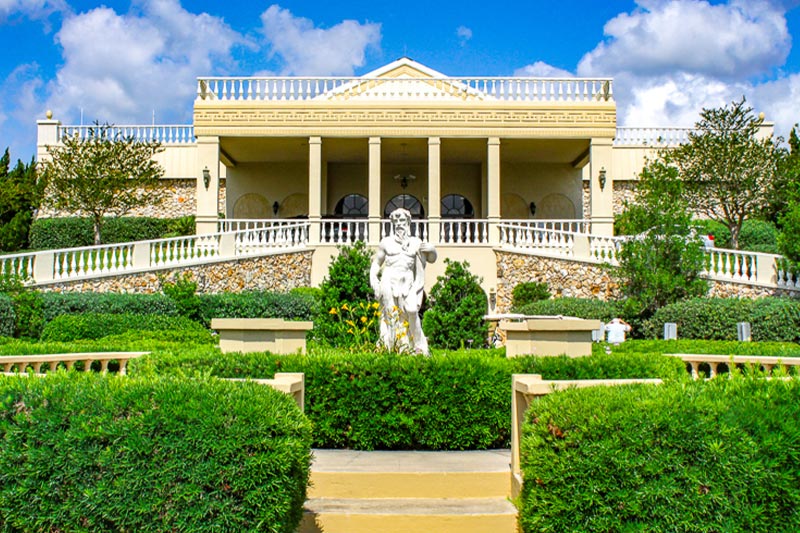 Retirees who want to live on top of the world can do just that. On Top of the World communities are some of the most popular 55+ communities in the country. The only real decision to make is this: Ocala, Florida or Clearwater, Florida? There are two On Top of the World 55+ communities in Florida, and they're both wildly popular for their own reasons. Keep reading to find our which of these thoughtfully-designed communities is right for you.
On Top of the World in Ocala
On Top of the World in Ocala has 10,000 single-family and attached homes. These homes are available in resale, move-in ready models, and as new construction properties. The community is gated and located in one of the most picturesque parts of Central Florida. Ocala is home to horse farms, forests, and natural springs.
Homes for Sale
Fifteen models are available for buyers interested in attached villas. Floor plans have two bedrooms, two bathrooms, and an attached one or two-car garage. Some homes have dens and outdoor space. The single-family homes can be found in eight different collections, all with unique layouts and various upgrades. The variety of options makes it easy to find homes for sale that suit your needs. Homes at On Top of the World in Ocala are priced from mid $100s to low $500s.
Amenities & Lifestyle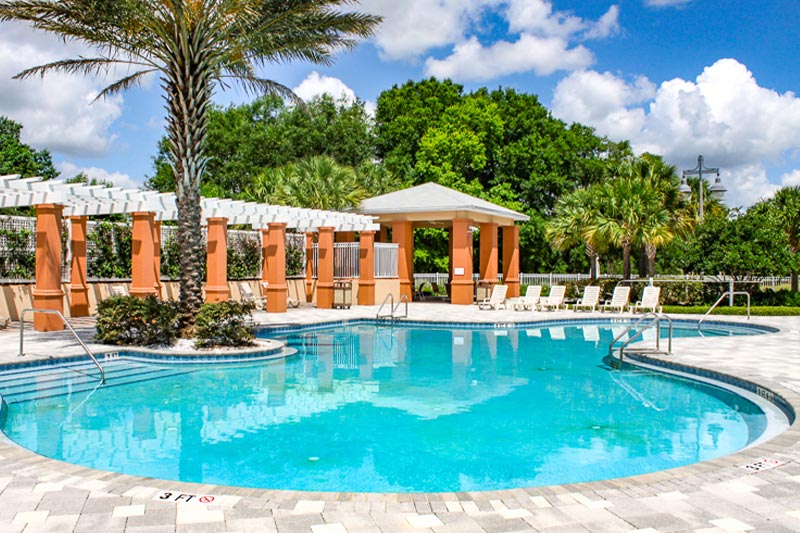 On Top of the World amenities offer a resort-style living and activity.
Amenities are especially impressive in On Top of the World in Ocala. There are three golf courses and a number of clubhouses scattered throughout the neighborhoods. You don't have to go far to find a pool, meeting rooms, fitness centers, or walking trails. There's also a woodworking shop, steam rooms, and an outdoor fire pit. You can use the shuffleboard courts, tennis courts, and play pickleball or racquetball. At Circle Square Commons, there's a coffee shop, deli, and ice cream parlor. Master the Possibilities Education Center hosts classes, speakers, and events. There's a cultural center, design studio, and everything homeowners would expect to find in a town square.
Two restaurants are also available. Residents and their guests are welcomed into The Pub, and The Club at Candler Hills is close to the golf course and open to the public. Residents enjoy staying social in this community. Nearly 200 clubs are available, including ceramics classes, line dancing, and a snowbird club for seasonal residents. Happy hours, farmers markets, and game nights are also frequently held.
Just off Interstate 75, residents have an easy time traveling to other parts of Florida. Tampa is about an hour and a half away, and so is Orlando. To the north, Gainesville and the University of Florida are 30 minutes away. There's great hiking, camping, snorkeling, fishing, and swimming to be found in Ocala National Forest, and the area is surrounded by small towns rich in Florida history. Antique shops are minutes away in Micanopy, and it's not unusual to see wild horses and even buffalo roaming the trails at Paynes Prairie.
Request more information on On Top of the World in Ocala here.
On Top of the World in Clearwater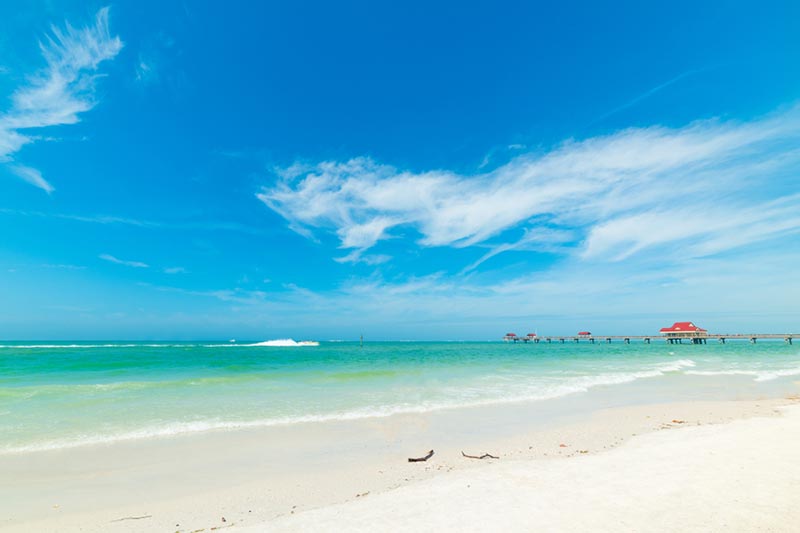 On Top of the World Clearwater offers a close location to idyllic beaches.
On Top of the World Clearwater is also in Central Florida, but close to the coast. On Top of the World Clearwater is about half the size of the Ocala community, and also more budget-friendly. Homes can be found for less than $100k and on the higher end are selling in the upper $300s.
Homes for Sale
Minutes from the Gulf of Mexico, this 55+ community offers condo models with 850 to 1,750 square feet, one or two bedrooms, one to two bathrooms, and assigned parking spaces in an outdoor lot. Some homes have upgrades such as marble, ceramic, or tile floors, updated kitchens with spacious pantries, hurricane shutters, and patios, balconies, or outdoor space. There are a total of 96 two and three-story buildings.
Amenities & Lifestyle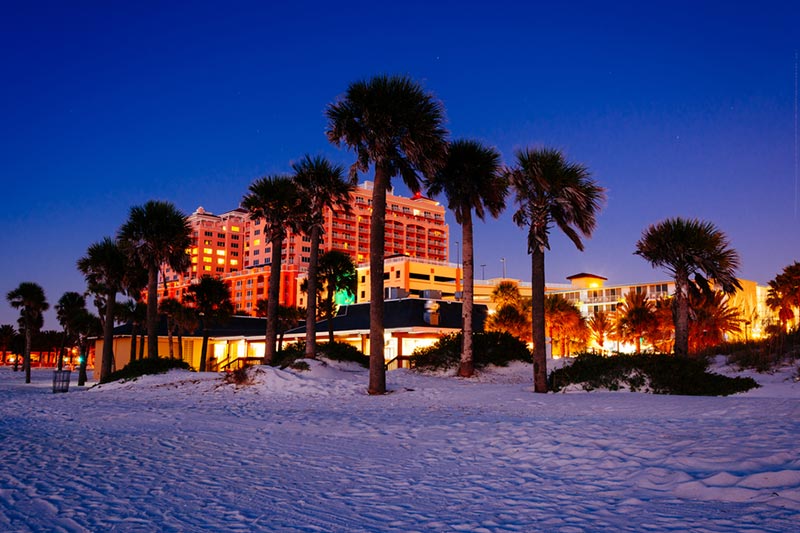 Amenities and activities are divided into the East Recreation Center and the West Recreation Center. The East Center has a fitness center, aerobics studio, a cafe, library, computer room, billiards room, and woodworking shop. There's also a classroom and private rooms for ceramics, cards, and lapidary. Homeowners can use the auditorium and stage to produce live entertainment, and outside there's a pool as well as tennis, shuffleboard, horseshoes, and lawn bowling. Two golf courses are available as well, one with 18 holes and one with nine.
In the West Center, residents will also find a fitness center, pool, and multipurpose rooms. There's also an indoor whirlpool spa and a dog park. Plenty of walking and biking trails are on the west end of the community as well as a fishing pier and lake. Residents at On Top of the World in Clearwater can use community transit.
Spanish and French classes, a computer club, music group, and theater workshop are just some of the activities available to residents. There's a greyhound club, volunteer groups, and group fitness classes like yoga for residents to participate in.
Clearwater is part of the Tampa Bay region, providing easy access to Tampa and St. Petersburg. Professional sports lovers can cheer on the Tampa Bay Buccaneers for their hometown football fix, the Tampa Bay Rays when they want to watch baseball, and the Tampa Bay Lightning hockey team. Clearwater is also known for its highly rated beaches. Pier 60 at Clearwater Beach is a popular place to watch sunsets, do some shopping, and enjoy a meal.
Request more information on On Top of the World in Clearwater here.