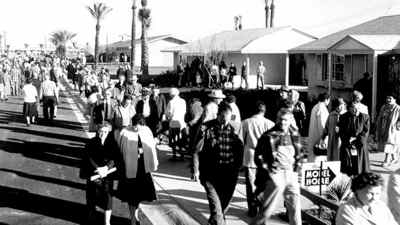 In 2015, age-restricted active adult communities are common, you can find them in almost any price range or location. But in 1960, when Del Webb opened Sun City Arizona, the idea of a 55+ community was a new one. Called "the great social experiment," Sun City opened its proverbial gates on January 1, 1960, and has since maintained its status as one of the largest communities of its kind in the country.
Bill Pearson, a resident of Sun City for the past 16 years, says the community has grown far beyond initial expectations.
"The experts said Sun City would never survive," Pearson says. "Little did anyone comprehend what a pivotal role Sun City would play in changing what the word 'retirement' would mean in years to come." For Sun City, changing the landscape of retirement is all about lifestyle. The experts of the 1960s predicted Sun City's failure because it was hard to believe adults would enjoy "playing their life away," as Pearson says. But that problem just caused Sun City to evolve, adding in elements of philanthropy and self-governance to the resident experience.
With over 130 clubs available, residents at Sun City don't have to be content with just play (although there is plenty of that as well, from bocce ball to mini golf to bowling, and everything in between). Homeowners can give back to their own community in the Newcomer Hospitality club, or the nation around them, joining one of the political organizations.
Additionally, retirees looking for renewed purpose can hold a number of positions on various boards at Sun City. From the homeowners' association to event planning committees, there is no shortage of ways to get involved.
"Our infrastructure is beyond anything you'll find in the country, and exactly why we have begun marketing it to people who like the idea of giving back," Pearson says.
Evolving with the times is part of what has kept this 27,000-home community competitive for over five decades. In 1999, the board of directors started a Preservation and Improvement Fund, which is a point of sale amount on every home sold in Sun City. The funds from that have allowed the community to regularly renovate and add amenities while remaining entirely debt-free.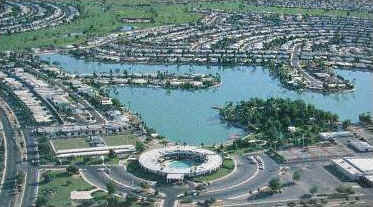 Additionally, because of the community's age, homes have been and continue to be renovated to varying degrees, meaning there is a home for every budget within the community. From original single bedroom and bathroom homes going for $50,000 to freshly updated lakefront properties edging up to half-a-million dollars, the variety of homes available in Sun City is staggering.
But, as Pearson notes, it's the tradition just as much as the improvements that give Sun City its character.
"As much as we are evolving, we are working hard to hold on to our values, the ones that were built into the community from the very beginning."