The COVID-19 pandemic has changed everything—including how active adults feel about where they spend the majority of their time. Many active adults have found themselves rethinking their current home and neighborhood. Maybe they realize they no longer need all the space of their large family home. Perhaps they're tired of mowing the yard every weekend and long to have more free time. Or maybe they want to grow their circle of friends by moving to a new neighborhood with like-minded active adults.
If you've been thinking about moving to an active lifestyle community, now's the time to make your move. According to MarketWatch, mortgage rates dipped to a record low in April 2020. This means buying power is at an all-time high. For example, borrowing $250,000 at 3.5 percent now costs nearly $150 less per month than at 4.5 percent a year ago, according to Bankrate.
The decline in mortgage rates has caused many homebuyers to start dreaming of their next home. More than half of Americans say it's a good time to buy a home, according to Fannie Mae's Home Purchase Sentiment.
Whether you want to downsize your current home to free up more of your money and time or you want to live in a community with like-minded active adults, the time is right to think about moving to an active lifestyle community. You can reap the financial benefits of buying in the current market and you can also enjoy the many perks that come with living in an active adult community.
While you can't control what's happening in the world with COVID-19 and stay-at-home mandates, you can take steps to give yourself the best possible place to live during quarantine. Read on to learn more about the benefits of living in a 55+ community, especially during an age of social distancing and quarantine.
A Focus on Physical Health and Fitness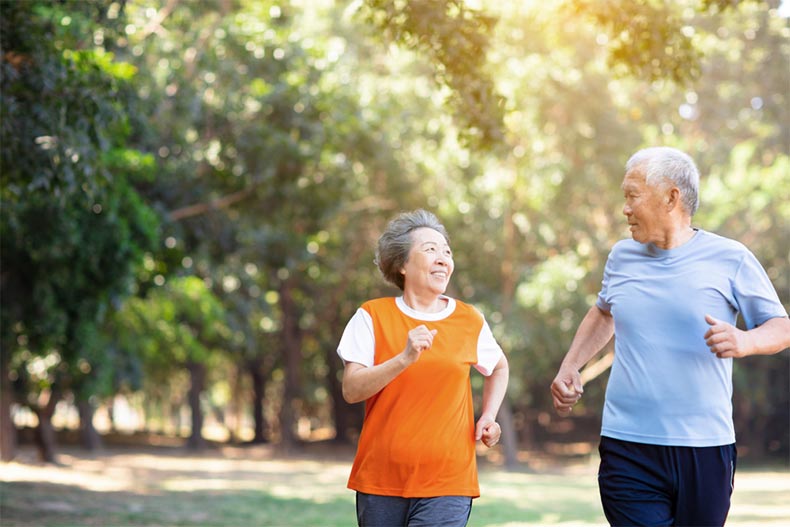 One of the biggest benefits of living in a 55+ community is the abundance of opportunities to stay physically healthy. Many active lifestyle communities feature on-site workout facilities with state-of-the-art equipment. You can take advantage of all the latest cardiovascular equipment or lift weights that align with your physical fitness level.
Some active adult communities include on-site basketball courts, tennis courts, and volleyball courts, allowing homeowners to stay fit through a variety of sports. Golf enthusiasts can explore 55+ communities with their own golf courses, enabling them to continue playing golf without venturing out to public courses.
When it comes to physical health and fitness, 55+ communities are committed to providing a truly active lifestyle for residents. This means offering a variety of options to suit nearly every interest and activity level. Homeowners in some active lifestyle communities can enjoy amenities such as bocce ball and pickleball courts, miles of walking and biking trails, and indoor lap pools.
Since these workout facilities are reserved exclusively for residents in the 55+ community, homeowners can enjoy peace of mind—especially during times of physical distancing—knowing that the gym is not open to members of the general public.
Staying healthy and committing to a regular fitness routine is always important for active adults, but it's especially important in the age of coronavirus. By exercising regularly, you can increase your strength, balance, flexibility, and also boost your immune system. If you were active before the pandemic, experts from the National Council on Aging recommend continuing to exercise.
Mental Health Benefits
Where you live can impact your overall health in many ways. If you still live in the home in which you raised your family, your neighborhood likely contains people of all ages. You might not strike a chord with many of them or find that you can relate well with your neighbors. Or, you may live in a rural community without many neighbors to mingle with and talk to. By living in an active lifestyle community, you can be near like-minded people who are similar in age and may share many of your same interests.
It helps to be able to share life with others, especially during times of high stress and anxiety. The uncertainty of the coronavirus and the stay-at-home mandates may have left you feeling emotionally drained. In a 55+ community, residents take comfort knowing they're not alone and have access to many tools and resources that can help them improve their state of mind.
Whether it's taking an evening stroll with neighbors or meeting a friend for coffee at the neighborhood clubhouse, active lifestyle communities provide many outlets that allow homeowners to connect with others and boost their mental health. Some active adult communities also feature on-site yoga and Pilates studios, which can do wonders at improving mental health.
Plenty of Social Opportunities
In addition to improved physical and mental health, homeowners who live in active lifestyle communities also enjoy the opportunity to interact regularly with neighbors. Many 55+ communities host planned activities and events, including potlucks, happy hours, movie nights, game nights, and holiday parties.
Residents can connect over shared interests, whether they enjoy cooking, golfing, or traveling. Many 55+ communities feature interest clubs, allowing homeowners to make friends with like-minded neighbors. Some active lifestyle communities also employ full-time activities directors, ensuring there's always something fun to do. This also takes the guesswork out of how to meet new people—you can just see what events are planned for the week and participate as you wish.
If you have been feeling lonely or disconnected in your current community, consider exploring homes for sale in a 55+ community near you. With so many social opportunities, it's easy to meet new people, make new friends, and establish meaningful relationships.
Low-Maintenance Living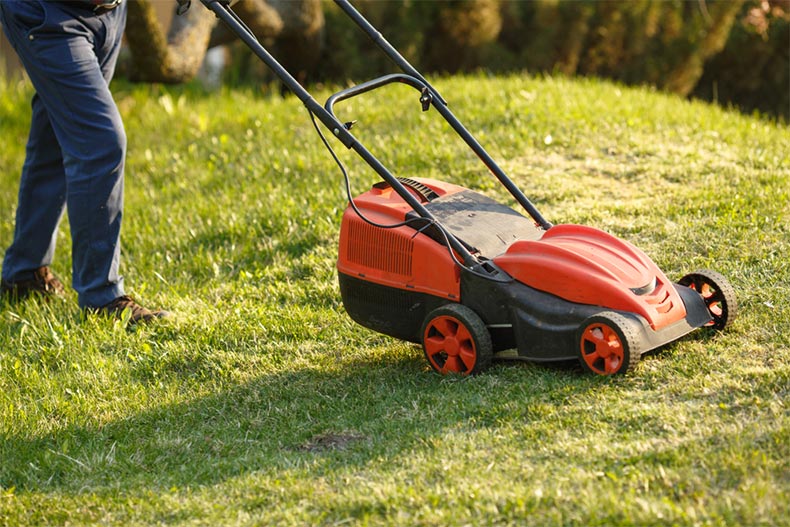 Many active adults are drawn to 55+ communities because they long for a low-maintenance lifestyle. In a regular neighborhood, residents must mow grass, rake leaves, shovel snow, and perform other tiresome duties, but in an active lifestyle community, many of these tasks are included with homeowners' association (HOA) fees. Instead of spending a sunny afternoon trimming hedges or weed-eating the yard, active adults who live in a 55+ community can head to the golf course, go boating, or enjoy a cold drink with friends. Living in an active lifestyle community allows many residents to put away their shears and lawnmowers for good and live life on their own terms.
HOA fees also often include repair and maintenance of exterior items, including a home's roof and siding. If you want to be free of the hassle and expense of repairing things when they break or wear down, consider the low-maintenance lifestyle a 55+ community provides.
An Emphasis on Safety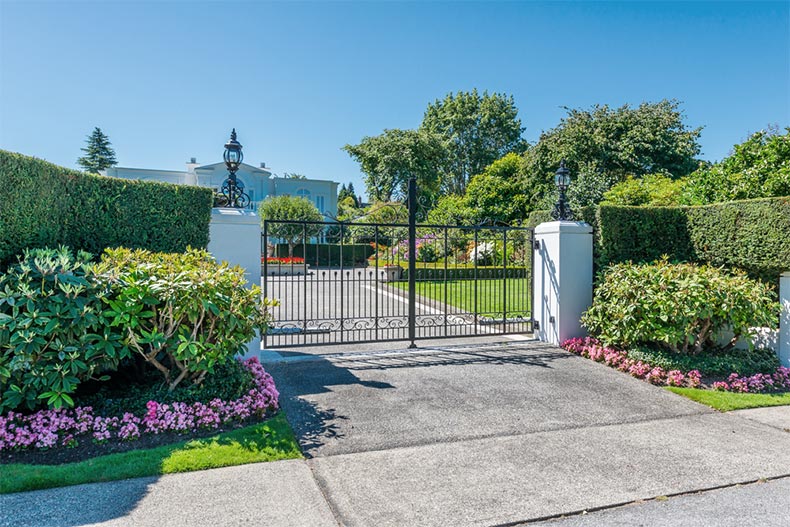 In this era of quarantines and stay-at-home orders, it's helpful to know you're staying put in a safe community. Living in an active lifestyle community provides greater security and peace of mind. Many active adult communities are gated, which means the only people coming in and out are those who live in the neighborhood. If you want to go for an early-morning jog or an evening walk as the sun sets, you can do so knowing that your community is a safe place.
With restrictions beginning to lighten in many places around the country, active adults may want to begin traveling again. Living in an age-restricted community allows residents to feel confident and secure knowing their neighborhood is guarded by a gate or security surveillance. Because many active lifestyle communities are close-knit communities, neighbors also tend to look out for each other. Whether you live in a single-family home or an attached home, chances are your neighbors can help you keep an eye on things when you're away.
A Sense of Community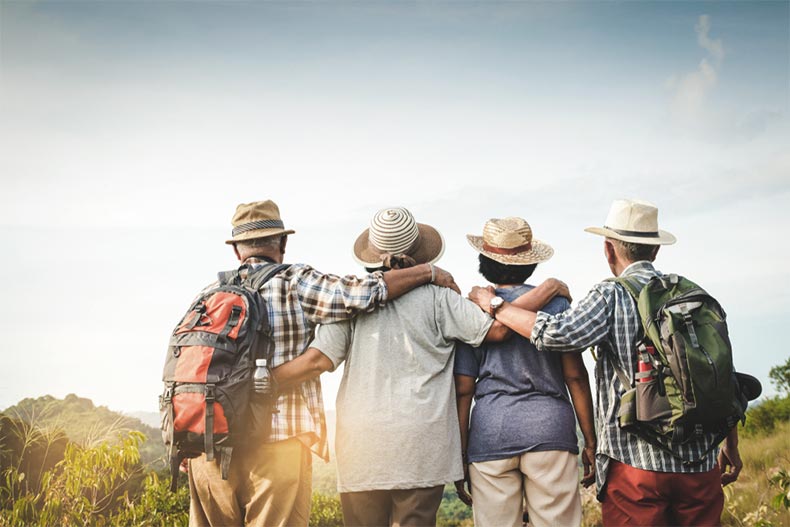 One of the biggest benefits of living in a 55+ community is, naturally, the community aspect. You're not on your own when you live in a community. When you need something, whether it's a companion to talk to about everything that's going on in the world or someone to help you carry in your groceries, you can find it. There are always people to ask for help when you live in an active adult community. Especially during this season of COVID-19, it's helpful to know that a friend or a listening ear is always just a few steps away.
A Network of Resources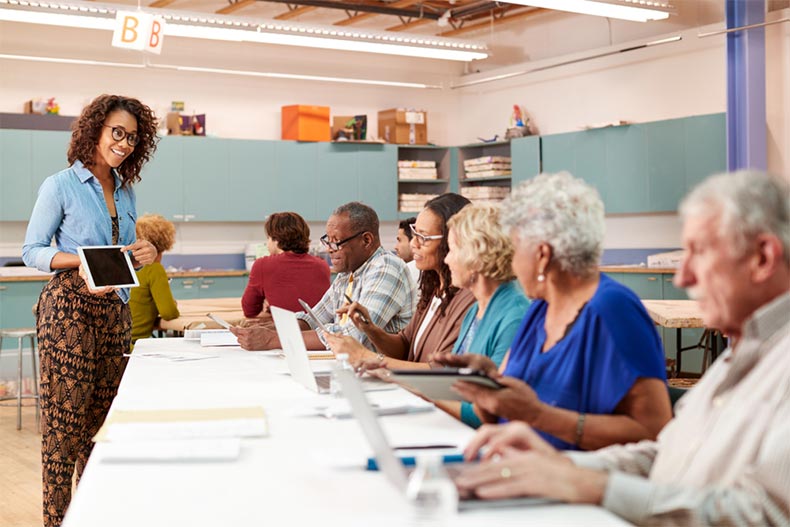 When considering the benefits of living in a 55+ community, you should also think about the many resources at your fingertips. From amenities such as fitness centers, libraries, and restaurants to unique offerings such as on-site hair and nail salons, active lifestyle communities provide many helpful resources for residents. When you're social distancing and staying home as much as possible, it's helpful to know you have access to many resources right in your own neighborhood.
Live the Life You've Imagined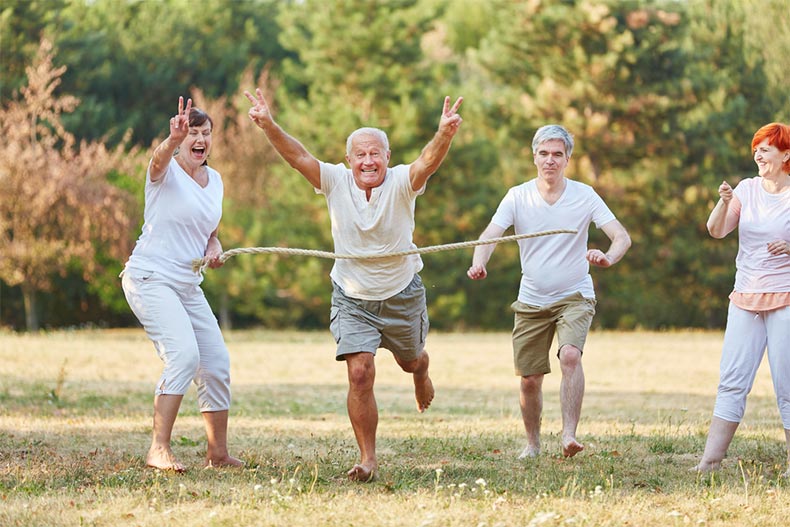 Ready to move to a 55+ community? Spend some time researching active lifestyle communities in your ideal location. Have you always dreamed of retiring in the Sunshine State? Browse affordable 55+ communities in Florida. Want easy access to big-city amenities? Take a look at 55+ communities near big cities.
Keep in mind that due to social distancing mandates, most home tours are now conducted online. While the process is different than what many active adult homebuyers are accustomed to, virtual home tours offer many benefits. A virtual home tour, which is essentially a visual walk-through of a home, can give you a feel for a property without ever leaving the comfort and safety of your own home. You can browse homes wherever and whenever you like, which simplifies the house-hunting process.
Check out our active adult guide to virtual house hunting for everything you need to know about virtually shopping for homes.
With COVID-19 changing the way people live their lives, now's the time to consider how you'd like to enjoy your retirement. Living in an active lifestyle community provides many perks and benefits that prove especially helpful during this period of quarantine.