Shopping for homes is exciting and challenging at the same time. The prospect of buying a home and planting your roots in a different location brings forth many emotions. Whether you're searching for your dream retirement home, you're looking for the perfect vacation retreat, or you simply want to downsize your large family home, deciding to purchase a home is a big decision that requires thoughtful research and consideration.
Under normal circumstances, you could visit and walk through residences in person to make sure you choose the right one for your needs and preferences. However, in these days of physical distancing and shelter-in-place guidelines to help slow the spread of the novel coronavirus, house hunting looks much different. Today, the real estate market has shifted to the internet.
Through virtual house hunting, active adult homebuyers can browse online real estate listings, embark on a virtual home tour, and even buy a house online—all without leaving the comfort and safety of home. By attending a virtual open house, homebuyers can explore a home that catches their eye, getting a feel for the layout, design, and lighting. Just because house hunters can't see a home in person doesn't mean they can't get a sense of whether a home is a good fit—it just requires a new approach.
Virtual house hunting offers great convenience and value—especially when you keep best practices in mind and know what to look for. Read on to learn more about how to shop for a home amid the COVID-19 restrictions.
What Is a Virtual Home Tour?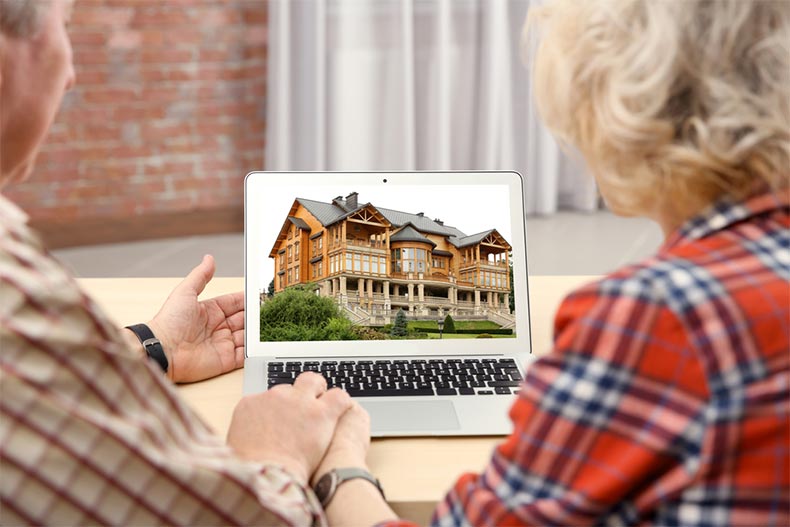 Even before the global pandemic altered the way buyers and sellers interact, virtual home tours allowed homebuyers to explore homes from a distance. Put simply, a virtual home tour is a visual walk-through of a home for sale. It goes beyond photos and videos by creating a more realistic experience for prospective homebuyers. When you go on a virtual home tour, you can remotely step into a room and view every corner with a few clicks of your mouse.
A virtual home tour is also interactive, allowing prospective homebuyers to engage with different features of the home. When you're watching a video of a home, you can only go down the path that's laid out for you. You can also only see what the seller or real estate agent chooses to show on the video. However, on a virtual home tour, you can browse the home at your own pace and explore where you want. Since most online home tours give you full control of your view, you can move between rooms when you wish and fully adjust your viewing angle. This is another reason why standard videos don't qualify as true virtual home tours.
The best virtual home tours duplicate the experience of touring a home in person. So even while you might not be able to physically visit the homes for sale that pique your interest, you can still get a good feel for what it's like to be there in person.
Benefits of an Online Home Tour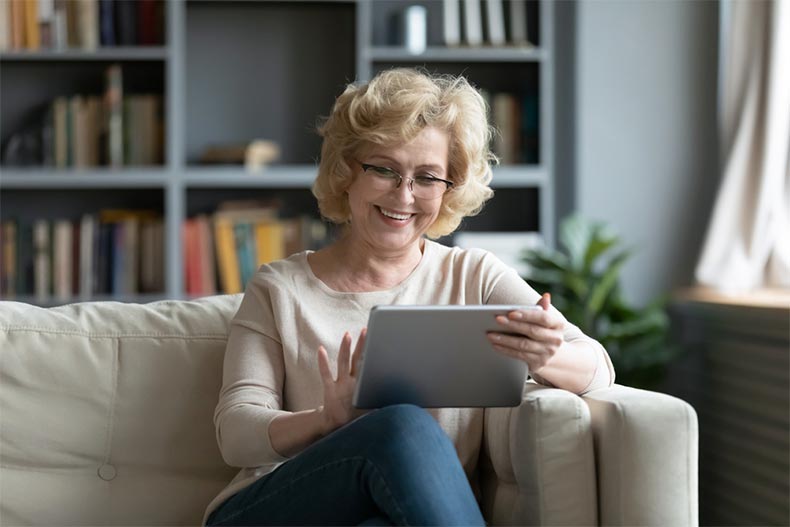 Have you always dreamed of living near the beach or the mountains? What about moving closer to family and friends? Wherever you want to move, virtual house hunting makes it easy to explore and browse homes anywhere. Since you're no longer limited to exploring homes for sale in your local area, you can expand your search. By going on an online home tour rather than visiting homes and touring them in person, you significantly expand your options.
When it comes to making the best use of your time, virtual house hunting beats the traditional method of shopping for homes in person. You can view and explore more homes in a day since you don't have to travel to see them. And since you can take an online home tour from your personal computer or smartphone, you also save on transportation costs. There's no need to spend gas driving all over town or booking airfare to see homes in other cities or states.
Additionally, it's hard to beat an online home tour from a convenience factor. You can look at homes any time day or night without the need to contact a real estate agent. When the mood strikes, all you need to do is log on to your computer or reach for your smartphone to start browsing. You don't need to set an appointment with anyone or even leave your home.
By remotely browsing homes, you're able to maintain the social distancing requirements mandated across the world. This makes the entire homebuying process not only smoother but also safer since you're not coming into contact with sellers or real estate agents.
What to Look For in a Virtual Home Tour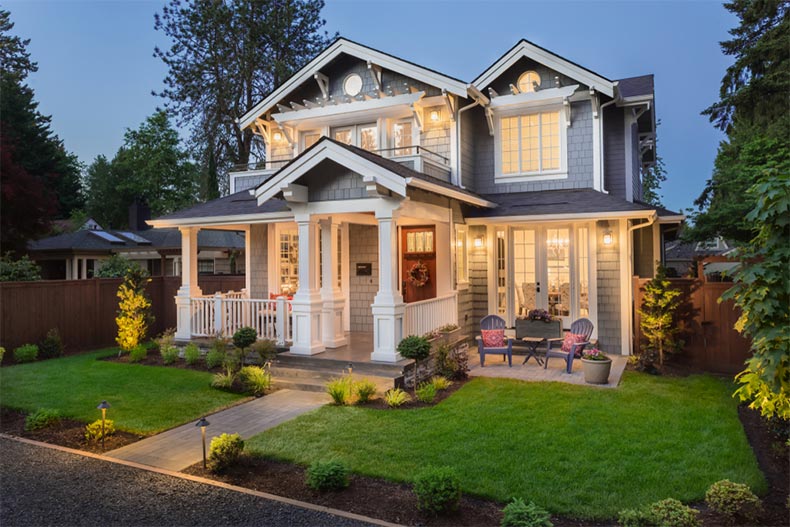 When you find a home for sale you'd like to explore in more detail, it's time to go on an online home tour. If you're accustomed to attending in-home showings and visiting in person with real estate agents, it's helpful to keep a few pointers in mind. On a virtual home tour, you can take as much time as you like browsing various homes, but you should also know what to look for.
Physical Location
For starters, you should know exactly where your prospective new home is located. You can do this by going to Google Earth and entering the street address in the search box. Take a look at nearby houses, amenities, and attractions. Pay attention to the home's landscaping. Does it have a pool? Is it near a lake or the ocean? Does it check off several boxes on your wish list when it comes to surroundings?
Also, note how close you are to your nearest neighbor. If you're looking to live in a community with plenty of neighbors nearby, you might be disappointed if you see your closest neighbor is farther away than you'd like.
Day and Night
When you take a virtual home tour, it's also important to get a feel for what the property looks like during the day and at night. Try to look for a virtual open house that allows you to see a property in all lights. As you're taking a look at the actual home, stay mindful of the surroundings. For example, if you're hoping to live on a quiet street, you may not be happy if you notice a fair amount of traffic passing through. Be sure to look for local community offerings that are important to you. For example, if you want to live near a library, tennis club, or hospital, notice if your potential home is located near these buildings.
Best Practices for Virtual House Hunting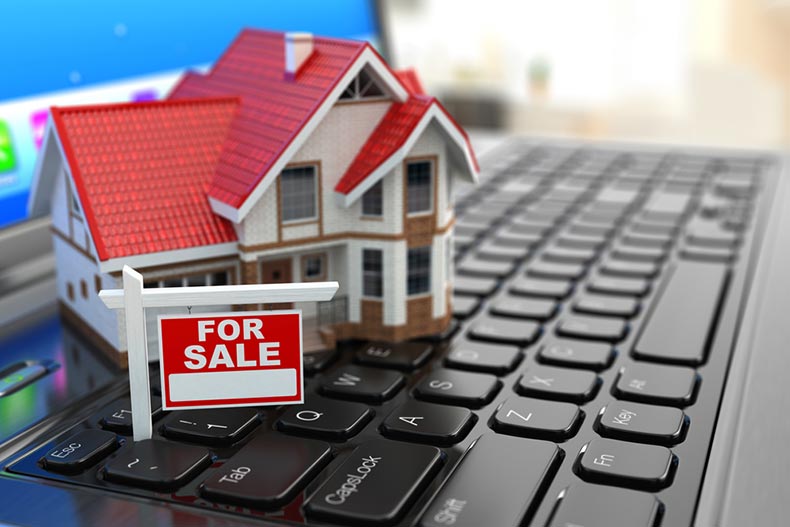 Virtual house hunting is quite different than the traditional homebuying experience. While you can browse communities all over the country and shop from the comfort of your pajamas, it helps to keep a few best practices in mind.
Keep an Open Mind
Remember to stay flexible going into the process. House hunting can bring out a range of emotions, which are likely already running high considering the current global landscape. When you introduce a new method of shopping for homes, it's easy to feel intimidated. Instead of giving up on the process or postponing it for when the coronavirus crisis ends, consider opening yourself up to the potential in front of you now.
Whether you choose to buy a house online or you decide you want to wait to make a purchase, you have the whole world at your fingertips. Take some time to explore it. You never know what you might find.
Set Yourself Up for Success
If you're going to have a positive experience with virtual house hunting, you need to start with a good foundation. This often begins with a solid and reliable internet connection. It's frustrating when you're trying to read, watch, or listen to something online and all you see is a spinning wheel as the page tries to load.
To get ahead of this during the virtual house hunting process, check your internet connection. You can speed up your Wi-Fi in a number of ways, including simply resetting your router.
Make a List of Your Wants and Needs
While there are many differences between virtual house hunting and touring homes in person, there are also some similarities. One example is a wish list. It's always helpful to come up with a list of amenities and features you'd like to see in your dream home.
Once you make a list, qualify each item as a "must-have" or "nice-to-have." For example, you might like the look of a farmhouse sink, but you might not truly need it. However, you might need a walk-in shower, so add that to your "must-have" column.
Document Your Progress
Throughout the virtual house hunting process, you'll likely see many homes. It can be hard to keep them all separate and remember the distinctive features of each home you toured. That's why a good best practice is documenting your progress.
You can list each home in a Word document with the address and a few bullet points of what you liked or didn't like, or you can dedicate a journal to your virtual house hunting journey and take notes on each home.
When you take some time to make notes on each property, it helps you remember your overall thoughts on the home and what you felt as you went through the virtual home tour. Choose the format that you feel most comfortable with and stay consistent as you continue your home search.
House Hunting in a New Era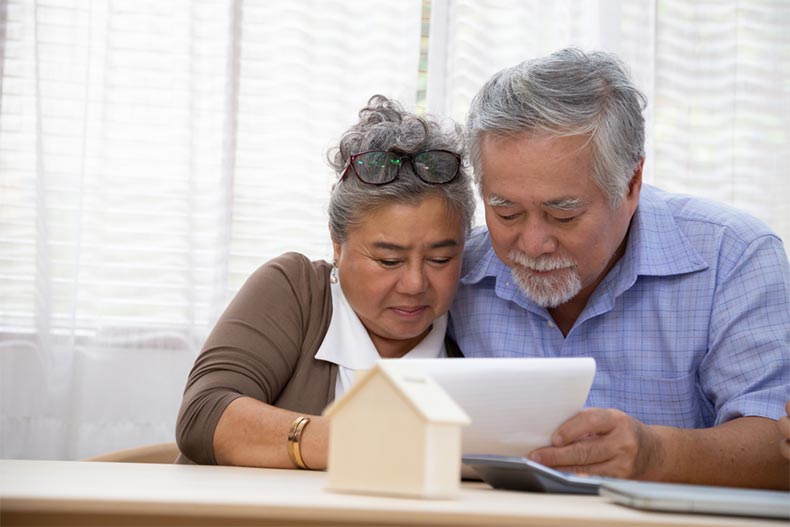 We're living in unique times. The global pandemic has changed nearly every industry, including the real estate industry. However, you don't have to put your homebuying dreams on hold. Technology allows you to see homes up close and personal, almost as if you were there in person.
While it might feel unusual to go on a virtual home tour or to shop for your next home online, virtual house hunting offers many benefits to active adult homebuyers. Consider the guidance above before going on your first online home tour. You might be surprised at the convenience of online house hunting and find the perfect match sooner than you think.