Pickleball is one of the fastest-growing sports for active adults. This popular sport is easy to learn, provides fantastic health benefits, and allows active adults to make lasting friendships while having fun. In response to the high demand for pickleball courts, many active adult communities are now home to facilities and clubs where residents can pursue their favorite sport.
Here's a selection of communities in the Tucson area with a thriving pickleball scene.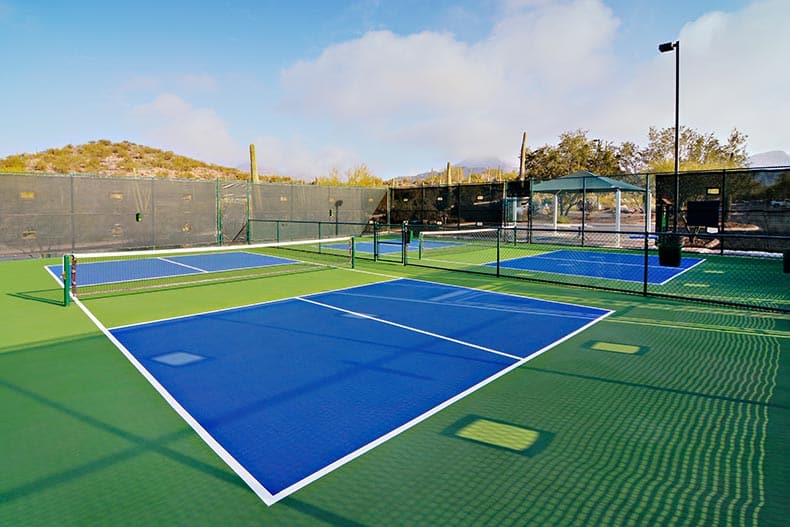 The Highlands at Dove Mountain is located at the base of the Tortolita Mountains 25 miles northwest of Tucson. In addition to a selection of top-notch amenities, this 55+ gated community has 1,400 single-family homes. The low-maintenace home models provide homeowners with more free time to engage in the community's vibrant lifestyle.
The Highlands at Dove Mountain has plenty of sports facilities including a state-of-the-art fitness center, an aerobicsand dance studio, four lighted tennis courts, an 18-hole championship golf course, and of course, pickleball courts. This community also hosts numerous clubs and special interest groups, but The Highlands Pickleball Association is particularly noteworthy. The group was formed in 2013 and now has over 250 members. Membership is open to residents and renters alike, allowing all neighbors to engage in some friendly competition.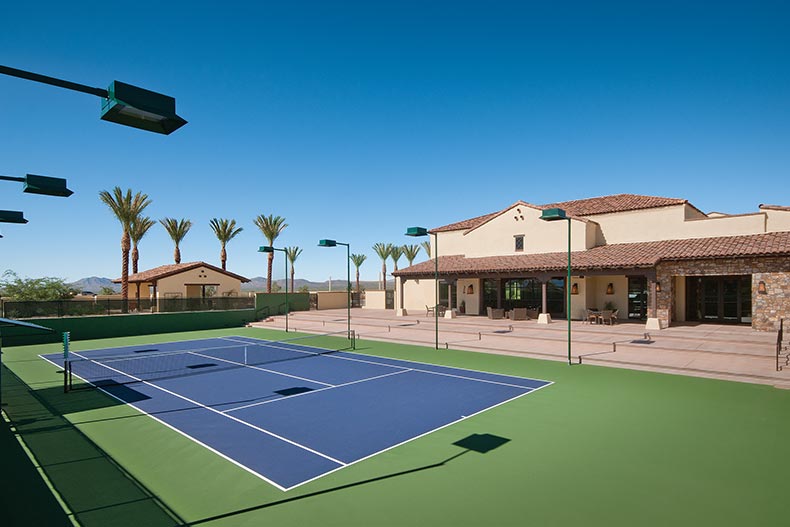 SaddleBrooke Ranch is one of the top communities in the Tucson area for pickleball enthusiasts, and this 40+ gated community has 1,500 single-family homes. In addition to many on-site sports facilities, SaddleBrooke Ranch is home to an impressive 24 pickleball courts. With a pickleball association that holds regular meet-ups, it's easy for residents to connect with others who share their interests.
The pickleball club is the largest sports activity at SaddleBrooke Ranch, and it allows residents to level up their skills with practice sessions, play intercommunity games, and lead coaching groups for those new to the sport. SaddleBrooke Ranch's playing program includes men's teams, women's teams, mixed teams, and games for all skill levels. Currently, the membership dues are $25 per year.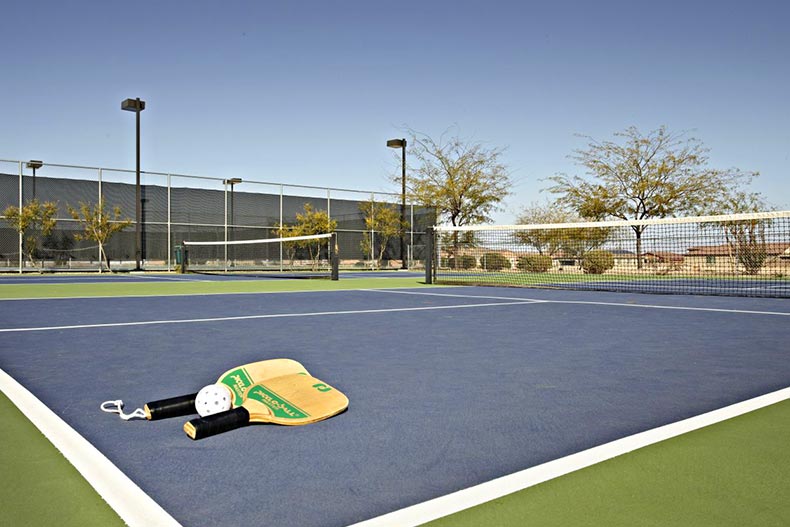 Del Webb at Rancho Del Lago is a popular 50+ community located about 20 miles away from Tucson. Its low prices and variety of amenities—including a great pickleball scene—make it a top choice for active adults. Development began in 2008 and is ongoing, so potential homebuyers can choose from a great selection of new and resale homes. Upon completion, the community will offer 522 single-family homes.
Those who enjoy a game of pickleball will feel right at home at Del Webb at Rancho Del Lago. The community's pickleball courts are a popular spot for residents who like to socialize while staying active. With a pickleball club that regularly meets up, residents always have a way to meet like-minded neighbors for some friendly competition. The club fosters a welcoming environment by helping players improve their skills, holding pickleball-related barbecues and other events, and organizing tournaments.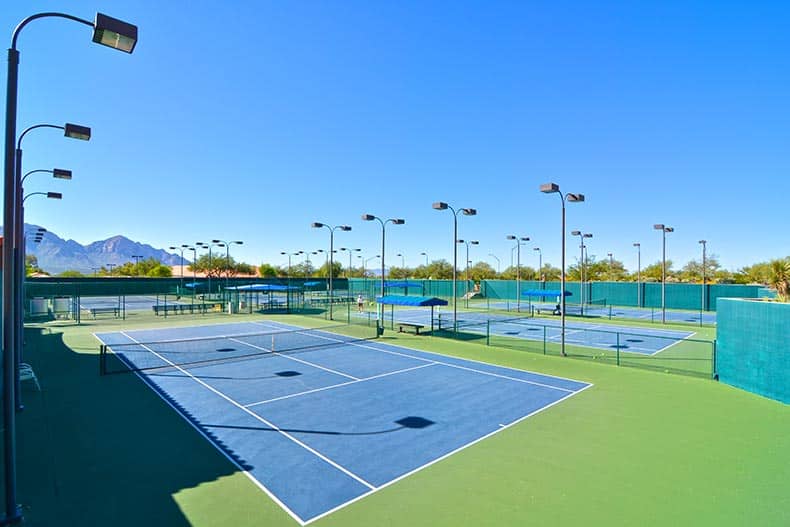 Sun City Oro Valley is a great option for those seeking a vibrant community that offers a thriving pickleball culture. This 45+ community consists of 2,488 single-family and attached homes. Sun City Oro Valley is home to many sports facilities, including pickleball courts.
Pickleball is so popular that the community built more courts in response to the high demand. Originally, the community had two courts. Two months after they were built, the Sun City Oro Valley pickleball club was formed and attracted a membership of over 140 people within just two years. Eventually, three additional pickleball courts were built to meet residents' needs.
There are now over 400 members of the club, and membership continues to grow. The club holds regular games designed for all skill levels, whether players are seeking a casual game or something more competitive. Membership dues are only $10 per year.