For 55+ homebuyers, finding the perfect retirement community isn't just about finding a home in a desirable location like Florida. The overall cost has to be considered, including expenses like homeowners insurance. Florida's high premiums have been in the news recently, causing some buyers to hesitate. But there's no reason why you should be afraid to explore the topic in detail.
The situation revolving around homeowner insurance in Florida has changed in recent years, and not only because of climate change concerns. Florida homeowners have been dealing with higher insurance bills, and retirees looking to relocate should also be aware of what's going on. It will affect your final decisions, but it doesn't have to be a major stumbling block that prevents you from buying the retirement home of your dreams.
Here's an outline for a plan of action that can overcome any fears, help you stay within your budget, and ensure you enjoy a fulfilling retirement.
Is There a Florida Homeowners Insurance Crisis?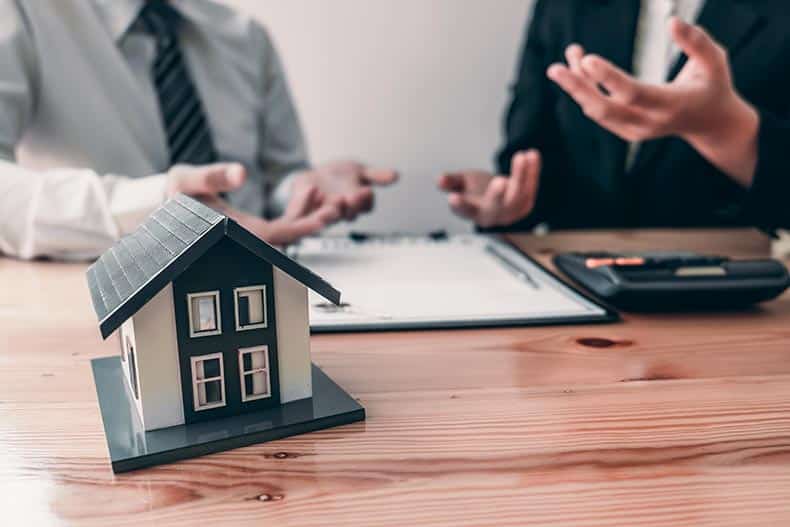 Just like anywhere else, Florida home insurance policies provide payments for financial losses from fires, lightning, hurricanes, and theft. Hurricanes cause wind damage to buildings and their roofs. But flood damage can be much worse and harder to remediate, so it requires separate policies. News outlets report that Florida homeowners pay more on average for insurance than any other state in this country, and rates have increased by about 40% in 2023.
Policy Prices
Florida homeowners pay approximately $6,000 annually for their policies. That's about four times more than the current $1,700 U.S. average. The higher rates also apply to people in the 55+ age bracket living in condominiums, who pay for insurance through their homeowners' associations (HOA).
Flood Insurance
On top of that, the increased likelihood of flooding means that residents typically pay for flood insurance. These separate policies can cost several thousand dollars more per year on top of standard policies. Residents cannot avoid paying the insurance when it's required as part of their mortgages. Also, for now, there are no limits to how much private homeowner insurance companies can increase their rates in Florida.
Climate Change
One reason for the rate hikes is climate change causing stronger storms and more frequent hurricanes. Also, the state's low elevation makes it more vulnerable to serious damage and flooding.
The National Oceanic and Atmospheric Administration projected a normal hurricane season for this year, predicting a 30% chance of fewer hurricanes than usual and a 30% chance of above-normal conditions. But some years have been worse than others. In 2022, Hurricane Ian led to about $114 billion in (inflation-adjusted) damage, the costliest storm to ever land in Florida. But no hurricanes made landfall in Florida in 2019, 2020, or 2021.
So what else is causing the problem?
The State of Florida's Insurance Industry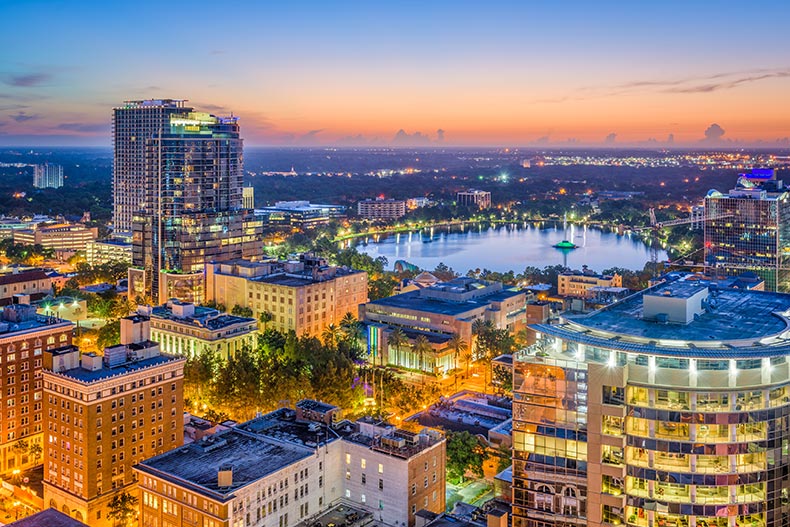 Hurricanes and flooding initiated the Florida homeowners insurance crisis, but the problem is also man-made. Over the past years, a lack of proper insurance industry regulations paved the way for about 300,000 lawsuits that may take years to settle.
The Insurance Information Institute claims that lawyers have been helping clients get unnecessary new roofs and large claim settlements. This led to severe financial strain for insurance companies and the highest premiums in the U.S. Florida accounts for 79% of all homeowners insurance claims. In the past 10 years, $51 billion was paid out by insurers, and 71% of that was for attorney's fees and public adjusters. Claimants received 8% of that.
Lack of Insurance Industry Regulations
Many say that the bulk of these claims are fraudulent or frivolous, but trial lawyers disagree, pointing out the lack of proper regulation. Stephen Cain, the president-elect of a grade group representing Florida trial lawyers, feels that the insurance companies took advantage of the lack of regulation and "plundered the profits."
An example of this is the "assignment of benefits" law. It permitted homeowners with any type of claim to turn it over to a contractor. Negotiating a settlement with the insurer wasn't necessary, so something like a damaged air conditioner could be repaired without insurer oversight. In 2022, six Florida insurance carriers declared insolvency and were unable to pay homeowner claims.
Others have stopped doing business in the state, a trend that started in 1992 after Hurricane Andrew. According to Mark Friedlander of the Insurance Information Institute, the industry advocated for and won certain reforms that were designed to prevent abuse. However, those haven't trickled down in any meaningful ways yet.
More Oversight
Senate Bill 7052 became effective on July 1, 2023. It was designed to increase the Office of Insurance Regulation's (OIR) oversight of Florida insurance companies. Although it may be too early to tell if the provisions will improve the situation, they apply to examinations of insurance companies, enforcing compliance, and penalties.
Here are a few examples:
Executives from insolvent insurance providers are prohibited from receiving bonuses.
Insurance providers must respond to inquiries from the Department of Financial Services within 14 days.
The OIR must conduct market examinations on insurance companies that have a certain amount of complaints or claims within 90 days after a hurricane.
The OIR must create quarterly and annual reports that explain the actions taken to enforce insurance company compliance with state insurance laws.
What Kind of Homeowners Insurance Do You Need in Florida?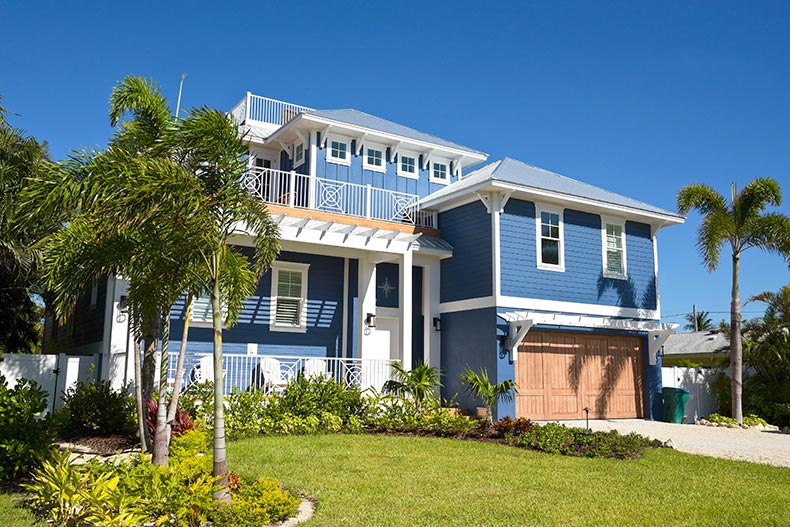 It's important to have homeowners insurance no matter where you live. However, if the home isn't financed, there's no legal obligation to do so. This would put you, your home, and your belongings at considerable risk. A home is usually the largest investment people have, an asset that needs protection in case of an emergency. Lenders usually require applicants to purchase these policies.
A Standard Policy
Currently, Florida homeowners can be insured by private carriers like Liberty Mutual, State Farm, Allstate, and Chubb. The other option is Citizens Property Insurance Corp., which has been around for about 20 years. It was set up by the state as an alternative for people who could not find affordable coverage. To be eligible, applicants must show that the lowest quote they received in the private market is more than 20% higher than the one from Citizens.
A standard policy covers the dwelling, additional structures on the property like sheds, and personal belongings like furniture. The coverage can also pay for loss of use and additional living expenses when the dwelling is uninhabitable. There's also a personal liability option that pays out when someone makes a claim against you—an example would be a neighbor falling on your sidewalk and trying to sue.
Condominium associations typically handle these for their homeowners, who pay for it through association fees. (Those policies only need to insure the interior portion and contents.)
Flood Insurance Policies
Flood insurance policies are often required by lenders when the home is in a flood zone. These are governed by the National Flood Insurance Program (NFIP) and are paid separately. The two categories for these are Special Flood Hazard Areas (SFHA) and Preferred Flood Zones. Insurance companies use Flood Insurance Rate Maps to determine the premiums. SFHA locations always require the added coverage.
What Does This Mean for 55+ Homebuyers?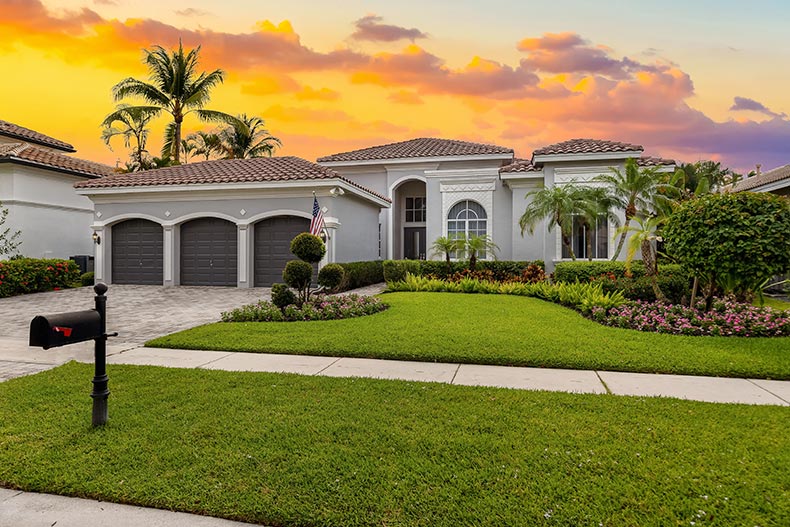 As the landscape for homeowner insurance in Florida changes, prospective 55+ homebuyers may wonder if home prices have increased. As of May 2023, Florida home prices were down 0.4% compared to 2022. That year, 38,659 homes sold at a median price of $407,200. The pandemic led many people to move to Florida from other states—and not only retirees. Mortgage rates aren't as low as they were the past few years, but compared to decades ago, they're still in a good place and hovering around 7%.
In the spring of 2022, Florida homebuyers were mostly paying full listing prices, but now, they seem to have more leverage and are paying about 96.7% of those amounts. The homes average 31 days on the market, and many are cash deals without the need for financing. Closing costs account for 2.3% of the purchase prices.
Readjust Your Budget
The increased homeowners' insurance cost means that many active adults looking to head south will need to readjust their budgets. It's important not to overextend yourself, but that doesn't mean that you can't retire in Florida. The well-known 28% rule dictates that a mortgage should not exceed that percentage of your income. Be sure to include the insurance in that amount—many homeowners already have it included in their monthly payments.
It may be possible to cut out other things that are eating up your budget, like expensive cable TV and phone plans or unnecessary purchases.
Cost Saving Suggestions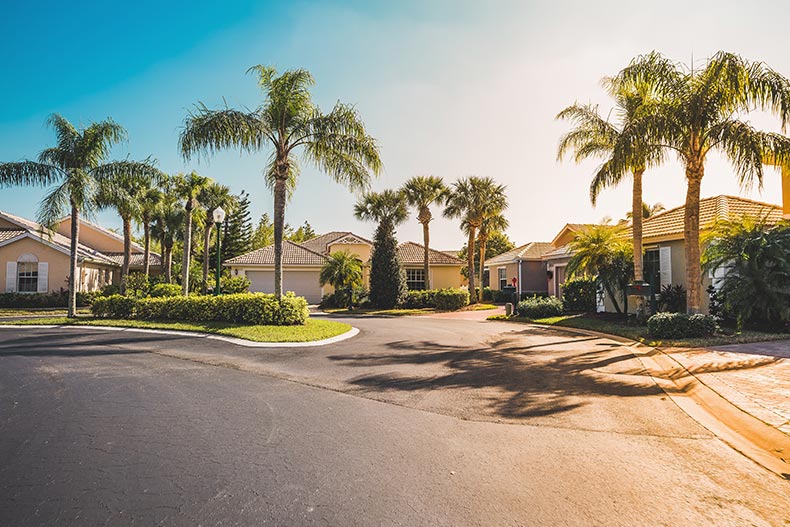 One way to account for the higher home insurance is to consider different types of homes in your search. Communities closest to the coastlines tend to be the costliest because of the views, beach access, and convenience. Some of the more affordable beach towns in Florida include Pensacola, Daytona Beach, and Clearwater. But seasoned Floridians know they can still enjoy a rewarding lifestyle without being right on the beach.
You can also find affordable retirement communities in places like Sun City Center, Leesburg, and Pompano Beach, starting at below $100k. Some are located within driving distance of beaches, and most have swimming pools and other desirable amenities.
Construction Materials
It's wise to consider a home's construction materials when comparing different properties. The threat of extreme weather conditions holds for other parts of the world besides Florida, so savvy companies are designing more resilient homes that can stand up to high winds, storms, and flooding. And in many areas, building codes enforce certain guidelines.
Examples of resilient construction include adjustable components such as doors and shutters plus anchoring systems and foundations that can be more flexible in high winds. Wind scoops, reinforced concrete, and impact-resistant glass can also decrease the risk of damage, as can roofing and siding fasteners. Walls and barriers around buildings and drainage systems can prevent flooding. And when looking at your options, inquire about elevated locations that may be less susceptible to the threat of high water. All of these may reduce premiums.
Look at Other Locations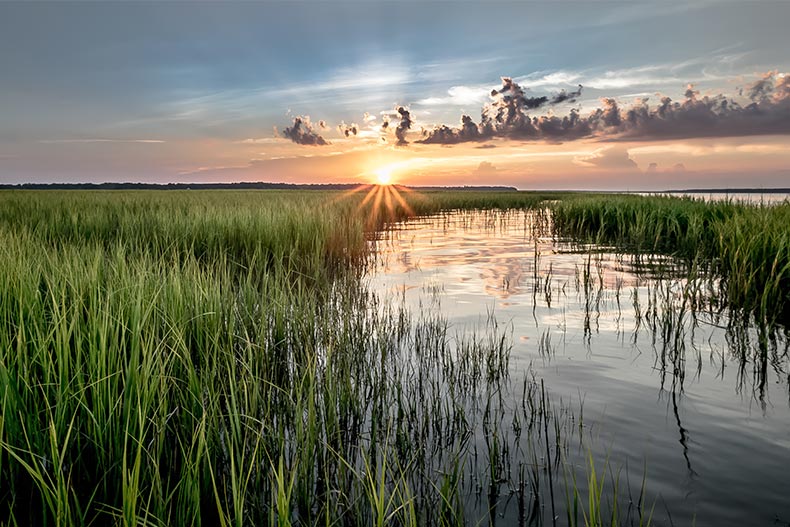 We get it: Retirees dream of living close to the beach, but it's not always affordable. If you're drawn to the water, think about retiring in Central Florida. There are well-priced communities that have lakes and boat access with the added benefits of fewer tourists and a more relaxed lifestyle. Many have desirable amenities like community clubhouses, RV parking, outdoor pools, tennis and pickleball courts, and group activities like craft classes, potluck dinners, and community meals.
Other Locations for Your Retirement
There are also some wonderful 55+ communities further north, closer to the Florida-Georgia state line. Florida's Palm Coast area is a good choice, with five communities starting in the mid $200s. Retirees who live here are closer to the Peach State's many attractions, including a beautiful coastline that offers boating, fishing, and campsites.
If you're seeking a warm location that isn't quite as hot as Florida, it might be worth your while to explore the Carolinas and Tennessee. South Carolina has over 120 active adult communities. North Carolina has over 180 options, and Tennessee is the farthest inland with over 40 active adult communities.
Still, with home prices starting at below $100k, Florida has the most options to choose from. And as of this writing, there are 670 active adult communities throughout the state, with and without age restrictions.
Saving Money on Homeowners' Insurance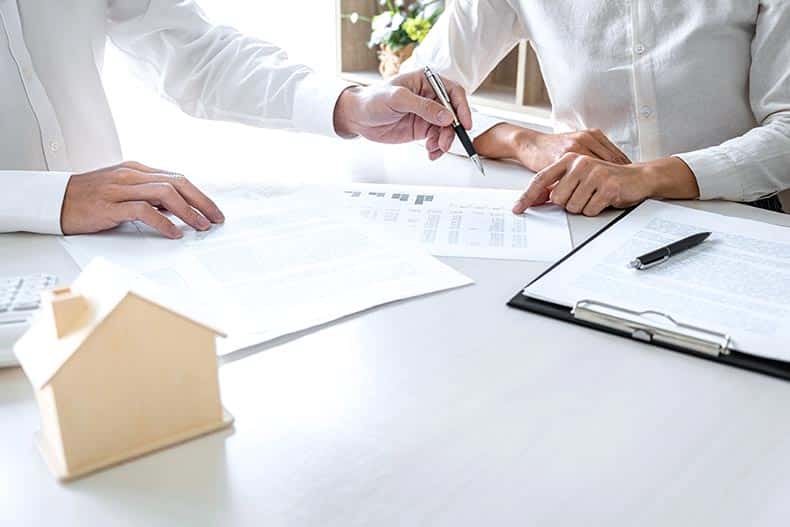 Florida doesn't have a large number of national insurers. The largest one is State Farm, but its market share is only 7%. Others are having problems staying solvent, so expect to have a lot of conversations with the providers, and then reach out to Citizens Property Insurance Corp. to see if they have lower prices. This company has approximately 16% of the market share, and its policies range from about $5,100 to $6,800 in areas with higher hurricane risks.
Coverage, Benefits, and Exclusions
If you're not sure about a Florida homeowner insurance provider's reputation, reach out to the state's insurance department and ask if they have consumer complaint ratios broken down by the companies. Consumer magazines and independent rating organizations may also have useful information that can help with your decision. Call the providers or get quotes from them online, and ask for everything in writing.
It's not only about the prices—make sure that you're comparing the same coverage, benefits, and exclusions. Don't be shy about asking friends and family members for recommendations and get quotes from at least three companies.
More Ways to Save Money
A common way to save money on homeowners' insurance is to increase the deductible. It can be raised from the minimum amount to a maximum, but be aware that it'll come out of your pocket when a claim is made. And when shopping around, remember to ask for any discounts that might reduce your premium. Insurers may do this for certain construction materials and designs, home security devices like alarm systems, and having an auto insurance policy with them. Retirees and 55+ homebuyers may also be eligible for reductions.
Don't Forget: Florida is a Tax-Friendly Retirement State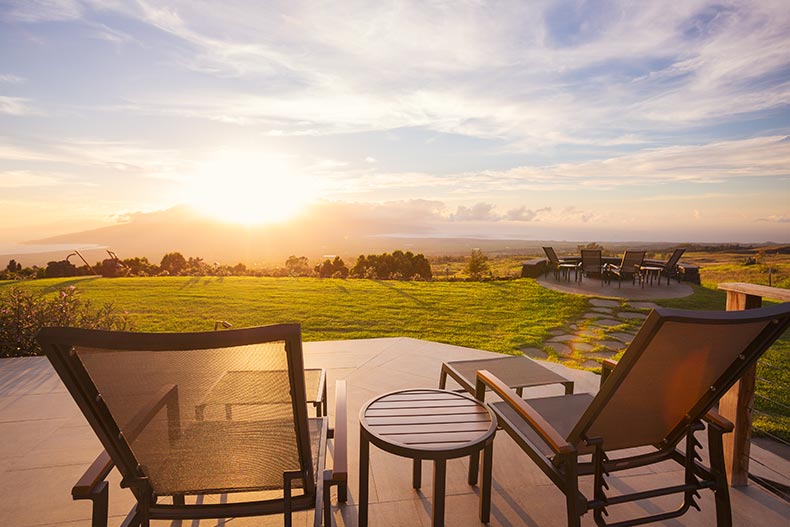 There's one more thing to remember about living in Florida, and it can balance out those higher-than-usual homeowner insurance premiums. It's a retirement-friendly state when it comes to taxes.
In Florida, there's no income tax, and that includes monies earned through Social Security, pensions, 401(k)s, and IRAs. But that's not all: Florida doesn't have inheritance or estate taxes, and the sales tax is reasonable at 6%. The property tax rate is 0.86% compared to the U.S. average of 1.03%. As for Florida's cost of living, it depends on which part of the state you live in. But the housing costs are typically lower than the national average, and the prices for groceries, utilities, and health care are about the same.
You Can Still Retire in Florida
The high price of homeowners insurance in Florida can seem like a deal breaker, but don't let this stop your homebuying journey. There are still plenty of ways to retire in Florida within your budget. Let a 55places.com real estate expert help you find the right home in the perfect community. If you have more homebuying questions, contact 55places.com today!