The Washington, D.C. metro area contains parts of Virginia and Maryland, and the closer you get to the nation's capital the more urban (and political!) it becomes. D.C. is not a state; it's a district that's in parts of those two states. So if you're comparing retiring in all three, you'll want to consider the district metro area as well as parts of VA and MD.
Active adult retirees are drawn to these areas because they are the home of—and close to—the nation's capital, but besides that it's a beautiful part of the country, known for historical attractions, beaches, mountains, ocean fronts, rolling hills, and other landscapes. You experience all four seasons here in the Mid-Atlantic/Southeast and have access to some of the country's top international airports, health care, education, museums, restaurants, and shopping.
How do you decide which of these three to retire in, though? All are non-traditional regions to lay your roots down in after age 55, but there's a lot to be said for thinking out of the box and choosing this region instead of traditional areas like Florida and Arizona.
Here's the most important information to have in your pocket, along with some short profiles of 55+ communities in these areas.
Geography and Population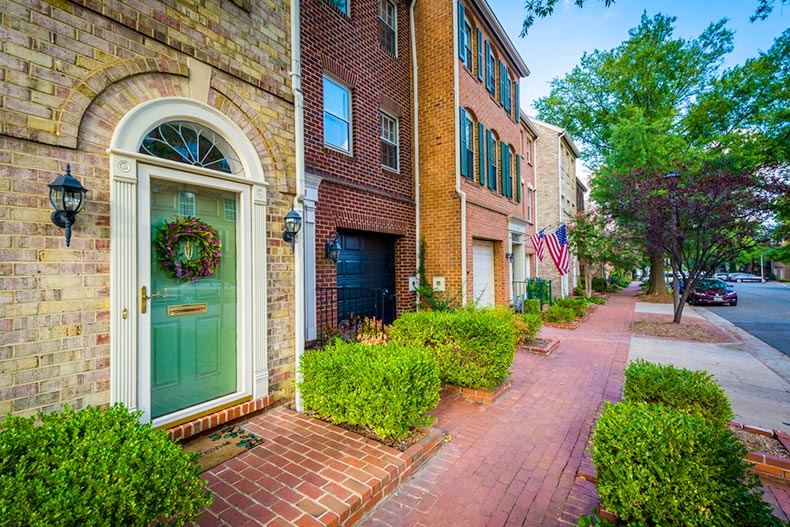 Washington, D.C.
Washington, D.C. is the seventh-largest metropolitan area in the country and includes the Virginia cities of Alexandria, Arlington, Fairfax, and Reston. The major nearby Maryland cities are Bethesda, Rockville, Silver Spring, and Gaithersburg.
D.C. is bordered on the east side by The Anacostia River and on the west by the Potomac River, which separates it from Virginia; the remaining borders are shared by Maryland. The city's population was 670,050 in 2021, and the entire D.C. Metro population was 5,434,000 in 2022. The city isn't especially known for outdoor attractions, but there are some; you'll have to travel into VA and MD to experience more of that.
Virginia
Virginia has a population of about 8,626,210, and is bordered by Maryland and West Virginia in the north; Washington, D.C., Maryland, and the Atlantic Ocean serve as its eastern border. To the west are West Virginia and Kentucky, and North Carolina and Tennessee are to its south. Its geographical areas include the Appalachian Plateau to the west; drive east and you'll pass the Appalachian Ridge and Valley, the Blue Ridge, Piedmont, and finally the Atlantic Coastal Plain.
Maryland
Maryland's population is about 6,016,447, and it's bordered by Delaware and the Atlantic Ocean on the east, West Virginia on the west, Pennsylvania to the north, and Virginia in the south. The Mid-Atlantic Coastal Plain covers its south and east, and the Piedmont is in its northeast. Maryland's Blue Ridge area is west of Piedmont, and then you have the Appalachian Ridge and Valley and the Appalachian Plateau.
Climate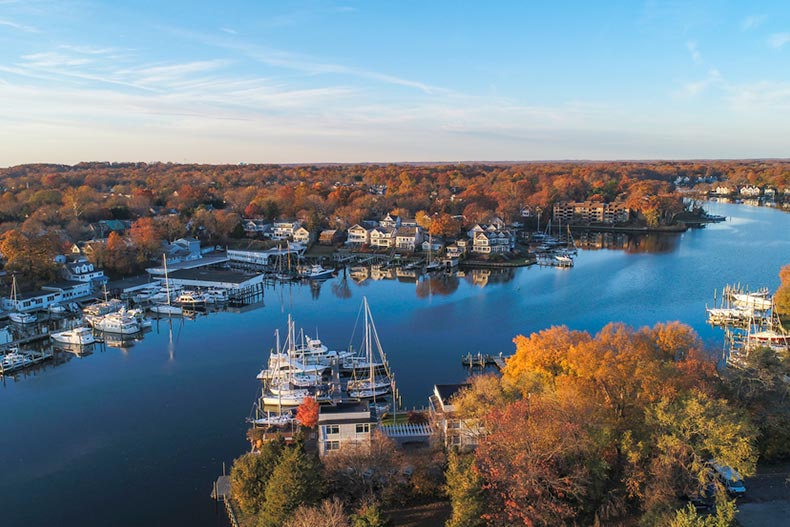 Washington, D.C.
Washington, D.C. temperatures range from 29°F to 88°F throughout the year but usually stay far in from those two extremes. The hottest months are June, July, and August, and the humidity can be pretty high in the summer. December, January, and February are usually the coldest, and the springtime and fall can be quite magnificent.
The city is known for its cherry blossoms, and you'll see these blooming all over the Capital in April; it averages 43″ of rain and 14″ of snow every year. Popular outdoor attractions include the National Mall and Rock Creek Park.
Virginia
Virginia is also fairly mild and equable, with the temperatures varying according to the elevation and closeness to the Atlantic and Chesapeake. On the Eastern Shore and southeast, they range from 40°F to the upper 70s; it can get as low as 0°F in the mountains and as hot as 90°F elsewhere. Precipitation averages 32″ to 44″, and snowfall can be just a few inches further south or average up to 30″ in the north. Visitors who come here enjoy the scenic Blue Ridge Parkway and the sun and surf at Virginia Beach.
Maryland
Maryland actually has two distinct climates. In western Maryland, temperatures averages range from 28°F to 65°F, while the east has more of a humid, subtropical climate that's influenced by the Atlantic Ocean and the Chesapeake Bay. Average temperatures here are close to 35°F to 75°F. Maryland averages 44″ of rain a year and 19″ of snow. Two of the biggest outdoor attractions here are Baltimore's Inner Harbor and Assateague State Park.
Cost of Living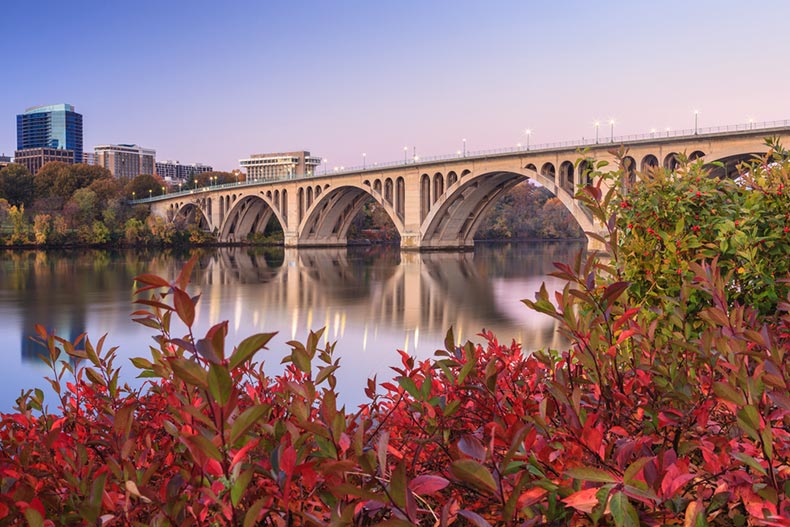 Washington, D.C
It's expensive to live in the Washington, D.C. metro area—some of the nation's wealthiest people live here. Bestplaces.net rates DC as 152.1, compared to a US average of 100. The median home cost is $675,400, and you can expect to find even higher prices in some of the pricier suburbs.
Retirees get a full exemption for their Social Security benefits, but retirement income and private pensions are taxed the same as regular income. However, there's a 50 percent property tax exemption for senior and disabled homeowners, plus a homestead deduction for those who qualify.
Health care costs rate at 88.6, which is lower than the national average; transportation is high at 135.3, and utilities are slightly higher at 106.
Virginia
Virginia is rated at 103.7, but remember that the entire state is being factored in along with those pricey suburbs. The average home cost is $329,200, and the property tax rates are below the national average.
Smartasset posts that VA has "relatively" low retirement taxes too. The state doesn't tax Social Security retirement benefits, and retirement account withdrawals and pension income is deductible up to $12,000. Transportation, utilities, and health costs are considered to be about average when compared with other states.
Maryland
The cost of living in Maryland isn't as bad as DC but not as good as VA—it's shown to be 113, which an average home cost of $361,900. The average property tax rate is slightly below the national average of 1.07 percent, and health care costs are also below average with an 89.1 rating. As for transportation, that was rated slightly higher at 119.3; utility costs were 105.6.
In March of 2022, new legislation was announced: $1.86 billion in tax relief over a five-year period for Maryland retirees and others. Eighty percent of the state's retirees will be getting significant relief or will be paying no state income taxes whatsoever.
Culture and Entertainment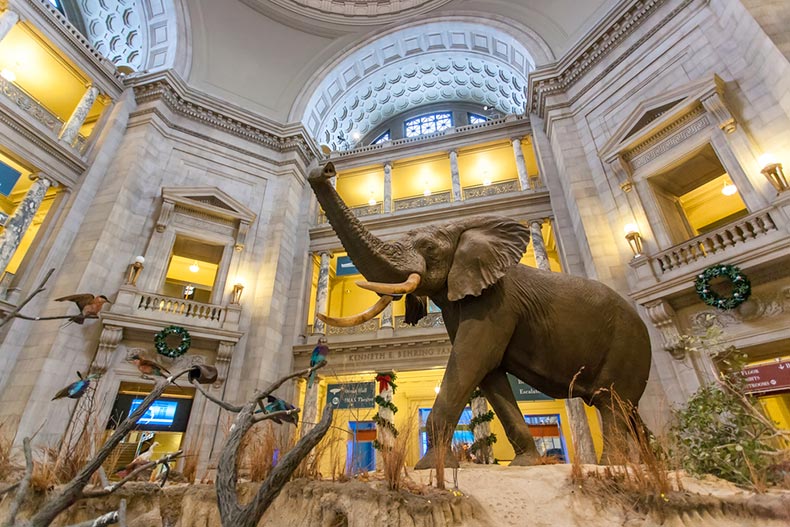 Washington, D.C.
The Capital is known for its magnificent historical and cultural attractions, including the Smithsonian National Museum, Georgetown, the National Gallery of Art, the U.S. Holocaust Memorial Museum, the John F. Kennedy Center for the Performing Arts, the National Zoo, and the National Museum of African American History and Culture.
You can also head out of the city to visit Old Town Alexandria or Mount Vernon. D.C.'s largest shopping areas are CityCenterDC, Union Station, and Gallery Place.
Virginia
Some of Virginia's most beloved tourist attractions are Shenandoah National Park, Colonial Williamsburg, Arlington National Cemetery, Luray Caverns, the Virginia Museum of Fine Arts, and Busch Gardens. Also, many visitors enjoy Colonial National Historic Park, historic Richmond, Manassas National Battlefield, and the Virginia Aquarium.
The best shopping malls and outlets are Tysons Corner Center, Potomac Yard Center, Williamsburg Premium Outlets, and Valley View Mall in Roanoke.
Maryland
There's a lot more to do in Maryland besides visiting Downtown Baltimore. To begin with, there's Ocean City, MD with its family-friendly beaches and boardwalks and beautiful Downtown Annapolis.
Great Falls offers kayaking, rafting and hiking; the B&O Railroad Museum is a great place to take the grandkids. Other Maryland attractions include the Harriet Tubman Byway trail, the Baltimore Museum of Art, and Calvert Cliffs State Park. And the top shopping malls are RIO Washingtonian Center, Arundel Mills, Tanger Outlets, National Harbor, and The Mall in Columbia.
Health Care and Education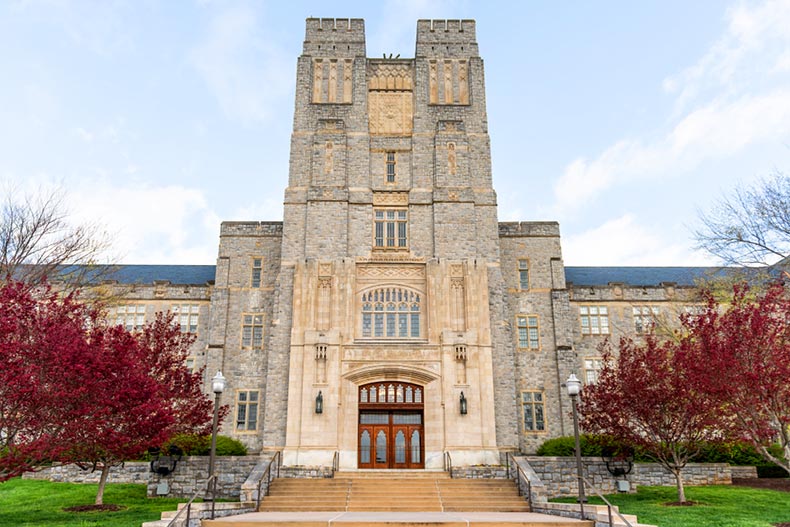 Washington, D.C.
Some of D.C.'s best-known hospitals are George Washington University, Howard University, Medstar Georgetown, and the Washington, D.C. VA Medical Center. US News' top three D.C.-area hospitals are Inova Fairfax (in Falls Church, VA), MedStar Washington, and Virginia Hospital Center in Arlington, VA. The GW Cancer Center is located within the District, and the National Institutes of Health (NIH) is in the outlying metro area, right in Bethesda, MD.
The top colleges are Georgetown University, George Washington University, and American University.
Virginia
In Virginia, the highest-rated hospitals are Inova Fairfax, University of Virginia Medical Center, Sentara Norfolk General Hospital, and VCU Medical Center. Richmond's Massey Cancer Center is also rated highly by U.S. News & World Report.
The top schools are farther out from the metro area and include the University of Virginia, William & Mary, Virginia Tech, and George Mason University.
Maryland
Maryland also has some top-performing hospitals, including Johns Hopkins, the University of Maryland Medical Center in Baltimore and Towson, Greater Baltimore Medical Center, and MedStar Union Memorial.
There are some great colleges and universities here too, like Johns Hopkins, University of Maryland College Park and Baltimore County, Towson University, and the U.S. Naval Academy.
Most of these institutions of higher learning in D.C., VA, and MD also offer continuing education classes that retirees can sign up for and attend online or in person.
55+ Communities in Washington, D.C.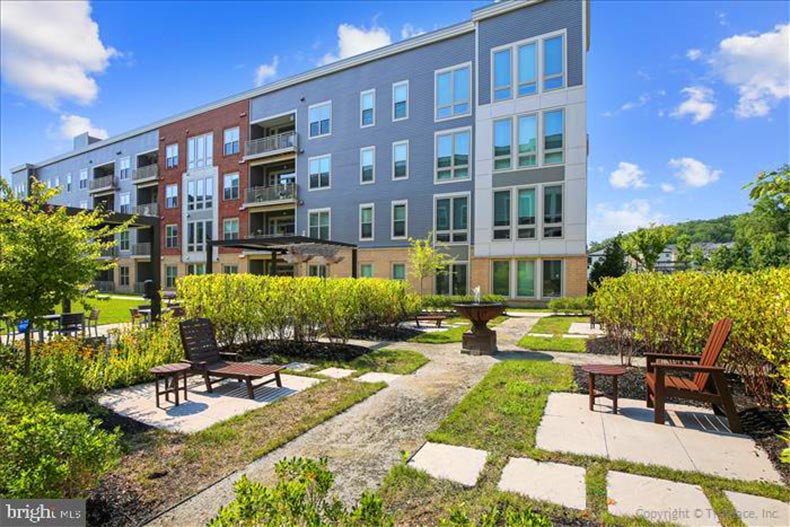 High $400s – Low $800s
This new 55+ community will have a variety of condo, attached, and single-family homes when construction is complete. These homes will offer sophisticated floor plans with options like hardwood floors, covered patios, and gourmet kitchens.
Plans also call for a 5,000-square-foot clubhouse, an outdoor kitchen, and pickleball courts. There will also be lifestyle groups and events like biking, holiday parties, and gardening. The Crest is also close to charming Old Town Alexandria.
Request more information about The Crest of Alexandria.
Mid $300s – High $400s
Geared for downsizing, this close-knit condo active adult condo community has 111 resale units ranging from 1,125 to 1,752 square feet, with assigned carports or garages. They feature upgrades like dens, private balconies, and granite countertops.
The building has a concierge service and amenities like an exercise room and catering kitchen. This property is close to main highways like Interstate 66, grocery stores, pharmacies, and the Oak Marr Golf Complex.
Request more information about Saintsbury Plaza.
Below $100k – Low $800s
This golf-course community is like a planned development, with 5,600 resale condo, attached, and single-family homes as well as an on-site bank, post office, medical facilities, pharmacies, a travel office, and two churches.
Leisure World of Maryland also has an excellent golf course, a driving range, and two clubhouses; there's an indoor and outdoor pool, a fitness center, and a theater as well. This great active adult neighborhood is also split up into 29 separate neighborhoods, with a wide variety of floor plans ranging from 705 to 1,450 square feet.
Request more information about Leisure World of Maryland.
55+ Communities in Virginia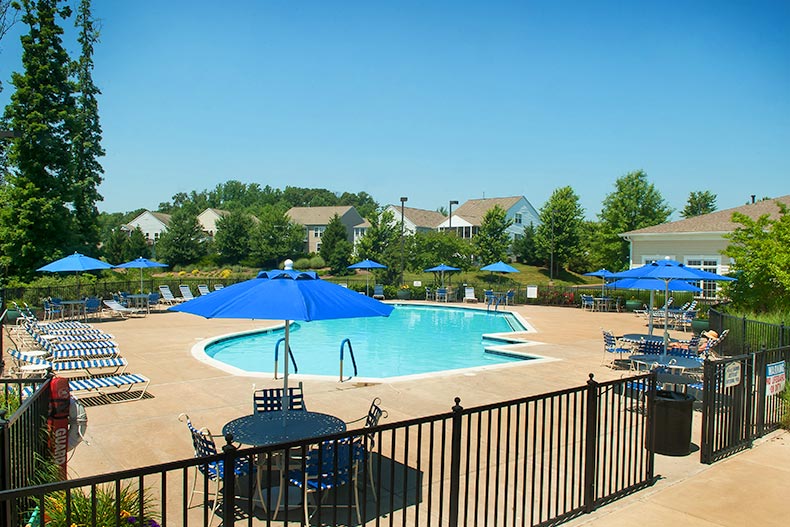 Mid $200s – Mid $500s
This gated Del Webb community was completed in 2005 with 199 attached and 582 single-family homes, and it's located about 50 miles south of the Capital. These desirable homes range from 1,100 to 2,000 square feet, and feature options like French doors, oversized two-car garages, and stainless steel appliances.
The long list of amenities and clubs is sure to impress, with a large clubhouse, a state-of-the-art fitness center, pickleball courts, square dancing, pot luck dinners, and a hiking club.
Request more information about Falls Run.
High $300s – Mid $500s
Located in the Richmond area, Greenwich Walk is a new 55+ neighborhood slated for 350 condo, attached, and single-family homes. It's part of the FoxCreek master-planned community, so homeowners will be able to use the Terrace Swim & Racquet Club as well as Greenwich Walk's community clubhouse.
The thoughtfully-designed, spacious floor plans range from 1,721 to 2,174 square feet, and offer modern features like flex rooms, hardwood floors, and gourmet kitchens.
Request more information about Greenwich Walk.
Mid $300s – Mid $600s
Colonial Heritage is a large retirement golf course community, with a par-72 Arthur Hills-designed course and 1,800 new and resale attached and single-family homes. These range from about 1,366 to 2,816 square feet, and come with garages; some floor plans also have basements.
You'll find appealing upgrades like ceramic floors, gas fireplaces, and nine-foot ceilings in these elegant homes, and be sure to check out the 25,000 square foot clubhouse, separate athletic club, and (very) long list of groups, activities, and classes.
Request more information about Colonial Heritage.
55+ Communities in Maryland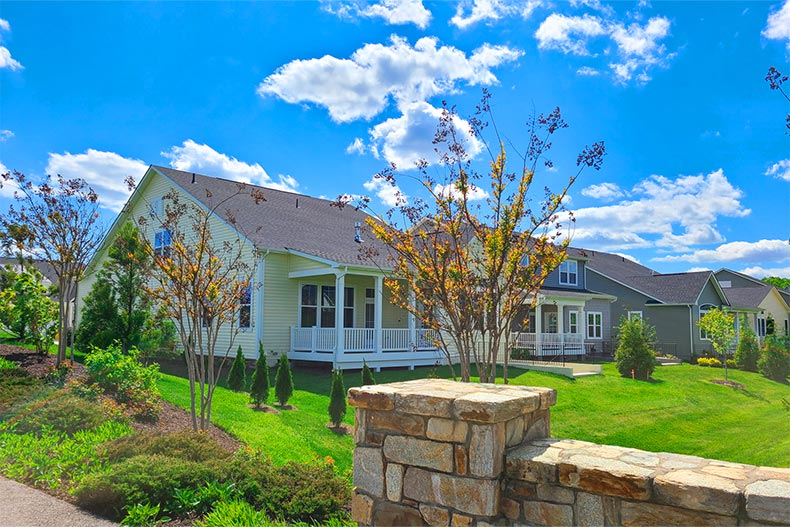 Mid $300s – Low $800s $300s
Here's an established active adult community in Annapolis, which is home to the U.S. Naval Academy College and a great waterfront downtown area. There are 1,683 resale condo, attached, and family homes sized from 800 to 3,000 square feet on this property, so there's something for everyone.
In addition to that, there's a 9-hole executive golf course, boat slips and storage, the South River Pier, and other amenities that make residents feel as though they're always on vacation.
Request more information about Heritage Harbour.
High $500s – High $700s
If you're looking for new construction, Two Rivers in Central Maryland's Anne Arundel County will have 800 attached and single-family homes ranging from 1,514 to 2,993 square feet when work is completed. These bright and airy homes offer sought-after upgrades like quarts countertops, lofts, and built-in bookcases.
Its 15,000-square-foot Founders Club is the heart of the community, and offers an indoor and outdoor pool and gathering areas; there's also a community garden, tennis courts, and a dog park on the grounds.
Request more information about Two Rivers.
Low $300s – High $300s
Located in Eastern Maryland, SummersGate is only half an hour outside of Ocean City and offers 216 new and resale condo, attached, and single-family homes. These range from 1,230 to 2,030 square feet, with options like second-story lofts, dens, and upgraded appliances.
The resort-style amenities include a vibrant clubhouse, an outdoor pool and spa, and several meeting rooms.