Washington, D.C. is one of the largest and most exciting metropolitan areas in the United States and ranks high for retirees who want to live near where the country's main political action is. Although retirees are not necessarily drawn to retiring in communities right inside our beautiful capital city, the surrounding suburbs can offer many opportunities for vibrant active adult home seekers.
People retire near Washington, D.C. because the nearby suburbs are commutable to the downtown area and offer substantial scenic beauty and incredible indoor and outdoor landmarks. And besides all of those incredible historical and cultural attractions, it doesn't take long to get to Virginia, Baltimore, Delaware, and Maryland beaches or the beautiful Chesapeake Bay area. Plus, many of the retirement communities in the surrounding states can be quite affordable.
Keeping this in mind, let's consider the positives and negatives of living close to our nation's capital.
Retiring in Washington, D.C.: Pros and Cons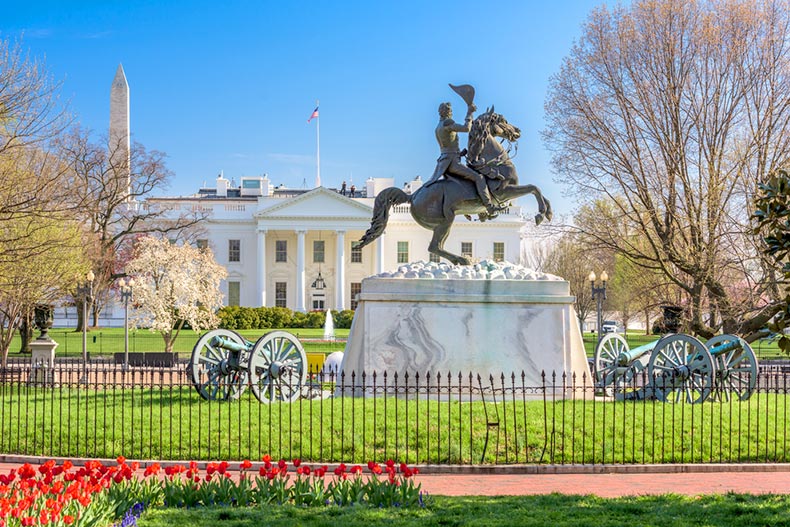 PROS
Always something to do: Washington, D.C. is one of the most culturally rich and culturally diverse cities on the planet. Besides all the political interest, it has more than 70 museums (many are free), plus countless theatres, restaurants, and outdoor activities to enjoy.
Public transportation: D.C. has a highly-ranked public transportation system, with the second busiest metro in the entire country. It's known to be highly efficient, with fast commuting times. Washington, D.C. is also a bike-friendly city, which is another good way to avoid traffic.
Health care and education: This area is full of top-tier medical care facilities and educational institutions, so you can rest assured that you can receive excellent health services. And if you want to take continuing education classes, there's practically no limit to what you can register for.
Becoming involved: Whether your interests and talents include politicking, art, helping the needy, or volunteering at a school, there are ample opportunities for you to share your skills with others.
CONS
A high cost of living: Living right in D.C. is not really affordable for many retirees, and you can expect to pay more for groceries, gas, and other necessities in the closest surrounding areas. As you move farther out, prices become more reasonable.
Traffic: Driving in and out of D.C. can be a nightmare, and this is why so locals turn to public transportation. Just like the cost of living, the traffic decreases the farther you get away from the city.
Up & down weather: Washington, D.C.'s weather is a study in contrasts. With notoriously hot and muggy summers and harsh winters (sometimes), things can get a bit uncomfortable during certain times of the year. The springtime and fall are to die for, though.
Washington, D.C. Climate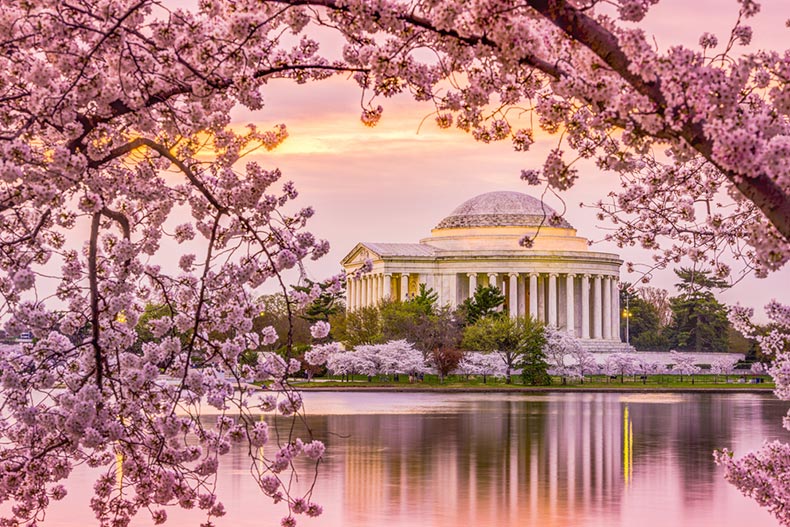 Looking over the course of one full year in Washington, D.C., the temperature generally ranges from about 29 degrees to 88 degrees. The best times to visit are from the end of May through early October.
December, January, and February are the coldest months, and March and April are cool. June through August are the warmest and muggiest, and the humidity tapers off as things get colder towards the middle of September through the end of the year.
In January, you can expect temperatures to range from 29 degrees to 44 degrees. July is the hottest month here, with temperatures that can be a comfortable 74 degrees or all the way up to 91degrees.
Most of the extreme weather periods here are brief, and overall, the area does have a reputation for having mild weather patterns when compared to other metropolitan regions. Locals and tourists spend plenty of quality time at D.C.'s outdoor attractions, including places like Rock Creek Park, the National Mall, and the Dupont Circle Farmers' Market.
Washington, D.C. Taxes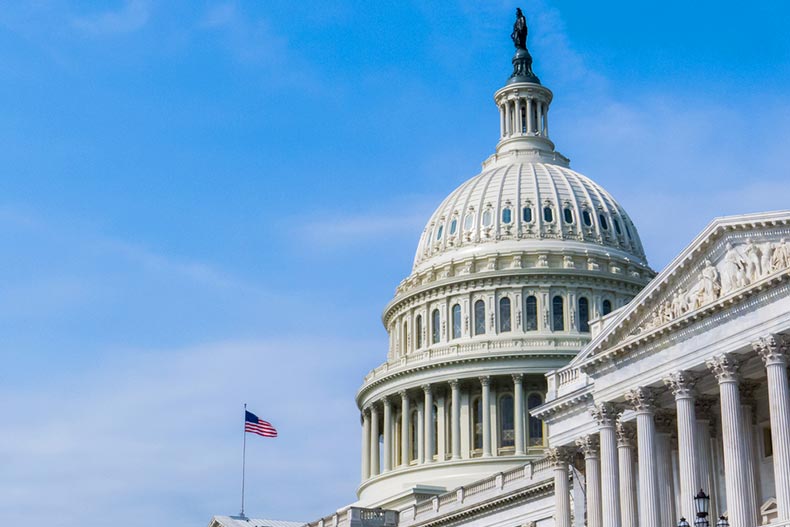 Washington, D.C. residents pay a progressive district income tax if they've lived there for at least 183 days out of the year. For example, someone earning from $60,000 to $250,000 pays an 8.5% income tax rate, and people who earn more or less pay higher and lower taxes.
These rates are quite high compared to national averages, as the district raised its rates for the 2021 tax year. The sales tax rate in the city is 6%.
Washington, D.C. Property Taxes
On the bright side, homeowners here pay low property taxes—the average property tax rate is just 0.56%. But like income tax in the surrounding suburbs, property taxes vary.
Washington, D.C. Retirement Income Taxes
Our nation's capital is somewhat tax-friendly for retirees. There's a full exemption for Social Security retirement benefits, but retirement account income and private pension income are taxed like regular income from four to 10.75%. Up to $3,000 of this can be deducted, though, and there's also a large estate tax.
Washington, D.C. Tax Exemptions for Seniors
The District offers a 50% property tax exemption for senior homeowners and disabled homeowners. To be eligible, applicants have to be at least age 65 or disabled, and the combined income of everyone who lives on the property cannot be more than $139,000. There's also a homestead deduction that can reduce a property's assessed value by as much as $78,700.
Washington, D.C. Health Care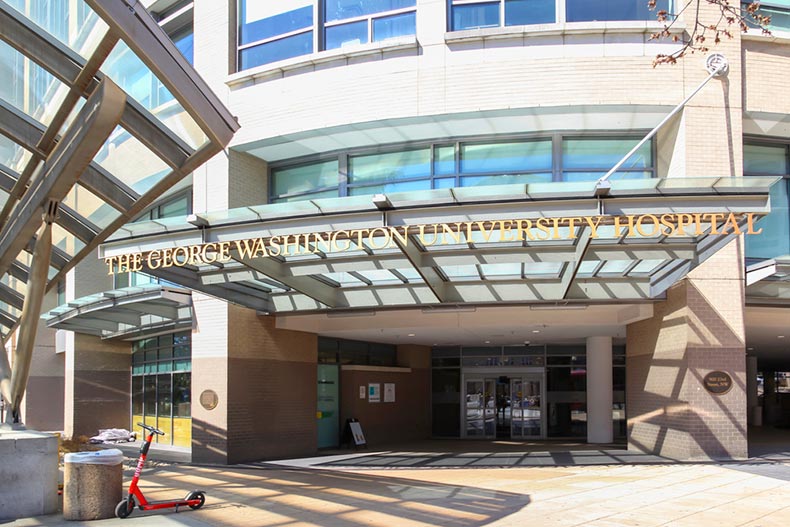 There are 16 medical centers within D.C., plus many medical research centers in the outlying areas. One of the latter is the famous National Institutes of Health (NIH) in Bethesda, MD. Inova Fairfax Hospital in Virginia is ranked highest in the region, and other top-performers include the Walter Reed Army Medical Center and Georgetown University Hospital's Lombardi Cancer Center.
Where to Live in Washington, D.C.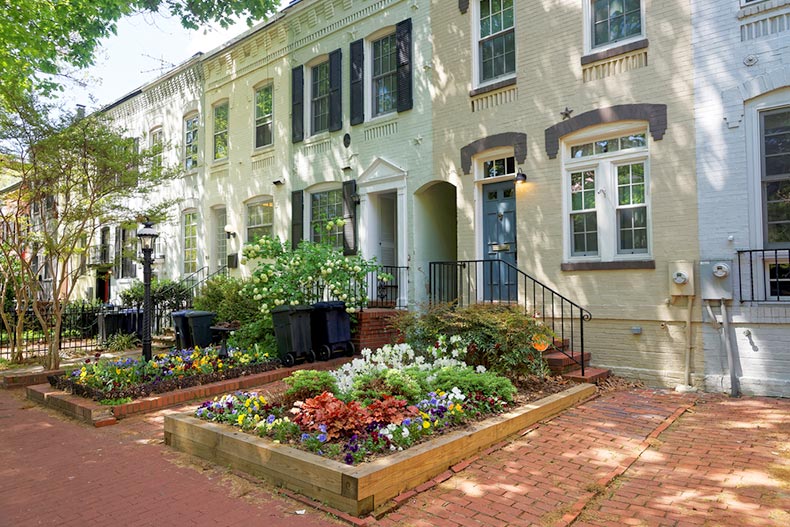 Without traffic, Baltimore is an hour south of D.C. and this area includes The Chesapeake Bay region and Annapolis. Areas closer to the city include Columbia and Ellicott City, and even closer are Bethesda, Potomac, and Chevy Chase. You also have Northern Virginia, with historic cities like Alexandria and Falls Church.
The closer you get to the city the higher the cost of living is, and all of these areas are excellent choices because they are close to where everything is, with some pretty spectacular scenery.
The Capital Region
Maryland's Capital Region includes some of the most exclusive suburbs in the state, such as Potomac, Chevy Chase, and Upper Marlboro, but ones that are further out like Westminster can be quite bucolic and peaceful. The three counties here are Prince George's, Montgomery, and furthest north, Frederick County. Notable landmarks close to D.C. include the Strathmore in Bethesda and the Great Falls of the Potomac.
The cost of living is high here, but the high quality of life is unquestionable. These suburbs have dense, urban feels, and there are many parks, shopping, and restaurants. Those who want to avoid the worst traffic try not to drive into D.C.
Popular attractions in the Capital Region outside of D.C. itself include the charming downtowns of Bethesda and Frederick, the Catocin Wildlife Preserve & Zoo, The Star-Spangled Banner Scenic Byway, and Monocacy Battlefield.
Located in Silver Spring, Leisure World® of Maryland is a large 55+ community with 5,600 resale condos, attached, and single-family homes priced from below $100k to the low $800s. With a wide variety of floor plans, a world-class golf facility, and two clubhouses, this property has everything that retirees are looking for.
Central Maryland
This region is to the east of the Capital Region and includes Baltimore, Annapolis, Columbia, and the Chesapeake Bay region. Here is where you'll find Baltimore's lively Inner Harbor, the Maryland State House, and Rockburn Branch Park.
Central Maryland offers an urban/suburban mix feel, with plenty of opportunities to spend time on the water. The Chesapeake Bay offers plenty of boating and seafood as does Baltimore's Inner Harbor area. The United States Naval Academy is located in Annapolis, and the downtown area is quite charming. Baltimore is larger, but it has more culturally diverse shops, museums, and restaurants.
This part of Maryland is farther from D.C., so the traffic isn't quite as intense. Some of its other attractions include Baltimore's historic Charles Street, the Piedmont Wine Trail, and the relaxing Kent Island area.
The planned community of Columbia is a stellar choice for active adult retirees and has four terrific 55+ communities: Eden Brook, Hickory Crest, Scot's Glen, and Snowden Overlook. The first three are small neighborhoods of less than 100 homes, but Snowden Overlook offers 350 resale condos in the mid $300s to the low $600s.
Fairway Overlook in Elkridge's Gatherings at Lyndwood has 216 resale attached homes, and it's about 33 miles north of D.C. and 16 miles south of Baltimore.
Northern Virginia
The top of Virginia butts up to Washington, D.C., and this is where you run into historically significant cities like Alexandria and Falls Church. Some of the most notable landmarks around here include Arlington National Cemetery and Belle Isle State Park.
Northern Virginia residents have access to some of the greatest historic sites in the country, seven professional sports teams, an amazing wine region, and year-round opportunities for outdoor hiking, biking, and kayaking. There are 60 colleges and universities here too, plus a renowned café culture and plenty of exciting concerts to attend.
The list of things to do here in Fairfax County is endless. There are eight large shopping malls, the Angelika Film Center, the amazing Mason Neck State Park, wineries, breweries, and great golf courses like the Jefferson District Golf Course.
Alexandria's Watergate at Landmark is perfect for downsizing, with 1,101 resale condos priced from the low $200s to the high $300s. This affordable property has a long list of indoor and outdoor amenities, including a fitness center, a golf practice room, and plenty of sports courts.
Spring Hill in Lorton, VA is a Del Webb community with 282 resale condo, attached and single-family homes priced from the low $400s to the low $600s.
Our third and final pick for Northern Virginia is Skyline House in Falls Church. It offers 557 resale condos priced from the mid $200s to the high $400s. It's less than 10 miles from D.C., and it features an outdoor pool and a party room.
Ready to Make the Move? 55places Can Help.
To discover more exciting 55+ communities in Washington, D.C., we invite you to contact us at 800-928-2055 or visit 55places.com. Our experienced team of real estate experts will guide you through the top options in your area and help you make a seamless transition from your current home to a 55+ community. We look forward to helping you make your next move the best one yet!