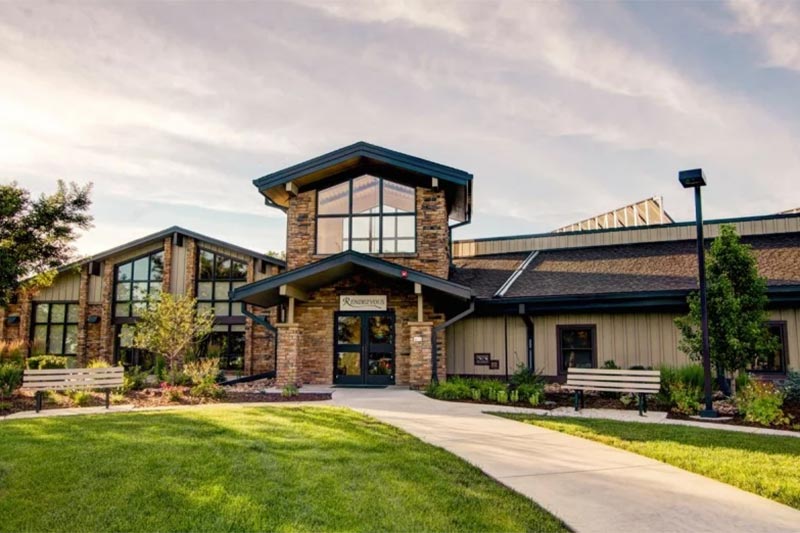 Heather Gardens is just one great active adult community for anyone looking for a lock and leave lifestyle.
Moving into an active adult community means many things: a new neighborhood with new neighbors, usually a community clubhouse with amenities and maybe a pool, and, arguably the most popular element, a low-maintenance home and lifestyle.
Increasingly, these developments are referred to as lock and leave communities, which is more than just a snappy marketing catchphrase and instead reflects the way modern active adults view their retirements—not as quietly settling down in a sleepy sun-belt neighborhood but instead having the freedom to travel and explore while enjoying new experiences.
What is a Lock and Leave Community?
The phrase "lock and leave" implies that the homeowner can simply lock up the residence for whatever adventure or travel is planned (or unplanned) without worrying about the condition of the home while away.
Dues paid to the homeowners' association (HOA) typically cover things like exterior home maintenance, landscaping and irrigation, and security, which give residents the peace of mind that everything will be taken care of while they're away. Condo buildings frequently offer this sort of maintenance, but it is not uncommon to find this service offered in communities with attached and single-family homes as well.
Lock and leave communities can be found throughout the country. However, while many offer similar services and amenities, there are distinct regional differences worth considering when exploring your options. Do you see outdoor adventures with camping and hiking in your future? Perhaps hitting the open road for weeks on end in an RV? Or maybe a jet set retirement where overseas trips are no longer a once-in-a-lifetime experience?
Ideal for RV Owners
RV enthusiasts know well that their vehicle is basically a second home and requires a lot of the same care and attention that a non-mobile home does. Recognizing the increasing popularity of the RV lifestyle, builders are incorporating secure RV storage lots into their site plans, relieving homeowners of the responsibility of securing off-site storage. These lots often permit homeowners to store their boats and watercraft as well. A community like Quail Creek Ridge, just south of Tucson, is an amenity-rich active lifestyle community that offers plenty of RV parking covered under the HOA fee.
Easy Access to Roadways & Travel Hubs
It is also worthwhile to not just consider the availability of parking for your home-away-from-home, but also proximity to major roadways. You want to make the "leave" portion of lock and leave a snap. Laguna Woods Village, Southern California's largest active adult community, is located just minutes from I-5, which stretches from Chula Vista north to Washington State and is often thought of as one of the most scenic roadways in the country. Heather Gardens in the Denver Area and Ford's Colony in Williamsburg, Virginia also offer this ideal combination of safe and secure storage along with easy access to major highways.
If your idea of a great vacation doesn't involve much driving, look for a lock and leave community like Wanaque Reserve in New Jersey's Passaic County. Its proximity to a major metro-area (New York City) means an abundance of options when booking departures from Newark Liberty International or LaGuardia airports.
Cruise Ports
Communities in Florida, the Los Angeles Area and the Gulf Coast of Texas offer unique proximity to some of the busiest ports of departures for cruise ships anywhere in North America. A community like Century Village at Pembroke Pines or New Horizons South Bay gives homeowners the flexibility to jump on a last-minute cruise deal with the peace of mind that comes from knowing everything at home will be in order when the trip is done.
Savvy homebuilders throughout the country are wise to emphasize the lock and leave lifestyle they offer their residents. This reflects the evolving nature of the active adult community experience.
Homeowners, of course, still value high-end amenities and thoughtfully designed neighborhoods, but the ability to leave home, free and untethered, certainly ranks among one of the better innovations offered by 55+ communities.