A lot of research goes into the process of determining which active adult community is right for you, from exploring home styles to builders to locations and more. But one of the best sources of information can come from the people who already live there. By reading reviews of active adult communities, interested buyers can get a sense of what it's like to live in a given community, which can help them narrow down their decision and find their next home.
We rounded up 25 of the best-reviewed communities on 55places so you can see what residents love about where they live. Across states like California, Florida, Arizona, and New Jersey, check out the top-rated active adult communities in the nation.
Low $200s – High $400s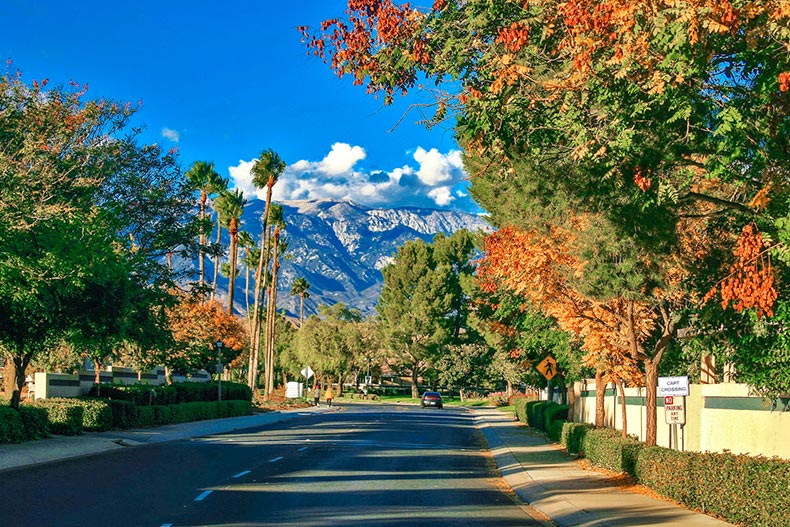 The best-reviewed community on 55places is Sun Lakes Country Club in Banning, California. This gated community with an impressive 52 reviews contains 3,300 single-family and condominium homes and boasts three clubhouses. The Main Clubhouse features the Sun Lakes Restaurant and the Sandwedge Grill, with amenities that feature a fitness center, ballroom, and library. Residents can also hit the links on the 18-hole championship golf course and 18-hole executive par-3 course.
With dozens of positive reviews, it's obvious that residents of Sun Lakes Country Club have an entertaining and fulfilling lifestyle. One resident, Pat J., says:
"I've lived in Sun Lakes Country Club for just under seven years and could not imagine living anywhere else! The people here are so very friendly and helpful; you never meet a stranger, only an instant friend. The place is beautiful with so many activities that if you ever are bored, it's your own fault. The absolutely perfect place to retire!"
Low $200s – High $500s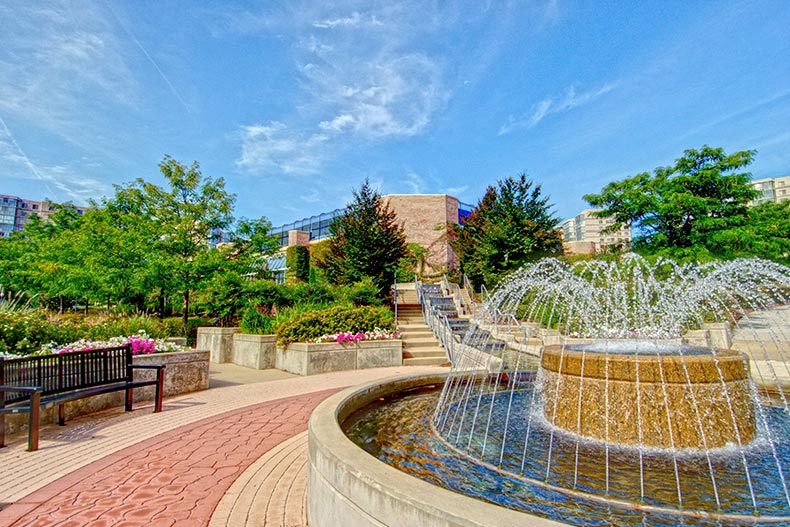 Lansdowne Woods of Virginia includes 1,200 condominium homes and many reviews speak of the community's scenic location near the Potomac River with several nearby trails through natural areas to explore. The amenities of Lansdowne Woods of Virginia include a 50,000-square-foot clubhouse, a state-of-the-art fitness center, and several arts and crafts studios. Also, Washington, D.C. is only about a 45-minute drive away, providing access to everything the nation's capital has to offer.
This review from Traudy M. gives an accurate overview of why Lansdowne Woods of Virginia has 38 positive reviews with an average of 4.5 stars:
"I moved to this community eight years ago and love it here. We have many activities, lectures, and assorted entertainment, something for everyone's taste, and people are friendly, helpful, and committed to our community. We have beautiful landscaping and everything is well maintained. This is a wonderful place and it feels like I live in a resort."
Low $200s – Low $400s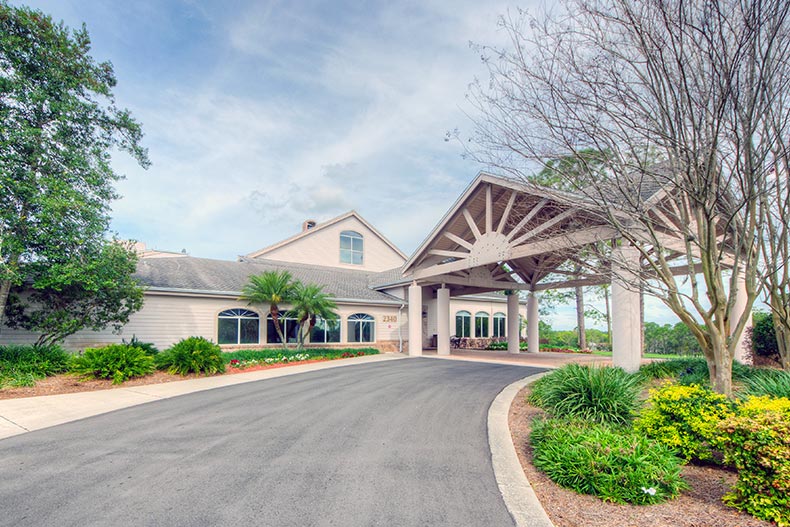 Located in the Tampa Bay Area, the gated 55+ community of Timber Pines is one of the best-reviewed communities on the Gulf Coast. With an abundance of amenities, including four golf courses, three clubhouses, and a performing arts center, homeowners at Timber Pines have choices on how to spend their free time. The community consists of 3,452 single-family and attached homes and interested homebuyers can choose between several floor plans.
One resident named Diane wrote a glowing review of Timber Pines:
"What a wonderful place to live! People are all friendly and the community is top-notch with all the activities and opportunities available. The streets are lined with mature trees and it is peaceful and quiet. Living here is like living in a resort! Definitely Florida's secret!"
Mid $700s – High $1Ms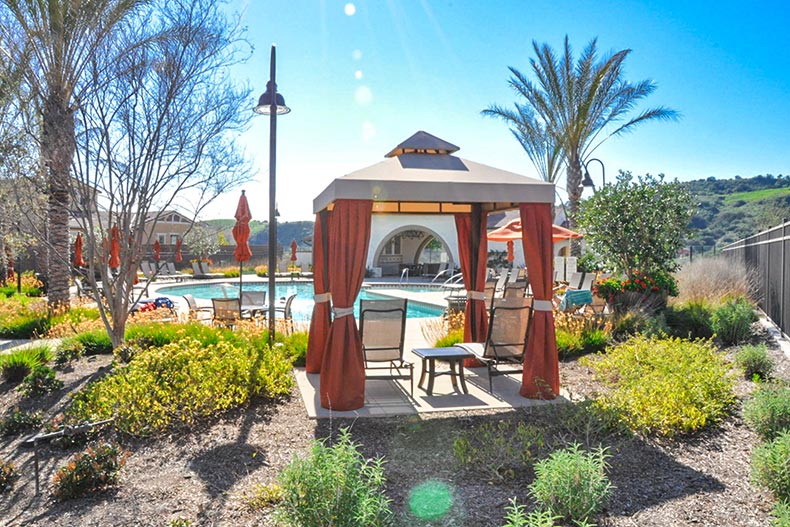 Gavilan in Rancho Mission Viejo has already received 26 reviews with an average of 4.5 stars despite it being a relatively new community. The community features several amenity centers with immersive names such as Outpost and Barbecue Barn where residents can congregate to socialize and relax. There are currently 1,200 single-family and attached homes, with more on the way, and this gated community gives a sense of seclusion and privacy in Orange County.
All of the evidence interested home buyers need to determine if Gavilan is well-liked by its residents can be found in the reviews. One from Thomas V. says:
"I have been a resident of this community for the past four years. I cannot say enough good things about it. Great gym, pool, and landscaping is first-rate, but it is the people who live here that make it truly a treasure."
Low $200s – High $400s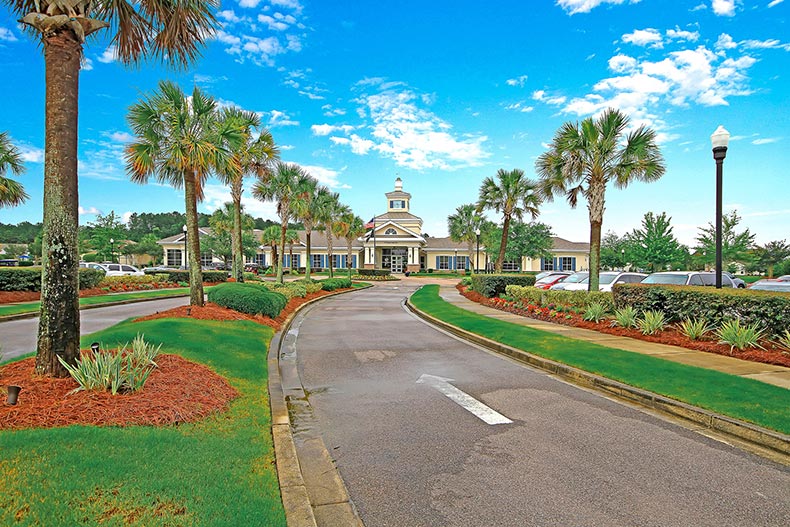 With resort-style amenities, a world-class social calendar, and an average rating of 4.8 stars, the gated 55+ community Del Webb at Cane Bay stands out as one of the best-reviewed age-restricted communities in South Carolina. This Del Webb community, which consists of 1,017 single-family homes across 360 acres, boasts a 20,000-square-foot clubhouse where residents can gather for activities that range from social groups to fitness classes to arts and crafts and many more.
Residents also appreciate the location of Del Webb at Cane Bay, as long-time resident Bob shared in his review:
"After living at Del Webb Cane Bay for over six years, there are absolutely no regrets regarding moving here. The first day that we drove through the front gate it felt like we were coming home . . . The proximity to Summerville and Charleston and all of the restaurants, shopping, and entertainment that those cities provide are just icing on the cake. I can't imagine a better place to retire."
High $100s – Mid $600s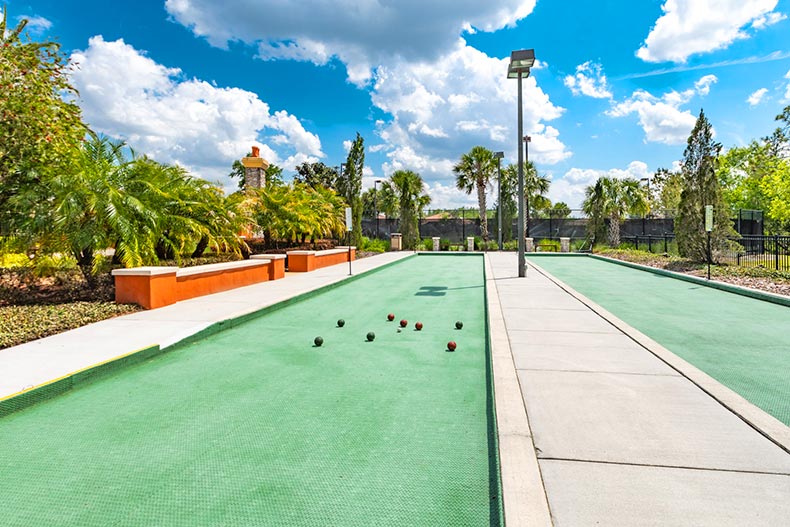 The gated master-planned community of Solivita is the best-rated community in Central Florida thanks to its affordable single-family and attached homes and its several thoughtful amenity campuses. From golf to a ballroom to a waterfront art gallery to a standalone fitness center and spa, the amenities at Solivita are designed with the homeowner in mind for convenience and excitement.
The social calendar at Solivita is also packed full of clubs, activities, and gatherings year-round.
Homeowners George and Mary Dailey speak on this:
"The added bonus is that there are just so many things to do a person could get overwhelmed. There is something for everyone. You can be as active and social as you want to be."
High $200s – Low $600s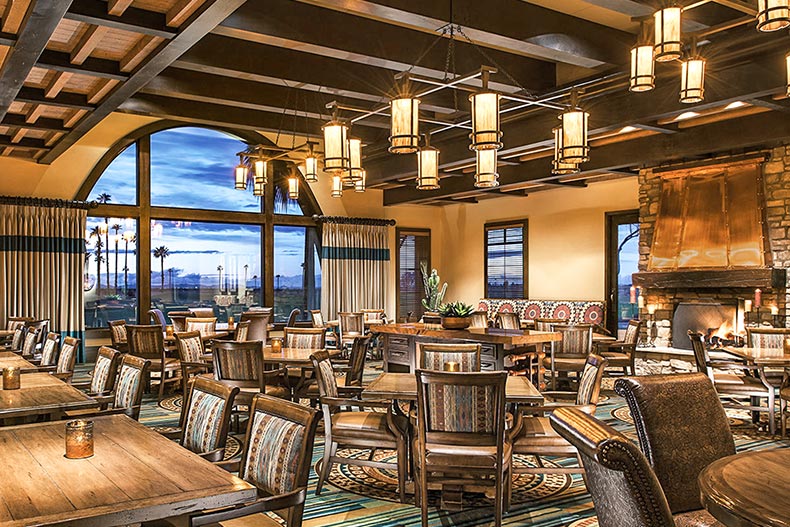 Robson Ranch Arizona can be found in Eloy, located 45 minutes from Tucson and 60 minutes from Phoenix. The gated community features several amenity centers, including the Ranch House, Sports Club, Creative Arts Center, and an 18-hole golf course. Residents lead active lifestyles thanks to the hundreds of clubs and interest group meetings hosted by the community.
Although Robson Ranch Arizona includes 4,600 single-family and attached homes, it still maintains a small-town feel, which is evident in this review by Roseann J. who says, "love it here! People are very friendly. It has everything we need. It is a hidden gem where everyone is like family."
High $300s – Low $1Ms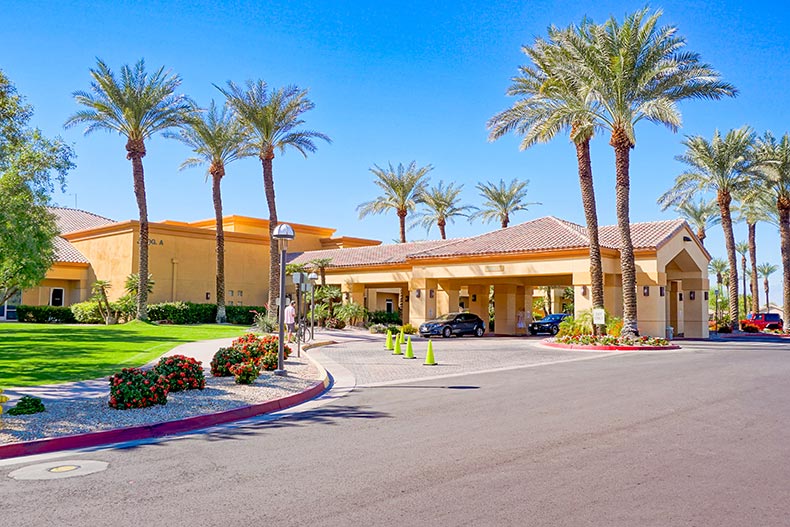 At Sun City Palm Desert, homeowners can choose from dozens of floor plans, take advantage of the industry-leading amenity centers, and find the right club to join with like-minded people, all in the heart of Southern California. This Del Webb community includes 4,949 single-family and attached homes and expansive amenity complexes, one of which includes 36 holes of golf.
Sun City Palm Desert has racked up 18 glowing reviews, like one from Jeanne B. that says:
"My husband and I moved here 5 years ago and have never had one regret. The people are welcoming, the association well run and the community is immaculately maintained. There are enough clubs and activities to meet the interests of any new resident."
Mid $300s – Mid $700s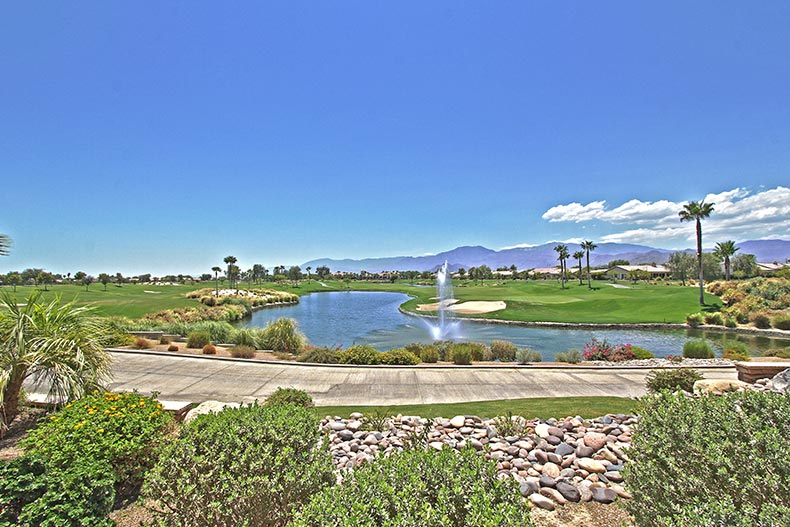 All 17 reviews of Sun City Shadow Hills rank the community as 5 stars, and for good reason. This short and to-the-point review from Mara P. summarizes why residents think the community is deserving of a perfect 5-star rating: "Fantastic relaxed resort lifestyle with great amenities and low HOA fees."
The community consists entirely of 3,400 single-family homes with many different floor plans designed for comfort and function to choose from. Homeowners at Sun City Shadow Hills can spend their time at two clubhouses packed with amenities and a golf club with an 18-hole course. The community is also 15 miles west of Palm Springs, which offers world-class shopping, dining, and entertainment.
Mid $300s – Mid $600s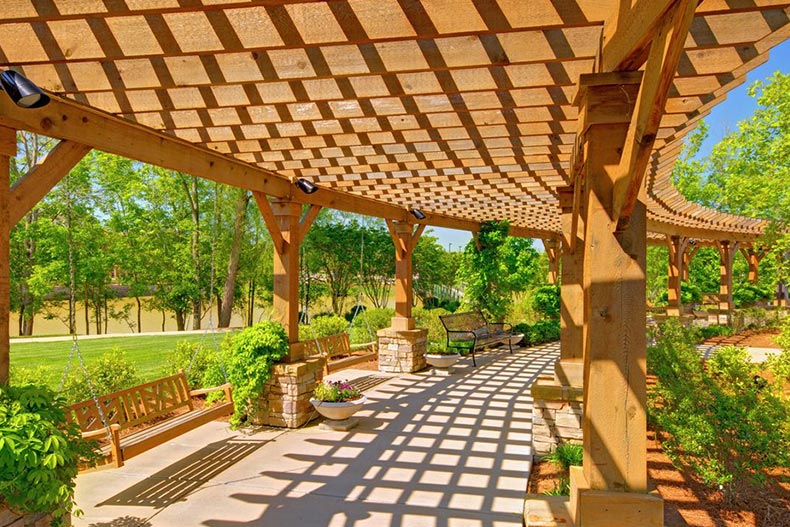 Located just 30 minutes west of Nashville in Mt. Juliet, Del Webb Lake Providence highlights some of the best aspects of living in Tennessee. With Nashville right around the corner, entertainment can be found any night of the week. Residents don't even have to leave the gates of their community though, as it boasts a 24,000-square-foot clubhouse, a 15-acre fishing and kayaking lake, an indoor lap pool, a state-of-the-art fitness center, and five miles of walking trails.
Reviewer Catherine M. expands on the benefits of the area inside and surrounding Del Webb Lake Providence, saying:
"​​Del Webb Lake Providence has provided me with more friends and activities than I have ever had in life! You get a real sense of belonging to a community. Close to downtown, the airport, golf courses, Old Hickory Lake, Percy Priest Lake, Long Hunter State Park, and shopping!"
Mid $300s – High $300s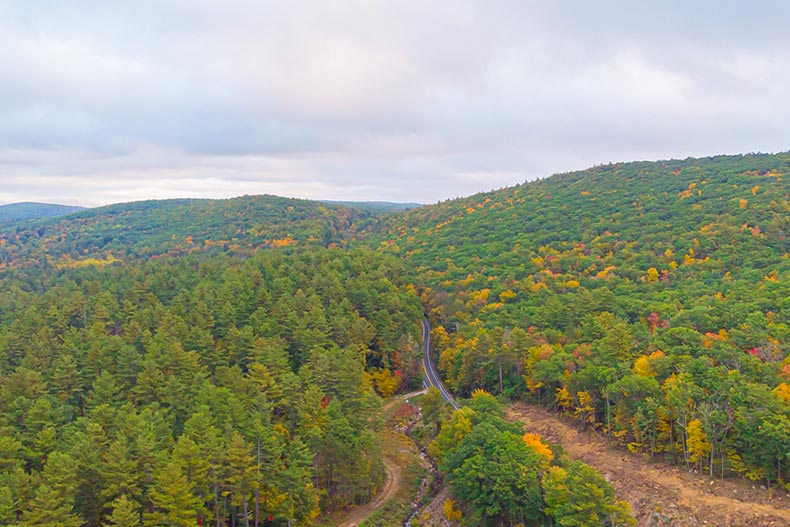 Chatfield Farms is an exclusive community located in scenic Western Connecticut less than 20 miles from the Atlantic Coast. With only 231 single-family homes, residents can enjoy privacy and seclusion as well as socializing with neighbors in the 10,000-square-foot clubhouse. In addition to amenities such as a fitness center and an indoor spa, residents can enjoy the heated outdoor pool and the nature trails that loop around scenic ponds.
Chatfield Farms embraces the small-town community feel without sacrificing the conveniences of well-thought-out amenities. Residents Mary and Al Tornatore testify in their review:
"We have been living at Chatfield Farms since 2008 and are delighted by everything about the community. Everyone is friendly and welcoming. There are tons of activities to keep people busy all year round. It is easy living at its best!"
High $200s – Mid $600s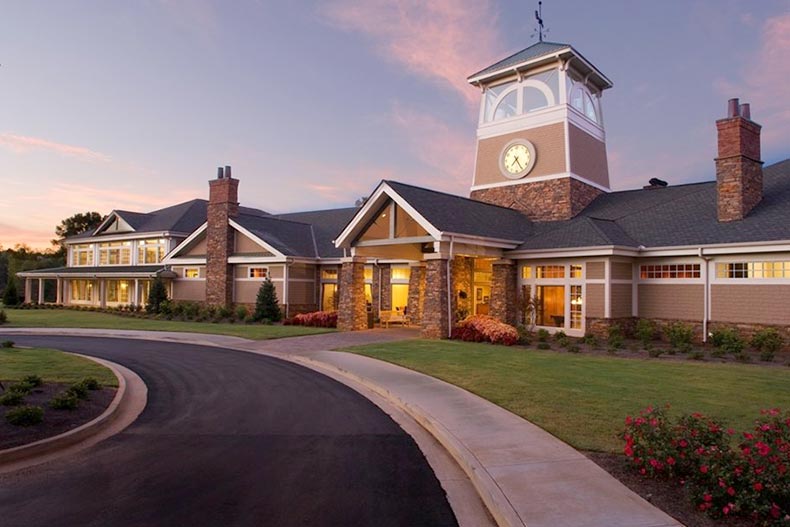 For Village at Deaton Creek, a gated 55+ community near Atlanta, a resident named L.H. gave the community a five-star rating and said:
"Love the community and lifestyle here. Beautiful walking trails, the landscaping is gorgeous, and there are so many activities to choose from. We couldn't have made a better choice for our retirement."
This Del Webb community sits a comfortable 45 minutes northeast of Atlanta, providing easy access to everything the city has to offer while also enjoying the charm and benefits of small-town Georgia. The gated community includes 1,144 single-family and attached homes, complemented with amenities that feature a spacious clubhouse, a state-of-the-art fitness center, nine miles of trails, and more than 100 clubs and activities to participate in.
High $500s – Mid $800s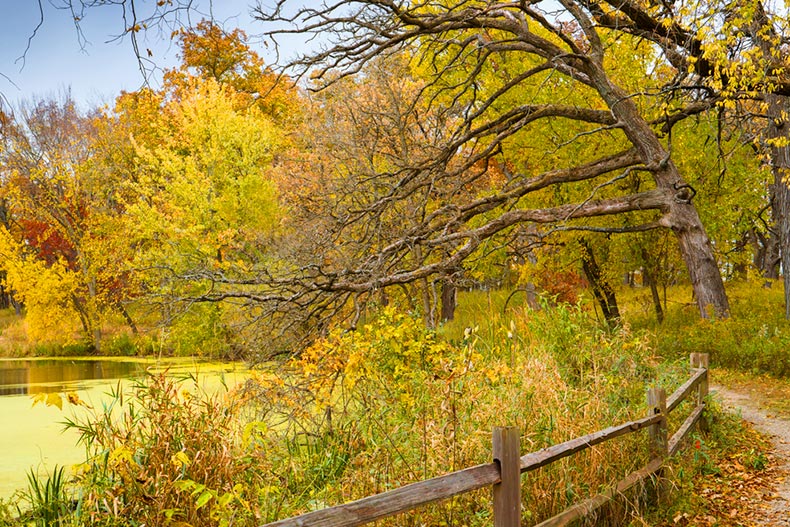 Another community with all five-star reviews is Regency at The Woods of South Barrington, located about 30 miles northwest of Chicago. The community's convenient location certainly contributes to the perfect ratings, which resident Tom backs up in his review:
"Our location is ideal, within walking distance to a number of quality restaurants and shopping. Also attractive is our location to I-90, which connects us to the city, airport, and north south highways."
The community's 156 single-family homes make it feel exclusive and private, and neighbors participate in clubs and activities together in the 10,000-square-foot clubhouse that has a ballroom, library, fitness center, and an outdoor pool with a patio. Regency at The Woods of South Barrington also includes a tennis court, two bocce ball courts, two shuffleboard courts, and a putting green.
High $200s – Low $500s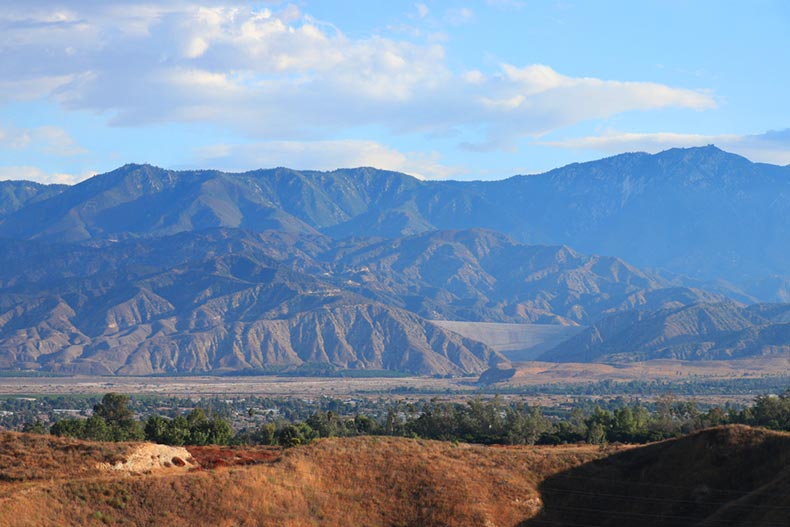 Four Seasons at Beaumont is located in Southern California just south of San Bernardino National Forest and slightly northwest of Mt. San Jacinto State Park, ensuring scenic landscapes in every direction. The community of 1,923 single-family and attached homes finished construction in 2019 and has already earned 12 five-star reviews. Three amenity buildings house resort-style facilities and state-of-the-art fitness centers that residents can enjoy.
With access to three amenity buildings and plenty of resort-style amenities, residents have access to plenty of opportunities for social activity. An activities director orchestrates a busy social calendar to support residents' lifestyles. Resident Connie M. speaks to the value of this, remarking:
"We have so many fantastic things going on each and every day. Our activities director is top notch and does an amazing job of scheduling lots of senior fun activities for us all to enjoy."
Mid $300s – Mid $1Ms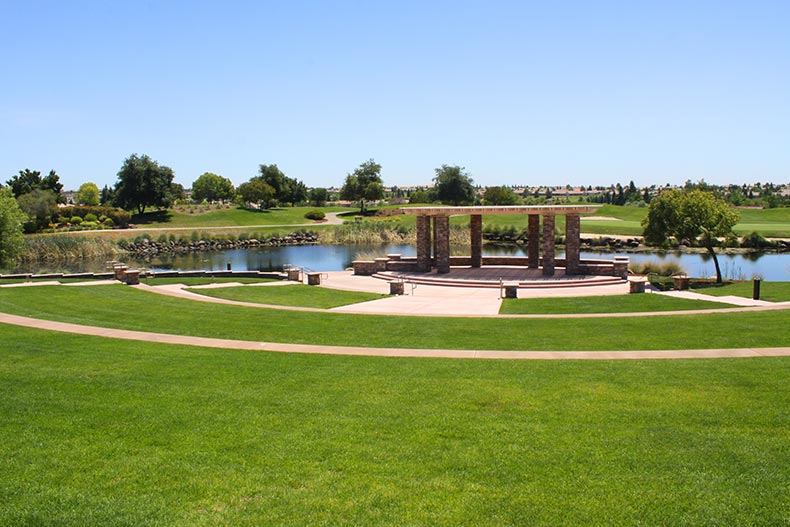 A 68,000-square-foot clubhouse, 27 miles of scenic fitness trails, and 36 holes of golf are just some of the amenities residents enjoy at Sun City Lincoln Hills in Northern California. Resident John K. highlighted many positive aspects of the community in his five-star review:
"There are 80 sanctioned clubs. There is a summer concert series in the amphitheatre and always local and international trips organized. We are close to Tahoe, San Francisco, Napa, Yosemite, Monterrey, and Mendocino. There are classes and guest speakers almost weekly on a variety of topics. This is living the dream with reasonably good weather all year."
The expansive Sun City Lincoln Hills by Del Webb has 6,783 single-family and attached homes. The location 40 minutes northeast of the state's capital, Sacramento, puts residents in easy reach of conveniences, entertainment, and natural areas.
High $200s – Mid $400s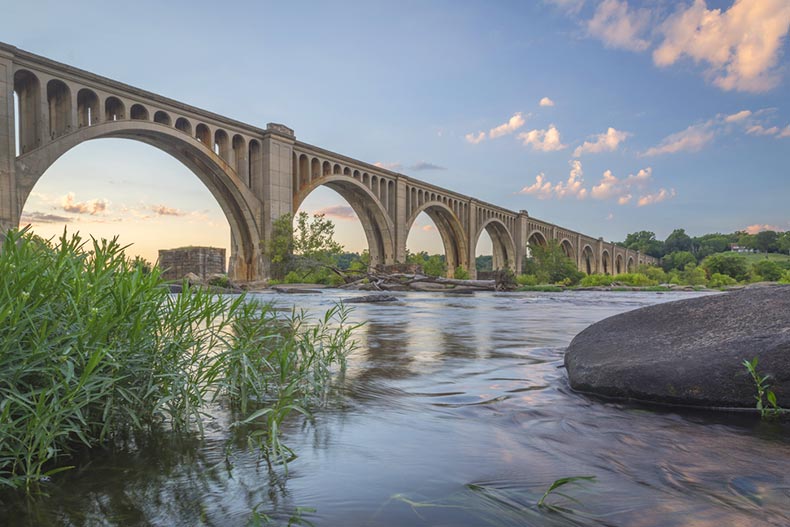 This highly-reviewed Ryan Homes development is located in New Kent, Virginia in the Williamsburg area. The exclusive The Groves at New Kent community includes just 155 single-family homes that come in an array of floor plans.
The Groves at New Kent is located in the larger master-planned New Kent Vineyards development, which, true to its name, features a winery that residents can visit. Additional amenities include an 18-hole golf course, an aquatic center, a fitness center, and walking trails. For residents who love to travel, the Richmond International Airport is only 15 minutes away.
17. Willow Lake – Bossier City, LA
Low $200s – Mid $200s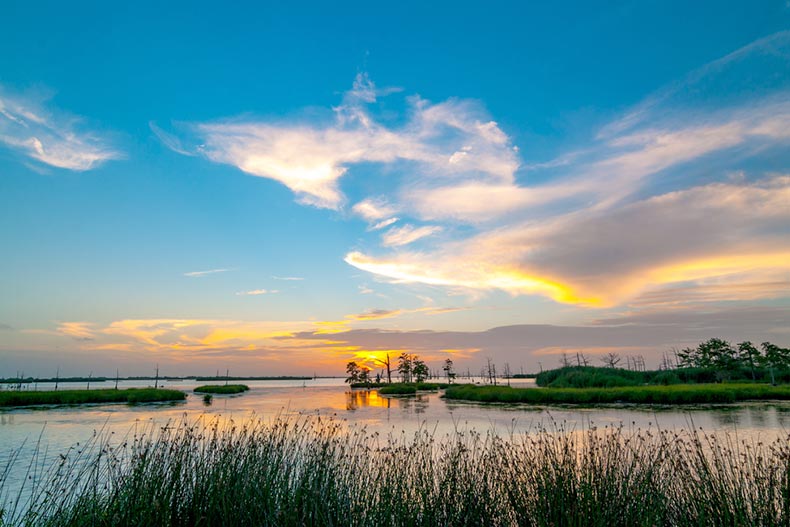 Active adults looking for low-maintenance single-family homes in Northern Louisiana will be interested in Willow Lake, located in Bossier City. The community of 165 single-family homes sits on 40 acres of natural area with a fishing lake and walking trails. As resident William M. observed, "the walkways and streams that run throughout are very attractive."
Meetups and social gatherings like holiday parties and margarita and nacho night make regular appearances on the community social calendar at Willow Lake. When residents aren't playing games with friends or relaxing in their homes, they can explore the nearby cities of Bossier City and Shreveport or one of the numerous natural areas nearby.
Mid $100s – High $300s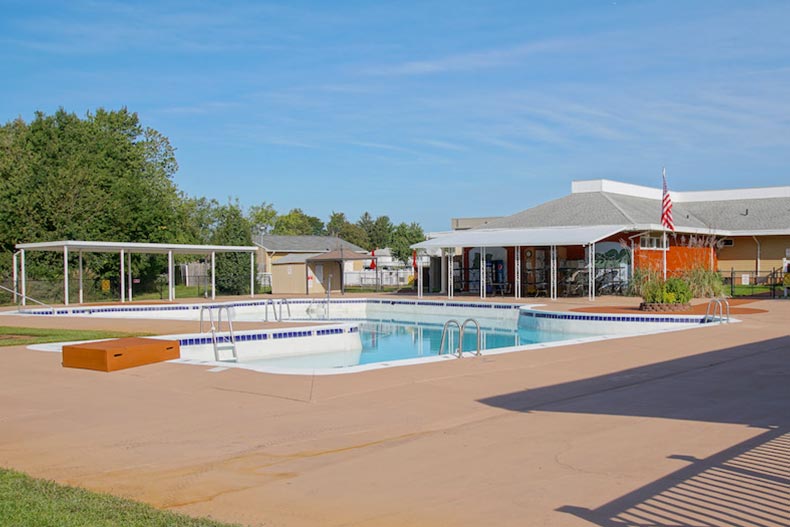 The master-planned community of Holiday City at Berkeley includes 10,636 affordable single-family homes, six clubhouses with amenities, and a prime location in Ocean County, New Jersey. The community borders Crossley Reserve natural area and residents can reach the Atlantic Coast within 30 minutes. For residents who don't want to go all the way to the beach to swim, Holiday City provides several outdoor pools with patios.
Resident Jen G. admires that "homes here are a tremendous value. The clubhouses are very active and there are always lots of activities as well as seasonal parties planned. All the shopping and conveniences you need are along Route 70." The abundant activities include numerous clubs and interest groups, like bocce club, woodshop, fishing club, line dancing, and book club, where homeowners can find like-minded individuals and friendly neighbors.
Low $200s – Mid $500s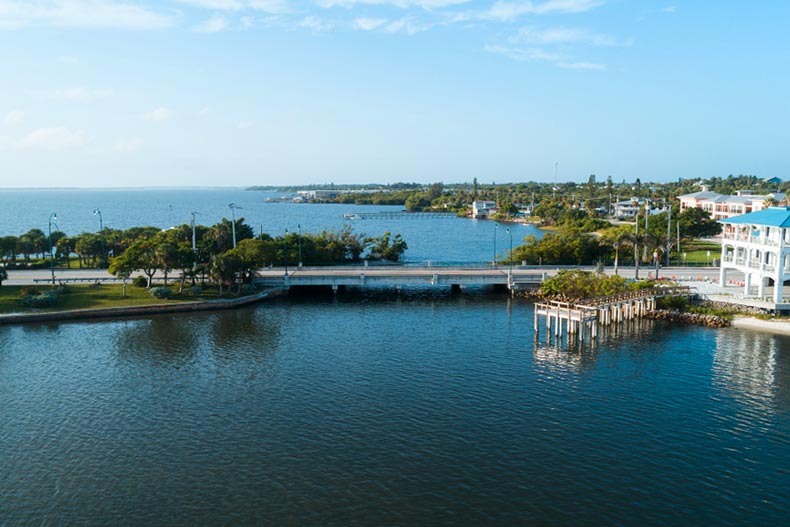 Vitalia at Traditions, a 55+ community within the larger master-planned Traditions development, offers the only age-restricted neighborhood within Traditions, a well-regarded community in Port St. Lucie, Florida. Vitalia at Traditions boasts The Captiva Club, a 24,000-square-foot amenity center with resort-style amenities that provide entertainment and fitness to the residents of the 1,200 single-family homes. These amenities include a state-of-the-art fitness center, arts and crafts studio, a billiards and darts room, a heated outdoor pool and patio, and numerous athletic courts.
Homeowners Louis and Brenda Moore say:
"Of all the places in the world that we have been and could have chosen to call home, Port St. Lucie checks all of the boxes for us." The desirable location of the community along the scenic Treasure Coast means that residents can find all the nearby conveniences they need, as well as miles of scenic beaches and outdoor recreation.
Mid $100s – Low $300s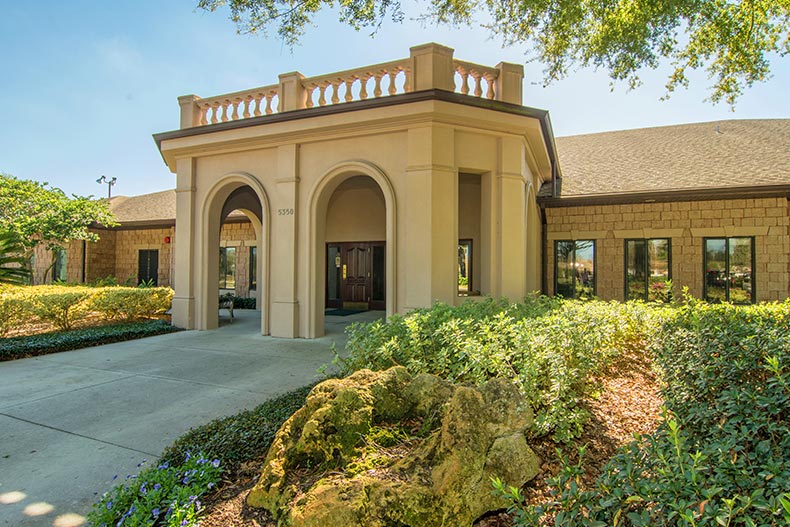 With resort-style amenities, an 18-hole golf course, and affordable homes for sale in Leesburg, the gated 55+ community Royal Highlands connects residents to some of the best that a Central Florida retirement has to offer. The well-established community consists of 1,500 single-family homes across 1,100 scenic acres, surrounded by parks, natural spaces, and lakes and ponds.
Recently, one resident shared their positive experience with calling this sought-after community home. D. H. wrote:
"We have lived in Royal Highlands for five years. Our neighbors are so friendly and helpful. One-third of this community is dedicated to conservation (land and water). We love to walk the Nature Trail . . . We are proud to call Royal Highlands our home."
Mid $200s – Low $400s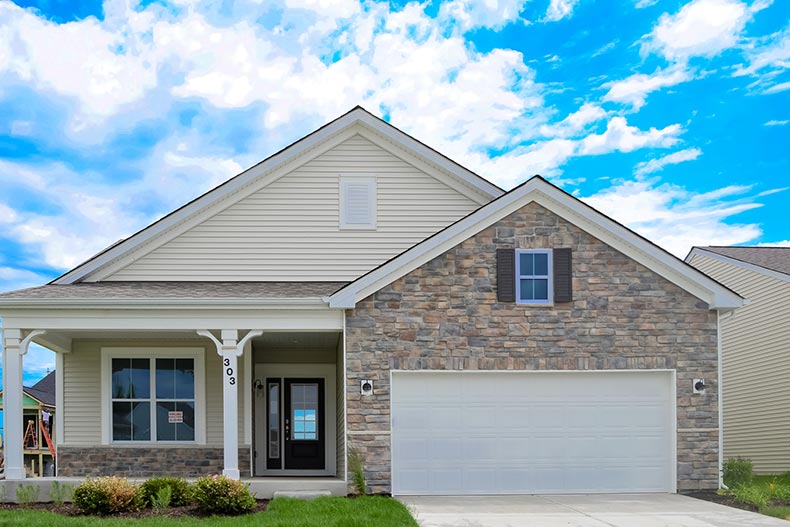 Active adults looking forward to a Wisconsin retirement can find a top-rated active adult community in Symphony Bay, an active lifestyle community in Lake Geneva. Construction on this community began in 2017 with plans to build 427 single-family homes total.
In addition to spacious floor plans, residents of Symphony Bay can enjoy an impressive lineup of amenities. The amenities feature a clubhouse, outdoor pools, and walking and biking trails. Residents even have access to the Lakeside Retreat on Lake Geneva, a private clubhouse with a boat launch.
Interested buyers can still find new single-family homes for sale in Lake Geneva, WI at Symphony Bay. Betty and Joe O. shared their positive experience, writing:
"We are so excited to make our move here! It's a great location and a beautiful community. Not far from family and friends in Illinois and the lifestyle we want."
High $100s – Low $400s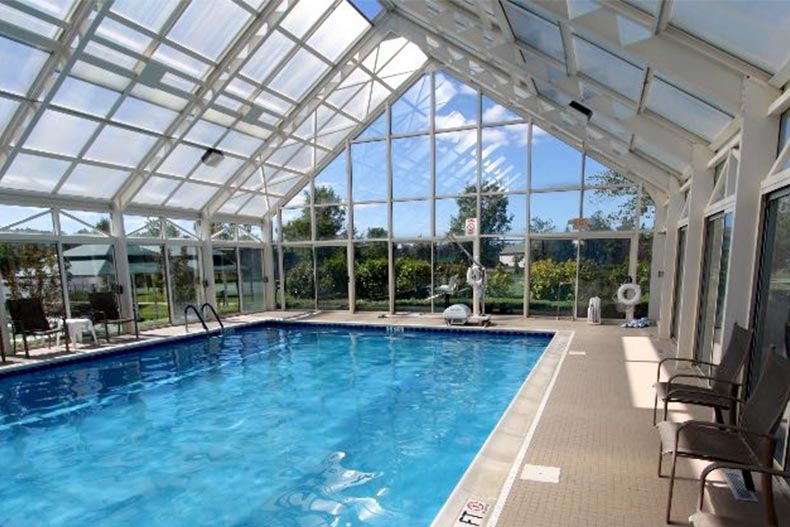 Just 20 minutes away from Atlantic City and right around the corner from historic small-town Smithville, Four Seasons at Smithville combines a convenient location with ideal amenities and home styles. The 1,215 single-family and attached homes include lawn care and snow removal services thanks to an affordable homeowners' association. The 23,000-square-foot clubhouse features amenities like a state-of-the-art fitness center, indoor pool, and ballroom. Outside, residents can enjoy a pool and patio, several athletic courts, and walking trails.
Bonnie P. describes the active and social lifestyle that she and her husband enjoy in her five-star review of Four Seasons at Smithville:
"So much to do here and nearby. Husband plays tennis a few times a week. We play shuffleboard once a week with a team. Learned to play bocce ball with free lessons. Shoot pool, ping pong, play card games and weekly bingo, too."
Low $400s – Mid $1Ms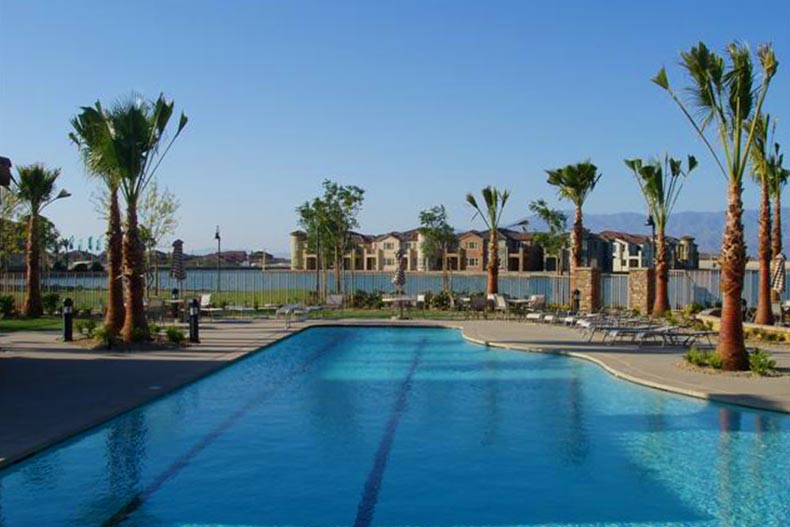 As Southern California continues to grow as a retirement destination, more and more active adults move to some of the top-rated active adult communities in The Golden State. Those looking for a well-regarded community near the Palm Springs area should explore Terra Lago, a gated active lifestyle community with 639 single-family and attached homes.
At Terra Lago, residents can enjoy resort-style amenities, plentiful lifestyle activities, and a sense of community. Susan S. remarked:
"We are original owners in Terra Lago . . . we really enjoy the wonderful sense of community in Terra Lago. We have community events that bring us together, so you really do get to know your neighbors. Yes, [you can] even borrow a cup of sugar and/or offer to help a neighbor in need of a favor."
Mid $300s – Mid $500s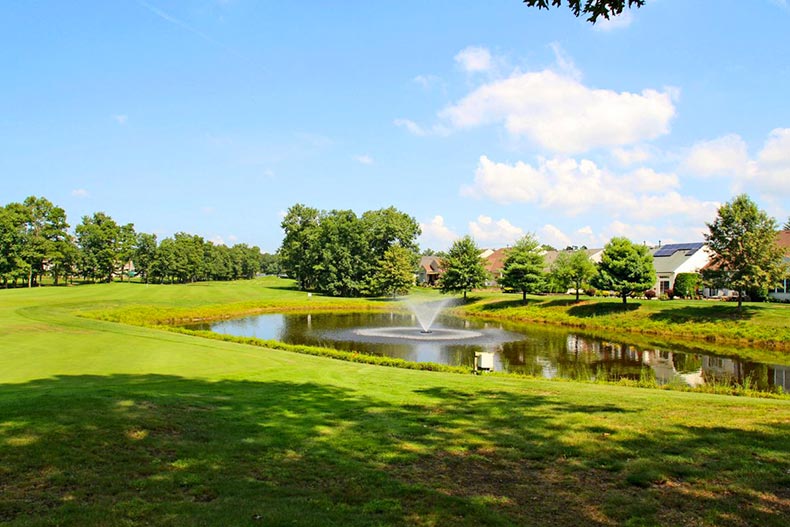 Located in Ocean County in Southern New Jersey, Westlake Golf and Country Club offers active adults an amenity-rich lifestyle within 30 minutes of the scenic shoreline, entertainment, and recreation along the Jersey Shore. Built between 1999 and 2006, this well-maintained gated 55+ community consists of 1,421 single-family homes.
Residents can enjoy plenty of amenities and lifestyle activities centered around the 30,000-square-foot community clubhouse. The clubhouse features amenities such as a restaurant, fitness center, and indoor and outdoor pools. The community also features a championship 18-hole golf course. According to resident Frank R.:
"The clubhouse has a great view of the patio/pool area. Updated and well-maintained, the community is perfect. Golf course is fun, but challenging."
High $100s – High $900s
Since 1978, residents of Sun City West in Arizona have been raving about the community's top-notch amenities, abundant lifestyle activities, and low-maintenance floor plans. One snowbird resident, Les O., shared what they love about this well-known 55+ community:
"We have spent seven winters in [Sun City] West. Reasonable prices, solar panels, and low taxes make it a star in senior living. The golf is low price and the opportunity to play all sports is unequal . . . We even have a town with cart access. It is filled with eateries, doctors, dentists, and hardware stores. The people are great at volunteering. It's a little slice of heaven."
With 16,900 single-family and attached homes, Sun City West features an array of world-class amenities designed to support an active physical and social lifestyle. The full social calendar includes plenty of clubs, activities, and gatherings, such as social groups, arts and crafts, cards, games, dancing, music groups, and more.
Methodology
All of the communities on this list have an average rating of 4.5 or better as well as nine or more total reviews. Communities are first ranked by the number of reviews received followed by the average rating of those reviews.