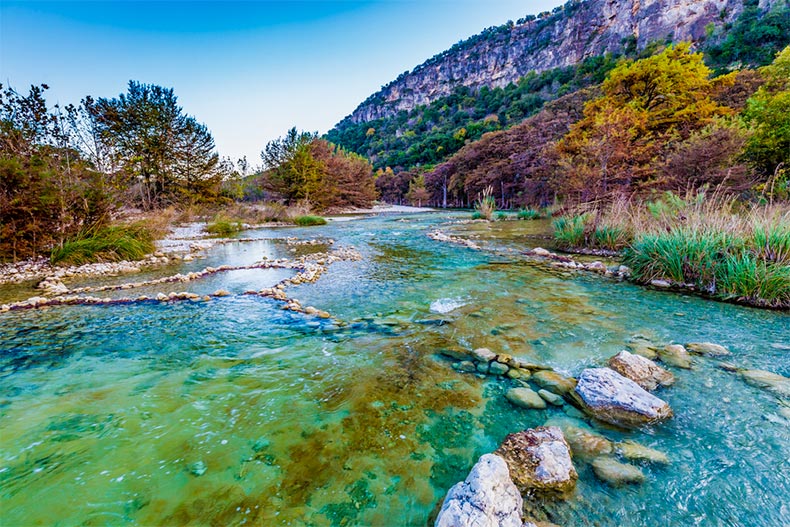 They say everything is bigger in Texas, and when it comes to places to enjoy natural beauty, the statement is certainly true. The country's second-largest state shows off its splendor through tropical beaches, stunning canyons, peaceful lakes, and sweeping countryside.
With a sunny, favorable climate almost year-round, Texans are never short on vitamin D while they're out exploring and enjoying their great state. Here are the 10 best places to live in Texas for active adults who have a passion for nature.
Galveston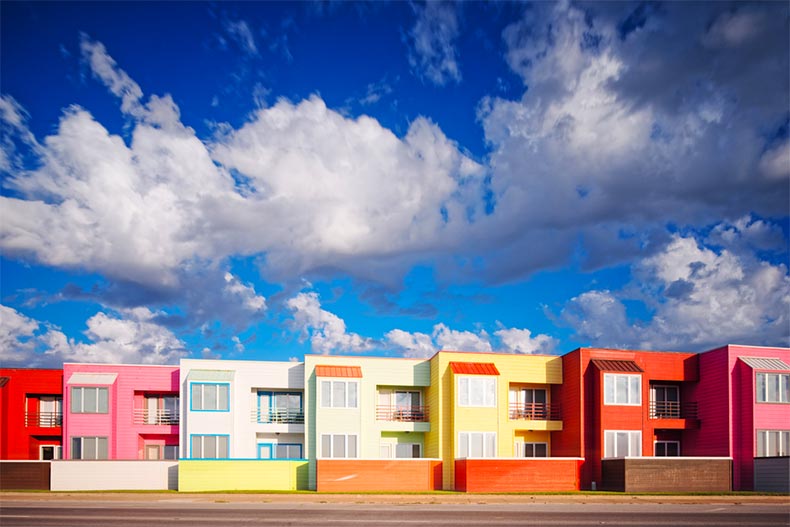 Tourists and Texans alike laud South Padre Island as home to the state's most idyllic beaches, but Galveston can certainly hold its own. This palm-tree-lined, historic town provides a coastal haven for active adults who crave a carefree, tropical lifestyle but don't want to be far from Houston. The destination is only about 40 minutes south of the country's fourth-largest city, allowing retirees easy access to big-city life and nearby family.
Hill Country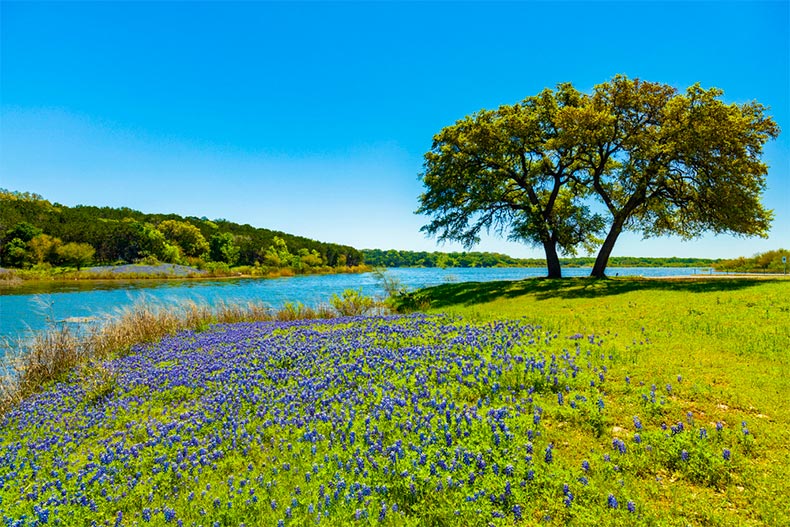 Whether you want to fish, bike, or just take in the scenery, Hill Country is a great option.
Deep in the heart of Texas lies the Texas Hill Country, where showstopping scenery and natural wonders are abundant. It's no surprise that cities like Austin and Fredericksburg were recognized on Forbes' list of 25 Best Places to Retire. Here active adults can spend the day fishing or boating, or watch the sun go down over one of the area's dozens of freshwater lakes and pristine rivers.
Brownsville
Located at the southernmost tip of Texas, Brownsville is a mecca for American and Mexican beachgoers. Active adults appreciate that there's always a fiesta happening in the state's 16th most populous city. For those looking to explore the outdoors, birdwatchers can find a tranquil escape at Resaca de la Palma, the largest tract of native habitat in the World Birding Center network. Here, retirees can stroll miles of trails or pause on a deck that overlooks the Resaca, or channels, in the Rio Grande basin.
Graham
Situated in the stunning North Texas Hill Country, Graham is just the place for active adults to live, play, and soak in the area's striking natural beauty. Home to Possum Kingdom Lake, outdoor enthusiasts can dive into an exciting day of lake swimming, fishing, or boating, or take it easy with a relaxing nature study and picnic.
Amarillo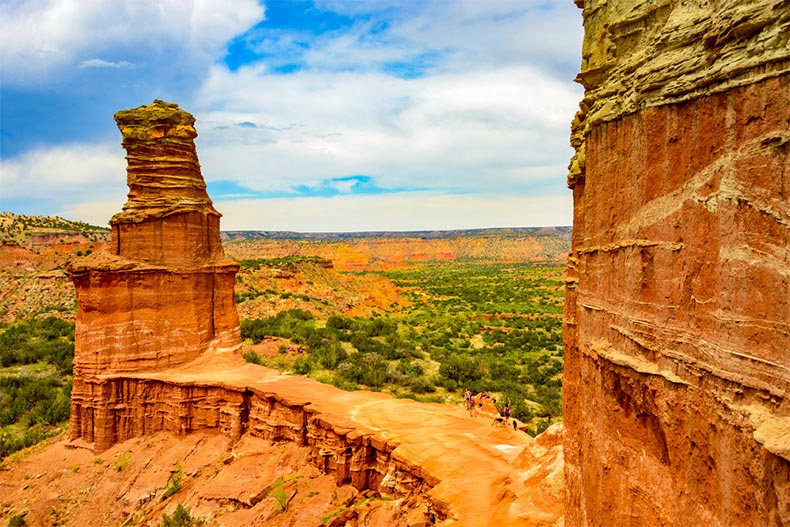 Palo Duro Canyon State Park is just southeast of Amarillo.
Retirees looking to immerse themselves in culture and nature will love Amarillo, a history-rich city in the Texas panhandle. The city is a gateway to the sweeping beauty of Palo Duro Canyon State Park, which is second in size only to the Grand Canyon. The park experiences much fewer visitors, though, making it somewhat of a hidden gem for active adults who want to explore hiking and biking trails, spend a week RV camping, or enjoy lunch with a view under a shaded picnic area.
East Texas
For active adults seeking a truly active lifestyle, East Texas is a treasure. Boasting its own distinct ecology, the region is home to many of Texas' swamplands, which make for excellent exploring opportunities. At Caddo Lake, a 25,400-acre lake and bayou on the border of Texas and Louisiana, locals can explore a natural playground of waterways via canoe or kayak.
Grapevine
Ranked as one of Money magazine's Best Places to Live in 2017, Grapevine is a charming city situated in the heart of the Dallas/Fort Worth Metroplex. It is home to 25 miles of recreation trails, an urban wine trail linking multiple wineries, and endless recreation opportunities on Lake Grapevine. Active adults can take a refreshing dip in this 8,000-acre lake, spend the day fishing, or camp alongside the fresh water.
Western Central Texas
Two hours north of Texas' capital city of Austin lies Colorado State Bend Park, where active adults can spend a weekend exploring the unspoiled wilderness of Colorado Bend. They can marvel at vast caves, paddle the Colorado River, cool off in Spicewood Springs, or gaze at the real treasure: a 60-foot waterfall cascading into a fern-coated grotto.
Van Horn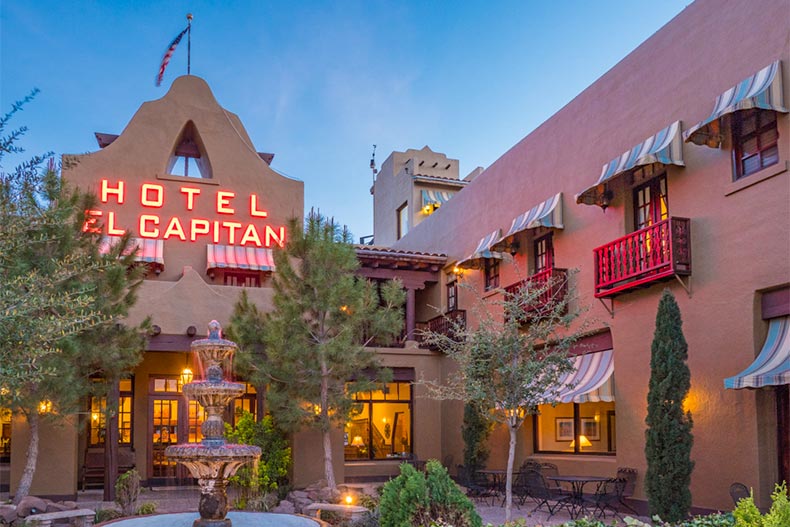 About 100 miles east of El Paso, on the Texas-New Mexico border, rises El Capitan, the eighth-highest natural point in Texas. Part of the Guadalupe Mountains, it offers plentiful excitement and a satisfying view for active adults who enjoy hiking and biking along winding mountain trails. In the winter, Texans can even see a light dusting of snow along peaks in the Guadalupe Mountains National Park.
New Waverly
For nature lovers who want to experience a variety of activities, New Waverly, about 50 miles north of Houston, provides more than 160,000 acres of natural beauty to explore. As one of only four national forests in Texas, the Sam Houston National Forest is home to a winding, 128-mile hiking trail. Here campers can enjoy horseback riding, wildlife watching, canoeing, and bicycling.