Washington, D.C. is much more than the political epicenter of the U.S. Its culture and history meld with modern sensibilities, but living within its city limits might not be on every retiree's bucket list.
Homeowners who reside in the surrounding areas enjoy the cosmopolitan lifestyle that comes with being near the nation's capital and greenspaces. That's why the top Washington D.C. gated communities are located in Virginia and Maryland. As you'll see, they're located closer to D.C. and not too far from Baltimore. These two major cities are only about an hour apart from one another and are both great places to visit. You might prefer to stay away from that action (and traffic), but living close by means that you have the option of going to either at your leisure.
One of the best parts about living near D.C. is that you'll never be searching for things to do. The gated 55+ communities below all have clubhouses that are packed with indoor and outdoor amenities, and most have organized events like fitness classes and parties.
When you're in the mood to go offsite, D.C.'s National Mall is one of the best attractions. After you've experienced the majestic buildings, museums, and landscaping, you might want to go shopping in Georgetown or head out to visit Arlington National Cemetery. And if the community you settle in doesn't have an on-site golf course (two below have them), there are many public and private ones in the surrounding area.
Some of the highest-ranking medical organizations in the D.C. region include Inova Fairfax, MedStar Washington Hospital, Medstar Georgetown University, and Johns Hopkins Medicine-Sibley Memorial. And you'll be at no loss to find national and international flights with all of the airports to choose from: Dulles International, Ronald Reagan Washington National, and Baltimore/Washington International (BWI) are three of the largest.
Here are five regional Washington, D.C. gated communities with exceptional locations, floor plans, and amenities that are conducive to active adult lifestyles. You'll be happy to see options in almost every price range and a wide variety of condo, attached, and single-family floor plans.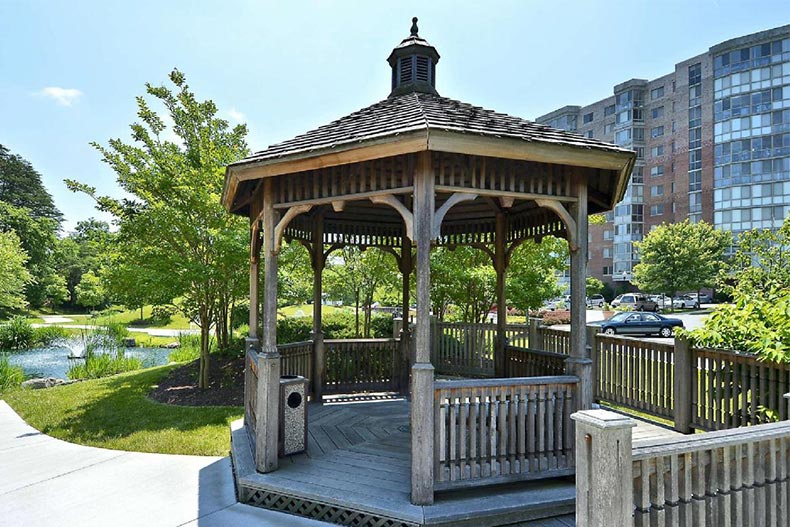 With a desirable location in the Baltimore-D.C. Metro Area, Leisure World of Maryland is in Silver Spring, Maryland, placing it 15 miles from D.C. and about 35 from Baltimore. This appealing 55+ community was built from 1966 to 2009 and has 5,600 resale condo, attached, and single-family homes.
The condos here range from 705 to 1,790 square feet. These offer one to three bedrooms, one-and-a-half to two-and-a-half baths, and assigned parking spots. The attached homes range from 650 to 1,450 square feet with one to three bedrooms, one to two-and-a-half baths, and parking spots or garages. Leisure World of Maryland's comfortable patio homes offer 870 to 1,200 feet with two to three bedrooms, one to two baths, and attached two-car garages.
The property's homeowner association (HOA) fees provide for exterior building maintenance, trash pickup, snow removal, water, cable TV, lawn care, sewer, a community bus service, and the security gate.
Leisure World of Maryland has an 18-hole golf course (membership required) with its own golf facility. Other desirable amenities include two clubhouses, indoor and outdoor pools, a bistro, an auditorium, hobby studios, and an onsite travel agency. There's also a long list of clubs and activities to enjoy, with everything from a garden club to a community Kiwanis club.
You might not want to leave this property because there's so much to do, but why not explore the area? Downtown Silver Spring is full of shops, restaurants, and art displays, plus a farmers market. There are plenty of other golf courses here too, plus outdoor recreation areas like Rock Creek Park.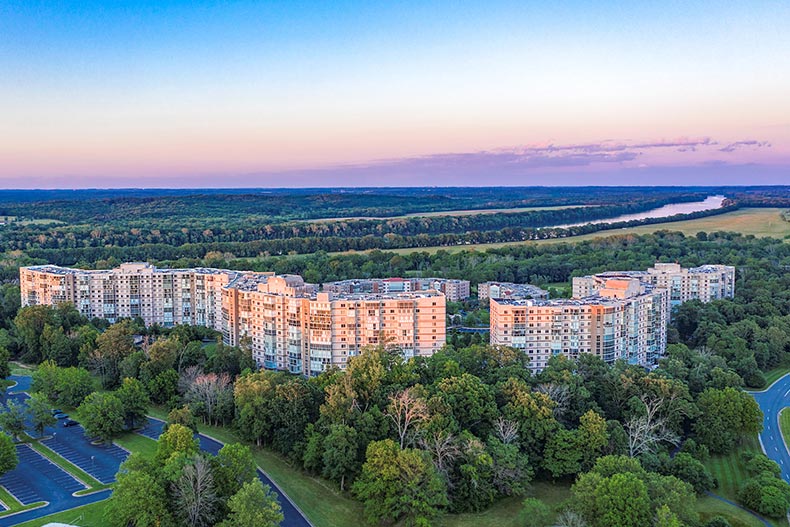 The second one of our Washington, D.C. gated communities is in the Washington, D.C. Metro Area, about 12 miles north of Dulles Airport. Lansdowne Woods of Virginia is geared for downsizing, with 1,200 resale condos built into seven buildings set on a 90-acre tract of land.
The condo units are sized from 1,000 to more than 2,500 square feet, with one to four bedrooms and two to four baths. You can expect to find features like enclosed balconies, gourmet kitchens, and spacious master suites. Upgrades may include marble floors and ensuite bathrooms.
The HOA fees cover the security gate, snow and trash removal, common area maintenance, cable, and internet. Garage parking is available for an additional fee.
This welcoming retirement community does not have a golf course, but it is less than 10 minutes from Belmont Country Club and Golf Course. Lansdowne Woods also has the resort-like amenities you'd expect in a modern active adult community. The 50,000-square-foot clubhouse features a state-of-the-art fitness center, an auditorium, a ballroom, hobby studios, and its own hair salon, restaurant, and interfaith chapel.
Outside, you'll find tennis and pickleball courts, trails, and gardening areas. Some of the most popular activity groups include the golf league, hiking club, and The Notables Singing Group. Residents also spend time together at community happy hours, lectures, wine tastings, and Mix & Mingle events.
This impressive 55+ neighborhood is close to the Virginia/Maryland border near the Potomac River, and you'll also like the nearby shopping, dining, and entertainment options. Wegmans, Safeway, and CVS are all short drives away as is Inova Loudoun Hospital. There are also pharmacies, hair salons, and pet stores that are only minutes away.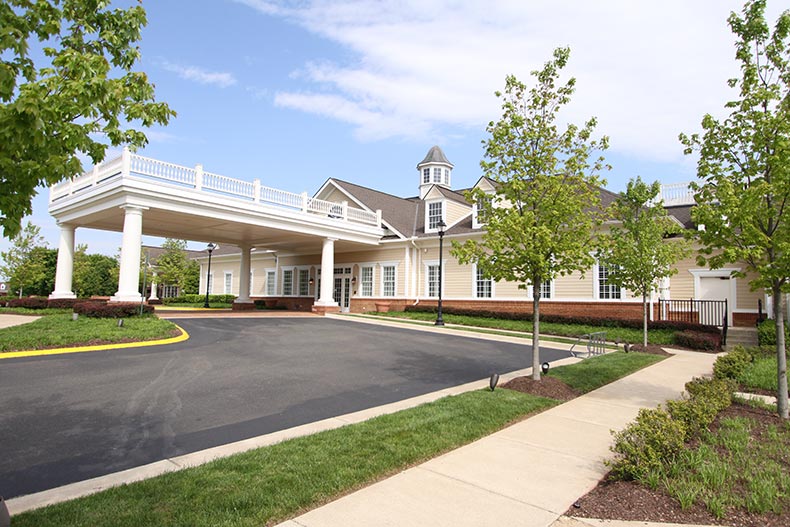 Built from 2001 to 2007, Regency at Dominion Valley is a medium-sized Washington, D.C. Metro Area active adult community that offers 855 resale condo, attached, and single-family homes. It's in Haymarket, a small town in prestigious Prince William County that's close to the scenic Blue Ridge Mountains. Haymarket is a wonderful place to retire, and if you enjoy community events like festivals and parades, you'll fit right in here.
Regency's condo units are housed within four-story buildings and were designed with five floor plans ranging from 1,478   to 1,833 square feet. They have two to three bedrooms and two bathrooms. The carriage-style attached homes have three floor plans ranging from 1,670 to 1,890 square feet with one to three bathrooms, two to three bedrooms, and two-car garages. The single-family homes range from 1,760 to 2,410 square feet and have up to three bedrooms, four bathrooms, plus two-car garages. You can expect to find luxurious upgrades like granite countertops, two-sided fireplaces, and sunrooms in these sophisticated, spacious homes.
One of the main attractions at this gated community is the community's 18-hole Arnold Palmer-designed golf club, which has its own pro shop. Other standout amenities include two restaurants, a state-of-the-art fitness center, game and hobby rooms, a resort-style pool, and an outdoor amphitheater.
There are plenty of organized activities to keep you busy here too, like fitness classes, holiday parties, an aquatic club, and planned trips. Regency at Dominion Valley's HOA provides for trash pickup and snow removal.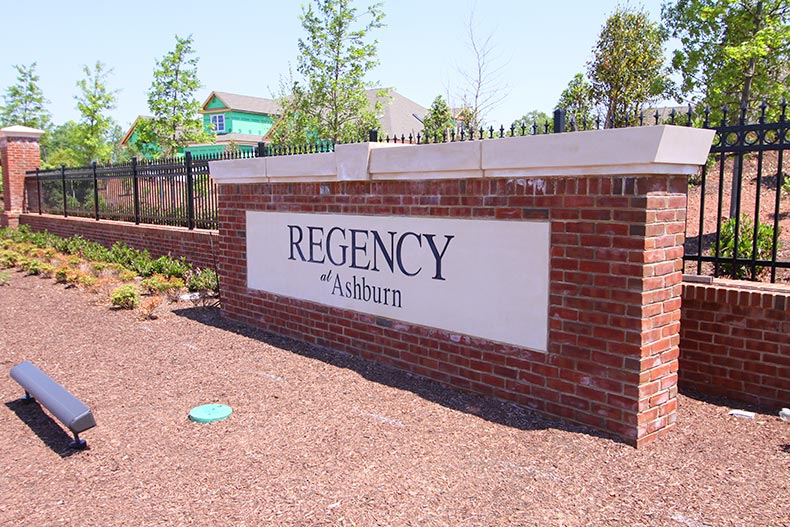 If you're in the market for a smaller 55+ community, Regency at Ashburn could hold the key to your happy retirement. It's just five miles from Lansdowne Woods of Virginia, so you can visit both in one day to compare and contrast. Regency was completed in 2020 and has 268 condos, attached, and single-family homes, plus a private clubhouse with a sparkling outdoor pool.
Regency has 10 condo floor plans, ranging from 1,488 to 1,909 square feet with two to three bedrooms, two bedrooms, and one-car garages. There are three attached models ranging from 1,659 to 1,981 square feet, with two to three bedrooms, two to three baths, and attached two-car garages.
The single-family models are 2,493 to 2,839 square feet also with two to three bedrooms, two to three baths, and attached two-car garages. These elegant homes have features like upgraded stainless steel appliances and extra storage units, and the HOA fees cover lawn care and exterior maintenance.
This intimate condo community is just minutes away from a shopping center that offers grocery shops, restaurants, and professional services like medical providers. Regency at Ashburn is also close to attractions like the Tysons Corner shopping complex, Reston, VA, and the beautiful Beaverdam Reservoir.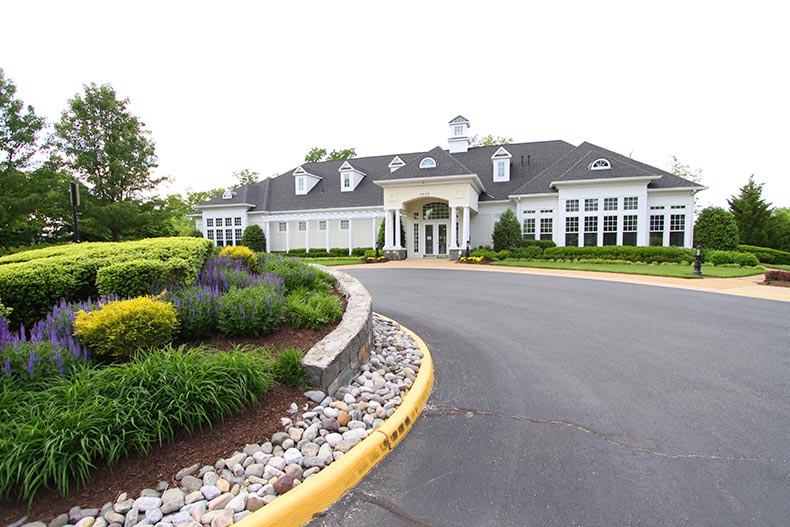 We saved one of our favorite Washington, D.C. gated communities for last: Dunbarton. This inviting age-restricted neighborhood is in the Washington, D.C. Metro Area, about 45 minutes from our nation's capital.  Also on the smaller side, Dunbarton has 479 attached duplexes and single-family homes. There are no condos at this property.
The attached homes here range from 1,506 to 1,740 square feet, with attached one-car garages. Dunbarton's single-family homes are sized from 1,768 to 2,197 square feet and have larger garages. All in all, there are 13 floor plans on the property. Some of these beautifully appointed homes have refined upgrades too, like vaulted ceilings, finished basements, extra storage, whole home humidifiers, and low-maintenance composite decks.
Dunbarton's 21,000-square-foot clubhouse is the heart of this community, where homeowners gather to take advantage of indoor and outdoor pools, a fitness center, and attend events in the grand ballroom. It's the perfect setting for the community's many activities and classes, like Fabulous Fusion, line dancing, the singles' group meetings, and cooking classes. There are also wine tastings, competitive pickleball games, and movie nights. The HOA fees take care of your trash pickup, snow removal, cable, Internet, and common area maintenance.
Bristow, VA is in Prince George's County and just outside of Historic Downtown Manassas. You can also spend quality time at the Bristow Manor Golf Club and Potomac Mills Mall. The main grocery stores in the area are Harris Teeter, Safeway, and Giant Food, and the best-known pharmacies are CVS and Walgreens.