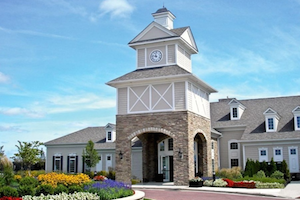 On the shores of Lake Erie, Cleveland, Ohio, is home to three professional sports teams and the Rock and Roll Hall of Fame. Visitors to the city can enjoy a variety of shopping, dining, and cultural attractions. Active adults who choose to settle in the area will also find amenity-rich communities in Cleveland's beautiful suburbs.
Climate
The city of Cleveland is located on the south shore of Lake Erie, about 60 miles west of the Pennsylvania border. Like the rest of the Great Lakes region, the Cleveland area experiences all four seasons, including winters that are cold and snowy. During the summer months, daytime high temperatures are often in the low to mid-80s. Winters are cold, with average days in the mid- to high 30s, and lake-effect snow often brings deep storms.
Attractions
Cleveland's downtown area features diverse architecture. There are neoclassical public buildings from the early 1900s, Beaux-Arts and Art Deco skyscrapers, as well as the modern geometry of the Rock and Roll Hall of Fame. Neighborhoods throughout the city are often defined by whether they fall on the east or west side of the Cuyahoga River. Beyond residential areas, the city includes a Financial District and Civic Center, while the Cleveland Theater District is home to Playhouse Square, the country's second largest theater complex.
When it comes to nightlife, The Flats and the Warehouse District are industrial areas known for their growing bars and restaurants. Revitalization efforts have recently focused on The Flats, with plans to bring in more retail centers and luxury condos. Gentrification is underway in several other Cleveland neighborhoods as well. Visitors to Cleveland won't want to miss a trip to the Rock and Roll Hall of Fame. This museum celebrates the American music industry with a wide range of changing exhibits. T
he adjacent Great Lakes Science Center is another tourist favorite. It features hands-on science and technology exhibits, the NASA Glenn Visitor Center, the 1925-built Steamship William G. Mather and the OMNIMAX Theater for watching IMAX movies.
Cleveland sports are also a highlight of the city. There are three professional teams based in the city: the Cleveland Indians (MLB), the Cleveland Browns (NFL) and the Cleveland Cavaliers (NBA). Large crowds turn out to cheer for these home teams and they are a great place to bring visiting friends and relatives.
Active Adult Communities
Active adults who want to settle in the Cleveland area will find lovely communities in the city's suburbs. Age-targeted and age-restricted communities in the Cleveland area are typically small, though they bring residents together with a variety of amenities. Pioneer Ridge is a popular Del Webb community near Cleveland with just under 600 homes while Crossings at West Valley is a more intimate sized community of just over 100 homes. Whether planning a visit or looking for a retirement destination, the Cleveland area offers urban attractions, beautiful suburbs and waterfront living along the shores of Lake Erie.