Baltimore and Philadelphia are both major metropolitan areas in the northeastern part of the U.S., and they both offer great options for active adults looking for retirement communities.
Baltimore recently earned a spot on the 2021 U.S. News & World Report "Best Places to Retire in the U.S." list, because of its small-town feel, friendly people, exciting music scene, nightlife, and elegant architecture. Philadelphia is also a good choice because of its proximity to New Jersey beaches, historic interest, great public transportation system, and reasonable cost of living.
Both have plenty of other good points, so you'll want to consider all of them carefully if both areas are on your radar.
Geography and Population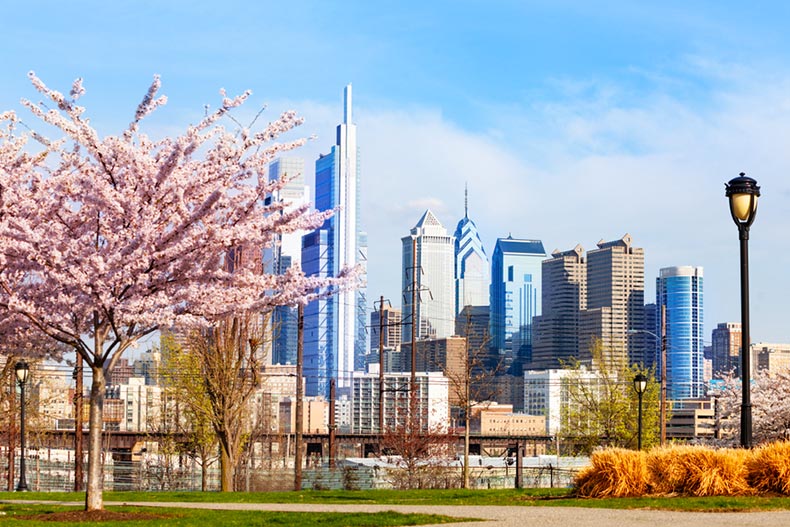 It's estimated that Baltimore's 2022 population is about 2,343,000, and Philadelphia's is approximately 5,756,000. As the largest city in Maryland, Baltimore is 40 miles northeast of Washington, D.C. on the Patapsco River. It's not known to be an especially hilly city, and its elevation ranges from sea level at the Baltimore Harbor to 480 feet.
Philly sits within a river valley in the eastern part of Pennsylvania and is mostly flat, except in the northwestern region. It's bordered by the Delaware and Schuylkill (skoo-kill) Rivers and surrounded by the Philadelphia suburbs. New York City is a two-hour drive to the north, and you can reach Atlantic City in about 75 minutes.
Climate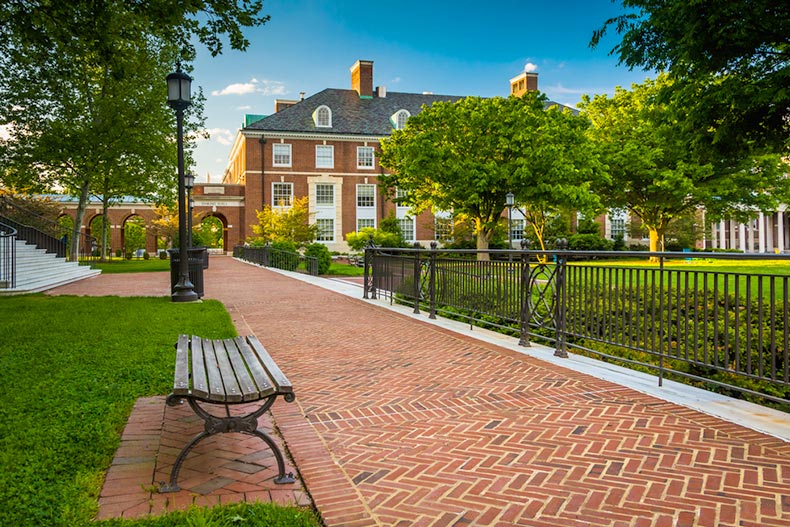 Baltimore is two hours south of Philadelphia, so the weather patterns for these two cities are similar yet different in some ways. Overall, Baltimore temperatures can be higher in the summer, and Philly winters can be a bit chillier.
Throughout the year, Baltimore temperatures range from 30°F to 89°F, while Philadelphia's range is 26°F to 87°F. Baltimore winters can be quite cold, windy, and snowy, and the summers are usually hot, sticky, and humid.
Philadelphia summers tend to be less humid but still pretty hot. The winters here are also cold and snowy. Both cities are partly cloudy throughout the year.
April is Baltimore's driest month, with 3.00 inches of precipitation; September is its wettest at 3.98 inches. As for Philadelphia rainfall averages, February is the driest at 2.74 inches, and July is the wettest at 4.39 inches. Both cities can experience high winds from time to time, especially in the spring; late summer thunderstorms and winter snowstorms are also common.
If you enjoy the great outdoors, Baltimore is known for the Inner Harbor, the Maryland Zoo, and baseball games at Oriole Park and Patterson Park. There are no ski resorts in the Baltimore area, but you can drive to ones in Virginia and West Virginia. In the summertime, folks drive to Ocean City and Rehoboth Beach.
Philadelphia also has some excellent outdoor attractions like Dilworth Park, Penns Landing, Fairmount Park, Philadelphia Magic Gardens, and the Schuylkill River Trail. Skiers head to the Pocono Mountains in the winter and the Jersey beaches in the summer.
Cost of Living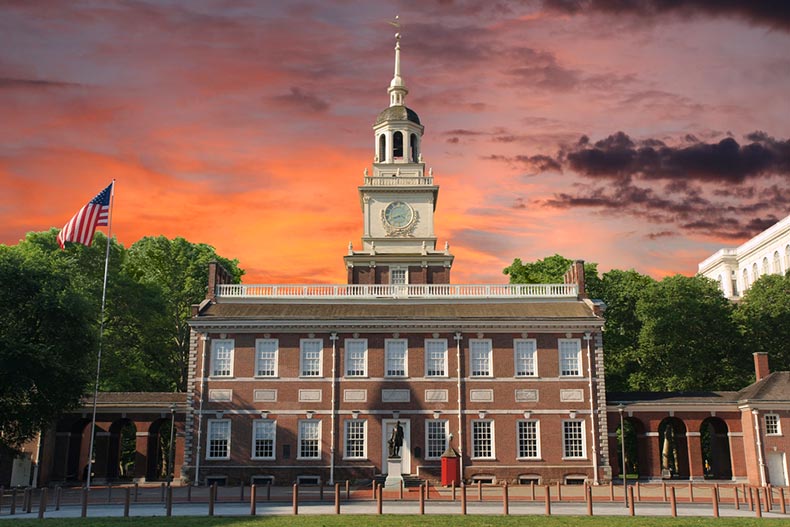 According to Payscale, the cost of living in Baltimore is 17% higher than the national average, but a higher cost of living is to be expected in any large city. The median home price is in the low $500s, and the average monthly utility bill is about $180. Baltimore County residents pay a 2.83% tax rate, and those living in the city pay an additional 1.25%. The real property tax is $1.10 for every $100 of assessed value.
The cost of living in Philly is also 17% higher than the national average, but the average home price is in the mid $400s. The monthly energy bill hovers at around $210 each month. Pennsylvania personal income tax is currently at 3.07%. Also, anyone living or working right in the city must pay a city wage tax; this is about 3.84% for residents and 3.45% for non-residents.
For retirees trying to decide between Baltimore and Philadelphia, it's worth considering the taxation on a state level. According to SmartAsset, Pennsylvania doesn't tax income from Social Security, retirement accounts (401(k)s or IRAs), or pensions of people age 60 or older. On the other hand, Maryland doesn't tax Social Security or 401(k) distributions, but it fully taxes IRAs. Maryland is also the only state in the country with both an inheritance tax and an estate tax.
Culture and Entertainment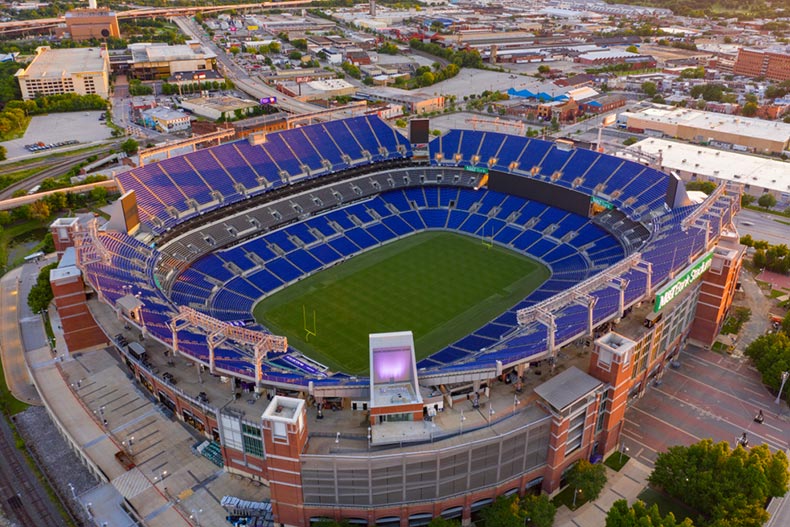 What To Do In Baltimore
Baltimore was originally a working-class port town but has evolved into a dynamic urban center with year-round attractions. Some of its best-known landmarks include the Fort McHenry National Monument, the National Aquarium, and the American Visionary Art Museum. If you like spending time outdoors, there's Federal Hill Park, M&T Bank Stadium (for Ravens games), and plenty of outdoor restaurants where you can enjoy steamed crabs.
Some of the best shopping centers include Harborplace Mall, The Rotunda, and White Marsh Mall; the best concert venues are Rams Head Live!, Baltimore Soundstage, and Hammerjack's.
What To Do In Philadelphia
Philadelphia is larger than Baltimore in terms of square miles (151.7 compared to 92.28) and while both cities have historical landmarks, Philly was our nation's first capital and has many more. The city's must-see attractions include Independence Hall, Reading Terminal Market, the National Constitution Center, and the Betsy Ross House. Some of the most impressive museums include the Philadelphia Museum of Art, The Franklin Institute, and the African American Museum in Philadelphia.
If you want to catch a show, there's The Kimmel Center for Performing Arts and The Met Philadelphia. For outdoor fun, check out Fairmount Park, stroll charming Old City, visit Dilworth Park, or catch a Flyers, Phillies, or Eagles game. These teams play at Wells Fargo Center, Citizens Bank Park, and Lincoln Financial Field, respectively. And if shopping is your preferred sport, the best can be found at The Shops at Liberty Plaza and Market at the Fareway.
Health Care and Education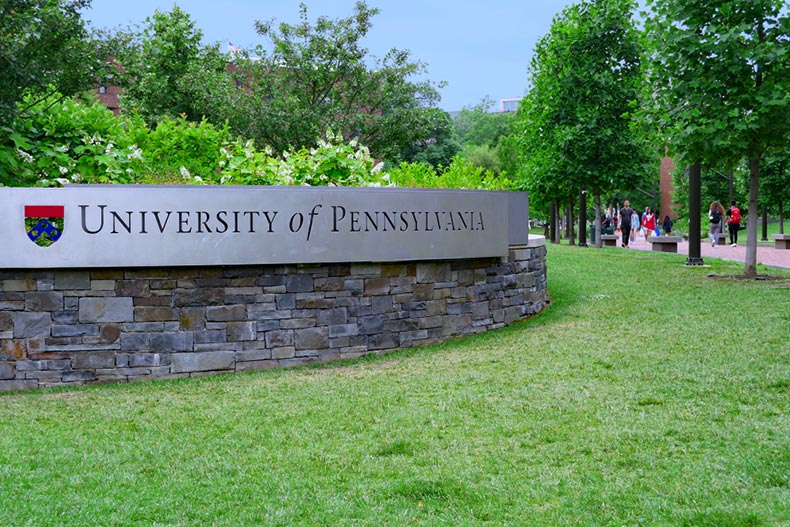 Baltimore
HealthCare Access Maryland is an organization that helps state residents get equal access to healthcare, and the Baltimore City Health Department lists the city hospitals that offer 24/7 emergency care and other resources. The city's major university hospitals include Johns Hopkins Hospital, University Maryland Medical Center, and the University of Maryland S. Joseph Medical Center. Other top medical facilities include the Sidney Kimmel Comprehensive Cancer Center and The Institute for Cancer Care at Mercy.
Baltimore's top colleges and universities include Johns Hopkins, Goucher College and the University of Maryland, Baltimore. All of these offer continuing education courses, as do the Adult Learning Center, the South Baltimore Learning Center, and Baltimore City Community College.
Philadelphia
The City of Philadelphia website offers resources for locating women's and men's health care, dental care and other services, and there's a wide selection of facilities to choose from. The top university hospitals here include Jefferson University Hospital and the Hospitals of the University of Pennsylvania-Penn Presbyterian. Award-winning cancer treatments centers here include Fox Chase Cancer Center and the Sidney Kimmel Cancer Center.
As one would expect, there are also many excellent colleges and universities in Philly, including University of Pennsylvania, Drexel University, and Chestnut Hill College. If you're interested in continuing education centers, you can look at those schools, the Community Learning Center and the Community Education Center on Lancaster Avenue.
55+ Communities in Baltimore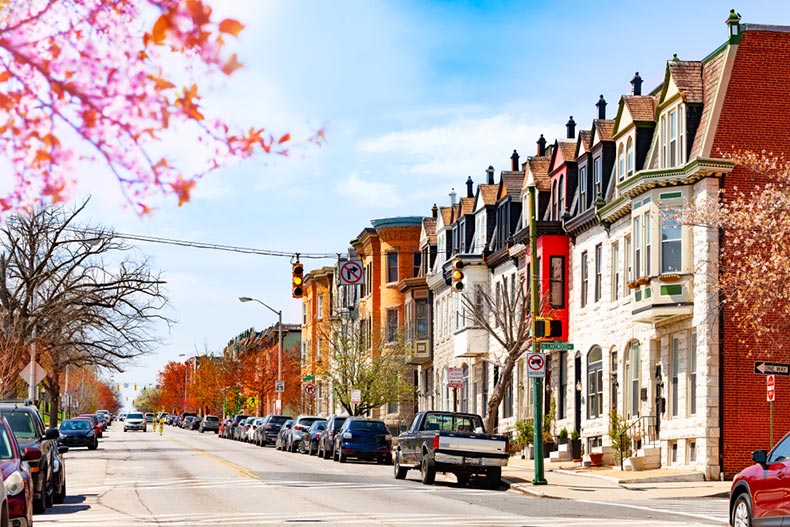 Low $400s – Low $700s
With just 286 resale attached and single-family homes, this gated active adult community has two standard models with features like hardwood flooring, sunrooms, decks, and two-car garages. The attached homes range from 1,634 to 4,696 square feet, and the single families are also generously sized at 3,120 to 4,500 square feet.
There's an active homeowners' association (HOA) that provides for lawn care and snow removal, and with that extra free time, residents can enjoy the welcoming clubhouse, fitness center, outdoor pool, tennis courts, and putting green.
Request more information about The Villages At Woodholme.
Low $200s – Low $900s
The Village of Cross Keys is perfect for downsizing, with 688 new and resale condo and attached homes split into nine neighborhoods. It's not age-restricted but has a condo association that takes care of exterior maintenance, landscaping, and trash pickup.
Other amenities include swimming pools, sports courts, a clubhouse, and community-wide events. The condos are sized from 527 to 2,943 square feet, and the attached homes are 1,200 to 5,829 square feet; upgrades may include fireplaces, patios, and eat-in kitchens.
Request more information about Village of Cross Keys.
Mid $300s
This reasonably priced northern Baltimore neighborhood offers 296 resale condo and single-family homes ranging from 1,369 to 2,703 square feet and also has no age restrictions. It's less than 20 minutes outside of downtown, and it's close to your favorite grocery stores, pharmacies, plus medical centers, parks, and golf courses.
The Highlands also has its own fitness center and an indoor pool for residents to use, and its HOA provides for security, grounds maintenance, common area maintenance, and trash and snow pickup.
Request more information about The Highlands.
55+ Communities in Philadelphia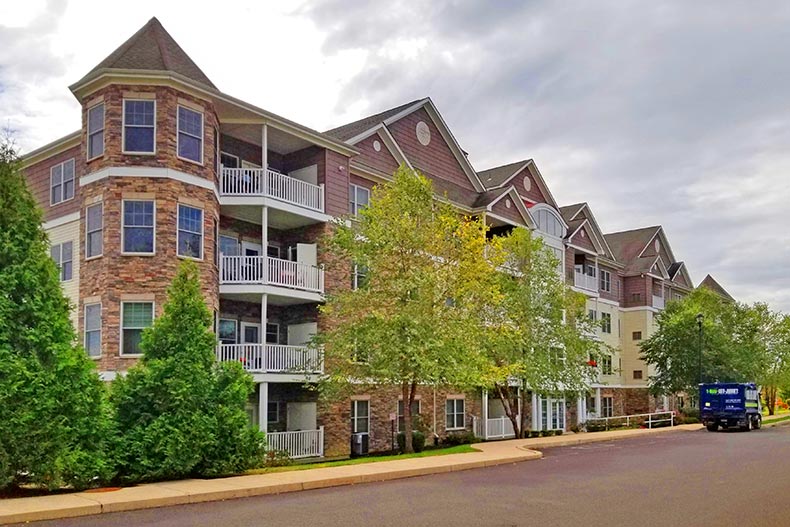 Mid $300s – Mid $400s
Completed in 2020, this 55+ community offers 398 resale attached and single-family homes, a 5,000-square-foot clubhouse, an outdoor pool and spa, parks, a putting green, and natural space.
Home upgrades may include granite kitchen countertops, two-car garages and large laundry rooms. And if you like to keep busy, some of the well-attended group activities here include potlucks, golf outings, bocce ball, and football parties.
Request more information about The Arbours at Eagle Pointe.
Mid $100s – Low $900s
The Philadelphian doesn't have age restrictions, but it's geared for active adults with its on-site health care professionals, shopping and dining, a fitness center, indoor and outdoor pools, shuttle service, group classes, events, and an HOA.
It's located in the city's desirable Art Museum Area and has three buildings that house 776 resale condos ranging from 1,000 to 2,100 square feet. Look for options like built-in bookcases, garage parking, upgraded window treatments, and walk-in closets in these bright, airy apartments.
Request more information about The Philadelphian.
Mid $300s – Mid $400s
This active adult community is in Philly but next to Pennypack Park and 15 minutes from the main action in Center City. It was built with 160 condo and attached homes and completed in 2007—the condo models range from 800 to 1,400 square feet, and the townhomes are 1,331 to 3,243 square feet.
Homeowners enjoy the friendly clubhouse, with its fitness center, outdoor pool, and movie theater, plus frequent community happy hours, holiday parties, and other events.