Although New York City is the Empire State's main claim to fame and has a reputation for being an expensive place to live, it can still be an exciting place to retire. It's not really known for having an abundance of active adult properties, but retirees can find homes for sale in areas like Long Island or Eastern New York. Albany is also considered to be "upstate" by locals but not really part of the New York City region since it is more than 150 miles north.
People retire to New York for all kinds of reasons—they might have always dreamed of living in NYC or are drawn to the scenic natural beauty of the surrounding areas. Long Island is one of the East Coast's most beloved and affluential areas, and it's a wonderful place for a year-round vacation home or to retire. The other two areas are farther from the beaches, but boast magnificent mountains and valleys and are less congested.
If a New York City or New York state retirement is on your radar, it makes sense to think about all the pros and cons—no location is completely perfect. Look a little closer and you might be surprised to see how much the City and state have to offer active adults.
Retiring in New York: Pros and Cons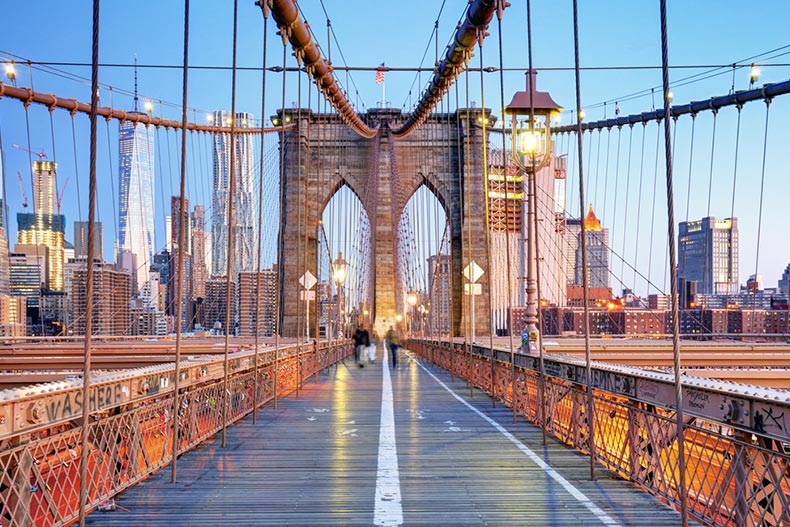 PROS
Art and culture: It goes without saying that New York City has the best theatres, art, restaurants, and shopping in the country, if not the entire planet. Smaller, northern cities like Lake Placid and pristine locations in Long Island are also packed with historical and cultural attractions.
Weather: The state experiences all four seasons. Take your choice—you can opt for sunny stretches of beaches as well as spectacular winter skiing in the Adirondacks.
The social scene: New York City and its surrounding areas are full of diverse, vibrant people who like to keep busy. Whether it be catching a Broadway show, dining at a five-star restaurant, or driving up to the Hamptons or the Catskills for the weekend, there's always something to do.
CONS
Cost of living: Because of its stellar location and endless amenities, New York's costs for goods and services, housing, groceries, and utilities are higher than other states. Some reports indicate that health care costs here are lower, though.
Crime Rates: Any large city can have a high crime rate, but New York City is not listed as one of the more dangerous places to live in the U.S.
Traffic: Like all major metropolitan areas, traffic in and around the city can be pretty considerable, depending on where you live. Getting in and out of all of New York's major cities and vacation spots can be a real hassle, especially on summer weekends and during rush hour. Public transportation can be a viable option in many regions.
New York Climate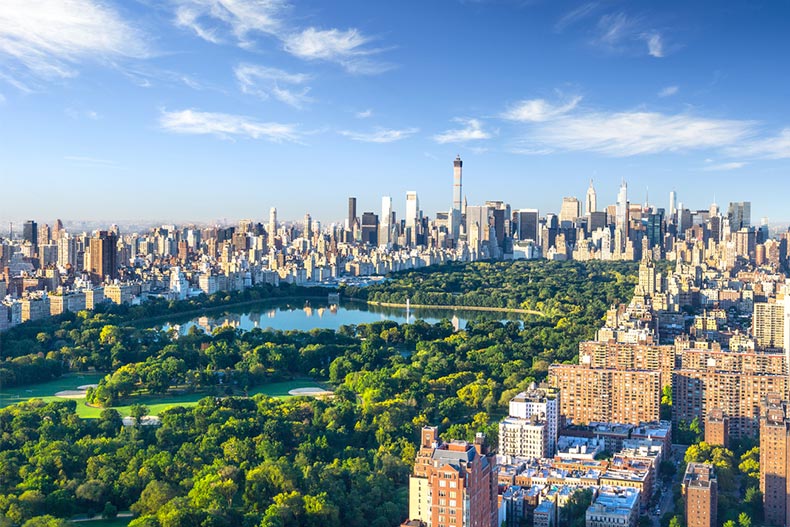 New York City's vast urban areas include the five boroughs (Manhattan, the Bronx, Brooklyn, Queens, and Staten Island), but the rest of the state is full of mountains, lakes, forests, rivers, beaches, and farms. Because of this, temperatures can vary widely.
In the New York City area, temperatures range from 27 degrees to 45 degrees in the winter and 64 degrees to 86 degrees in the summer. As you move farther north, you can expect cooler yearly temperatures, especially in the mountains. It's not unusual for New York residents to experience blisteringly hot summer days and winter snowstorms that leave quite a few inches of snow on the ground.
In the city, you can stroll around Central Park, kayak on the Hudson River, or head out to Brooklyn to visit Coney Island. Long Island is full of beaches, farms, and watersports activities. Once you head upstate, you can spend time enjoying the many mountains, lakes, rivers, and parks.
New York State Taxes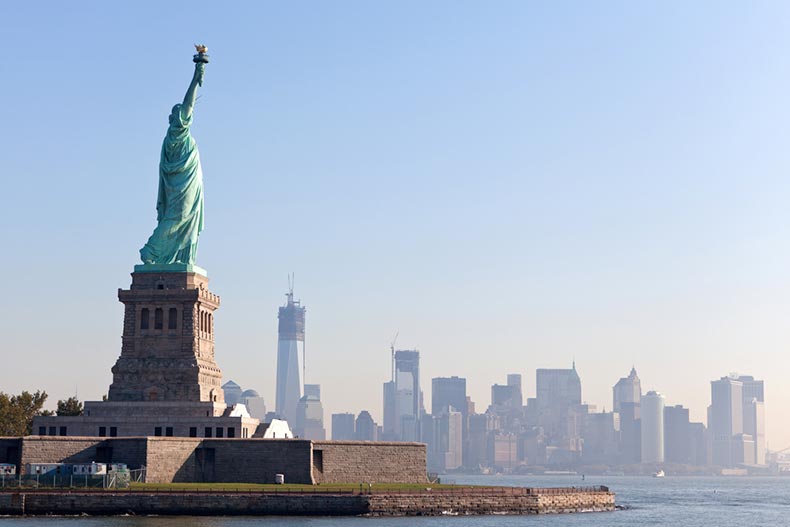 New York has a complicated tax structure, with its income tax rates ranging from four to 8.82 percent. To get the whole picture though, retirees should consider property taxes, retirement income taxes, and any available tax exemptions.
New York Property Taxes
In New York City, property taxes are calculated according to tax rate class; in 2022, the rates range from 10.755 to 19.963 percent. Elsewhere in the state, the bills are based on local tax rates and the property's taxable assessment.
According to Tax-rates.org, the average property tax in the state for 2022 was $3,755 a year on a home valued at $306,000. Westchester County averaged the highest property taxes paid in the state, at $9,003 a year.
New York Retirement Income Taxes
New York is somewhat tax-friendly for retirees; Social Security income is not taxed at all, but withdrawals from retirement accounts are partially taxed. Some pension and annuity income is taxable, and some is exempt (state, local and federal government and some public authority employees), and other private pensions and retirement savings distributions are taxable after $20,000.
New York Tax Exemptions for Seniors
Depending on the local government, New Yorkers ages 65 and up may qualify for reductions on their property taxes. These residents must meet certain income limitations and requirements, though.
The maximum income in the state is $29,000, and in the city, it's $50,000. There's also a "sliding-scale option" for state residents who earn between $29,000 and $37,399 a year. The Senior Citizen Homeowners' Exemption (SCHE) offers a five to 50 percent reduction on NYC property taxes to residents in that same age bracket.
New York Health Care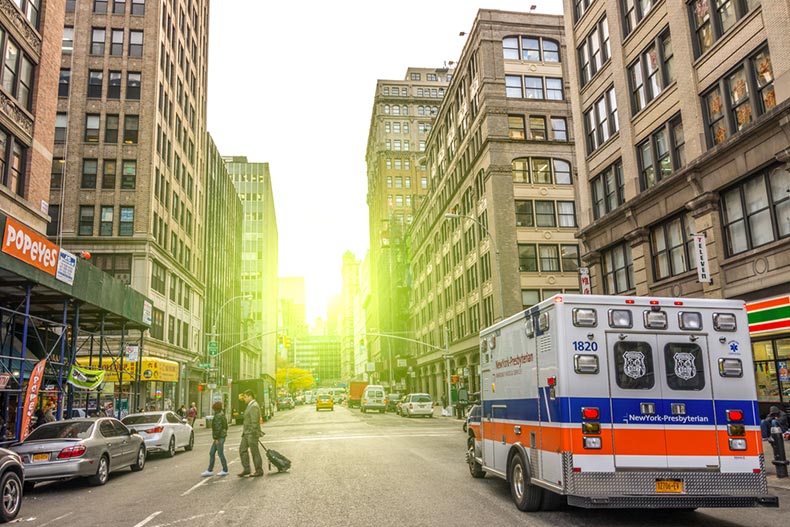 The Big Apple has the largest public health system in the country, with top-performing hospital systems like New York-Presbyterian Hospital, NYU Langone Hospitals, and Mount Sinai Hospitals. Some of the most respected upstate hospitals include St. Francis Hospital and NYU Winthrop Hospital in Long Island as well as Orange Regional Medical Center in Middletown.
Where to Live in New York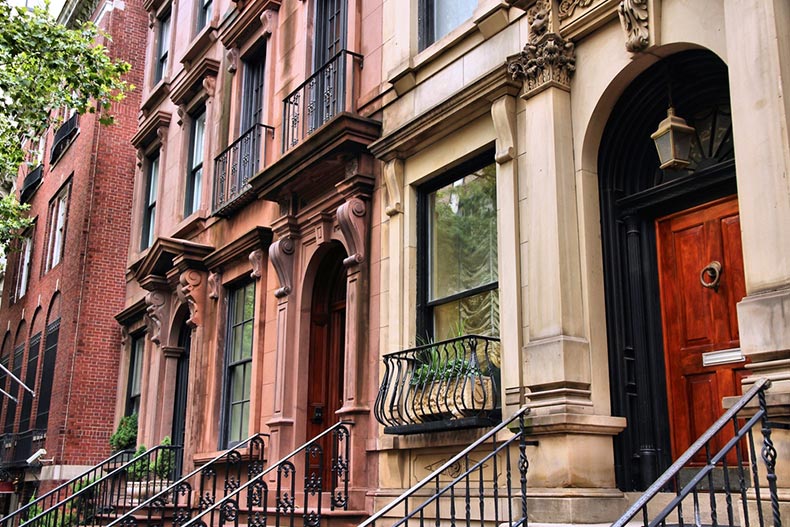 The New York City region includes the five boroughs and Long Island—many of these have high-end prices, but you can find affordable 55+ communities in the area. You might also want to consider a quieter retirement in Eastern New York or Albany—the latter is about 152 miles north of the city.
The New York City/Long Island Area
New York City and Long Island are like close cousins, and many people who live in the City have vacation homes in East or West Long Island. Long Island (LI) has four counties: Kings, Queens, Nassau, and Suffolk. Brooklyn is in Kings County, Queens is Queens, and the other two are where you find the vacation homes and retirement communities. A few of the most notable regions in LI are the North Shore, the Hamptons, Montauk, North Shore, and South Shore.
Living in the City That Never Sleeps means that you won't need a car, and you may be able to walk everywhere depending on where you live. Public transportation and rideshares are how most people get around. Both NYC and Long Island are densely populated and urbanized, but as you move out towards Nassau and Suffolk counties, the scenery can be pretty spectacular.
The noteworthy local attractions in NYC are too long to list here, and you're probably familiar with Times Square, Broadway, and Central Park. In Long Island, some of the favorites are its many unspoiled beaches and parks like Robert Moses State Park as well as incredible golf courses like the one at Christopher Morley Park.
Lincoln Towers is in NYC's prestigious Upper West Side, yet it's more affordable than you might think, with resale condos starting in the mid $450s. This non-age-restricted community offers 24-hour security, floor plans sized from 500 to 1,267 square feet, a doorman, a concierge, a laundry area, and a fitness center.
The Vineyards at Mount Sinai is an intimate, upscale 55+ neighborhood of 91 attached homes ranging from 1,599 to 2,460 square feet. It's in northern East Long Island near all the modern conveniences you need, yet less than 20 minutes from the beautiful North Shore beaches. Prices range from the mid $600s to the mid $900s.
Moving to the West Side of Long Island, we find Snug Harbor, a gated 55+ community with 176 resale attached homes priced from the mid $300s to the mid $400s. The amenities include a clubhouse and an outdoor pool, plus access to walking and biking trails and boat slips.
The Carmel Area
Besides being called the Carmel Area, "upstate," and Eastern New York, this lovely area is also known as the Hudson Valley. It runs from Westchester County up to Albany, and it's well-known for its stunning scenery, historic landmarks, and other cultural attractions. It's about an hour or more outside of NYC, and some of its biggest tourist destinations are the Catskill Mountains and West Point. There are no major urban areas here, but there are plenty of charming small towns like Rye and Sleepy Hollow.
Summer and winter sports are big here, and you won't have to deal with the heaviest traffic found closer to the City. Eastern New York is also home to the Ashokan Reservoir Promenade, Walkway Over the Hudson, and the Storm King Art Center.
The Retreat at Carmel is all about choices; it offers 312 new and resale condo, attached, and single-family homes. The prices range from the mid $400s to the mid $700s, with a wide variety of floor plans plus desirable amenities like a private clubhouse with a state-of-the-art fitness center, a 3-hole pitch and putting green, and a heated outdoor pool.
Located less than 10 miles from the Hudson River, Regency at Fishkill is priced from the high $300s to the high $400s and offers 164 new and resale condo homes. This gated active adult community is across the street from a large shopping center and also has its own clubhouse, fitness center, and outdoor pool.
For something smaller and even more affordable, the 58 resale condos at Woodcrest at Jacobs Hill range from the low $200s to the low $300s. This friendly active adult community also has a clubhouse and an outdoor pool.
Albany
New York's state capital is about a three-hour drive from Manhattan, and approximately 30 miles west of the Massachusetts/New Hampshire border. Some of its best-known spots include its Empire State Plaza and the New York State Museum.
Albany has a population of approximately 97,000, and residents here enjoy an urban/suburban mix. There are more than enough grocery stores, restaurants, parks, and retail outlets, plus close access to a good number of outdoor attractions.
Lake George is only an hour away from Albany, and a favorite vacation destination for locals. Closer to home, you can kayak at Thompson's Lake State Park, see shows at The Egg, or check out the historic Ten Broeck Mansion.
The town of Altamont is 20 minutes west of Albany, and it's home to the friendly 55+ community of Brandle Meadows. Completed in 2010, it has 72 resale condos and a great location close to a good variety of shopping outlets. Brandle Meadows also has a private clubhouse with a heated outdoor pool, plus a putting green and its own community gardens.
Ready to Make the Move? 55places Can Help.
To discover more exciting 55+ communities in New York, we invite you to contact us at 800-928-2055 or visit 55places.com. Our experienced team of real estate experts will guide you through the top options in your area and help you make a seamless transition from your current home to a 55+ community. We look forward to helping you make your next move the best one yet!