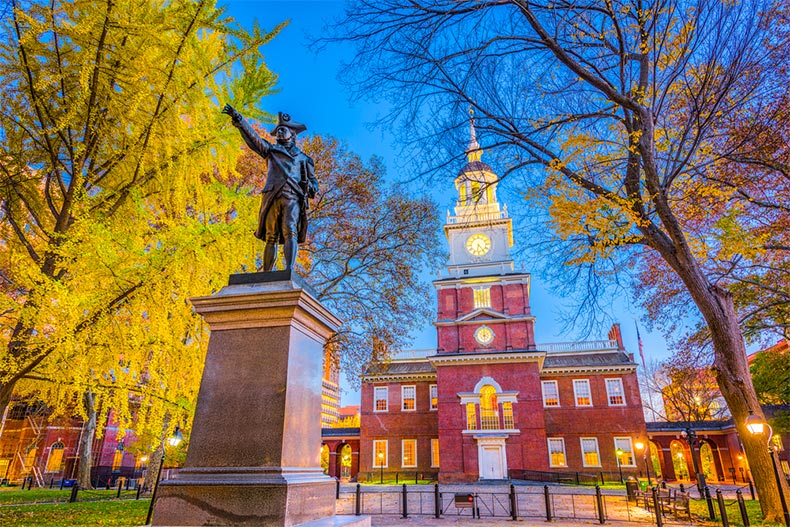 There are many big cities to live near in the Northeast, among these, Philadelphia is one of the best choices for active adults. It is smaller and more affordable than New York City, and it continues to be one of the most popular cities in the Northeast. Philly and its surrounding communities are rich in artistic, cultural, and historical landmarks, with world-class shopping and restaurants, and abundant natural beauty. It is also home to the 2018 Super Bowl Champions, the Philadelphia Eagles!
Creekwood Village - Schwenksville
The town of Schwenksville is about an hour northwest of Philadelphia and offers a small-town, folky atmosphere within an easy drive of the city. Creekwood Village is an affordable 55+ community with 80 single-family ranch-style homes. Sizes range from 1,000 to 1,800 square feet, with two or three bedrooms, two baths, and attached garages. This attractive community is right across from Central Perkiomen Valley Park and is close to the Pennypacker Mills historic site, golf courses, wineries, and convenient shopping. Homeowners can take advantage of the popular clubhouse, outdoor pool, and nature trails.
Stuart's Keep - Norristown, PA
Active adults 55+ who live at Stuart's Keep enjoy all that this Montgomery County adult community has to offer. Its prime location in Norristown is just around an hour from Philadelphia. The county is dotted with scenic parks and historic landmarks. The property has 153 attached townhomes, some include basements. These resale homes are sized from 1,060 to 2,188 square feet, all with one-car garages. Stuart's Keep's Homeowners Association allows residents to live low-maintenance lifestyles by handling all of the trash and snow removals. Homeowners enjoy spending time at the exclusive community clubhouse where they can take advantage of the exercise room, play cards, or meet with friends. The community is also right across the street from a convenient shopping center.
Village at Newbury - Lansdale, PA
Village of Newbury is a charming active adult community of 60 townhomes in Montgomery County, PA. Its appealing setting and close-knit feel make it a very desirable choice for comfortable living. The attached homes have two bedrooms and baths, attached garages, and range from 1,450 to 1,472 square feet of living space. The well-kept landscaping, paved sidewalks, and nature trails create a warm and welcoming feel for residents. There are many opportunities for socializing, like clubs and groups, plus neighborhood-wide events and activities. Downtown Lansdale is about half an hour from Philadelphia and features convenient shopping, restaurants and attractions. Montgomery County has dozens of beautiful parks and historic sites, like Lock 60 at the Schuylkill Canal Park and the John James Audubon Center at Mill Grove.
Foxfield - Garnet Valley, PA
With 13 different models of condos, attached, or single-family home ranches, Foxfield has plenty of affordable choices for active adult homebuyers. This large community of 520 resale homes is just 30 minutes outside of Philly and is close to the Delaware border. Residents can pop over the bridge for tax-free shopping, visit Philadelphia, or spend quality time at the 9,200 square-foot clubhouse, indoor pool, outdoor pool, six-hole golf course, tennis court or horseshoe pits. Foxfield has over 25 social clubs, so residents can easily meet friends that share their diverse interests. Foxfield's Villas condo units range from 1,114 and 1,400 square feet and are housed in multi-unit buildings. They have one or two bedrooms, two baths, and some include one-car garages. The Carriages are larger attached homes which range from 1,708 to 1,836 square feet. These feature one to three bedrooms, one-and-a-half to three baths, and attached garages. The single-family homes at Foxcroft come in four models, from 1,586 to 1,831 square feet. They have two to four bedrooms, two or three baths, and attached two-car garages.
Holland Preserve - Holland, PA
Smaller is better at Holland Preserve, a delightful, 64-home condo community in Holland, PA. This lovely development is next to protected woods and creates a private setting that is close to all of the modern conveniences. There are four condo units on this property, and five models ranging in size from 1,440 to 1,680 square feet. All units have dens and one-car garages. Active adults here plan fun social events and meet often for cards, book groups, and day trips. Holland is a very desirable area since it is close to fishing, hiking, and kayaking at scenic Tyler State Park, Churchville Nature Center, and other recreational areas. The community's homeowners' association takes care of the trash and snow removal, outside maintenance, and landscaping, contributing to the carefree lifestyle that homeowners love in this quiet, peaceful community.