At some point in our lives, we start to dread doing our necessary chores. The benefits of mowing the lawn, shoveling snow, and maintaining the outside of our homes no longer outweigh the costs. As the years pass, chores take up more valuable time, and they can be physically demanding. This is why so many active adults choose to live in communities with homeowners' associations (HOA) that allow their residents to live low-maintenance lifestyles.
What is an HOA?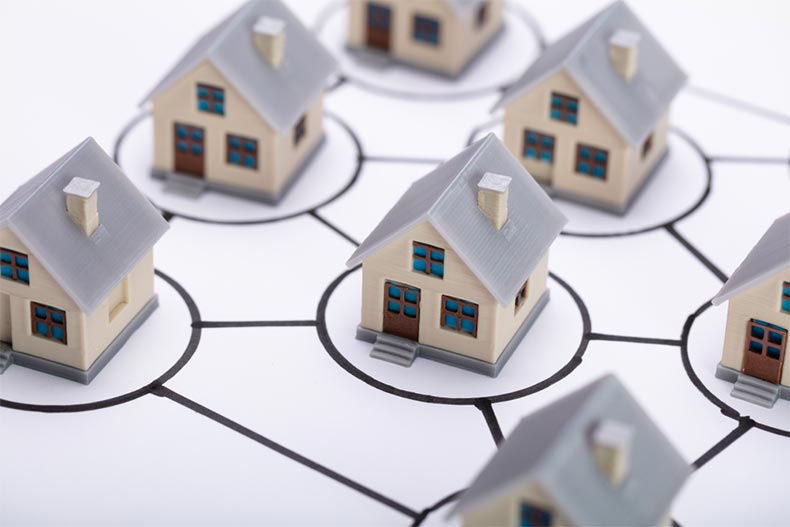 HOAs are found in common-interest communities, including 55+ neighborhoods and condominium buildings. They function as governing bodies, and they're funded and run by residents unless an outside management organization is used. Boards of directors are in charge of things, maintain budgets, and organize meetings. They are also responsible for administering the HOA rules, which are legally enforceable.
Homeowners pay fees to their HOAs. Some are collected monthly; others may charge quarterly dues or collect them at other specified times during the year. In addition to lawn care and exterior maintenance, the monies can be used for common area maintenance, clubhouses, pools, water and sewer, a community bus, gated security, and a host of other amenities.
Added Benefits of HOAs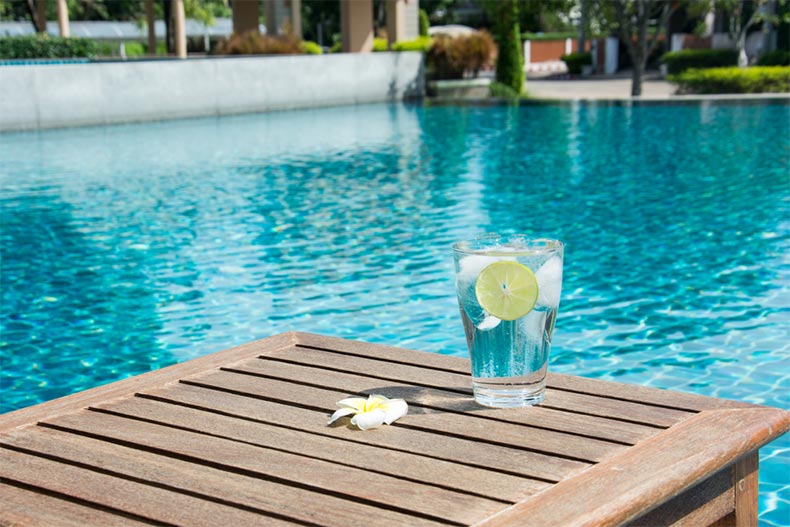 A big perk of HOA management includes social opportunities offered to homeowners. A community clubhouse often serves as a social hub, where friends gather for meetings, hold special events, and workout at the fitness center. Also, those who volunteer for the HOA enjoy being part of their community, and they can make significant contributions. And best of all, HOA management means not having to spend hours on monotonous chores, freeing you up to spend more time doing the things you enjoy.
HOA Fees
HOA fees vary widely. They can depend on the neighborhood location, the age of the community, and the amenities offered. Some may provide for lawn mowing, snow removal, and utilities, while others might include full lawn care, a gym membership, and a full-time activities director. Not all HOAs are the same. While some will cover many home needs, others will only use the fees for maintaining common areas, like the streets, clubhouse, and entrance landscaping.
Although you might be taken aback by the fees, think about this: Without the HOA, you would be paying for lawn care, exterior maintenance, and a gym membership on your own. Paying for all this separately could end up being even more than the HOA fees.
Other Things to Know About HOAs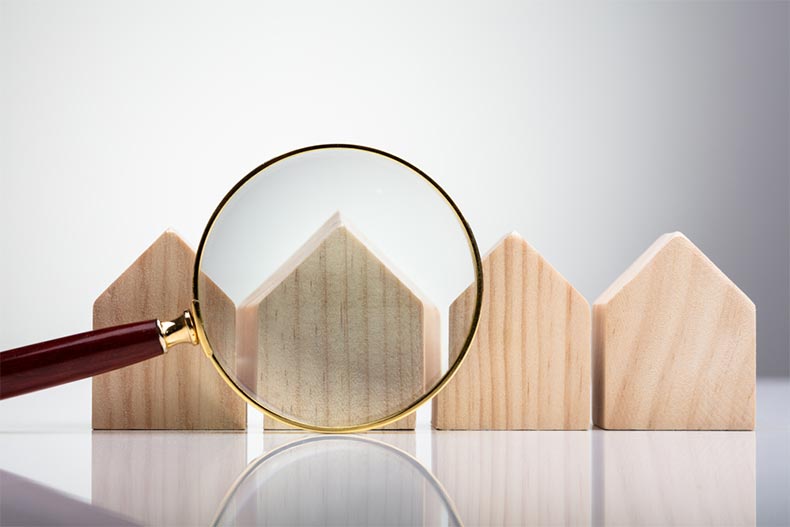 There can be some disadvantages to having an HOA that you should think about. To start, the association may have rules that pertain to your home's appearance. You may be restricted as to what type of paint colors you use, how often you rake your leaves, or where you have to park your car.
Another issue could be that the HOA is not professional or efficient. There have been cases where HOA members mismanage their communities and mishandle the funds. Some don't perform needed maintenance in a timely manner, while others end up facing lawsuits. You can get some idea about a neighborhood's HOA by taking a few drives down the streets. Do the lawns look overgrown and are the homes in need of repair? These are signs of poor management. Also, be sure to tour the clubhouse and look at the other amenities, like the swimming pool, walking paths, and tennis courts.
HOAs can also take actions to foreclose on properties when residents do not pay their dues. The laws pertaining to this vary by state, but this is another reason to familiarize yourself with all the rules and regulations prior to buying a home in that community.
Standalone Communities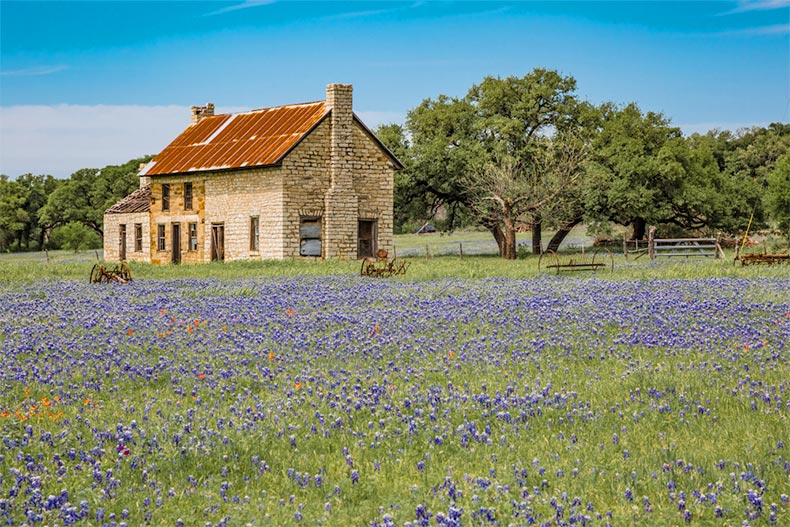 When considering the pros and cons of having HOA management, not all retirees prefer this lifestyle and some choose a standalone community instead. Having an HOA may mean that residents aren't allowed to alter a home's exterior, park in restricted areas, or make loud noises. Some HOA neighborhoods also limit the number of people who can live in a home, restrict the number of pets (and/or pet weight), and will not allow residents to hang laundry out to dry in their yards. This is not always the case, so if you're considering an HOA community, it's highly recommended you ask to see their rules first. Be sure to read that fine print.
Which to Choose?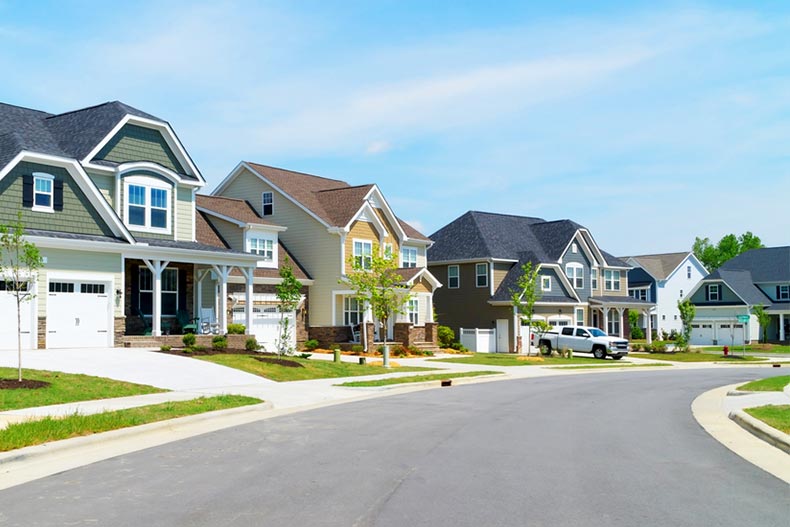 If you desire a low-maintenance lifestyle and enjoy socializing, an HOA community might better meet your needs. The fees can be expensive though, so it pays to understand exactly what they cover. If they include amenities that you won't use, like a community bus or a swimming pool, you might want to search for a community with fewer amenities and lower fees.
Standalone communities can also be good for active adults who want more privacy. Without an HOA, there's less need to be involved with neighbors and more freedom to change your home's appearance. Standalones also tend to be smaller developments, which can also be appealing to 55+ homebuyers.
It's always a good idea to create a monthly budget before buying a home, and when considering a standalone, it's a good idea to incorporate estimated costs for lawn care, utilities, and other services not being covered by an HOA.
Homes for Sale in Communities With HOAs
Low $300s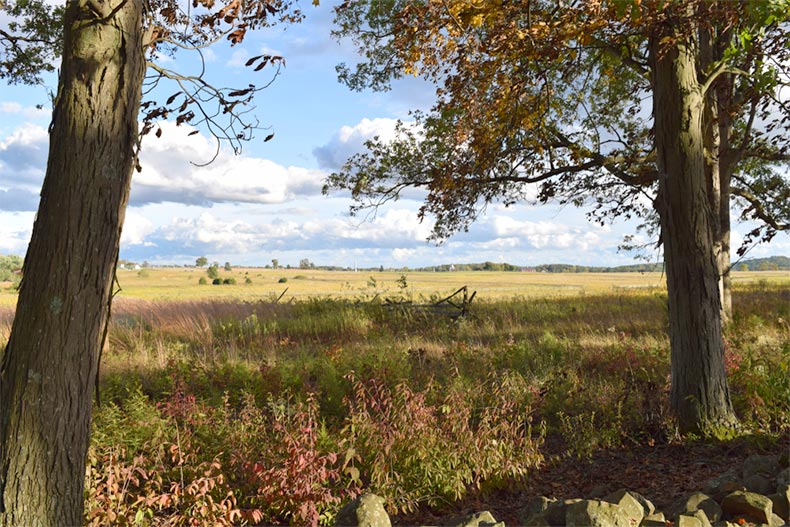 This new retirement community is in Central Pennsylvania, about 3.5 miles northeast of Gettysburg. Upon completion, it will have 2,000 upscale single-family homes built by Caruso Homes, Elevate Homes, and Henley Corbelis. There are over a dozen floor plans ranging from around 1,440 to almost 4,000 square feet with two to four bedrooms, two to four bathrooms, and two-car garages. Options include Craftsman-style exteriors, dens, gourmet kitchens, outdoor living spaces, and screened-in porches.
Amblebrook's welcoming Rock Creek Club has a bar & lounge, a wine tasting room, an art studio, a game room, and a learning center. There's also a Sports and Wellness Campus, with an indoor walking track, a pickleball court, an exercise facility, an outdoor pool, a whirlpool spa, and a sauna. The Sports and Wellness Campus will feature an indoor aquatic center complete with a pool, a patio, a sauna, and a whirlpool spa. Residents will also be able to take advantage of the indoor walking track, indoor pickleball, basketball, and a yoga and Pilates studio.
Amblebrook's monthly HOA fee provides for lawn and common area maintenance, recreation facilities, and snow removal.
Request more information about Amblebrook here.
High $100s – High $200s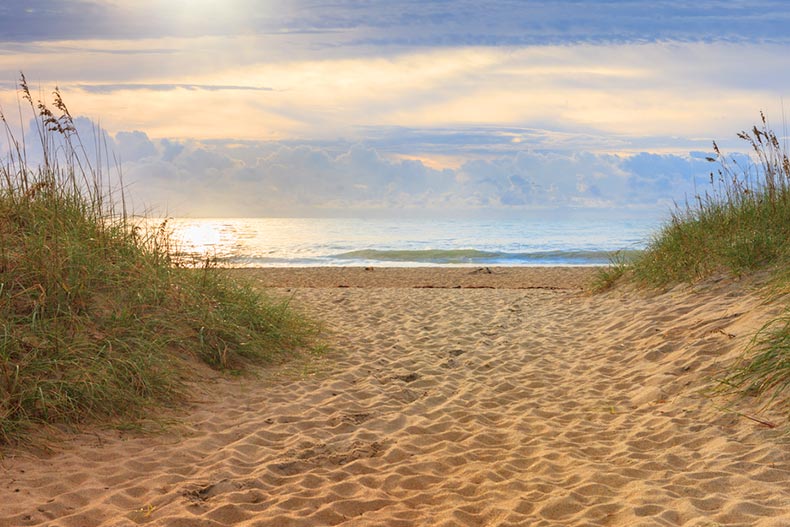 With 200 new and resale single-family homes and no age restrictions, Rourk Woods is located in the desirable Coastal North Carolina region. The four home models range from 1,680 to 2,198 square feet with three bedrooms, two to three bathrooms, and two-car garages. These homes offer screened-in porches, gourmet kitchens, dens, and vaulted ceilings.
This active lifestyle community is only 15 minutes from the beach, and it has on-site amenities as well. The welcoming clubhouse has a fitness center, a tennis court, and an indoor pool. Outside, you'll find scenic lakes, a putting green, and plenty of natural space to enjoy. The HOA fee provides for streetlights, common area maintenance, the fitness center, the indoor pool, and the clubhouse.
Request more information about Rourk Woods here.
Below $100k – Mid $200s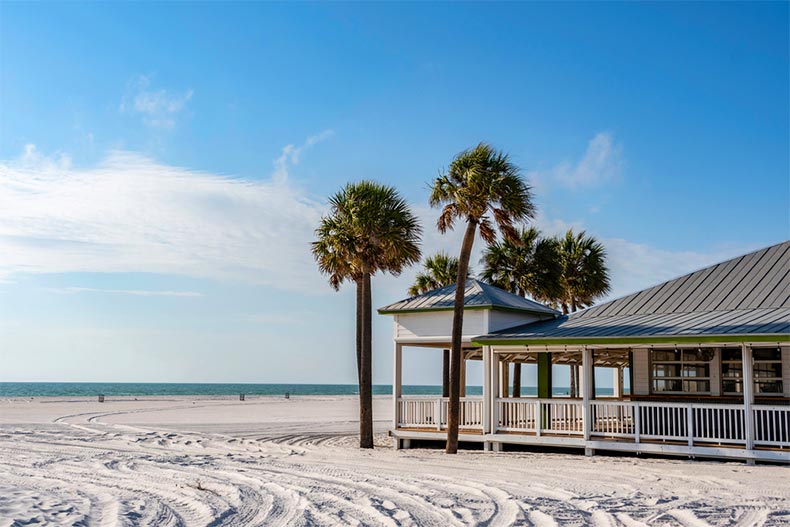 On Top of the World is in Florida's Central Gulf Coast region, and it was built from 1960 to 1993. This gated active adult community has 4,959 resale condos split between 96 buildings. The units range from around 850 to 1,750 square feet with one or two bedrooms, one to two baths, and parking lot spaces. Upgrades may include Florida rooms, eat-in kitchens, marble floors, and large pantries.
Residents have access to two clubhouses with an impressive array of amenities like fitness centers, activity and game rooms, craft studios, two outdoor pools, and two golf courses. There's also a fishing lake and pier, tennis courts, a dog park, and a community transit bus. The monthly HOA fee provides for home exterior and grounds maintenance, water, sewer, trash pickup, recreational facilities, and security.
Request more information about On Top of the World in Clearwater here.
Mid $200s – Mid $400s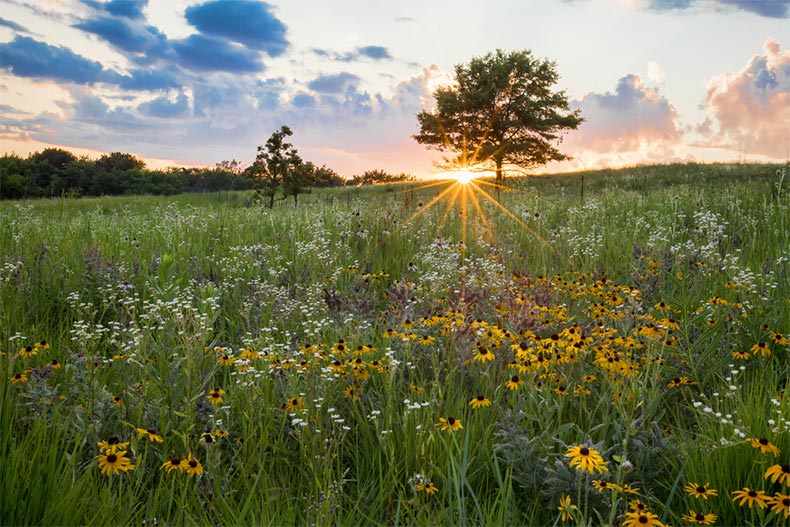 Surrounded by pristine forest reserves, this gated 55+ neighborhood is in a prime location about an hour west of Chicago. Regency at Bowes Creek Country Club began construction in 2006, and it will have 351 new and resale attached and single-family homes when the final sections are completed. The thoughtfully designed floor plans range from 1,492 to 2,590 square feet, and they offer two to three bedrooms, two to three bathrooms, attached two-car garages, and options like dens, lofts, walkout basements, and gourmet kitchens.
The private section of Bowes Creek Country Club has an elegant clubhouse with a fitness center, a tennis court, a putting green, an outdoor pool, and an activity room. The Club also has a main area that's open to the public, with an 18-hole golf course and restaurant. Regency's monthly HOA fee covers lawn care, snow removal, pool maintenance, and the clubhouse.
Request more information about Regency at Bowes Creek Country Club here.
High $300s – High $1Ms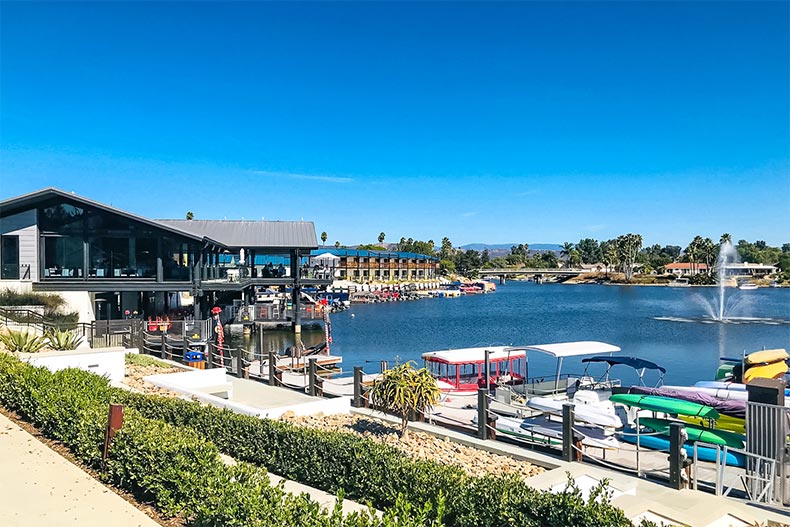 Located in the San Diego area, Lake San Marcos has 2,000 resale condo, attached, and single-family homes. Although it's not completely age-restricted, this master-planned community caters to active adult lifestyles with resort-style amenities and low-maintenance residences.
Year-round amenities include two golf courses, a driving range, a putting green, and lake access. There are also several swimming pools throughout the community. The community center has four restaurants, a fitness center, and a hotel in case you have extra out-of-town guests. A Lake and Lodge Membership can be purchased for an additional fee, and this includes additional perks such as the use of the tennis and pickleball courts.
Some neighborhoods here have direct golf course access, and some are gated. The great thing about this community is that some of the sections have HOAs, and others don't. There are more than 20 HOAs in Lake San Marcos. The fees vary depending on the neighborhood, as do the services that are included.