Retirement is a great time to indulge in all the joys you may not have had time for. Whether you have your heart set on traveling, catching up on reading books, taking art classes, or learning a second language, retirement offers the freedom to do what you really want to do.
For many seniors, that means having a dog by their side. If living your best life in retirement includes man's best friend, you'll want to carefully consider different dog breeds to help you pick the perfect companion. Ultimately, choosing a dog is a very personal decision. However, some dog breeds tend to have the characteristics that make them a good fit for most retirees.
What Characteristics Should You Look for in Your Retirement Dog?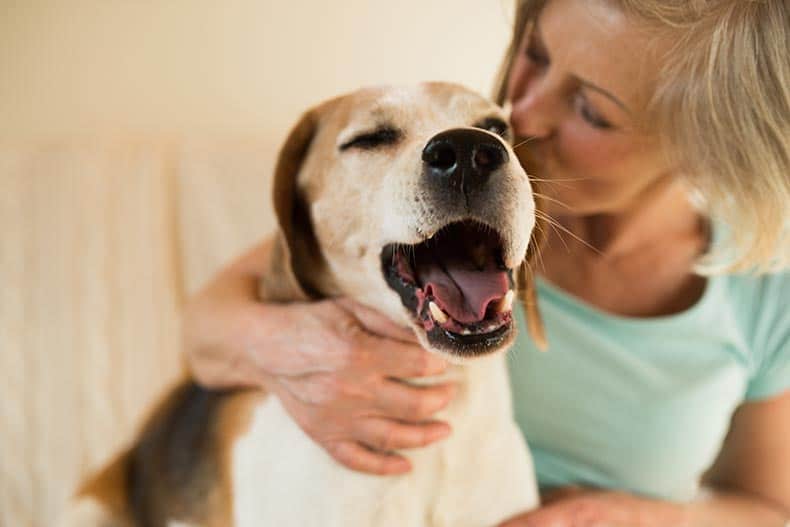 The kind of dog that will fit nicely into your life depends on many factors, such as your activity level, time available, and how comfortable you are with training. In general, these are the characteristics that will probably make a dog a good companion for seniors.
Temperament
Some dogs simply require a lot of attention. If a dog is nervous and tends to react to scary situations with aggressive behavior, it's probably not the best choice for you. Some dog breeds, such as huskies and cattle dogs, need a lot of activity and mental stimulation to be happy, and they can get bored and destructive if they don't get it. You'll probably be happiest with a dog that is easy to train and happy to go along with what you're doing.
Exercise Needs
If you don't want to spend hours walking your dog or playing energetic games with it, look for a dog that only needs an easy walk or two to be content. All dogs need some exercise, but the amount they need to be healthy varies a lot between breeds. The trick is to match their exercise needs with your own, so walking your dog improves your life instead of exhausting you.
Size
Even a gentle large dog can be dangerous underfoot if you're unsteady on your feet or don't have much space. Pick the dog that fits into your life and home.
Grooming Needs
Does your dog need to see a groomer regularly? Do they require frequent brushing? These needs may not be a problem for you, but if they are, you probably want to opt for a lower-maintenance dog.
6 Dog Breeds for Retirees
Once you have a clear picture of the characteristics you're looking for in a canine companion, it's time to consider the specifics. One of these dog breeds for retirees may be exactly what you're looking for.
1. Shih Tzu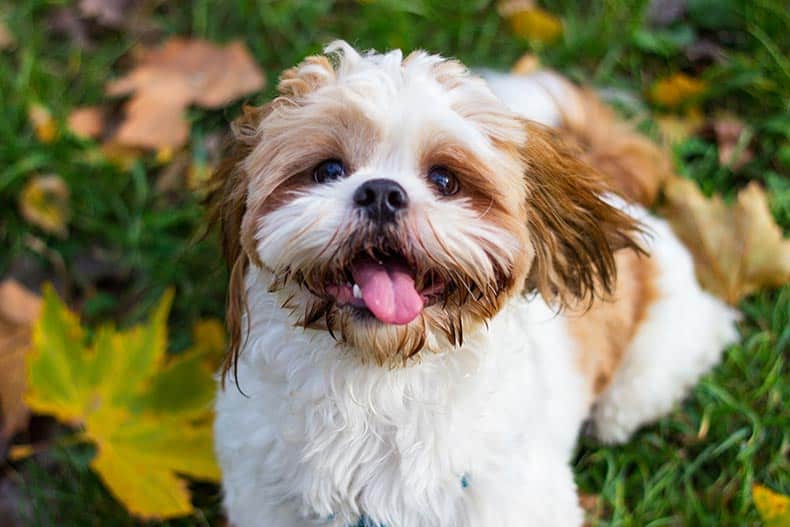 This little bundle of love usually weighs between 9 and 16 pounds. They're generally friendly and outgoing and very cuddly, making them at the top of our list of dog breeds for retirees. They also tend to bark less than other small dog breeds.
Shih Tzus do best if they get a couple of short walks a day. They're generally easy to train, although they can occasionally show a stubborn streak, requiring a little extra determination and patience from their owner. They are prone to having skin issues, and they need to see a groomer regularly. You'll also want to brush them frequently.
2. West Highland White Terrier (Westie)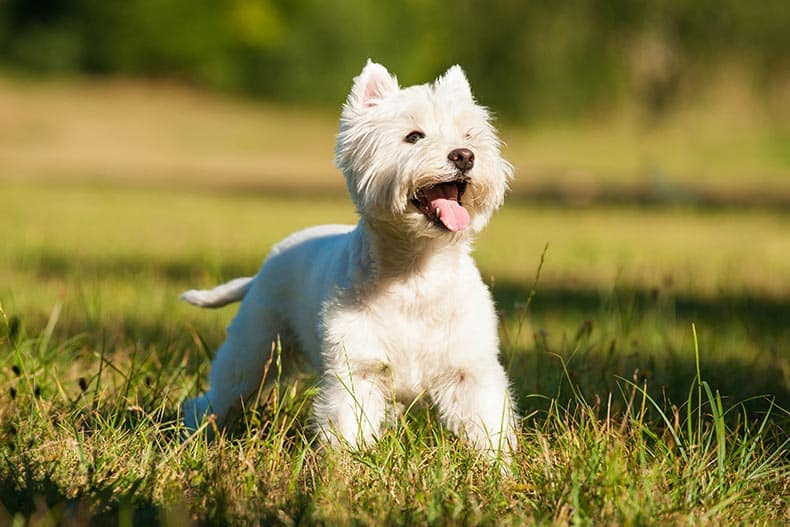 Westies are adorable bundles of devotion. They weigh between 13 and 20 pounds, and they typically form a very tight bond with their owners. They were originally bred to be hunting dogs, so they are easy to train and usually well-behaved.
To keep a Westie happy, you'll want to take it out for two easy walks a day. They do require some grooming and regular brushing to maintain their eye-catching white coat.
3. Boston Terrier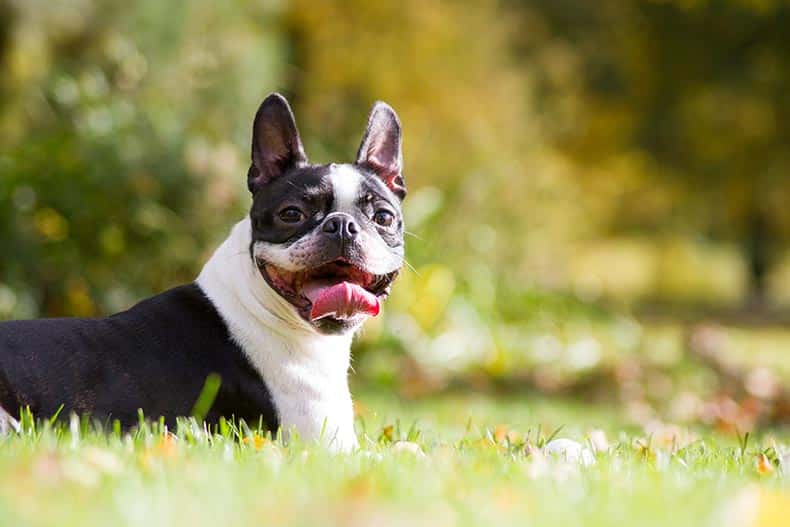 Happy, agreeable Boston terriers are friendly dogs that like to stay close to their owners. They weigh between 12 and 15 pounds and are instantly recognizable with their black-and-white coat that evokes a tuxedo.
Boston terriers are playful and energetic, but with a daily walk and a little playtime, they're content to hang out peacefully at home. Their short coats require little attention–just an occasional bath and a good brushing once every week or two.
4. Yorkshire Terrier (Yorkie)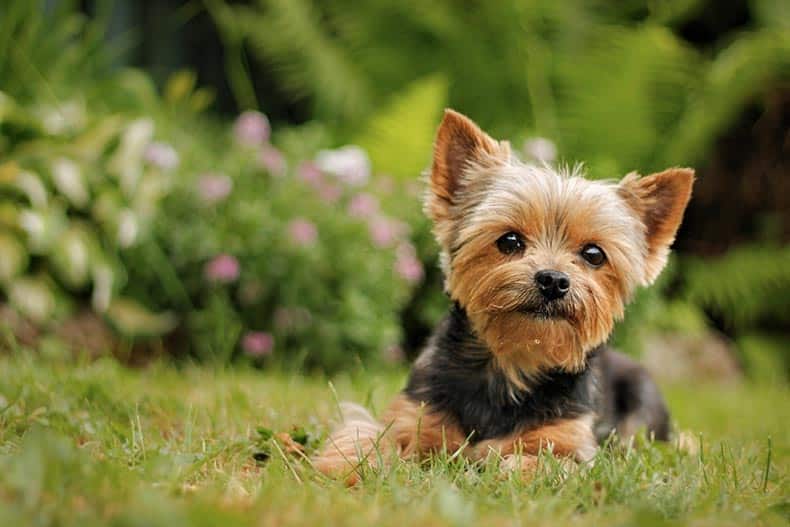 Weighing in at a tiny six to eight pounds, the Yorkie has a high-energy, big personality. They're very affectionate and playful, and they're happiest if they get regular walks and play sessions every day. Since they're so small, they don't have to walk very far to get the exercise they need. They can be prone to barking, especially if they get bored, so keep that in mind if you live in an apartment or condo.
Yorkies have a long, silky coat that doesn't shed very much. However, they do require regular trips to the groomers and daily brushing to look their elegant best.
5. Cavalier King Charles Spaniel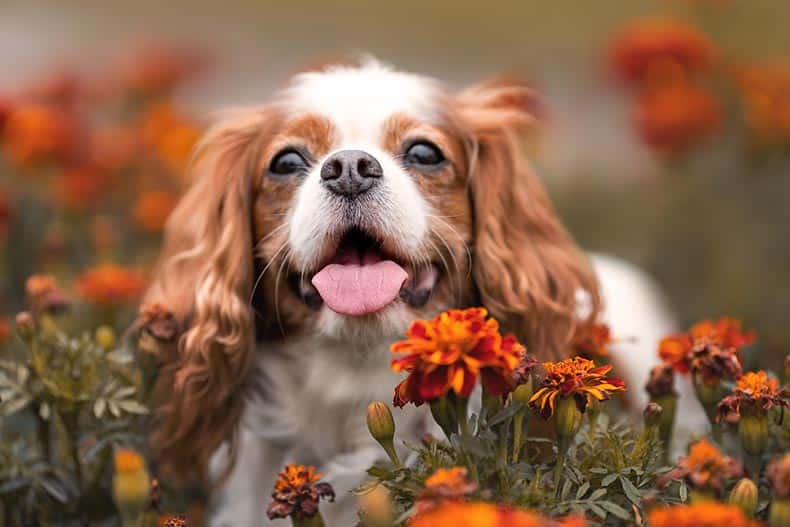 With its soulful eyes and puppy-like appearance, the Cavalier is an irresistible dog. They weigh between 11 and 18 pounds, and they're cuddly and easygoing. These dogs fit well in smaller living spaces, and they need about an hour of exercise a day. They tend to be agreeable and easy to train.
Their signature silky coat and long ears require some attention. You'll need to clean their ears regularly and brush them almost every day. They also need the occasional bath.
6. Bichon Frise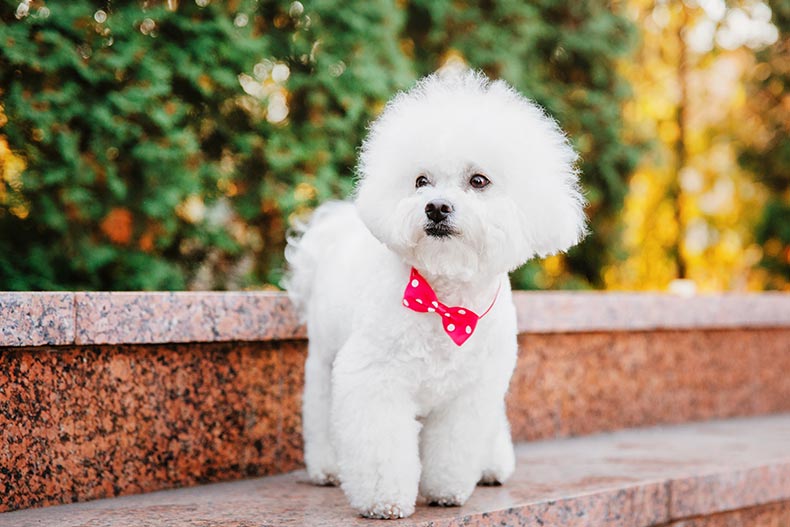 Seven to 12 pounds of affectionate fluff ball, the Bichon Frise is happiest when it's cuddling. This dog breed for retirees loves to play, but they're also content to share a couch. A Bichon is a good choice if you spend a lot of time with grandchildren because they're great with kids. They respond well to training, and they're content with a daily 30-minute walk and some playtime.
Their fluffy white coat requires frequent baths, but they shed very little. They're less likely to trigger allergies, but they do need to see the groomer every one to two months.
Find the Perfect Home To Share With Your Canine Companion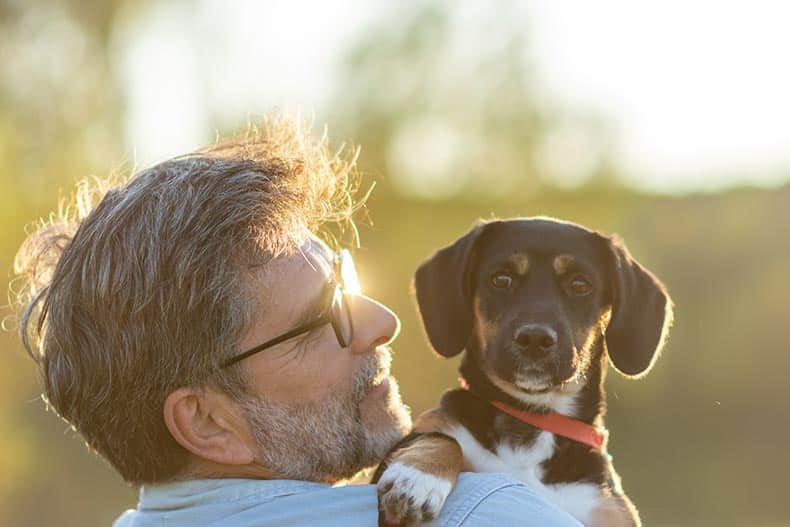 For people who are excited about retirement and exploring the next stage in their life, 55places has a wide selection of communities to call home. For more information about what we have to offer, feel free to contact us today. Our experts will help you find the perfect place to enjoy these years, whether you share them with one of our top dog breeds for retirees or not.