The housing market can be a bit difficult to navigate nowadays. But exploring new construction homes is a great option for 55+ homebuyers! A new construction home offers modern designs and features. These houses have the latest architectural trends and technologies, ensuring energy efficiency and functionality. Also, new construction homes often come with warranties. This can give you peace of mind and protection against unexpected repairs or structural issues.
Most retirees seek out new construction homes because it allows them to personalize their living space. You can often choose finishes, fixtures, and layout options to suit your preferences and lifestyle. Buying a new construction home can also provide more flexible timing because the purchase isn't reliant on a seller moving out.
Lastly, new construction communities often offer attractive amenities such as parks, community centers, and recreational facilities, fostering a vibrant neighborhood environment. New construction homes also require less maintenance and offer optimized utilities that can help you enjoy a stress-free retirement.
Right now, you can get a rate buy-down (as low as 4.5%) from many home builders, so there might not be a better time to buy. Ultimately, investing in a new construction home can give you the opportunity to enjoy a comfortable, customized, and contemporary living experience. Let's explore some communities with new construction homes for sale to get your home search started today!
Mid $300ks – Mid $1Ms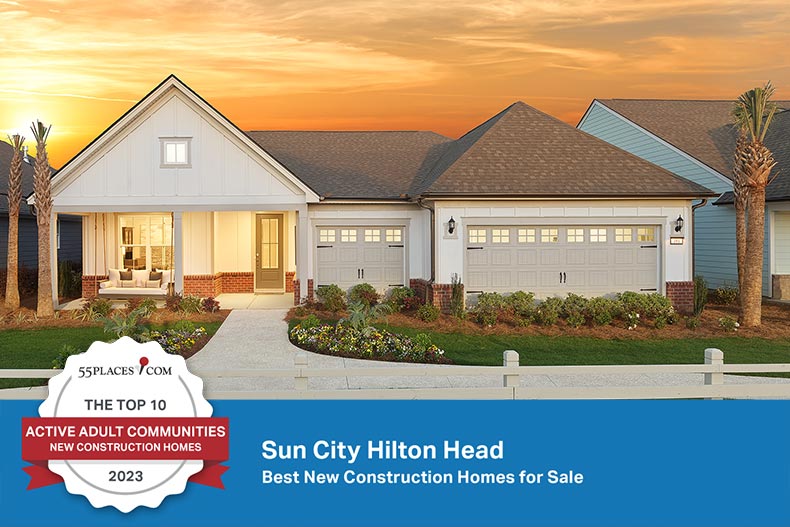 Sun City Hilton Head, the largest age-restricted community in South Carolina, offers over 8,000 homes, world-class amenities, and 54 holes of golf. Nestled in Bluffton's scenic Lowcountry, it's been a sought-after active adult destination since 1995. Enjoy a vibrant, socially engaging lifestyle surrounded by unspoiled nature.
Sun City Hilton Head will eventually have 9,000 homes. The community offers a wide range of housing options, from 1,000-square-foot townhomes to 4,000-square-foot custom homes. Buyers can choose from various floor plans, with the Riverbend neighborhood offering custom-built homes on large lots. Amenities include a 45-acre Village Center, a state-of-the-art fitness facility, and nature views.
Mid $300s – Low $800s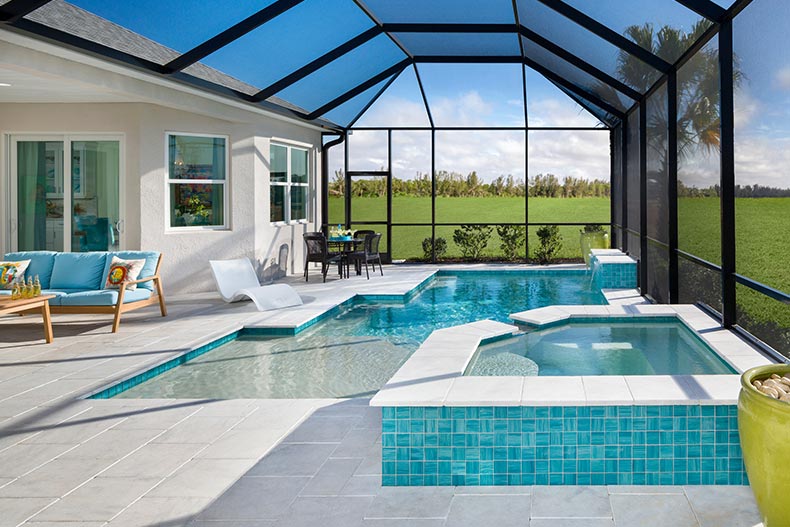 Experience Jimmy Buffett's music and lifestyle at Latitude Margaritaville, a dynamic 55+ community in Daytona Beach, Florida. Created by renowned developers Minto Communities and Margaritaville Holdings, this exceptional retirement community offers innovative floor plans and a wealth of amenities. Indulge in a world-class selection of recreational activities, vibrant nightlife, and delectable dining options.
Discover Minto Communities' thoughtfully designed, energy-efficient homes. With 25 floor plans to choose from, including attached homes and single-family options, there's sure to be something to fit your needs and preferences. From the cozy Conch Cottages to the spacious Island Collection, each home features quality design and modern amenities, catering to the needs of 55+ homebuyers.
High $100s – Mid $600s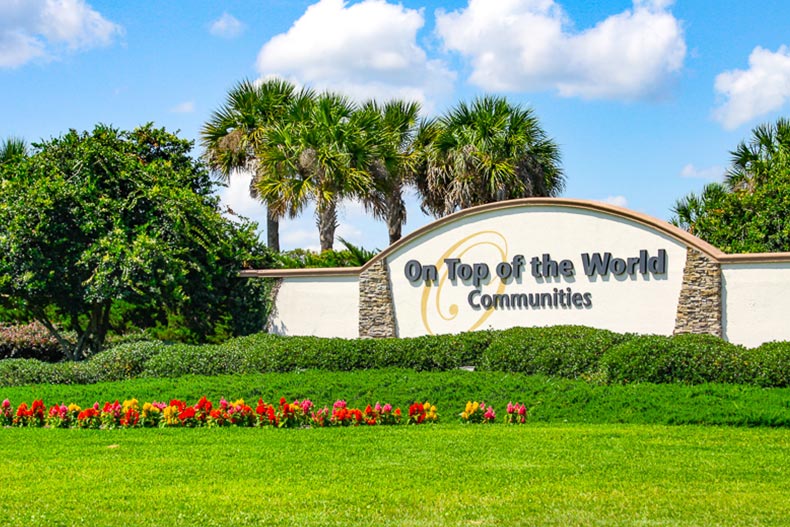 With its planned 10,000 homes, On Top of the World stands as one of the largest communities in Florida, attracting retirees from all over the country. Residents, affectionately calling it OTOW, enjoy finely crafted homes, an array of world-class amenities, and a vibrant lifestyle. Situated just west of Interstate 75, On Top of the World offers a convenient location for active adults to explore Ocala while enjoying a low-maintenance lifestyle.
On Top of the World offers a variety of low-maintenance floor plans for homebuyers. Choose from single-family homes and attached villas ranging from approximately 1,000 to over 3,000 square feet. The community is divided into two distinct areas, with various neighborhoods offering different conveniences and budget options. The attached Villas offer 1,092 to 1,856 square feet with two bedrooms, two bathrooms, and attached one- or two-car garages. The single-family homes come in seven collections and over 100 floor plans, ranging from 1,204 to 3,039 square feet.
Mid $300s – Low $500s
As the second Latitude Margaritaville community to make this list, Latitude Margaritaville Watersound is nestled along Florida's beautiful Emerald Coast. With stunning white sand beaches and a delightful year-round climate, Latitude Margaritaville Watersound offers the perfect setting for retirees. Residents can enjoy innovative floor plans, a wealth of amenities, and an array of food, entertainment, and music options inspired by the legendary Jimmy Buffett.
The first phase of construction on Latitude Margaritaville Watersound included 3,500 homes, a sales center, amenities, and infrastructure. The community offers new construction homes across four collections with a variety of floor plans. The Conch Cottages collection features four attached home models ranging from 1,210 to 1,481 square feet. The Caribbean Collection offers seven attached home models ranging from 1,507 to 1,865 square feet. The Beach Collection includes eight models ranging from 1,685 to 2,393 square feet. Lastly, the Island Collection offers four single-family home models ranging from 2,336 to 2,568 square feet.
Low $400ks – High $2Ms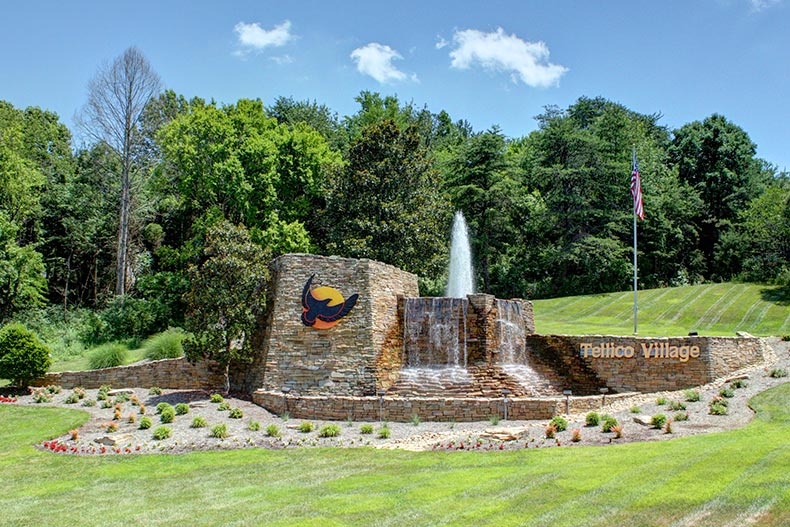 Discover the well-established Tellico Village, a master-planned community situated in the picturesque town of Loudon, Tennessee. Enjoy a wealth of amenities, including three recreation centers, three golf courses with dedicated clubhouses, and a private country club. Homeowners can easily access daily necessities, healthcare facilities, and the attractions of the Knoxville area. If you're a seeking lakefront home, Tellico Village is the perfect destination for you.
Tellico Village offers over 3,000 residences with stunning views of the Smoky Mountains, Tellico Lake, and golf course hills. Choose from a variety of homes, including ranch-style and spacious estates. The attached homes feature two bedrooms, open-concept floor plans, and main-level master suites. Single-family homes range from 1,882 to 2,218 square feet with three to four bedrooms and attractive features like sunrooms and walk-in closets.
Mid $300k – Mid $400k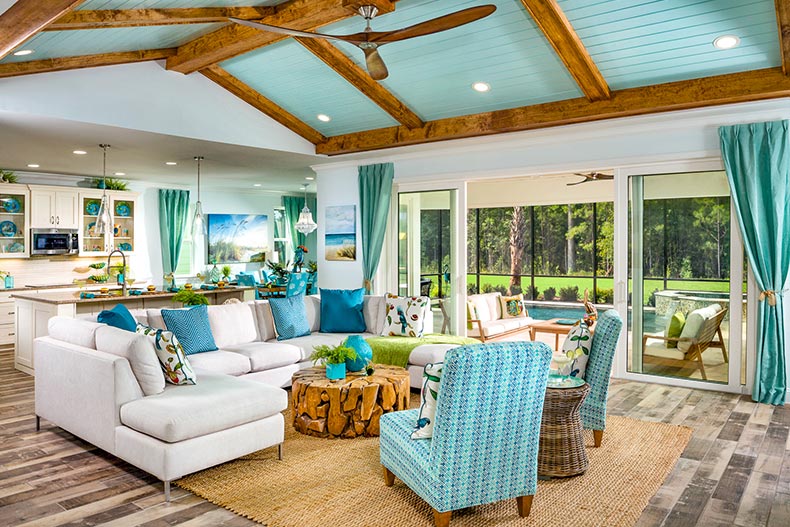 The third and final Latitude Margaritaville community on our list, Latitude Margaritaville Hilton Head is located in the beautiful Hilton Head area of South Carolina. This community will feature over 3,000 attached and single-family homes, accompanied by resort-style amenities. Just a short 30-minute drive from the sandy beaches and renowned golf courses of Hilton Head, residents of Latitude Margaritaville will have the opportunity to indulge in the finest coastal South Carolina experiences.
Latitude Margaritaville Hilton Head offers a variety of floor plans to suit different budgets. These energy-efficient homes feature first-floor primary suites and beautifully landscaped outdoor areas. The community includes the Caribbean Collection with six attached villa home models, the Beach Collection with five single-family home models, the Conch Cottages Collection with four single-family home models, and the Island Collection with four single-family home models.
Low $300s – Low $700s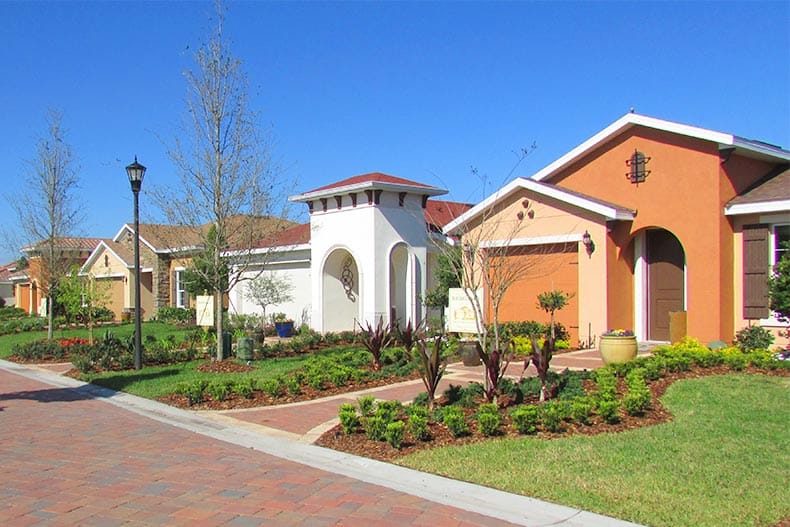 Solivita is a 4,300-acre active adult community in Kissimmee, Florida. This gated neighborhood is renowned for its commitment to creating a vibrant lifestyle tailored to 55+ homebuyers. With over 150,000 square feet of amenities seamlessly woven into the natural landscape of greenspaces, lakes, and waterways, Solivita offers an exceptional living experience. The community's prime location also provides easy access to outdoor recreation and the vibrant Downtown Orlando.
Solivita, developed by Taylor Morrison and AV Homes, will offer 5,900 homes across multiple neighborhoods. With over 20 home collections and a variety of models, buyers have plenty of options to choose from. The Courtyards Collection offers two attached home models, while The Courtyards at Montelena Collection features four attached models. Solivita's single-family homes offer a range of floor plans and features such as expansive great rooms, gourmet kitchens, and inviting outdoor spaces.
High $200s – Mid $500s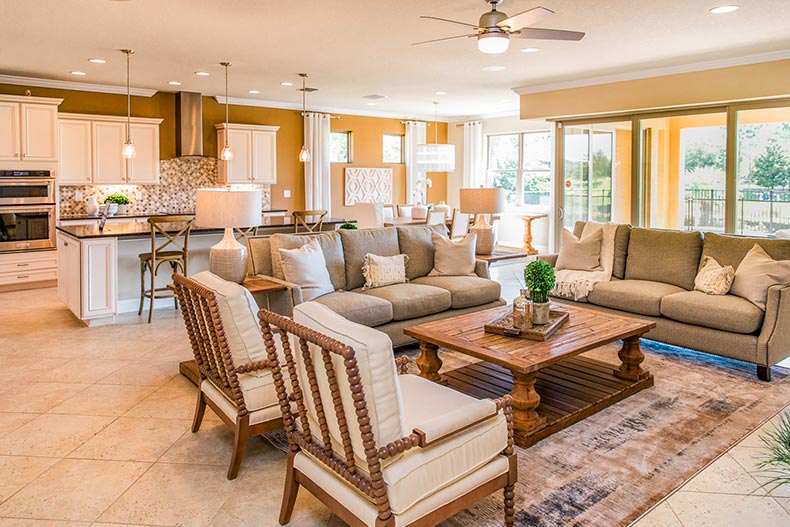 Masterfully designed by Del Webb, Stone Creek is a gated active adult community in Ocala, Florida. This 55+ community offers an enticing blend of attractive home designs, top-notch amenities, and a vibrant lifestyle, all while retaining a charming small-town atmosphere. Ideally located in the heart of Central Florida, residents are just 30 miles away from the Gulf of Mexico and within 90 minutes of popular attractions like Disney World, Universal Studios, Daytona Beach, and the Kennedy Space Center.
Del Webb began constructing Stone Creek in 2006, with plans for 3,800 attached and single-family homes. The original model collection included Twin Villas, Pinnacle Series, and Regal Series homes. In 2011, new collections were introduced. Twin Villas feature 1,548 to 1,709 square feet, two bedrooms, and attached two-car garages. The Pinnacle Series and Regal Series single-family homes range from 1,604 to 2,384 square feet with two to three bedrooms. The Garden, Classic, and Estate series offer single-family homes ranging from 1,133 to 2,634 square feet with one to five bedrooms.
High $200s – Mid $500s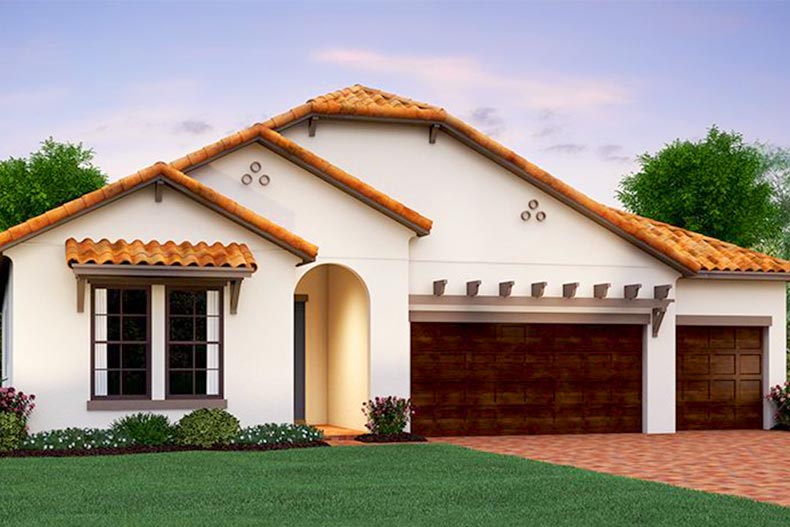 Southshore Bay is a gated 55+ community located in Wimauma, Florida. Residents can enjoy a variety of amenities, including a pool and clubhouse. This active adult neighborhood is part of a master-planned community that features a stunning 5.5-acre Crystal Lagoon. With its convenient location, homeowners can easily reach Tampa within half an hour.
Lennar Homes began construction of Southshore Bay in 2017, with plans for over 600 single-family homes and attached villas. The homes range from 1,395 to 2,785 square feet, offering two to four bedrooms and one- to three-car garages. Noteworthy features include open floor plans, gourmet kitchens, and spacious master suites.
Low $300ks – Low $1Ms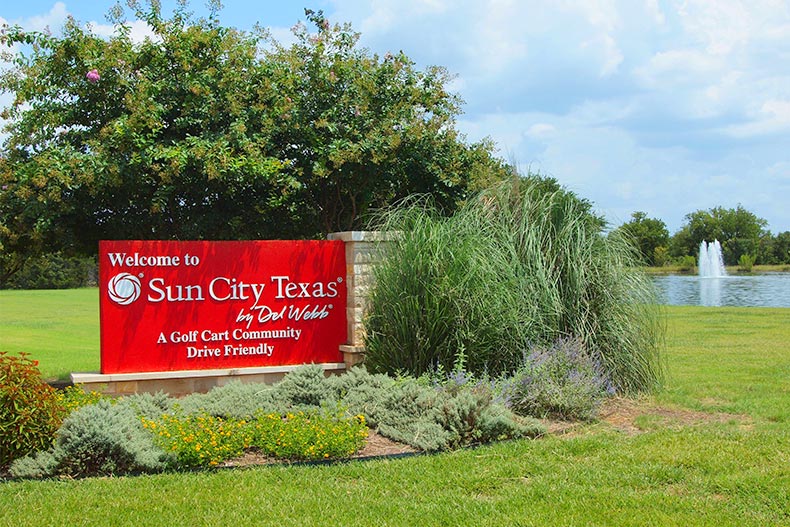 Experience the active adult lifestyle at Sun City Texas, a Del Webb community nestled in Georgetown, Texas. This master-planned community offers meticulously designed amenities and low-maintenance homes. Residents enjoy the best of both worlds, embracing the small-town charm while being just a short drive away from the vibrant culture of Austin. With its beautiful weather, affordable living, and thriving social and cultural scene, Sun City Texas is a sought-after destination for those seeking homes in the picturesque Texas Hill Country.
Sun City Texas offers a diverse range of new and resale homes to suit various preferences and budgets. Construction by Del Webb began in 1995 and is ongoing. The community features single-family and attached duplex homes ranging from 940 to over 3,000 square feet. Upgrades include gourmet kitchens, spa-like bathrooms, and custom outdoor living spaces.
55places Can Help You Purchase a New Construction Home!
If you're ready to customize a brand-new home in the community of your dreams, then 55places can help! Our hand-selected real estate experts are ready to answer your questions and guide you as you search for the right new construction home. Contact us today!