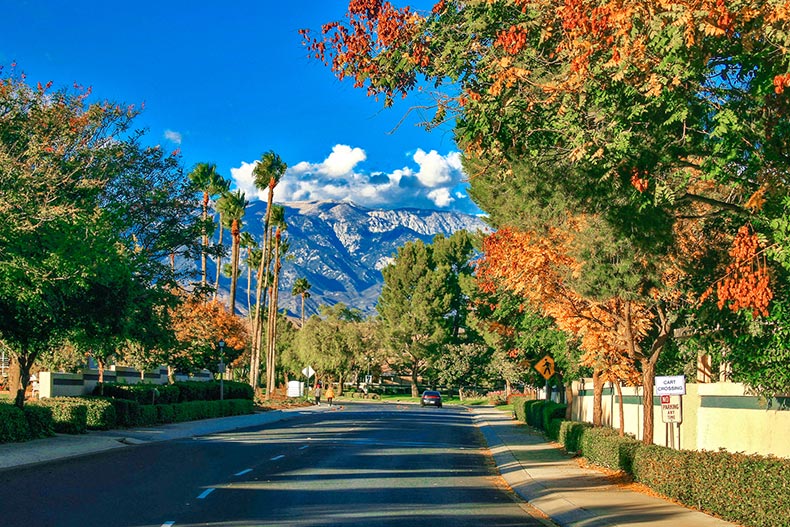 If you're an active adult who's searching for a home in one of California's sought-after Inland Empire 55+ communities, you're in luck. Not only are there a multitude of picturesque communities in this area, but many of them have homes for sale under $300k.
Take a look at the list below for a selection of Inland Empire communities with affordable homes for sale in a variety of housing styles and sizes.
Below $100k - High $200s
Boomers on a budget will appreciate the prices and choices at Jess Ranch. This large, gated 55+ community offers homebuyers a mix of single-family homes, attached townhomes, and condos. Situated in the peaceful, high-desert town of Apple Valley, Jess Ranch has resale homes starting in the low $100s.
With 2,120 residences completed in 2002, Jess Ranch offers homebuyers a variety of floor plans and sizes. Most of the condos offer one or two bedrooms, one to two bathrooms, and a convenient carport, while attached homes offer one to two bedrooms, one to two bathrooms, and either a garage or a carport. All of the single-family homes feature two bedrooms, two bathrooms, and a two-car garage.
Active adults will appreciate all of the amenities Jess Ranch has to offer. Indoors, there's a small clubhouse for hobbies, games, and socializing. There's also a fitness center with instructor-led group fitness classes and plenty of state-of-the-art equipment. Outdoors, residents can enjoy the sparkling pool, tennis and bocce courts, walking and biking trails, and more.
Learn more information about Jess Ranch here.
Mid $100s - Mid $200s
Another affordable Apple Valley gem, Wyndham Rose is a small and intimate 55+ community comprised of 168 single-family homes. Built from 1994 to 2003, this gated community is currently selling a variety of resale homes for under $300k.
The low-maintenance single-family homes in this community range from 1,357 to 1,970 square feet with two bedrooms, two bathrooms, and a one-car garage. These homes feature spacious backyards and some boast beautiful golf-course views.
For a smaller community, Wyndham Rose still offers plenty of desirable amenities, including a sparkling outdoor pool and a scenic greenbelt with paved walking and biking trails weaving throughout the property. Residents also spend plenty of time socializing at the community clubhouse, where they play card games, plan events, and hold meetings and parties.
Learn more information about Wyndham Rose here.
High $100s - Mid $400s
With 3,300 homes and a myriad of resort-like amenities, Sun Lakes Country Club offers homebuyers the best of both worlds—an upscale, country-club-like environment with affordable homes. This 55+ community offers both condo-style and single-family homes, with many current resale homes listed under $300k.
Built between 1987 and 2003, the homes in Sun Lakes offer 50 floor plans. Square footage ranges from 850 to 2,627 square feet with two to four bedrooms, two to three bathrooms, and a two- or three-car garage. Many homes in this community feature modern upgrades and stunning views of the golf course and nearby mountain range.
The amenities at Sun Lakes Country Club are staggering, with three clubhouses, a fitness center, a library, a grand ballroom, hobby studios, tennis and bocce ball courts, a card room, and a billiards room. There's also an outdoor pool and two private golf courses onsite as well as miles of scenic walking and biking trails. Community members also find the onsite restaurants and cafes convenient as well as the ongoing social activities, fitness and hobby classes, and active clubs.
Learn more information about Sun Lakes Country Club here.
High $100s - Mid $300s
Made up of three separate neighborhoods, Murrieta Hot Springs is a friendly, well-established 55+ community. Built between 1971 and 2014, this gated community boasts 1,040 single-family homes with many current resale homes well under $300k.
The homes at Murrieta Hot Springs range in size from roughly 960 to 2,646 square feet with two to four bedrooms, one to three-and-a-half bathrooms, and attached carports or two-car garages. Many homes feature custom touches like spacious kitchens with breakfast nooks, tile flooring, sunrooms, covered patios, and plantation shutters.
Each of the three "neighborhoods" in Murrieta Hot Springs has its own clubhouse and amenities, but residents are able to enjoy all of the amenities in the community, regardless of which neighborhood they reside in. There are three clubhouses, multiple pool and fitness centers, shuffleboard courts, horseshoe pits, patios and barbecue areas, walking and biking trails, and much more, including a dog run and a golf clubhouse.
Learn more information about Murrieta Hot Springs here.
Mid $100s - Mid $300s
The sprawling 55+ community of Sun City is one of the most popular 55+ communities in the region—and for good reason. This community was one of the first of its kind, setting a high standard for those that followed. It boasts a wide variety of resort-like amenities and a huge number of attractive and affordable resale homes.
Built from 1962 to 1981, Sun City offers 4,762 attached and single-family homes with one to three bedrooms, one to two bathrooms, and a garage or carport. The homes in this community are situated near popular attractions such as Diamond Valley Lake, gaming casinos, and shopping districts.
The variety of resort-like amenities at Sun City are impressive, with three town halls, two outdoor pools, a fitness center, and a variety of hobby studios. Residents of Sun City stay active and social by making use of the horseshoe pits and lawn bowling as well as the bocce ball and tennis courts. There's also an outdoor amphitheater where residents and their guests can enjoy events and performances.